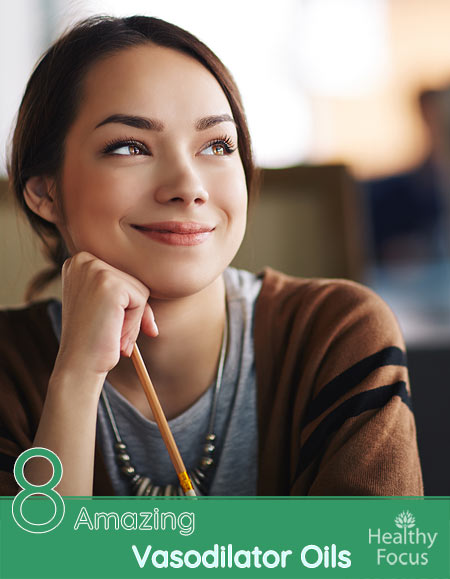 When it comes to good health, it is important that the blood circulates around the body effectively. Good circulation can reduce the risk of a number of conditions especially those linked to heart disease like high blood pressure. Doctors sometimes prescribe medications to help dilate the blood vessels which improves circulation and reduces blood pressure. These medications are very powerful but there are a number of more natural alternatives including essential oils.
This article will look at the best vasodilator oils and how to use them to reduce your blood pressure and improve your circulation.
What is a Vasodilator?
In the medical world, a vasodilator is the name given to medications that dilate or open the blood vessels. They are used for a variety of conditions such as high blood pressure or hypertension. They have an effect on the muscles in the arterial walls and veins and prevent muscles from getting tight and protect against the walls narrowing.
This helps blood to flow more easily through the vessels meaning that the heart need not work so hard resulting in a reduction in blood pressure.
What conditions are vasodilators used for?
Vasodilators are often prescribed to prevent and treat various conditions including the following :
High blood pressure (hypertension).
High blood pressure in pregnancy (preeclampsia) or during childbirth (eclampsia).
Heart failure
High blood pressure affecting the lung's arteries (pulmonary hypertension).
Vasodilators are also used to treat erectile dysfunction. Viagra is the best-known example of a vasodilator not primarily used for hypertension. It works by increasing blood flow to the penis although its secondary use is to treat high blood pressure.
Side Effects of Vasodilators
Prescription vasodilators are extremely powerful drugs and are typically only used if other medications have failed to reduce a person's blood pressure. These medications can come with a number of adverse side effects including tachycardia, palpitations, nausea and vomiting, headache and joint pain.
Fortunately, there are a number of more natural treatments that have a vasodilator effect with far less of a risk of side effects. Studies have revealed that many herbs can help dilate the blood vessels and reduce blood pressure. However, this article will focus on essential oils and the part they can play in preventing and treating high blood pressure and boosting circulation.
Why Use Essential Oils?
A number of essential oils can have a positive effect on your health by boosting circulation and reducing blood pressure. Unlike many strong prescription medications, as long as they are used properly, essential oils do not come with anywhere near the number or severity of side effects associated with prescription medications.
Studies into the effects of essential oils on circulation and blood pressure are in their infancy and are few and far between. However, there have been some very promising results from the research done to date.
If you are looking for a natural treatment with a vasodilator effect that can help improve your circulation and reduce your blood pressure, these oils are some of the very best.
Eucalyptus Essential Oil
Eucalyptus essential oil has a diverse range of health benefits mainly due to the presence of eucalyptol. This powerful compound, also called 1,8 cineole has been widely studied and comes with a number of benefits. It is often used as a natural remedy for respiratory ailments but comes with a number of other benefits including  the ability to boost circulation.
According to studies done on animals, eucalyptol was able to reduce contractions in the heart muscles of rats. Researchers believe that it acts as a natural vasodilator. (1)
Wintergreen Essential Oil
Wintergreen essential oil is another natural vasodilator and a vasorelaxant that can do wonders for poor blood circulation. Wintergreen essential oil contains over 95% methyl salicylate which is closely related to aspirin and acts in much the same way.
Studies have demonstrated that methyl salicylate compares favorably with aspirin and has excellent anti-inflammatory as well as the ability to inhibit platelet aggregation. (2) This helps blood clotting and seals off injured blood vessels.
This oil also has excellent anti-inflammatory properties and can help relieve pain naturally. It is an excellent massage oil to use on sore and aching muscles and can even help with varicose veins.
Wintergreen essential oil is very powerful and must be diluted with a suitable carrier oil before applying it topically to the skin.
Cinnamon Essential Oil
This delightful oil has a warming quality that is great for circulation. It is believed to be a natural vasodilator that can help reduce blood pressure and boost the circulation of blood around the body.
Cinnamon essential oil contains a compound called cinnamaldehyde and various other compounds with a range of medicinal benefits. It has outstanding anti-inflammatory and antioxidant effects and is good for the all round health including heart and brain health. Cinnamon essential oil may also help strengthen the walls of the blood vessels and reduce the risk of heart disease.
Dilute this oil and apply topically or add a few drops to a warm bath to boost your circulation and relieve your aches and pains.
Neroli Essential Oil
This citrus oil is derived from the bitter orange tree blossoms and is among the most expensive oils to produce and buy. If your pocket allows, it is a wonderful healing oil with a number of benefits including the ability to boost circulation and reduce blood pressure.
A number of studies have confirmed the heart health benefits of neroli essential oil. An animal study, published in 2016, found that the essential oil of neroli contained vasodilator effects. (3)
Massaging this oil into your body can boost circulation and reduce blood pressure. These actions can reduce the risk of heart disease and heart attack.
Patchouli Essential Oil
Patchouli essential oil is not as well-known as some of the others on our list but studies suggest that it can boost blood circulation and has vasodilator effects as well as relaxing the vessel walls.
Patchouli essential oil also has natural anti-inflammatory and diuretic properties and can help stimulate the lymphatic and immune system.
One study found that patchouli essential oil has vasorelaxant and vasodilatory properties. The researchers concluded that :
"Vasorelaxant effect of the essential oil was also observed both in the presence and absence of Nitro-L-arginine methyl ester against phenylephrine-contracted aortic rings. It also induced reduction of systolic and diastolic blood pressure. " (4)
Black Pepper Essential Oil
Black pepper essential oil is another warming oil that can be applied topically to boost circulation and relieve pain. It is also believed to have heart health benefits including the ability to reduce cholesterol and blood pressure.
Black pepper essential oil makes for a wonderful massage oil to deal with joint pain and muscle soreness. Make sure that you dilute it with a good quality carrier oil before applying it to your skin.
Ginger Essential Oil
Like black pepper oil, ginger essential oil has a wonderful warming sensation when it is applied to the skin. It has a number of amazing health properties including anti-inflammatory and antioxidant actions that can help boost circulation as well as soothing aching joints and muscles.
Make sure that you dilute the oil well before applying it to your skin. You can also add a few drops of ginger oil to your bath and let it wash into your body.
Cumin Essential Oil
Cumin essential oil is another oil that can help boost the circulation of blood around the system. It is not as well-known as some of the oils on our list but it has a number of potential health benefits. It is often blended with other essential oils and used in massage because of its anti-inflammatory and pain relieving effects.
How to Use Vasodilator Essential Oils
There are several ways to get the most out of these essential oils. When used properly, they can have an incredible impact on your health including improving your circulation, reducing blood pressure and protecting you against illness.
Massage : One of the most effective ways to get the circulatory benefits of these oils is by using them in massage therapy. It is important that you dilute your essential oil with a carrier oil before massaging it into your skin. There are a number of carrier oils to choose from including olive oil, coconut oil and sesame oil.
Aromatic bath : Add 10 to 20 drops of your chosen essential oil to your bathtub then give your body a thorough soak. the oils are easily absorbed and will quickly get to work on your system. Wait til the water is run before adding your oils or you will lose much of their goodness through evaporation.
Diffuse : Inhaling the oils via a diffuser machine can also help boost circulation. There are a number of other potential benefits to diffusing your oils including stress relief.
Frequently Asked Questions
Is Peppermint a vasodilator?
Some studies suggest that peppermint oil has vasoldilatory effects. However, two studies have showed that the menthol contained in peppermint oil has the opposite effect working as a vasoconstrictor. According to these studies, peppermint oil only has vasodilator effects if it is applied to inflamed skin or muscles.
What essential oils improve circulation?
A number of essential oils can help boost circulation. These include wintergreen, eucalyptus, neroli, black pepper and ginger essential oil.
What essential oils treat high blood pressure?
Certain essential oils may help reduce blood pressure through a variety of mechanisms including dilating the vessels and relieving stress. these include neroli, bergamot, lavender, frankincense and jasmine essential oils.
Is massage good for poor circulation?
Massage is one off the best methods to boost blood circulation around the body. Using a dilute essential oil as part of the massage is likely to give you even greater circulatory benefits.
Side Effects and Precautions
Although essential oils are a natural remedy with fewer side effects than more powerful prescription drugs, they still need to be used with care. It is important to know how to use these oils to avoid the risk of adverse reactions and side effects.
Do not ingest your essential oils. There may be some exceptions to the general rule but you should never take essential oils internally unless you are under expert supervision.
Essential oils must be diluted with a suitable carrier oil before applying them topically. Carrier oils include coconut oil, olive oil and sweet almond oil but there are many others to choose from.
Do a patch test. before applying a larger dose to your skin, it is important to perform a patch test to guard against an adverse reaction. Apply a little diluted oil to a discrete area of your skin and wait 24 hours to ensure you do not react.
Pregnant women and nursing mothers should be extra careful when using essential oils. If you are in any doubt, avoid using the oils but consult your doctor first.
Some oils including many citrus oils are phototoxic meaning they can cause a reaction when exposed to UV rays. Avoid exposing the skin to direct sunlight for at least 24 hours after using an oil with phototoxic properties.
Final Thoughts
A vasodilator can help dilate the blood vesels allowing better circulation and reducing blood pressure.
A number of essential oils have the ability to dilate the vessels including neroli, wintergreen, eucalyptus and patchouli.
While they may not have a vasodilatory effect, a number of other essential oils can have help boost circulation such as ginger, black pepper and cumin oil.
The best way to use the oils is to apply them topically in a massage or add them to your bath.
(1) http://www.scielo.br/scielo.php?script=sci_arttext&pid=S0100-879X2005000300017
(2) https://www.ncbi.nlm.nih.gov/pubmed/18698012
(3) https://www.ncbi.nlm.nih.gov/pubmed/27470386
(4) https://www.ncbi.nlm.nih.gov/pubmed/28132862