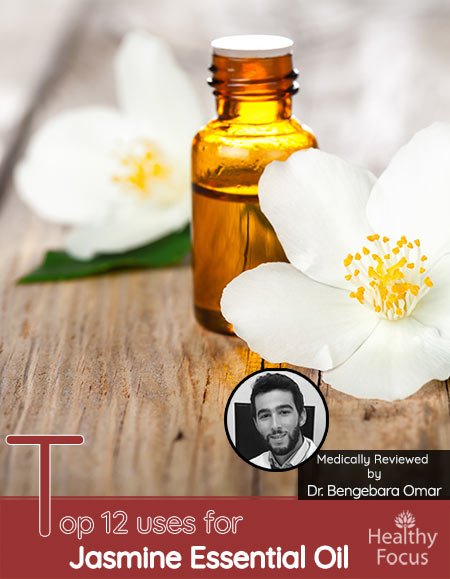 MD, ER Doctor & Surgery Resident –
Reviewed & Approved on November 05, 2018
What is Jasmine Essential Oil?
Just the sweet aromatic fragrance of Jasmine essential oil can do a lot to lift our spirits; some people claim that it instills feelings of poetry and romance. The essential oil is extracted from several jasmine species.  
Some species found include: Poet's Jasmine or Jasmine grandiflorum, Spanish Jasmine and Arabian Jasmine (Jasminum Sambac). Jasminum Officinale or common jasmine is the species most commonly used in essential oils.
The oil is extracted from the plant's white flowers which blossom during the night. Jasmine is a valued flower and in Pakistan it has been named the National flower while the Hindus in India regard jasmine as a holy flower. Jasmine essential oil is widely used for its fragrance in the perfume and cosmetic industries where it lends its scent to shampoos and soap.
In many parts of Asia, Jasmine is used as a floral garment and also hung in the car to make it smell fresh. Jasmine is certainly very well known for its scent but it also has a number of therapeutic uses. Traditionally jasmine has been used in certain Asian cultures to help with childbirth and labor problems and also to help with libido. Nowadays it is used for a number of therapeutic purposes which range from skin treatment to depression.
Jasmine Essential Oil—Absolute or Enfleurage
Like most flower-based essential oils—Jasmine is technically not an essential oil. It is not made via pressing or distillation. Jasmine essential oil is typically Jasmine absolute or enfleurage.
Jasmine absolute is made by soaking the flowers in an alcohol solvent.
Jasmine enfleurage is made by soaking the flowers in odorless plant or animal fats (oil). Alcohol is added to pull the essence from the fat. Then the fat is separated and the alcohol allowed to evaporate—leaving behind the absolute.
The details typically only matter to the company making the oil—the end product of either method can both be of a high quality. Be sure you know how the oil is made and what is the actual real amount of active ingredient vs. alcohol or carrier oils. If they don't mention the extraction method and the plant species specifically it is a potential red flag.
Jasmine Essential Oil Composition
A 2016 analysis of Jasminum grandiflorum found the presence mostly of the following (8):
Secoiridoids
Terpenoids
Flavonoids
Tannins
Jasmine Essential Oil Properties
The therapeutic abilities of Jasmine essential oil owe much to its medicinal properties which include the following:
Antidepressant
Antiseptic
Antispasmodic
Cicatrisant
Expectorant
Emmenagogue
Sedative
Uterine
Antibacterial
 Jasmine Essential Oil Benefits
Jasmine essential oil is especially well known for its powerful sedative properties which can help ease many of the issues related to the mind but aside from its mental health benefits, it can be used to help with a variety of other physical complaints.
1. For Anxiety and Stress
If you are feeling sad or blue, then jasmine essential oil might be just the essential oil to lift your spirits. Because of its wonderful aroma, jasmine essential oil is known to have an uplifting effect on the mind. It is used by people in times of sadness or grief and is even said to be able to fight depression by promoting the release of certain hormones such as serotonin.

Not only does it help to raise the spirits but it can often help combat the effects of anxiety and stress. Inhaling jasmine essential oil molecules transmits messages to the limbic system of the brain which is known to known to control emotions and influence the body's nervous system.
Researchers in Germany have recently discovered that the scent of jasmine had a very powerful effect on the nerve cells owing to a chemical called GABA. Hundreds of scents were tested for their GABA effect in humans and mice and they found that jasmine increased this effect by over five times and acted equally as strongly as sleeping pills, sedatives and anti-anxiety pills.
The good news is that jasmine does not come with the nasty side effect risks so common with commercial medications. (1) Professor Hans Hatt suggested that the results showed that "Applications in sedation, anxiety, excitement and aggression relieving treatment and sleep induction therapy are all imaginable."
2. Sedative effects
As I mentioned above, jasmine has very powerful sedative effects in line with those offered by commercially produced pharmaceuticals. Anybody that has ever taken sleeping pills or anti-anxiety medications like Xanax will be fully aware of the very high risk of addiction and adverse side effects like dizziness, muscle weakness and depression.
This is great news for the millions of people who suffer from anxiety symptoms and whose lives are plagued by insomnia. If you cannot sleep, try diffusing jasmine essential oil in your bedroom at night and simply inhale it from your cupped palms whenever you are feeling anxious.
3. Wounds, Cuts and Abrasions
Because it possesses effective antiseptic and antiviral properties, jasmine essential oil can safely be applied to minor wounds or cuts to help prevent infection from taking hold. As well as its ability to treat infections from wounds, jasmine oil is also said to help fight respiratory system infections when inhaled.
Several studies have confirmed Jasmine essential oils wound healing capabilities.
A 2007 study tested the wound healing abilities of Jasmine essential oil on rats.  Wound closing was faster and more collagen formation was found by day 10.  (5)
A later follow up 2014 study on rats confirmed similar the wound healing findings.  The new study looked into the reasons and came to the conclusion that accelerated collagen formation and improved antioxidant function of Jasmine oil were what led to accelerated healing. (6)
4. Scarring
Jasmine essential oil is a cicatrisant which means that it can be applied to the skin to help fade and eventually eliminate scarring and pock marks in the skin. It is often used by new mother's to help eliminate unwanted stretch marks.
5. Colds
Jasmine essential oil has expectorant properties which can help relieve coughs by clearing up the phlegm and mucous from the respiratory system. If you are suffering from a cold and cannot get rid of that annoying cough, try inhaling the oil from a sink full of steaming water before bed time.
Jasmine essential oil can even help eliminate snoring by clearing up congestion in the nasal passage.
6. Aphrodisiac
Whether or not jasmine essential oil really works as an aphrodisiac, I have no idea but it has a long history of use for just that reason. The scent of jasmine is said to enhance the libido and put you in that loving mood. In India and nearby regions of Asia, Jasmine flowers are used to decorate the bride and the newly married couple's first night bedroom. I have even read that it helps with premature ejaculation….now that would be quite something.
7. For the skin
Jasmine essential oil has a long held reputation in terms of skin care. It is especially effective in balancing skin moisture in those suffering from dry or dehydrated skin. Because of its antiseptic properties, jasmine essential oil is also used to treat dermatological conditions like eczema or psoriasis.
Jasmine essential oil might cause sensitivity in some people so a spot test needs to be carried out before applying it topically.
8. Menstruation
Jasmine essential oil also has emmenagogue properties which essentially means it can help women with a number of issues related to menstruation. It can be used to relieve menstrual pain, regulate menstrual cycles and delay menopause. Because of its calming quality, jasmine also helps to relieve other issues related to menstruation like fatigue and irritability.
9. For Childbirth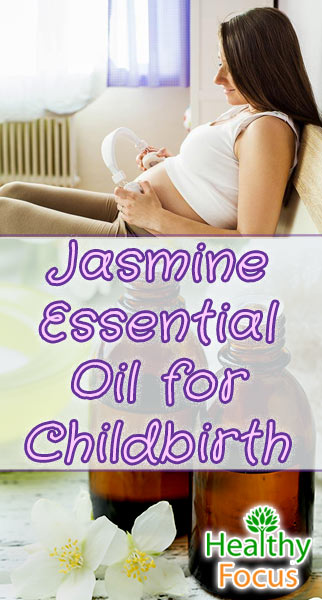 Jasmine essential oil has a long history of use in easing along the birthing process and reducing the severe pains of labor which was essential in the days before hospital births. There is plenty of anecdotal evidence that jasmine also helps the post-delivery recovery process and its uplifting qualities can help combat post-partum depression.  Some studies also show it may reduce labor pain and time in labor. (2)
10. To Lower Milk Production
Jasmine essential can decrease milk production for nursing mothers.  A 1988 Study showed that Jasmine (Jasminum sambac) flowers lowered prolactin levels.  Jasmine did not lower prolactin levels as much as bromocriptine but breast engorgement and  milk production levels were lowered in a similar manor.  The authors concluded Jasmine was a low cost alternative to bromocriptine. (4)
11. Arthritis and gout
Jasmine essential oil has effective anti-inflammatory properties that give it applications in a variety of complaints caused by inflammation including rheumatism and gout.
12. Antibacterial
Jasmine is rarely considered as an antibacterial essential oil—but recent studies may change that perception.  An Indian Study done in 2008 investigated the antibacterial potential of Jasmine Essential Oil (Jasminum sambac).
They tested the Jasmine Oil against a strain of E Coli resistant to ampicillin and penicillin. (3)The study did find that the E Coli strain was susceptible to the natural Jasmine Essential Oil. While it might not be as "powerful" of an antibacterial as Clove and Cinnamon oil-the authors were intrigued by Jasmine Oils method of action.
Jasmine did not affect cell walls as did Cinnamon and Clove—but must work via some other method. This could mean that Jasmine might work well as a synergistic oil with another stronger oil.  While there are currently only small scale studies it does look promising.
Other Research investigating Jasmine
A 2013 research tested the anti-convulsive properties of Jasminum grandiflorum leaves on rats.  The researchers concluded that Jasminum grandiflorum leaf extract may have use in managing seizures. (7)
How to Use Jasmine Essential Oil
Like most essential oils, there are a number of ways in which you can use jasmine essential oil.
Aromatherapy:
It can be diffused which will uplift your spirits, ease your anxiety and help you to get a good night's sleep. Diffusing jasmine essential oil has the added bonus of making the house smell sweet and fresh.

It can be applied topically


Add a drop or two to your forehead or neck whenever you feel the need. You can also dilute it with a carrier oil and massage it into your body to help with joint soreness and muscular pain.
Bath
Add a few drops to your bath to multiply the relaxing effects.
Low tech Aromatherapy
Inhale it either from your palms or from a small handkerchief or cloth. You could also put a drop on your pillow to help you sleep well.
Jasmine Essential Oil Side Effects
Jasmine oil is considered to be safe in general. It is not toxic, generally non sensitizing and non-irritating. Because of its potent sedative effects, it should be used with a certain amount of care in case it impairs your concentration. Oral use is not recommended and if you are going to apply it topically it is best to dilute it with a suitable quantity of carrier oil first.
Despite its reputation for aiding the birthing process, pregnant and breastfeeding women are not recommended to use jasmine essential oil outside of labor.  Jasmine can negatively affect prolactin levels and milk production.  For those trying to wean this may be beneficial but during pregnancy and breastfeeding messing with hormone/prolactin levels is not recommended. 
http://www.pubfacts.com/detail/18175666/Influence-of-ethanolic-extract-of-Jasminum-grandflorum-linn-flower-on-wound-healing-activity-in-rats