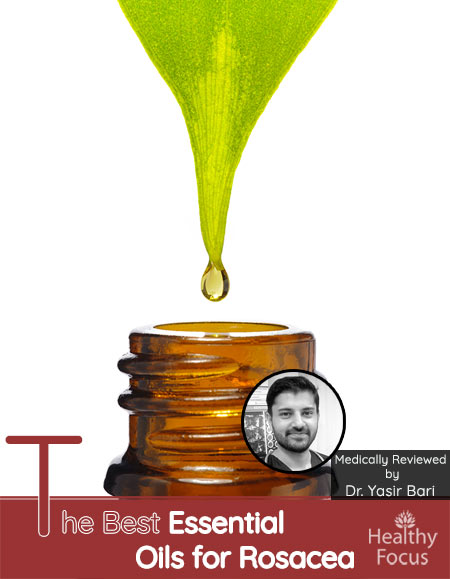 Medically Reviewed by Dr. Yasir Bari
Bsc, (Med) Bsc, (Nutrition), MBBS, DCN (Diploma in Clinical Neurology) – Reviewed & Approved on June 09, 2019
-Written by Andrew
What is Rosacea?
Rosacea is an inflammatory skin disorder that triggers small lesions and redness typically in and around the face. This condition typically has periods of flare-ups and remission. While not curable, there are medical and natural treatments. The goal of treatment is to extend remission and minimize flare-ups. For many people rosacea flare-ups respond to treatment with essential oils.
Rosacea Symptoms
Common symptoms of rosacea include the following:
Facial redness. The condition is usually characterized by a persistent redness on the center parts of the face. The blood vessels on and around the cheeks and nose often swell up becoming prominent.
Swollen red lumps. A lot of people with rosacea will develop facial pimples resembling acne. These swollen bumps can contain pus and the skin might feel tender or hot to the touch.
Eye problems. Around half the people with rosacea also have problems with their eyes including irritation, swellong and dryness. The eye symptoms of rosacea usually precede the skin related symptoms.
Enlarged nose.  In rare cases, rosacea thickens the skin of the nose making it look bulbous. This symptom known as rhinopyma is more common in men.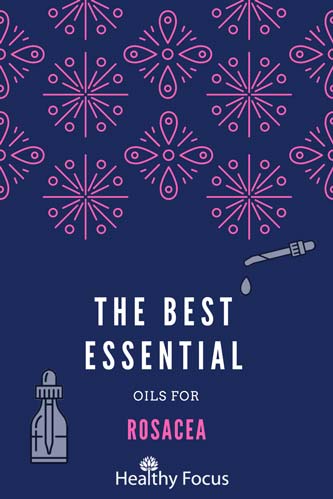 The Best Essential Oils for Rosacea
Although rosacea is a chronic skin condition with no absolute cure, it is possible to ease the symptoms and control the flare-ups. Fortunately, there are plenty of natural treatments for a person to try. One of the best ways to treat your condition naturally is with essential oils. many of these oils contain all the medicinal properties necessary to keep the condition under control.

1) Geranium Essential Oil (Pelargonium graveolens)
Geranium essential oil has antioxidant, astringent, anti-bacterial, anti-inflammatory and wound healing properties making it an ideal natural treatment for rosacea.
Rosacea weakens the capillaries in the pores and skin. Geranium oil can reverse that process. It also has antibacterial properties to minimize infections during outbreaks. The oil has a delightful calming odor to reduce stress that can also be a trigger for flare-ups.
2) Tea Tree Oil (Melaleuca alternifolia)
Tiny mites called demodex, are naturally present on facial skin and are usually harmless. Recent studies however have discovered people with rosacea have up to 10 times as many demodex mites. Studies suggest that too many demodex mites or related bacteria may trigger an inflammation and flare-up.
Find out more about how to get rid of demodex mites here.
Tea tree oil has natural antimicrobial properties and the proven ability to kill demodex mites. dill weed oil, caraway oil and pure alcohol are also able to kill the mites. Tea tree oil however is a far safer option. While dill and caraway are toxic for your eyes and alcohol dries out the skin, Tea tree oil is neither toxic or drying and can be safely used on the skin.
For some people, tea tree oil may cause side effects that make rosacea worse. It is best to test on a small affected area first and make sure you do not have a reaction or allergy.
How to use Tea Tree Oil:
Apply a few drops of tea tree oil to your fingers and massage into the affected area utilizing a circular motion. Alternatively, add a few drops of the oil to your regular skin care products and apply daily as normal.
3) Helichrysum Essential Oil (Helichrysum italicum)
Those suffering from painful inflammation resulting from rosacea have an ally in helichrysum essential oil. This gentle oil soothes inflamed skin, alleviates dryness, and helps to diminish the skin's red appearance. Loaded with diketones, helichrysum essential oil stimulates the growth of new skin tissue while promoting the healing of damaged and scarred skin.
How to use Helichrysum Essential Oil:
Add a dash or two of helichrysum essential oil to your fingertips and massage directly onto the affected area.  Again, you can add a few drops of helichrysum oil to your regular skin products and apply it as part of your daily regime. This article lists even more benefits of Helichrysum Essential Oil.
4) Sea Buckthorn Oil (Hippophae rhamnoides L.)
Sea buckthorn oil is a topical treatment that both heals and strengthens the skin. When applied directly to the affected area, sea buckthorn oil reduces swelling, inflammation, and scarring while fortifying your skin. The strengthening properties of this oil penetrate deep, also strengthening the skin cells and blood vessels. Sea buckthorn oil also contains antimicrobial propertie which help eliminate the bacteria that may trigger a flare up.
How to use Sea buckthorn Oil:
To apply topically, add a couple drops of sea buckthorn oil to your fingertips and massage onto the affected area in a circular motion.
5) Jojoba Oil
Jojoba oil is another treatment for people with rosacea. People with rosacea do not produce sufficient sebum. Jojoba oil acts like sebum hydrating and protecting your skin. The anti-inflammatory properties in jojoba oil help reduce skin redness and swelling.
For more information and uses for Jojoba Oil read this article.
How to use Jojoba Oil:
Wash your face with a gentle cleanser. Apply a few drops of oil on your fingers and massage into the affected area utilizing a circular motion. Do this in the morning and at night before bed. Only use pure organic jojoba oil to avoid additives that may cause a reaction. Jojoba oil only functions for mild cases and it can take time to see results. Its best used with stronger treatments.

6) Borage Oil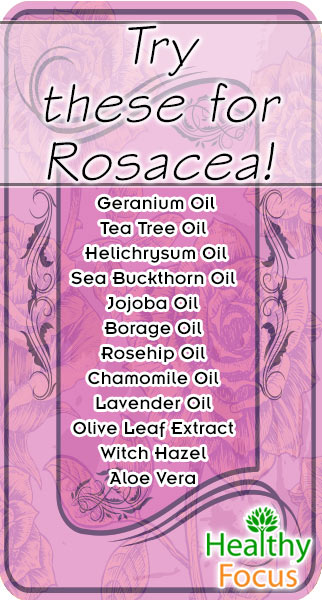 Borage seed essential oil is rich in gamma-linoleic acid (GLA). GLA is
an essential fatty acid that contains very powerful anti-inflammatory properties. By suppressing the irregular inflammation response, it helps to alleviate rosacea. Borage essential oil's anti-inflammatory properties also reduce reddening of the skin.
How to use Borage Oil:
Take 1,000 -1,500 mg of borage oil each day (240 to 300 mg of GLA). It can also be applied topically. Apply 2-3 drops of oil on your fingers and massage into the affected area.

7) Rosehip Oil
The nutrient dense rosehip oil can treat numerous skin problems. The anti-inflammatory property reduces inflammation and redness of your skin. Rosehip essential oil strengthens capillaries and minimizes redness of your skin due to its astringent qualities. Rosehip oil also contains retinol, found in many commercial products.
How to use Rosehip Oil:
Apply 4 drops of Rosehip essential oil onto wet fingers, apply carefully to area and air dry.

8) Chamomile Oil (Anthemis nobilis)
The active ingredient in Chamomile oil is azulene, which is found in pricey department store products. Chamomile oil has excellent anti-inflammatory properties making it a great choice for the skin in general. It can also be used to treat various chronic skin conditions including rosacea, eczema and psoriasis.Chamomile is considered to be very safe and gentle acting oil and its side effects are rare.
How to use Chamomile:
To use for rosacea simply make a cold compress. Steep a handful of real chamomile or 3-6 chamomile tea bags in 3 cups of boiled water for 20-30 minutes then let cool.
To apply dip a clean cotton cloth into the chamomile tea and pat onto the affected areas.
9) Lavender Essential Oil
A favorite essential oil for several skin types, lavender essential oil is particularly good for rosacea. Lavender has excellent anti-inflammatory and antiseptic properties. It is also among the most gentle acting of all the plant essential oils and is a good choice for children and those with sensitive skin.
How to use Lavender oil:
To use, simply apply 2-3 drops on your fingers and massage into the affected area.

A Blend of Oils : Rosacea Blend
Create a mixture of 1 drop each of melaleuca (tea tree), lavender, and German chamomile in 1 teaspoon of carrier oil (preferably jojoba) and apply a small amount of this mixture to the affected area up to 3 times daily.
Other Natural Treatments for Rosacea
As well as the essential oils already mentioned, there are various other effective natural remedies that you can try. Here are some of the best.
Olive leaf extract
In addition to topical treatments with essential oils, you want to fight rosacea inflammation from the inside. Rosacea is an inflammation disorder and immune system function affects inflammation. It only makes sense that boosting your immune system will reduce inflammation in the body.
Olive leaf extract has benefits as well as side effects so start off with a low dose and make sure you do not get a severe reaction. Dosing should be based on oleuropein content in mg. Contrary to what you may see elsewhere on the Internet–that does NOT mean you only need oleuropein.
The main active compounds in olive leaf extract are oleuropein, hydroxytyrosol, oleocanthal and elenolic acid. Oleuropein content IS important but do not get hung up solely on it.
Research shows that hydroxytyrosol has a higher antioxidant activity than oleuropein. (1)  A natural olive leaf extract not overly standardized for only a high oleuropein content may have better absorption. (2)
How to Use Olive Leaf Extract:
It is best to cycle Olive leaf extract in a 3 weeks on and 1 week off to prevent building up a tolerance. Start with 25-30mg of oleuropein content, once a day and see if you have a reaction. Then work your way up to 2-3 doses a day for a total of 75-100mg of oleuropein a day.
People sensitive to drugs and supplements should start with the lowest dose for a few days.  ALWAYS work with your doctor to make sure you are not on drugs which may have an interaction.
These oils should help with the symptoms of rosacea. If you find a couple of oils that work, you can always make a blend in order to simplify your routine.  In addition to essential oils, there are several other natural remedies to try:
Aloe Vera
Aloe Vera is effective for many sensitive skin problems. Aloe is an anti-inflammatory that calms the skin and a potent anti-fungal and antibacterial. Use Aloe as a topical application and make it a part of your daily skin care routine.
Witch Hazel
Alcohol Free witch hazel to be exact! I have seen conflicting reports on Witch Hazel—mostly good but some bad. No matter what if you are going to try it, make sure it is alcohol free. Thayer's sells an alcohol free that also contains with aloe vera.
Probiotics and The Brain-Gut-Skin Theory for Healthier Skin
The Brain-Gut-Skin Theory was proposed in 1930 by John H. Stokes and Donald M. Pillsbury. Since then several research studies have shown the validity of this relationship.
The theory is that stress, anxiety and depression can affect the balance of intestinal flora. The unbalanced gut flora can then affect the skin via an inflammation response. This inflammation can lead to flare ups of Rosacea, Acne, Psoriasis or Eczema.
Much of the research has done has been related to acne but the results hold true for Rosacea as well.
Some interesting facts about SIBO and Acne Rosacea
Small intestine bacteria overgrowth (SIBO) is 10 times more common in people with acne rosacea. When the flora is returned to normal levels there were significant improvements for the acne rosacea patients (3)
An Italian study showed improved outcomes for acne and rosacea patients who consumed probiotics. The probiotic used was 250 mg freeze-dried L. acidophilus and B. bifidum. These are common probiotics found in many probiotic supplements and most yogurts. (4)
If you are on prescription antibiotics (tetracycline), you may want to boost probiotic intake in any case. Antibiotics can alter intestinal flora for the worse and make a Candida outbreak more likely. (5)
Supplementing with probiotics and/or adding probiotics to every meal can help restore gut flora and fight Candida.
How to Get Probiotics
Yogurt, Kefir (do-it-yourself is best) and fermented foods are the best natural sources of probiotics. Kefir has the ability to colonize and make a better longer term change in the gut. Milk Kefir contains 30-50 live strains of beneficial bacteria and yeasts. Water Kefir has 10-15 live strains.  Most yogurts have 5-10 live strains.
If you are Lactose Intolerant then Water Kefir and Kombucha are your best potential food source. Also do not forget prebiotics. Prebiotics are what "feed" probiotics. To find out more about prebiotics—read this article.  For more on Kombucha–read here.
Several good supplement options exist—I recommend "Digestive Advantage" (aka Sustenex) and "Florastor". These 2 probiotics have the most research done on them.  An interesting new probiotic Clostridia shows a lot of promise. Early research shows it may help reverse food allergies or at least the severity.
The theory is that early antibiotic use permanently alters gut flora that leads to allergies. This can also hold true for a host of inflammatory conditions such as rosacea.
Vitamin D
Anti-microbial peptide are likely involved in the onset and outbreak of rosacea. Many rosacea sufferers have high levels of these peptides. These excessive levels trigger an immune response. This response can cause skin to be susceptible to infection. Vitamin D normalizes the effects of these peptides. Vitamin D is also vital for normal pores and healthy skin cell production.
How to get vitamin D:
The sun is still the best and cheapest source of vitamin D. Most rosacea sufferers are sensitive to sun so that may not be the best option. To get enough vitamin D you will need to take extra vitamin D3 vitamins or cod liver oil (another source of Vitamin D). Just make sure you are getting at least 3000 IU of vitamin D daily.
Green Tea
Green tea is one of the best home remedies out there. The health benefits of green tea are amazing. Green tea extract contains powerful antioxidants that help fight cancer and inflammation. Antioxidants are one of the main reasons why green tea helps fight rosacea. Green tea also has photoprotective properties. These properties help reduce sun sensitivity of rosacea sufferers making them less susceptible to UV light.
Another benefit of green tea is it stops the breakdown of the skins protective layer. A few scientific studies have shown that green tea polyphenols, when applied topically, can help with rosacea inflammation.
How to get Your Green Tea:
Using the cold compress technique works well as a home remedy. You steep a small number of green tea leafs or 4-6 green tea bags in 3 glasses of boiled water for 20-30 minutes then let cool. To use, dip a clean cotton cloth into the green tea and apply to the face.

You can always drink it.
Stress and Depression are Real Factors
You often hear that you should try to reduce your overall stress. When you are nervous or stressed, rosacea will flare up. Stress affects immune response and raises blood pressure.There is real science to back this up. Stress, Anxiety and depression have all been show to affect intestinal flora—which in turn can affect your skin. (6)
Try to reduce your overall stress. When you are nervous or stressed, rosacea will flare up. Stress affects immune response and raises blood pressure.
Good exercise and sleeping habits can also help. There is no easy answer but I hope you will find a couple of essential oils from this article that help with rosacea.  I do believe trying these tips could help find something that works for you.
Reading through rosacea forums and talking with people you will find one rosacea treatment is a near miracle for one person and worthless for another. So experiment with all of the suggestions and work on overall immune system health. Good luck!