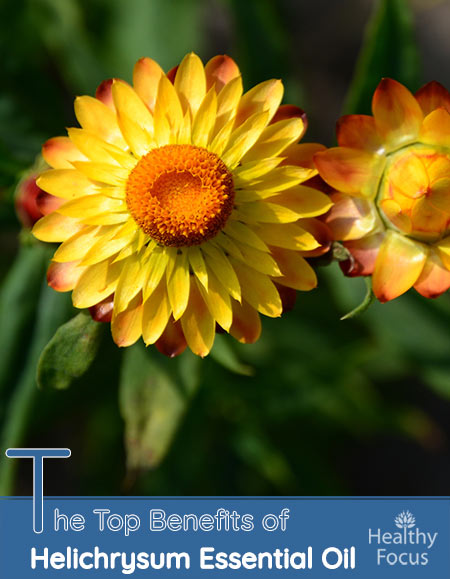 What is Helichrysum?
Hailing from the fields of the Mediterranean island Corsica, helichrsyum italicum essential oil is steam distilled from helichrysum flowers and world renowned for its healing benefits. This miracle oil is quite a bit pricier than other essential oils, but once you experience its wealth of benefits, you will wonder how you ever lived without it

Smelling of honey and nectar, this soothing oil will ease a trouble mind while melting away your ailments with just a few drops.
There are actually 4 different types of Helichrysum that are made into essential oils
---
Helichrysum bracteiferum
Helichrysum gymnocephalum
Helichrysum odoratissimum
Helichrysum italicum
While all of these oils have benefits they do differ even though they are the same Helichrysum genus. This article (and most research information out there) is about Helichrysum italicum. To find out information about the benefits of other Helichrysum essential oil species check out this article
Studies into the chemical composition of Helichrysum essential oil
There have been a considerable number of studies done regarding the chemical composition of helichrysum essential oil most of which have focused on the essential oil of helichrysum italicum. Research has established that this essential oil does indeed contain numerous properties that have significant pharmaceutical and medical value.
The majority of the amazing health benefits conferred by helichrysum essential oil are attributed to its antioxidant activity and its broad range of therapeutic properties including anti-inflammatory, antiviral, antifungal and antibacterial compounds.
The body of research into the chemical composition of helichrysum essential oil shows that it is made up of a large number of constituents including monoterpenes such as pinene and limonene, sesquiterpenes, linalol, nerol and phenol. The exact composition depends on many factors including environmental conditions such as soil, climate and altitude.
Among this research a study published in 2013 examined the composition of 21 samples of helichrysum essential oils from 7 locations around Tuscany in Italy and identified 115 components. All of the oil samples contained high levels of monoterpenes ranging from 38 to 62% while they also showed high sesquiterpenes values.
The analysis found its major oxygenated derivatives to be nerol and neryl acetate. The results demonstrated that there was a difference in chemical composition even within a small area due mainly to the type of soil in which the plant was grown.
Arzanol, one of the known anti-inflammatory substances possessed by helichrysum, is worth mentioning further. Studies have demonstrated that arzanol is unique in that it actually possesses antiviral properties as well as being anti-inflammatory. Scientists believe that arzanol might not only be of potential benefit to patients with inflammatory conditions but also to those suffering from cancer. (3) (4)
Helichrysum Essential Oil Benefits
Heart Health
Used traditionally by Europeans for years, helichrysum oil helps manage high blood pressure. This oil lowers the inflammation of blood vessels, promoting healthy smooth muscle functioning.


Helichrysum oil also serves to work as an anticoagulant, for those who have experienced a thickening of the blood due to high cholesterol. Thinning the blood, this essential oil is a great aid for those who run the risk of having a heart attack.
Blood Clots
Helichrysum oil stimulates enzymes that help dissolve blood clots that result from a hemorrhage. These clots, which can interfere with normal functioning of the brain, get cleared away with the aid of this oil.
Digestion
Helichrysum oil promotes the release of gastric juices vital to breaking down food and preventing indigestion. With the help of this oil, bile is secreted into the stomach and helps to neutralize acidity, preventing stomachaches and bloating.
Diuretic
Helichrysum oil helps remove toxins from the body by promoting and facilitating the production of urine. Urination not only helps purify the blood, but it also helps with digestion, high blood pressure, and weight loss.
Skin Health
This multi-faceted oil is instrumental in promoting the health of your skin. An antifungal and antibacterial, helichrysum oil helps to efficiently heal wounds and combats skin irritations such as rashes and infections.


To prevent such skin conditions as shaving irritation, rashes, hives, blemishes, and redness, simply combine a few drops of helichrysum oil with a carrier oil such as coconut oil or jojoba oil and smooth on to the face.
If you are experiencing itching from poison ivy or a rash, apply helichrysum oil cut with lavender oil to the affected area and experience cool relief.

Acne
The antimicrobial and antibiotic properties make helichrysum oil a great natural alternative acne treatment. The upside of using helichrysum to treat acne is that it kills bacteria without drying and irritating side effects of traditional acne treatments.
Eczema
Eczema is a chronic inflammatory skin complaint with no known cure. However, the symptoms which include itching and flaked skin can be eased with certain treatments. Traditional remedies include steroid based creams which can have a short term effects but can also cause more future damage.
Many people turn to more holistic remedies and if the online testimonies of many sufferers are anything to go by then helichrysum essential oil is an excellent choice. Before applying your helichrysum essential oil, make sure that you dilute it in another skin friendly oil. Virgin coconut oil is one of the best options because of its own skin health properties which combined with helichrysum pack a potent healing punch.
Psoriasis
Psoriasis is another common skin disorder which is characterized by elevated patches of reddened skin. It can be unsightly and very painful and tends to get worse during periods of sickness and high stress. Like eczema, there is no actual cure but topical treatments can offer some immediate relief. Many people have had a great deal of success in treating their symptoms with essential oils and helichrysum is among the very best.
Rosacea
Rosacea is another inflammatory skin condition which usually develops in adults over the age of 30. It causes redness and inflammation often in the face but also sometimes on the chest and scalp. It is characterized by periods of break outs and remission and there is no known cure to date. Treatment is focused on easing the symptoms and limiting the periods when the condition flares up.
Many people have found that essential oils can help relieve their symptoms and helichrysum is once again considered to be one of the best options. Because of its expense and limited availability, it is good to know that there are many other essential oils which can do a similar job. You can read a full review of the best essential oils to use for rosacea here.
Scars
Helichrysum oil is a great alternative to healing scars and promoting the regeneration of collagen and new healthy skin. Helichrysum oil has profound healing capabilities for various kinds of scars such as ice pick scars, box scars, acne scars, keloids, and stretch marks.
To start the healing process, mix one part helichrysum oil with three parts lavender oil and gently massage into the scar, old or new.

Burns
The natural emollient properties of helichrysum oil helps to hydrate burnt and distressed skin. This oil also helps to ease the pain resulting from sunburn and prevents damage occurring from harmful ultraviolet rays, protecting the skin from advanced aging and cancer.
To experience immediate relief from a burn, mix a 1-3 drops of helichrysum oil with coconut oil and apply directly to the affected area.

Sunburn Recipe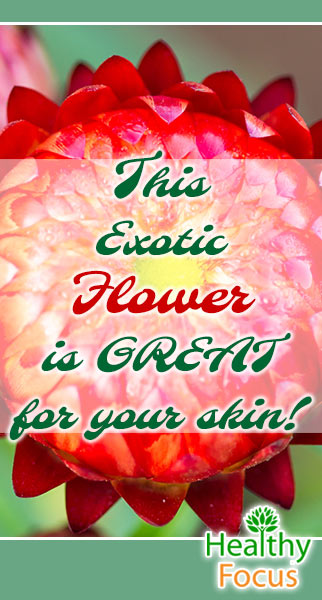 Combine the following ingredients, mix them up well the end product into a glass jar.
10 drops of helichrysum and 10 drops of frankincense essential oil
2 thirds a cup of virgin coconut oil
A few tablespoons shea butter
Put a few inches of water into a saucepan and then place the glass jar with the ingredients into the water and simmer at a low heat. Stir your ingredients until they begin to melt. Apply the mixture to the affected parts of your body and store the remainder in a cool dry area for next time.
Hemorrhoids
Hemorrhoids can be both painful and a bit embarrassing for some people. There are numerous effective home remedies that you can try and unsurprisingly essential oils are high on that list. Helichrysum is one of several essential oils with proven effect in treating hemorrhoids. Helichrysum essential oil is one such remedy.
It works on the condition by reducing inflammation in the blood vessels and swelling in the surrounding tissues. It also helps soothe the itchiness and burning and helps relieve the pain. Moreover, helichrysum essential oil can help stem any bleeding that many people suffer when they have hemorrhoids and prevent bacteria from spreading.
To treat your hemorrhoids with helichrysum oil, first dilute it with a suitable carrier oil then add a few drops of the finished mixture to a moist wipe or cotton pad. Gently apply it to your affected anal area once or twice each day until your symptoms have improved.
Hair and Scalp
Helichrysum is great for your scalp for the same reasons that it works so well on other parts of your skin. It softens, heals and moisturizes dry and damaged tissue and can help strengthen the follicles to ensure your hair grows healthier and stronger.
Because of its cytophylactic properties, it stimulates the rejuvenation of skin cells and also promotes the efficient circulation of blood to the scalp area which helps aid hair growth as well as taking care of your scalp.
Basically it can help boost the best possible hair growth while simultaneously reducing itching and dryness in your scalp. It is also considered to be one of the best essential oils for treating dandruff and other skin disorders that affect the scalp.
There are many ways to use helichrysum essential oil on your hair including the following:
Helichrysum and Coconut Conditioner
Add between 8 and 10 drops of helichrysum essential oil to 3 tablespoons of virgin coconut oil and a tablespoon of virgin olive oil and mix well.
Once you have a nice, smooth consistency, apply the mixture to your dry hair and work it all the way through with your fingers. Try to ensure that you distribute it evenly all over your hair. Allow the conditioner to work into your hair for at least 20 minutes before rinsing it out thoroughly. Repeat this process several times a week and you are bound to notice the diference.
Spleen and Liver health
This essential oil works hard to detoxify your liver and spleen. Helichrysum oil helps to purify the blood and serves as an anti-inflammatory for the liver, protecting it from infections and maintaining normal functioning.

Immune System Support
To ensure your overall health, its important to protect the gut, where a large part of the immune system resides. Luckily, the anti-inflammatory and gut-healing properties of helichrysum does just that, helping to boost immunity from disease and sickness. Clinical studies have shown that helichrysum oil inhibits to growth of harmful bacteria, viruses, and fungi.

Respiratory health
If you are suffering from a cold, the flu or some sort of sinus infection that is harming your respiratory system then helichrysum is one of many effective essential oils that can be truly effective. It can help improve the airflow and ensure that you are able to breathe more easily.
Helichrysum oil helps to alleviate cough associated with mucus. This essential oil warms up the respiratory system, alleviating congestion and loosening up hard bits of phlegm.

There are several ways that you can use helichrysum oil to deal with poor respiration. The easiest and most convenient way is to inhale it directly from the bottle or a handkerchief.
A more effective method is to make a steam inhaler by adding a few drops to a hot sink or bowl of water and breathing in the healing vapors for 5 minutes or so. This method should relieve the build-up of mucus, help with airflow and ensure that your breathing returns to normal fairly quickly.
Pain Reliever
The anti-inflammatory properties of this oil improves circulation and helps reduce muscle pain, swelling, and inflammation. Helichrysum oil also helps ease pain associated with nervous system, supporting nerves, joints, and muscle tissue. People suffering from arthritis, neuropathy, and fibromyalgia will find welcomed relief with this essential oil.

Try this wonderful anti-inflammatory pain relief rub recipe to deal with muscle and joint soreness.
If you follow this simple recipe, you should have enough to last you quite a while.
Combine 10 drops of helichrysum essential oil with 5 drops each off lavender and peppermint. Add your essential oils to half a cup of jojoba, sweet almond or coconut oil and mix it together well. Use it to massage your sore muscles after exercise or a hard day's work and store the remainder in a cool dry spot in glass container.
Tinnitus
If you endure the awful ringing in your hears associated with tinnitus, you know how much this condition affects the quality of not only your sleep, but your life. Luckily, the healing properties of helichrysum oil can help alleviate this problem.
Simply dispense a few drops into your hand and inhale deeply, then massage gently to the fronts and backs of your earlobes and behind each ear. Make sure not to get any helichrysum oil inside of the ear canal.

Kidney Stones
Helichrysum essential oil supports detoxification of the body's major organs like the liver and the kidney. Although there is no scientific evidence that it works, many people say that helichrysum in combination with some of the citric essential oils can be used to reduce the risk of developing kidney stones.
To detoxify using helichrysum essential oil, combine a few drops with a suitable base oil and apply it topically to your lower abdomen once or twice a day.
Cancer Protection
The research into the chemical constituents of helichrysum essential oil indicate that it contains potent antioxidant compounds in the shape of flavonoids which are known to prevent oxidative stress caused by free radical damage. Oxidative stress can lead to multiple serious conditions including heart disease and the growth of cancerous cells.
In addition, when applied topically helichrysum essential oil can protect against damage caused by overexposure to the sun's UV rays. According to various studies, these photo protective effects of helichrysum essential oil owe much to its active compounds like acetophenone. (5)
Mental exhaustion and Burnout
If you are feeling run down and life is getting the better of you, helichrysum essential oil might be able to help. A pilot study published in 2013 with the aim of determining the effect of a combination of essential oils on moderate levels of burnout and mental exhaustion. The study combined helichrysum essential oil with peppermint and basil with treatment delivered by means of a personal inhaler.
The study took place over 3 weeks and enrolled 13 participants assessed to be suffering from mental exhaustion or burnout. Participants in the study were randomly split into groups and given a personal inhaler containing either the essential oil mixture or rose water. Results were determined by a personal assessment questionnaire which listed perceived stressors.
While both groups experienced a perceived improvement in mental exhaustion and burnout, those given the essential oils combination experienced a far greater reduction. Researchers were cautiously optimistic, but the study was small scale and more research is warranted.
Staphylococcus aureus Fighter
Staphylococcus, more commonly known as staph infections are a group of bacteria which can lead to a variety of diseases. Disease may result from the infection itself or because of the toxins produced in the affected area.
Staph infections are typically treated with antibiotics but a certain type of staph infection known as MRSA is becoming increasingly problematic and drug resistant. Because of its resistance to conventional treatment, the search has long been underway for an alternative method to deal with this dangerous form of bacteria.
Research published in 2001 was conducted to investigate the effect of helichrysum italicum on the growth of staphylococcus aureus including MRSA. The results of the study suggested that helichrysum extract inhibited the growth of staphylococcus aureus strains and caused a reduction in their growth and certain enzymes. The researchers concluded that helichrysum might prove a novel effective and non-toxic treatment for these bacterial strains and was worthy of further study.
Aromatherapy
The unique scent of helichrysum oil provides many therapeutic benefits. You can either diffuse helichrysum oil or add a few drops into a warm bath to promote feelings of emotional security and mental calmness. By taking in this unique scent, you also experience respiratory relief, resist infection of airborne allergies, and improve blood circulation.
How to Use Helichrysum Oil
There are many ways you can enjoy the benefits of Helichrysum Oil
Use a diffuser to diffuse the scent into your home. This help create a calming ambiance while killing airborne allergens.
Apply directly to the skin to enjoy its emollient effects, prevent infection, and ease various ailments.
Add a few drops to your bath to experience helichrysum oil's therapeutic effects.
Blending Helichrysum Oil
Many people like to blend essential oils to experience many different therapeutic and healing properties provided by these oils. Helichrysum oil blends especially well with lavender, rose, geranium, juniper, lemon, lime, neroli, orange, sage, ylang-ylang, and cyprus. Consult with an experienced aromatherapist before blending these oils to make sure you're getting the most benefits out of these oils and that these oils are safe to use for your particular ailments.
Some Considerations Before Using Helichrysum Oil
Before using helichrysum oil for any ailment, consult with both a physician and experienced aromatherapist to ensure safety and compatibility with your treatment routine.
Helichrysum essential oil is a wonderful aid but should not be considered a replacement for traditional medical treatment. Discuss with your physician about how using helichrysum oil can help benefit your treatment routine.
Helichrysum oil is not recommended for internal use. Avoid contact with inner ears and eyes.
Although helichrysum essential oil is gentle, it may cause skin sensitivity in some people.
There has not been enough scientific testing the safety of use of helichrysum oil in pregnant and breastfeeding women, so please use only under the care of your physician.
Given that helichrysum oil is considered an anticoagulant, this essential oil is not recommended for the use of those who have recently undergone surgery. Those at risk for internal hemorrhages should also avoid use of this essential oil.
When buying helichrysum oil, make sure you are buying 100% organic therapeutic grade oil from reputable sources. Unfortunately, essential oils offered at discount prices are often diluted with other chemicals, often compromising its safety and therapeutic benefits. Its wise to buy 100% pure oils to make sure you know exactly what you are getting. In the case of essential oils, the old saying is true: you get what you pay for.
The Corsican variety is Helichrysum italicum, and is also called Helichrysum italicum variety serotinum. If you are looking for the specific benefits referred to in this article, make sure to get the right type.