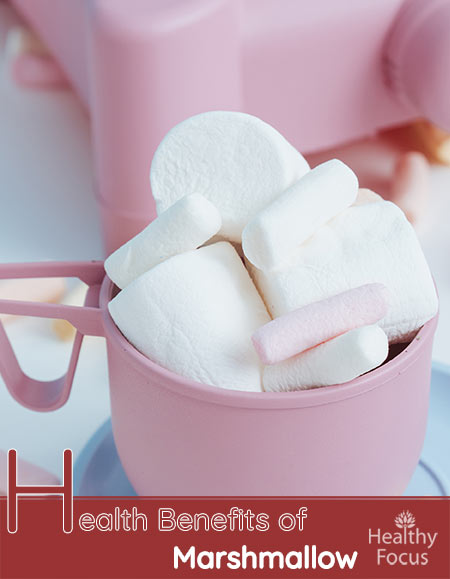 Just about everybody will be familiar with the sticky, sickly sweet marshmallow candy treat. While they make for a fun snack to roast overt the campfire, nobody would ever claim they are healthy. However, fewer people will be aware that these sugary treats are made from marshmallow root and that marshmallow root has a number of excellent health benefits.
In fact, people have used marshmallow root for hundreds of years to treat a wide range of conditions. The plant has been used to ease congestion, boost digestive health and even to treat infection. To find out more about what marshmallow root can do for your health and how to use it, please read on.
What is Marshmallow?
Marshmallow root, known scientifically as Alathaea officinalis is native to parts of Europe, northern Africa and Western Asia. It has been used traditionally to treat a wide range of ailments including respiratory, digestive and skin disorders.
The use of the plant in traditional medicine dates all the way back to the ancient Egyptian and Greek times. It was referenced by Homer in his 'Iliad' over 2000 years ago – a time when it was a popular remedy for congestion, coughs and sore throats.
Marshmallow is still used today in a similar manner since the plant contains potent active compounds which can help break up phlegm and mucus, relieve inflammation and destroy bacteria naturally.
It is an especially significant herb in traditional Asian systems of medicine including Ayurvedic and Unani health systems.
These days, the plant is still used to treat a very wide range of illnesses including :
Colds and coughs
Congestion and bronchitis
Digestive conditions like constipation, diarrhea and stomach ulcers
Leaky gut syndrome, inflammatory bowel disease and other autoimmune disorders
Bacterial infections such as respiratory infections, UTIs and bladder infection
Joint pain including arthritis
Minor wounds, burns and bites
We will soon take a look at the specific conditions that you can treat with marshmallow root but first let us look at how and why the herb is believed to work.
How Marshmallow Works
The young leaves and the flowers of the plant are edible and have traditionally been eaten cooked or raw. These days, marshmallow root is used to make teas, tinctures and other supplements. Compounds in the plant's roots and leaves are isolated from the plant to produce these extracts.
Perhaps the most significant benefit of marshmallow is its natural 'mucilage' properties. This means that the plant acts as a fiber, swelling when it is mixed with water. The slippery qualities help to form a thick, protective coating around the membranes.
What active ingredients does marshmallow contain?
According to research, marshmallow root contains various active compounds giving it a number of potential medicinal uses. these include the following  :
antioxidant flavonoids
polysaccharides including pectin
various amino acids
various antibacterial and antiviral compounds including coumarin, quercetin, kaempferol and tannins
Studies have found that the compounds found in marshmallow can relieve respiratory issues including swelling and pain in the nasal passage and the mucus membranes which lining the respiratory tract. These compounds can also protect the lining of the digestive tract. This makes the herb a valuable natural remedy against respiratory disorders and inflammatory digestive complaints.
Being so high in various antioxidants, the herb can also help protect against oxidative stress which can lead to disease. There is also evidence that marshmallow root can boost the body's immune system keeping the body in shape to fend off illness.
Health Benefits of Marshmallow
For Coughs and Colds
Marshmallow root has traditionally been used to treat various conditions affecting the respiratory system including relief from coughs and colds. modern research suggests it may be effective because of its high content of mucilage.
One study, published in 2005, found that a cough syrup made with marshmallow root and several other herbs could help relieve coughs caused by bronchitis and colds and other respiratory tract conditions. The other herbal ingredients of the syrup were ivy leaf, aniseed and thyme.
The researchers found that the syrup was highly effective. After just 12 days of treatment, all 62 of the participants experienced a significant improvement in their symptoms. (1)
While more research would be desirable, experts believe that the root is effective because it has natural expectorant properties. It helps to loosen the mucus in the respiratory tract and can also inhibit the growth of bacteria.
How to use For Colds and Coughs and Sore Throat
For coughs and colds, you can suck on lozenges containing marshmallow extract. Marshmallow cough syrup is also available with a recommended dose of 10 milliliters each day. Another option is to drink two or three cups of marshmallow tea each day until you have recovered.
For Digestive Health
Marshmallow root has also been used traditionally to treat various digestive complaints including diarrhea, constipation, stomach upset, colic and heartburn. Once again, there is some evidence from recent research that the herb may be effective.
Once animal study, published in 2011, looked at the effects of marshmallow extract on stomach ulcers in a group of rats. The rats were given an extract made from marshmallow flower for a month with researchers noting that the herb conferred anti-.ulcer activities. (2)
To treat indigestion, stomach upset or constipation, most experts recommend drinking a few cups of marshmallow tea each day.
For Inflammation of the Stomach Lining
There is also evidence that marshmallow root can help to ease inflammation and soothe irritation in the lining of the digestive tract.
The results of a laboratory study, published in 2010, suggest that polysaccharides and aqueous extracts derived from marshmallow are able to treat irritated and inflamed mucus membranes.
The researcher indicates that the plant's mucilage content helps protect the stomach's lining by creating a protective tissue layer. There is also evidence that marshmallow root can stimulate cells which support the regeneration of tissue. (3)
As a Natural Diuretic
There is also evidence that marshmallow root can act as a natural diuretic. This means that it can help increase both the production and of urine and the frequency of urination.
Diuretics or water pills are prescribed for various conditions including urinary tract infections, bladder infections and kidney complaints because they help the body flush out harmful toxins.
Studies have also revealed that marshmallow root can support urinary health in general. One study, published in 2016, found that marshmallow root had a soothing effect on inflammation and irritation in the urinary tract. (4)
There is also evidence from a study, published in 2015, that marshmallow root has antibacterial effects making it a useful natural remedy for UTIs and bladder infections. (5)
Drinking a few cups of marshmallow tea each day might help treat UTIs and bladder infections.
For Heart Health
There is also evidence that marshmallow extract can be beneficial to the heart's health and may be useful in treating certain heart conditions.
An animal study, published in 2011, found that extracts of marshmallow flower had a positive effect on cholesterol levels and platelet aggregation. The researchers also found that the herb had natural anti-inflammatory effects against both chronic and acute inflammation. these effects may help reduce the risk of heart disease. (6)
More research is needed to confirm these findings, but the early indications are positive.
Antioxidant Benefits
Marshmallow root contains a number of powerful antioxidants which could protect the body from damage done by harmful free radicals. Oxidative stress is at the root of many illnesses and diseases including heart disease, cancer and Alzheimer's.
Experts believe that consuming natural antioxidants can protect the body against disease and may even help reverse cellular damage.
Another study published in 2011 found that marshmallow root had powerful antioxidant effects which could protect the body from disease. (7)
Marshmallow Root For Skin Health
Marshmallow root can also be applied topically to the skin to improve its general health and appearance. Marshmallow root contains a number of natural antioxidants and can be found as an ingredient in many commercial skin care products.
According to research, it is especially useful for treating damage caused by exposure to the sun. One study, published in 2016, supports the use of marshmallow root as a topical remedy for skin damaged by UV rays.
The laboratory study found that marshmallow root extract significantly reduced UV damage to DNA in human skin fibroblasts. (8)
Creams and ointment made form marshmallow root are available and can be applied to the skin twice a day. Apply more often if you are trying to deal with sunburn or damage caused by the sun.
Although marshmallow root is generally well-tolerated, it is good practice to perform a patch test on a discrete area of skin before applying a larger dose. As long as you do not experience an allergic reaction within 24 hours, you should be good to go.
For Eczema and Dermatitis
Marshmallow root has natural anti-inflammatory and antibacterial effects, which may be useful in treating certain common skin conditions including dermatitis and eczema.
A review, published in 2013, concluded that applying an ointment consisting of 20% marshmallow extract helped relieve skin irritation. The researchers also believe that the herb can stimulate anti-inflammatory cells.
The researchers found that the extract was slightly more effective when it was used along with a synthetic anti-inflammatory drug. However, it was still more effective than an ointment containing only a synthetic anti-inflammatory. (9)
To treat skin conditions like eczema or dermatitis, ointments containing marshmallow extract are available. Apply three times each day.
Again, it is important to do a patch test before you apply the larger dose.
For Minor Wounds
Because of its natural antibacterial actions, marshmallow root can also be applied topically to help treat monor wounds, bruises and insect bites.
A study, published in 2015, indicates that marshmallow extract was effective against gram positive bacteria. This type of bacteria is responsible for over half of infections including so called 'super bugs' which are resistant to antibiotics.
Researchers applied marshmallow root extract to wounds in rats and found that the treatment had a significantly positive effect on wound healing compared with the antibiotics used as a control. (10)
While more research is necessary, the result of the study indicates that marshmallow root could be effective as a natural topical remedy for minor wounds, burns, abrasions and insect bites.
How to Use Marshmallow
Marshmallow root is available in various forms including supplements, liquid extract and tinctures. It is also available in the form of an herbal tea and as an ingredient in topical creams and ointments. How you use the herb will depend on the condition that you are trying to treat.
Marshmallow root tea is an excellent choice for dealing with respiratory conditions and digestive complaints. Marshmallow root is readily available in ready-made tea bag form while it is also added as an ingredient in various herbal tea blends.
To make your own marshmallow tea, you can buy dry marshmallow leaves or buy the pure root in its powdered form.
The following methods of using marshmallow root are recommended for certain conditions :
For coughs, colds and other respiratory issues
Try drinking two or three cups of marshmallow root tea during the day to help relieve your symptoms. One or two teaspoons of powdered marshmallow root or dried leaves is considered to be effective and safe to make a soothing tea.
By sipping on a tea, you can soothe inflammation in the respiratory tract while it can also help break up mucous helping you breathe more easily. You can add honey to taste and combine the marshmallow root with thyme or fennel for even greater relief.
For digestive health
To help boost overall digestive health or to treat digestive conditions like ulcers, indigestion, IBS or leaky gut syndrome, you can use marshmallow root in various forms.
Marshmallow root tea is again a popular and effective choice but you can also use tinctures, powder or supplementary capsules. Speak to your doctor or herbal expert about the appropriate dose and follow any dosage instructions on the label. A dose of about six grams a day is considered effective and safe for inflammatory bowel conditions.
For skin health and wound healing
To treat minor wounds, abrasions or bites, you can apply an ointment containing 20% marshmallow root extract directly to the affected part of your skin. area. You can do the same thing to treat sun damaged skin while it may also be effective for skin conditions like eczema and dermatitis.
Side Effects and Precautions
Marshmallow root is usually well-tolerated but there are certain precautions to be aware of. It is also best to start with a lower dose and build gradually towards a higher dose to reduce any risk of adverse side effects.
Potential side effects of taking marshmallow root by mouth include dizziness, nausea and stomach upset.
Consuming 8 fluid ounces of water with your marshmallow root may help reduce the risk of adverse side effects.
Do not use marshmallow root for more than 4 consecutive weeks. Take at least a week break before using the herb again.
Applying the herb topically can cause irritation to certain individuals. To reduce the risk of reaction, you should perform a patch test on a discrete area of skin. Leave in place for 24 hours. If there is no negative reaction, you can go ahead with the full application.
Pregnant women and those who are breastfeeding should avoid using marshmallow root because of the lack of safety data.
People with diabetes should avoid consuming marshmallow root.
People with a scheduled surgery should avoid using the herb for at least 2 weeks prior to surgery.
Marshmallow root may interact with lithium as well as diabetes medications. Avoid using the herb if you are taking any of these medications.
If in doubt, consult your doctor to make sure that the herb id safe for you to use.
Final Thoughts
Marshmallow root has been used as a traditional medicine for thousands of years. Ii contains anti-inflammatory, antibacterial and mucilage properties that can help treat a variety of conditions.
The herb is most commonly used to treat respiratory conditions like coughs, colds and bronchitis. It is also used to boost digestive health. Studies suggest it may also be effective for the heart's health and as a natural diuretic. Marshmallow root can also be applied topically to help treat sun damage, eczema and to heal wounds.
It is available in a variety of forms including teas, tinctures, capsules and powder.
While it is generally considered to be safe, it should not be used for more than 4 weeks at a time and you should speak to your doctor of you are taking any other form of medication.
(1) https://www.karger.com/Article/Abstract/88934
(2) http://dx.doi.org/10.3109/13880209.2010.516754
(3) https://www.sciencedirect.com/science/article/pii/S0378874109006102?via%3Dihub
(4) http://www.phytojournal.com/archives/2016/vol5issue6/PartE/5-6-35-802.pdf
(5) https://www.ncbi.nlm.nih.gov/pmc/articles/PMC4418059/
(6) https://www.tandfonline.com/doi/full/10.3109/13880209.2010.516754
(7) https://www.tandfonline.com/doi/abs/10.1081/AL-120039431
(8) https://www.hindawi.com/journals/omcl/2016/7053897/
(9) https://www.termedia.pl/Review-paper-Medicinal-plants-used-in-treatment-of-inflammatory-skin-diseases,7,20954,0,1.html
(10) https://www.ncbi.nlm.nih.gov/pmc/articles/PMC4418059/