What is Eczema?

Eczema is the term given to a group of conditions that causes inflammation and irritation of the skin. Eczema can be painful and rashes often appear on the knees, elbows, hands and face. It is a very common condition that affects up to 20% of infants and 3% of adults in the United States. While there is no cure for eczema, most infants grow out of the condition by their tenth birthday but for those who continue to suffer into adulthood, the symptoms can be miserable.
What Causes Eczema
Experts are not absolutely certain what exactly causes eczema. They do know that it is more common in families with a history of asthma or other allergies. The symptoms of eczema might occur in response to any of the following irritants or conditions:
Soap or detergents
Shampoo or bubble bath
Washing up liquid
Disinfectants
Pets
Dust mites
Hot weather
Perspiration
Stress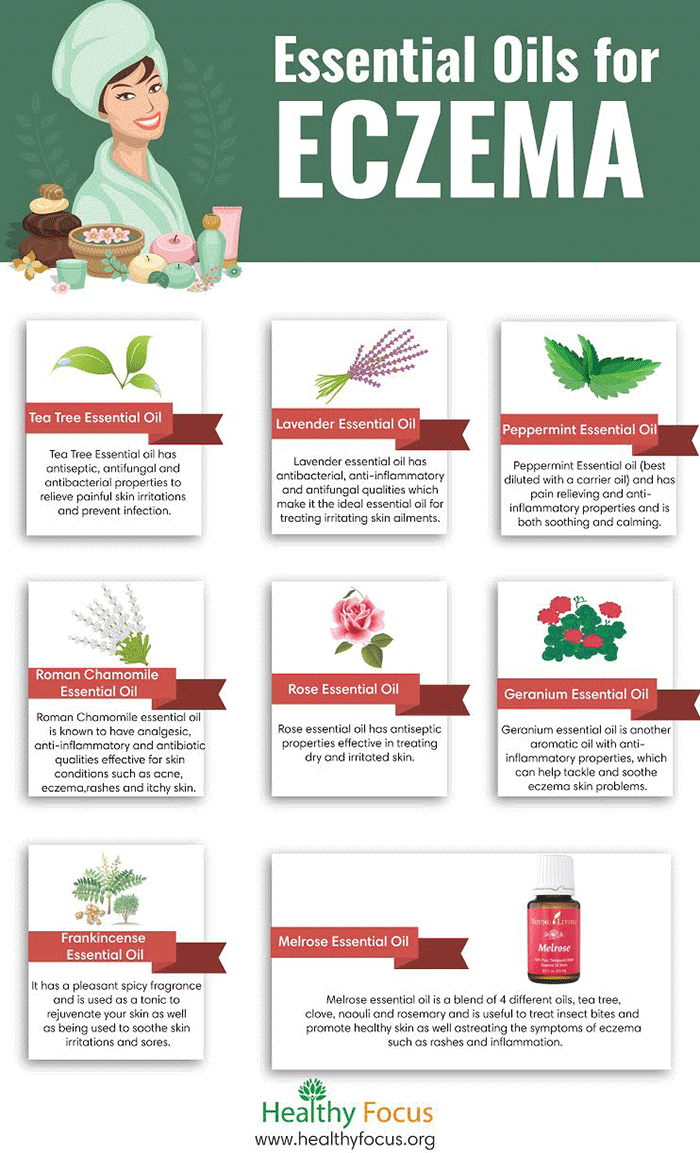 Treatment for Eczema
Doctors will most commonly prescribe one of the many over the counter steroid creams for eczema. Steroid creams can be effective in the short term but are generally ineffective in the long run with the symptoms often returning in even an even worse form. Because of this, there is an increasing interest in alternative treatments for eczema and there are numerous home remedies that purport to be effective in its treatment.
These home remedies range from apple cider vinegar to coco butter and dietary supplements. Essential oils are becoming more and more widely used to remedy a host of medical issues and this article will explore their ability to remedy the painful and irritating symptoms of eczema.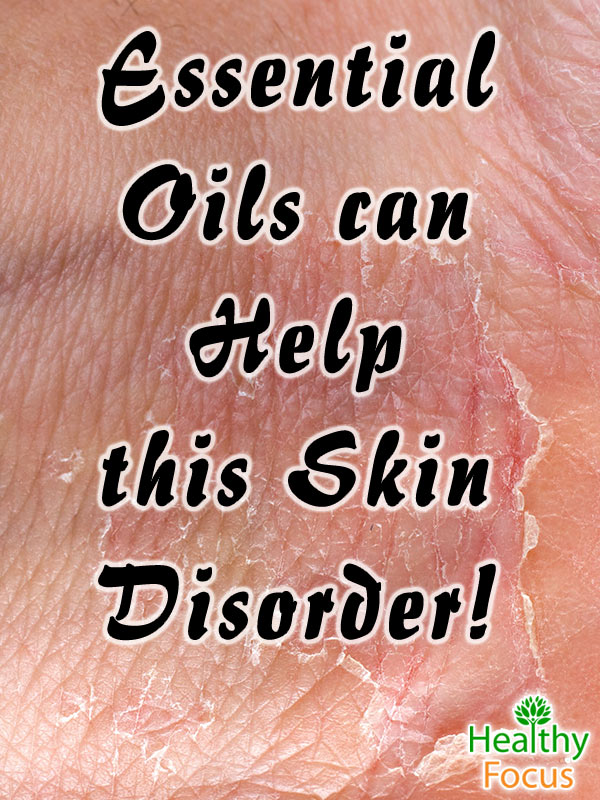 Essential Oils for Eczema
Many essential oils are known to have antiseptic, anti-fungal and anti-inflammatory properties but with so many essential oils on the market, how do you know which ones to choose for your eczema relief. Before going any further, make sure that you are buying pure, therapeutic grade essential oils. They will cost more than ordinary scented oils but there is no substitute for quality when it comes to medicinal benefits.
Tea Tree Essential Oil
Tea tree essential oil also known as melaleuca is thought to be one of the most effective essential oils for the treatment of eczema. It is extracted from the leaves of the melaleuca alternifolia plant native to Australia and is known to be effective as a remedy for a number of ailments including yeast infections, dandruff and fungal infections such as athlete's foot. Tea Tree Essential oil has antiseptic, anti-fungal and antibacterial properties. It helps relieve painful skin irritations and its antibacterial qualities can help prevent infection caused by too much scratching. Tea Tree oil is perfectly safe and can be applied directly to the affected areas without being diluted.
Tea tree oil also can get rid of Demodex mites.  These mites are likely culprits in Rosacea but have also been linked to other inflammatory skin conditions like eczema.
Lavender Essential Oil
Lavender essential oil is incredibly versatile and has a host of medicinal benefits. As well as simply smelling great, it is known to have antibacterial, anti-inflammatory and antifungal qualities which make it the ideal essential oil for treating irritating skin ailments. Like tea tree oil, it is safe to apply undiluted to the affected areas of your skin to help ease your symptoms. When inhaled or diffused, lavender oil is known to promote a good sleep which is a welcome bonus for you or your little one. Lavender essential oil is a very gentle and soothing oil and can be safely added to a warm bath for young children.
Peppermint Essential Oil
Peppermint Essential oil has a delightful, refreshing menthol aroma and a natural cooling effect on your skin irritations. Peppermint Essential oil has pain relieving and anti-inflammatory properties and is both soothing and calming. It is considered safe to apply peppermint essential oil directly to the affected area of your skin but those with especially sensitive skin might consider diluting it with a carrier oil like coconut, olive or jojoba oil.
Roman Chamomile Essential Oil
Roman Chamomile essential oil has a sweet, apple-like aroma and is known to have analgesic, anti-inflammatory and antibiotic qualities. As well as its other uses, roman chamomile oil is effective for skin conditions such as acne, eczema, rashes and itchy skin. German chamomile oil has very similar properties and can also be used to remedy a number of skin complaints including eczema.
Rose Essential Oil
Rose essential oil has a fresh and deep rose-like fragrance. Its antiseptic properties are thought to be effective in treating dry and irritated skin. Rose oil is more expensive than most so consider diluting it with carrier oil or adding it to another to make your own blend.
Geranium Essential Oil
Geranium essential oil is another aromatic oil with anti-inflammatory properties, which can help tackle and soothe your skin problems.
Frankincense Essential Oil
It has a pleasant spicy fragrance and is used as a tonic to rejuvenate your skin as well as being used to soothe skin irritations and sores.
Melrose Essential Oil
Melrose essential oil is actually a powerful blend of 4 different oils … tea tree, clove, naouli and rosemary. Melrose essential oil is used to treat insect bites and purports to promote healthy skin as well as treating the symptoms of eczema such as rashes and inflammation.
It is recommended that you dilute Melrose oil with olive or coconut oil in an equal ratio before applying it to the skin.
As well as the above listed oils, essential oils said to work as an eczema treatment include cedarwood, thyme, juniper and marjoram essential oils.

How to Use the Essential Oils for Eczema
Add to a warm, relaxing bath
Add between 6 and 10 drops of the oil of your choice to your bath. It is up to you whether to use a single oil or to add a combination of oils to your water. For example you could use 2 drops of lavender oil, 2 drops of geranium and 2 drops of peppermint. The combination is entirely up to you but be sure that the water is not running when you add your oils otherwise they will partly evaporate before you have even jumped into the water. Soak for at least 20 minutes and longer if you have the time.
Make your own lavender spray
If lavender oil is your preference, you can make your own soothing lavender spray. Just add 10 drops of lavender oil to a cup of water, preferably distilled and put it into an empty spray bottle. Shake the bottle before applying to the affected areas and say goodbye to your itchiness …. at least for a while.
Skin compress
You can easily make a cooling skin compress by adding between 4 and 6 drops of the oils of your choice to 4 cups of cool water. Mix the water and oil in a bowl, soak a clean cloth with your mixture and apply the cloth to your affected areas to ease the irritation in your skin.
A homemade eczema cream / lotion
Treating your eczema by creating your own creams is becoming more and more popular… there are several excellent homemade recipes to be found on line using essential oils and other natural ingredients.
Try making your own eczema cream with this simple recipe: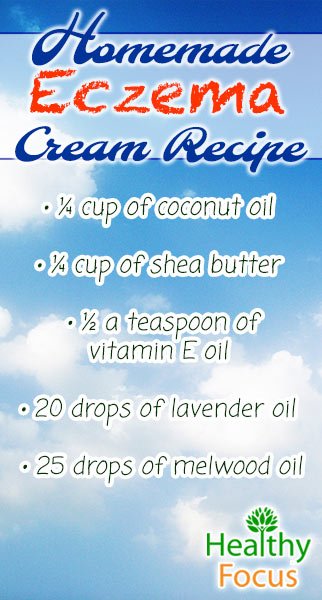 ¼ cup of coconut oil




¼ cup of shea butter




½ a teaspoon of vitamin E oil




20 drops of lavender oil



25 drops of melwood oil
Just mix the ingredients together in a bowl and put the finished product in a jar. Apply the cream to the affected area once or twice a day. This is a gentle recipe and is suitable for children as well as adults.
Adding essential oils can give a natural boost to your skin care regime. There is no guaranteed 100% effective treatment for eczema but there is plenty of evidence that essential oils can be effective in easing the unfortunate symptoms.
In addition to essential oils–there are other natural treatments for eczema.  Like most inflammatory conditions the health of your gut plays no small role.  It is worth improving your gut flora as it may help alleviate inflammatory skin conditions ranging from psoriasis, acne, rosacea and eczema.
Try it and let us know how it worked out for you. As everyone's skin is different, we recommend testing any essential oil in a small area first before applying all over your body.