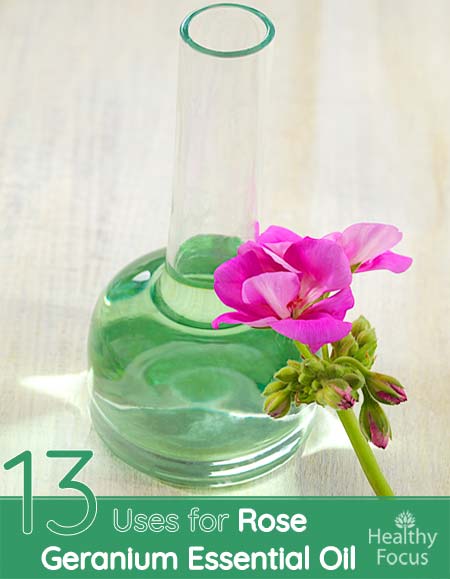 What is Rose Geranium Essential Oil?
Rose geranium essential oil is derived by steam distillation from the leaves and the stems of the Pelargonium graveolens which is an aromatic, evergreen shrub native to South Africa.  Other oils also called Geranium, Geranium Bourbon or Rose Geranium are Pelargonium capitatum, Pelargonium x asperum, and Pelargonium radens.
Rose geranium essential oil has a thin consistency and a rich, sweet rose-like fragrance. It is known to blend well with a number of other essential oils like basil, bergamot, cedarwood clary sage, jasmine, and lavender.
It is widely used in the perfume and cosmetics industry owing to its fragrance and also used as a food flavoring but it also has a wide range of therapeutic benefits which range from skin care to sore throats and digestive issues.
There is a relatively large amount of scientific research into the efficacy of rose geranium essential oil in treating a number of health conditions and more research continues to be done to explore its therapeutic potential.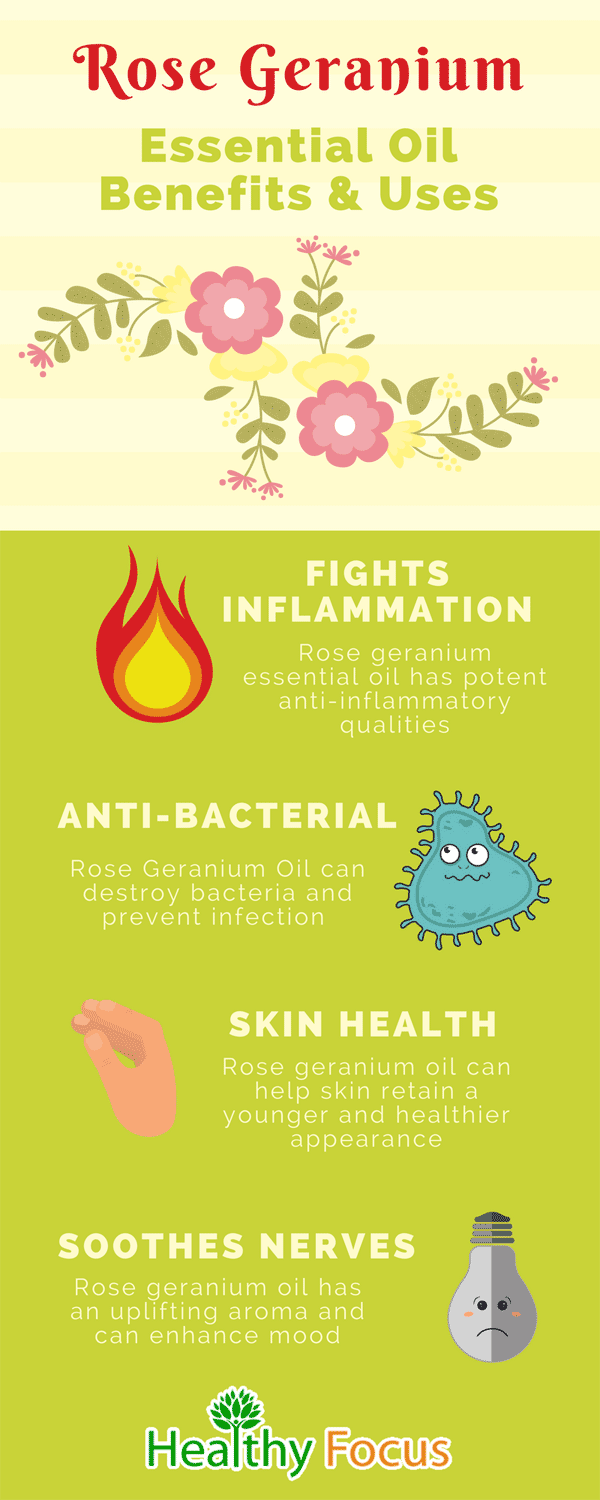 Rose Geranium Oil Properties
Rose geranium's health benefits owe a great deal to its many medicinal properties which include:
•  Anti-inflammatory
•  Antidepressant
•  Antiseptic
•  Diuretic
•  Deodorant
•  Cicatrisant
•  Astringent
•  Anti-fungal
Rose Geranium Major Compounds
Citronellol
Geraniol
Linalool
Menthone
10-epi-γ-Eudesmol
Rose Geranium Oil Specific Uses
Anti-inflammatory uses
Rose geranium essential oil has potent anti-inflammatory qualities that can help with a whole host of diseases caused by inflammation.
Recent research published in 2013 was carried out to evaluate the effectiveness of rose geranium essential oil as a safe and natural anti-inflammatory agent and an alternative to pharmaceuticals which run the risk of adverse side effects. (1)
Rose geranium essential oil reduced the inflammation in ear edema by up to 88% and according to researchers its effect compared favorably with the well-known anti-inflammatory drug-diclofenac. Diclofenac is commonly used to treat arthritis and researchers concluded that rose geranium essential oil had significant future potential in treating inflammatory disease.
To treat painful joints caused by arthritis or to ease muscular pain, try a regular massage rub. Dilute your rose geranium oil with a carrier oil like coconut or jojoba oil and massage it into the affected areas of your body. Alternatively, add 8 to 10 drops to your bathtub and let the oils work on your aches and pains.
Antibacterial uses
Rose geranium essential oil is known to be able to destroy bacteria and prevent infection from spreading. Geranium essential oil can be applied topically to minor cuts and wounds to ensure that the bacteria is stopped at source.
There is a certain amount of research that supports the antibacterial activity of rose geranium oil such as this study conducted in 2012 which tested the ability of rose geranium oil to inhibit a range of bacterial strains including Staphylococcus aureus. (2)
The study demonstrated that nearly all of the bacterial strains tested were susceptible to rose geranium oil. The results compared favorably with commonly prescribed antibiotics such as amoxicillin.
Antioxidant ability
Antioxidants are important for our health and general well-being- they can reverse cellular damage caused by free radicals and help reduce some of the signs of aging. Research published in 2012 demonstrated that rose geranium essential oil demonstrated significantly effective antioxidant activity in diabetic rats. (3)
Skin Conditions and Wrinkles
When it comes to skin complaints, rose geranium essential oil is considered to be one of the best essential oils in dealing with a wide variety of conditions. Because of its antibacterial and antifungal properties rose geranium oil can be used to treat any number of skin complaints like psoriasis and eczema as well as less severe but common skin conditions like oily and congested skin.
Because it is a rich source of antioxidants, rose geranium essential oil can also help the skin to retain a younger and healthier appearance.
This oil also has cicatrisant abilities meaning that you can massage it into scars and stretch marks to help remove or at least fade the marks away.
What is more, its astringent properties mean that you can use it to tighten sagging skin and loose muscles and basically rejuvenate your skin's appearance. It is also a great oil for getting rid of fine lines and wrinkles or at least diminishing their appearance.
To treat fine lines and wrinkles, add a little rose geranium oil to a q-tip and dab it onto the marks on your skin. For general skin care, you can add a few drops of rose geranium oil to your regular skin cleansers and moisturizers.
Anxiety and Depression
Like many essential oils, rose geranium is often used in aromatherapy to combat the symptoms of stress, anxiety, and depression. It has an uplifting aroma and enhances the mood. Whenever you feel the need, try inhaling rose geranium oil either by diffusing it or directly from your hands.
You could also try massaging a drop or two into your neck and temples whenever you are feeling especially anxious or stressed. Alternatively, try inhaling the oil whenever you start feeling anxious or stressed. You can diffuse the oil near your bed at night for a calming sleep or at the office during the day to take the edge of your nerves.
Athlete's foot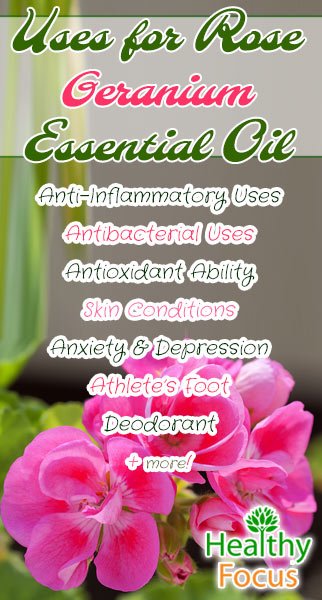 Rose geranium essential oil has anti-fungal properties which make it a suitable and effective treatment for many fungal conditions including athlete's foot and jock itch. To treat the condition, you can either massage the oil directly into your feet a few times a day or make a soothing foot bath by adding 4 or 5 drops of rose geranium oil to a foot bath of hot water.
Detoxification and Diuretic effect
Diuretics are used to help increase the frequency and quantity of urination. This helps the body to remove unwanted toxins from the system and diuretics are prescribed for a number of conditions.
Rose geranium essential oil is a natural diuretic which along with removing toxins from your body can also aid digestive functions and reduce blood pressure by eliminating excess sodium.
Deodorant
Let's not forget that essential oils are not only used to treat medical conditions. The sweet, floral scent of rose geranium is both calming and uplifting. Diffuse it around your home to get rid of any lingering smells.
Because rose geranium it is not a harsh oil it can even be used on the skin to eliminate body odor. Consider massaging your body with rose geranium oil before physical activity. Because it is a circulatory oil, it is released from the body when you perspire meaning you will smell pleasant even when you sweat.
Denture Stomatitis
The potential for rose geranium essential oil was demonstrated by Iranian researchers in 2012. Patients who applied a topical gel formula with 1% rose geranium oil for two weeks showed significant improvements with 34% experiencing a complete recovery and over 50% experiencing partial recovery. (4)
Candida
Rose geranium essential oil has excellent anti-fungal properties making it potentially effective against various fungal infections.  Research has demonstrated that rose geranium essential oil can effectively inhibit the growth of fungi specifically candida species of fungus. (5)
Hemorrhoids
According to anecdotal evidence, rose geranium essential oil can also be used to relieve the pain and inflammation caused by hemorrhoids. Its outstanding anti-inflammatory and antimicrobial properties make it a great option to soothe the pain and swelling of hemorrhoids. Add a drop or two of the oil to your regular hemorrhoid cream and apply as normal.
Kill Nerve Pain
When applied to your skin, rose geranium essential oil may be an effective remedy for nerve pain. According to early research, applying this oil topically can lead to a significant reduction in pain following a bout of shingles.
To treat nerve pain following shingles, add three or four drops of rose geranium oil to a tablespoon of organic virgin coconut oil. Massage the mixture gently into your skin focusing on the affected areas of your skin.
Bug and Tick Repellent
There have been a few research studies investigating whether Rose Geranium Oil can be used as a natural tick repellent.  A 2013 study looked at Rose Geranium Oil and its ability to repel the Lone star tick. (6)
The study found that the 10-epi-γ-Eudesmol present in Rose Geranium Oil was the active ingredient in repelling ticks and was about as effective in DEET.  The researchers noted the other components like Linalool did not help repel ticks.
They recommended isolated and concentrated 10-epi-γ-Eudesmol formulations.  Egyptian Geranium typically has a higher concentration of 10-epi-γ-Eudesmol (around 5%).
How to Use it
Rose geranium essential oil can be used in a variety of different ways depending on the ailment that you wish to treat.
Inhalation is a very common way of using this oil as inhalation is known to affect your emotional wellbeing by sending messages to the limbic system.
To treat cuts and minor wounds, you can apply it directly like any antiseptic cream then cover the affected area with gauze.
Dilute it with a carrier oil to make a soothing massage oil.
You can treat hemorrhoids by adding a drop to a cold cream jar.
Add a few drops of rose geranium essential oil to your warm bath.
Frequently Asked Questions
What are the benefits of geranium essential oil?
Rose geranium essential oil is a very diverse oil that can treat a range of conditions. Some of the most popular medicinal uses of this essential oil include the following:
To balance the hormones
Relieve stress and anxiety
Ease depression
To relieve inflammation
To improve circulation
For dental hygiene
To reduce blood pressure
For skin health
Can I use geranium oil directly on skin?
If you are treating wrinkles or fine lines, you can apply a little undiluted oil to your skin with a Q-tip. Having said that, it is always better to dilute your essential oils in case of an allergic reaction. Try adding a few drops to your regular facial cleanser or moisturizer and applying as normal.
Rose geranium is quite a gentle acting oil but you should still take care to dilute it before using it as a massage oil. There are many differnt options of carrier oil including sweet almond, coconut, olive and jojoba oil.
Are geranium and rose geranium the same?
Both rose geranium and geranium essential oil are derived from the Pelargonium graveolens plant but they are slightly different varieties. The botanical name of the plant from which rose geranium is derived is Pelargonium graveolens var. Roseum while regular geranium oil comes from Pelargonium graveolens.
Both oils contain almost identical chemical compounds and very similar medicinal properties and uses. The fragrance is also very similar but more people seem to prefer the scent of rose geranium.
How do you use rose geranium essential oil?
There are many ways to use rose geranium essential oil depending on the condition you are trying to treat. It can be diffuse, diluted and used as a massage oil or added to your moisturizer to beautify your skin. You can also add a few drops to your bath tub and let its healing goodness wash over you.
Precautions
Rose geranium oil is considered to be safe and is not toxic but as with all essential oils, it should not be taken internally.
Before applying it directly to the skin for massage purposes, you should dilute it with a suitable carrier oil.
Make sure that you do a patch test on a discrete area of skin to ensure that you are not allergic to it.
Because of the limited research into the effect of essential oils on the unborn child and young children, pregnant and breastfeeding women should exercise caution before using this or any other essential oil.
Essential oils with very similar properties and therapeutic benefits to rose geranium oil include lavender, orange and jasmine essential oils.
The species these research studies are based on is Pelargonium graveolens or Pelargonium asperum.  Now Foods sells a quality Geranium oil made of Pelargonium graveolens.  Plant Therapy has a Geranium Bourbon and Egyptian Geranium made from Pelargonium x asperum.
The real differences between these oils are probably minor compound wise.  To explore the differences between these varieties–read this article (external link).    The key is to get a good citronellol content in any oil.
The ISO 4731 min/max standards for citronellol content are 40%/58% for Egyptian/Graveolens (Now Lab) and 40%/58% for Chinese/Asperum (Plant Therapy).  So really, either Oil should provide the key ingredient in similar amounts.
(1)  http://www.ncbi.nlm.nih.gov/pubmed/24103319
(2)  http://www.ncbi.nlm.nih.gov/pubmed/23205247
(3)  http://www.ncbi.nlm.nih.gov/pubmed/22734822
(4)  http://www.ncbi.nlm.nih.gov/pubmed/23372587
(5)  http://www.ncbi.nlm.nih.gov/pubmed/18579358 
(6) https://www.ncbi.nlm.nih.gov/pubmed/23528036