We know that regular bowel movements are closely linked to general health; it is one of the first questions that doctors put to you whenever they are making a diagnosis. Unfortunately, many people these days suffer from poor digestion because of modern factors like stress, fatigue and diet.
These lifestyle factors are making constipation a very common complaint. Dealing with irregular pooping need not be a difficult issue to overcome and as we will see, there are a number of natural remedies to treat the problem. For many people however, their first instinct is to fix their condition by turning to one of the many laxative products on the pharmaceutical market.
While popular over the counter laxatives might have some short term benefits, many experts suggest that they do not treat the underlying issues. They are also not without dangers; they can become addictive and side effects of laxative medications include the following:
•  Dehydration
•  Edema
•  Dizziness
•  Diarrhea or constipation which sometimes alternate
•  Electrolyte imbalance
•  Colon and digestive organ damage
•  Water retention
•  Cardiovascular complaints
Because of the risks associated with pharmaceutical laxatives, it is clearly desirable to deal with constipation more safely and naturally and fortunately there are a wide variety of natural remedies that can help. If you are looking for a natural alternative, read about your options below; they are safe, effective and some of them are almost guaranteed to help.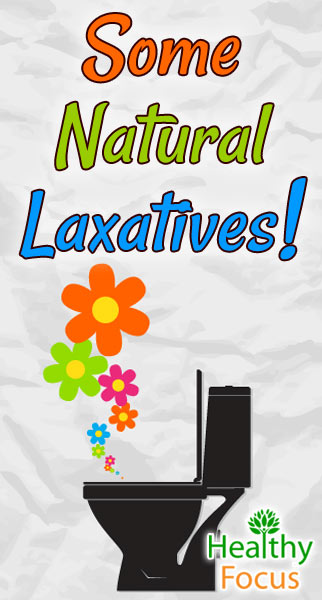 1. High fiber fruit
If you suffer from constipation regularly then it is important to increase your fiber intake. Adults are advised to consume somewhere between 30 and 40 grams of fiber each day and fruit is not only a great natural source of fiber but it is also high in essential antioxidants which among their other benefits help reduce inflammation in the digestive tract.
Dried fruit such as figs, prunes, raisins and dates are excellent sources of fiber; they can be eaten alone or added to your breakfast cereal. I personally love a handful of raisins in my oatmeal in the morning.
Fresh fruit like berries, melons, apples are also a great source of dietary fiber and unlike dried fruit, they will help hydrate the body and probably be more filling. Fruit like apples and pears also contain pectin which helps stimulate the bowels. Essentially, whether fresh or dried, fruit is a great option; simply adding a decent amount of fruit to your daily diet will help relieve constipation and ensure that it does not return.
2. Leafy green vegetables
Like fruit, most leafy green veggies are a rich source of dietary fiber but they also provide the body with much needed magnesium. Poor modern diets can lead to magnesium deficiency which can harm the digestive process and cause constipation.
Magnesium works as a natural muscle relaxant which helps relieve3 stomach cramping and allows the stool to pass more comfortably through the intestines. Make sure that you are getting plenty of leafy greens in your diet; cabbage, broccoli and sprouts are all excellent sources that will help get your bowels moving more regularly.
3. Epsom salt
Epsom salt is considered to be a highly effective natural laxative for two good reasons. The salt helps soften the stool by drawing liquid in from the surrounding areas and secondly the magnesium content of the salt helps the bowels to contract.
A combination of these actions allows uncomfortable stools to pass easily through your system and relieve your discomfort.
Simply dissolve two teaspoons of the Epsom salt into a cup of water or juice and drink it down. You should notice an immediate improvement but if not, you can safely repeat the process four or five hours later.
4. Blackstrap molasses
Unlike regular molasses, the blackstrap variety is boiled further and contains significant levels of important vitamins and minerals including magnesium which gives the molasses its laxative effect. We are lucky that such a sweet, tasty product can have such an enjoyable health benefit.
To use blackstrap molasses for your constipation, simply eat a teaspoon of the molasses and wash it down with a glass of warm water or mix a teaspoon into a cup of warm water and drink it down. If a single teaspoon is ineffective, you can happily try two instead.
5. Apple cider vinegar
Apple cider vinegar is becoming increasingly popular for its many health benefits so it is not surprising that it makes this list. It has natural laxative abilities and helps stimulate bowel movement because of its high pectin and malic acid content.
Try drinking a teaspoon of apple cider vinegar several times a day but if you find it difficult to stomach, you can add it to a glass of fruit juice or mix it into a teaspoon of good quality honey.
Also because of the high level of acidity, it is recommended to always dilute and drink with a straw if possible. This will help prevent damage to the enamel on your teeth.
6. Olive oil
Olive oil is a healthy, delicious home remedy for constipation. Its laxative effects stem from the oil's ability to stimulate the digestive system which gets things moving in the right direction.
You can simply swallow down a teaspoon of olive oil when necessary but if you find it unpalatable on its own, then try diluting it in a teaspoon of fresh lemon juice.
Olive oil is most effective on an empty belly, so try taking it first thing in the morning. Fish oil and castor oil taste nowhere near as nice but can be equally effective in dealing with constipation.
7. Flaxseeds
Flaxseeds are an especially good source of dietary fiber; they help by adding bulk to the stools which in turn allows them to pass comfortably through the intestines. Flaxseeds are almost tasteless and can be conveniently added to prepared food such as oatmeal and salad or used as a smoothie ingredient.
It is important when adding fiber to your diet that you also drink up; if you do not complement the fiber with hydrating water, the additional fiber might cause further digestive problems like bloating, gas and more constipation.
8. Coconut water
Coconut water is a great healthy alternative to sugary drinks and bland drinking water. It helps maintain the body's electrolyte levels, prevents dehydration and cleans the urinary tract. Coconut water is a great natural laxative as it helps loosen stools to ease their passing. Be careful that you don't overdo it and start off slow or you might find this remedy a little too effective.
9. Aloe vera
Among its many other health benefits, aloe vera is one of the best natural laxatives known. It is packed with important minerals and vitamins as well as gut healing electrolytes. Aloe vera contains compounds called anthraquinones which have laxative effects by increasing the water content of the intestines, stimulating the secretion of mucus and promoting contractions that break down your food.
10. Chia seeds and Glucomannan
Chia seeds and glucomannan work in similar ways and are both excellent natural laxatives that can help you to overcome your constipation. When they are combined with water, they form a soft gelatinous bulk which passes easily through the digestive system. It is very important that you drink sufficient fluids when consuming these products to ensure that they pass easily through the intestines.
11. Probiotics
Probiotics promote a healthy intestinal environment by increasing the amount of good bacteria in the gut and balancing out the effects of harmful bacteria. Probiotics work as natural laxatives when you are feeling constipated but can also help with other stomach upsets like diarrhea.
Good dietary sources of probiotics include natural yogurt, sauerkraut, kefir and kombucha  and you can also get probiotics in supplementary form.
Probiotics can also help with IBS  and improve gut flora in general.
Do not forget Prebiotics—which can help with stomach issues in general and make probiotics even more effective. You can find out more about prebiotics here.
The added benefit is that many of these remedies are good for general health. Fruit and vegetables, Probiotics, Chia seeds, flax seeds and olive oil are all beneficial to overall health. Glucomannan has the added benefit of curbing appetite which you can read about here.
---
So in addition to being natural laxatives—these remedies can contribute to a healthier and possibly slimmer you. Good Luck!