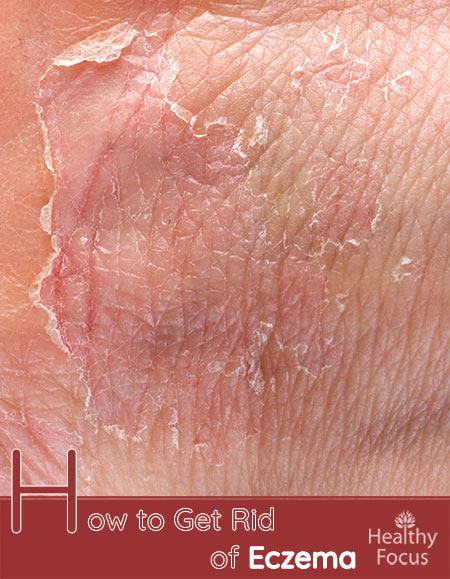 Eczema! Ugh! The itchy patches! Damaged skin! The dryness! No cure! Can anything be worse? While it is true, there is no cure for eczema; there are many remedies that make this a manageable skin condition while keeping its burdensome symptoms in check.
What is Eczema?
Eczema is a skin condition that causes an itchy red rash on the skin. This rash can appear anywhere on the body, but most commonly rears its ugly head on the wrists, ankles, elbows, knees, scalp, and even on the face.
Eczema is a common condition, affecting about 30 million Americans a year. It is most often diagnosed in childhood and symptoms often decline in severity in adulthood. The symptoms and severity of eczema vary from person to person and doesn't always occur on the same parts of the body.
Symptoms of Eczema
Eczema can be characterized by the following symptoms:
Chronically developing patches of thickened skin that are dry and itchy. These patches are usually found on the face, neck, hands, and legs, though they can appear anywhere on the body. Children may develop these patches on their elbows or inside the backs of their knees.
When scratched, these patches of skin and sores produce a crusts that are prone to infection. Call a doctor if these patches of skin develop blisters filled with pus—this can indicate a bacterial infection.
Call a doctor if:
Your flare-ups last for over a week, as a more aggressive treatment may be needed.
You have a family history of asthma and eczema.
While during a flare-up, you came into contact with someone with herpes simplex or cold sores. Those suffering from eczema are more vulnerable to contracting herpes.
If your patches of eczema develop painful blisters filled with pus. This can indicate a more serious bacterial infection or possibly a herpes outbreak.
What Causes an Eczema Flare-Up?
There are several triggers responsible for an eczema flare-up:
Stress may cause the symptoms of eczema to be worse.
Hormonal changes, such as pregnancy and menstruation.
Irritants such as cosmetics, detergents, soaps, shampoo, disinfectants, fruits (even fruit juice), vegetables, and meats.
Allergens such as pollens, pet dander, dandruff, mold, and dust mites.
Certain strains of bacteria and virus.
Temperature changes or extremes in climate, such as too hot or too cold. Humidity may also be a trigger.
Excessive sweating, which can lead to rashes which then may turn into eczema.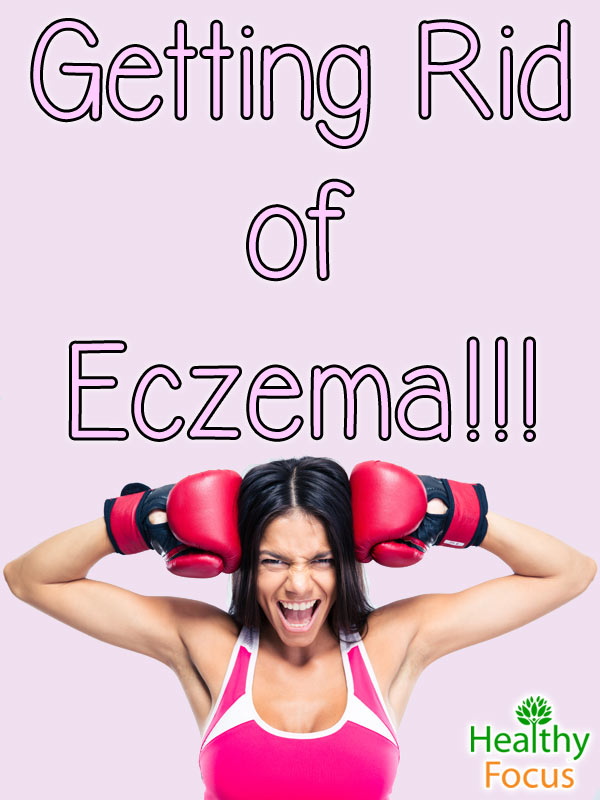 Getting Rid of Eczema
While there is currently no cure for eczema, there are several steps you can take to control the symptoms of eczema and cut down the healing time of flare-ups when they do occur.
Tea Tree Oil
This medicinal essential oil disinfects the skin while healing inflammation. Loaded with antibacterial agents, the terpenes in this healing oil help get flare-ups under control.
Due to the powerful nature of this essential oil, it should always be diluted with a carrier oil while applying to sensitive, inflamed skin.
Mix ten drops of tea tree oil with a ¼ cup of coconut oil. Apply this mixture to the affected area three times a day, everyday, until the flare-up vanishes.
Tea tree essential oil can also be used in a healing bath.
Simply add ten drops of tea tree oil along with a two tablespoons of sweet almond oil to your bath water.
Soak for 20 minutes.
Coconut Oil
Coconut oil is one of the more popular natural remedies for eczema, and for good reason. This healing oil is filled to the brim with antibacterial, anti-fungal, antimicrobial, and antioxidants, which help greatly alleviates inflammation associated with eczema.
Coconut oil also contains vitamin E, vitamin K, and lauric acid, which helps eliminate flakiness, relieve itching, and heal damage skin. Meanwhile, medium chain fatty acids help speed up the recovery process, nourishing the top layers of your skin. Regularly using coconut oil on your eczema flare-ups reduces damage while giving your skin a more healthy appearance.
To experience the healing effects of coconut oil, just massage it onto your dry patches several times a day until they heal. Coconut oil is also suitable for eczema of the scalp.
To use coconut oil for this purpose, massage it into the dry patches of your scalp and leave on overnight.
In the morning, wash it out with a mild shampoo.
This process can be repeated every night until your flare-up goes away.
Apple Cider Vinegar
Surprise! There is another use for the magic potion that is apple cider vinegar. Apple cider vinegar contains malic acid, which is a powerful antibacterial, antifungal, and antiviral property.
This healing vinegar relieves pain associated with eczema while healing the dry, flaky patches. To experience the healing benefits of ACV, mix one part ACV with three parts water.
Dip a clean cotton ball into the solution and dab directly onto the affected area. Initially, you may experience a slight burning sensation, but this will sensation will subside. Apply this treatment twice a day, everyday, until your flare-up disappears.
Olive Oil
This soothing oil not only soothes inflammation, but it also help nix dry, flakey skin as well. Olive oil contains anti-inflammatory agents such as oleocanthal and qualene, along with antioxidants, making it an effective treatment for itchy, dry, flaky patches of skin.
While olive oil is working hard to treat your flare-up, its also repairing damaged skin by way of vitamin E. Olive oil provides nourishment and moisture to upset, inflamed skin. To experience the healing, emollient effects of olive oil, simply massage it onto the affected area several times a day until your flare-up clears up.
Probiotics
Probiotics is wonderful for your overall health, providing immune support while inhibiting the growth of harmful bacteria in your body, particularly bacteria that leads to eczema flare-ups. Probiotics contain lactobacillus, a good strain of bacteria that helps fight infection.
Aloe Vera
Aloe Vera needs no introduction as it is revered around the world for healing various skin conditions and ailments. Applying aloe vera gel directly on your flare up will help soothe discomfort while speeding up the healing process of your flare-up. Take a leaf from the plant and squeeze out the gel. Apply this gel to the affected area to get relief from itchy, flaky, dry skin.
Oatmeal
To get relief from itchy, dry skin, try an oatmeal bath. Fill up a clean sock with organic steel cut oats and tie the sock over the faucet of your tub. Let the water run through the sock and oats as it fills your tub.
Oatmeal is loaded with anti-inflammatory properties which will not only help calm down your flare up, but also give relief to itchiness as well. If you want immediate relief without having to take a bath, you can create an oatmeal paste. Simply mix some oatmeal and water together and apply directly onto the affected area.
You can also put some oatmeal in a blender or food processor for a finer texture. Colloidal oatmeal is just a super finely grated oatmeal that disperses evenly.
Calendula
Calendula products are powerful enough to reduce inflammation but gentle enough to use everyday without any side effects. You can either mix calendula essential oil with aloe vera gel or buy ready-made calendula products such as lotion and soap at your local health food store. Calendula will reduce inflammation and pain associated with eczema.
Chamomile
This soothing herbal remedy is popular in treating eczema. Chamomile takes a two-pronged approach to eczema, treating itchiness while alleviating inflammation. To make a healing chamomile compress, brew dried chamomile flowers in hot water and let steep for 15 minutes.
Strain the flowers from the liquid and allow to cool for a couple minutes. Soak a clean cotton cloth into the liquid and then wring out the excess moisture. Apply the warm compress directly to the affected area or 15 minutes. Chamomile essential oil is also effective in soothing symptoms of eczema.
Mix a couple drops with some coconut oil and massage onto the affected area. Some people find a nice calming chamomile bath a great way to treat their eczema. Add 10 drops of chamomile essential oil to your bath water and soak for 20 minutes. Before using chamomile, do an allergy patch test on your skin to ensure you're not allergic.