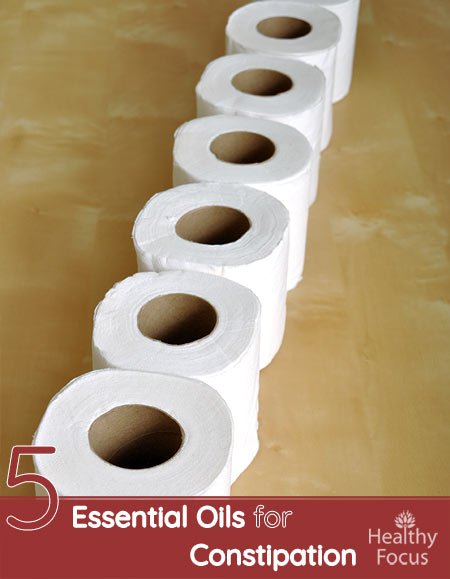 Essential oils are oils that are derived from plants and are regularly used to treat constipation. Constipation can be relieved for a large number of people using these oils, as long as they make dietary changes and increase their fluid intake. Constipation sometimes is connected with a condition, such as irritable bowel syndrome. While occasional constipation is usually not a worry, an ongoing occurrence calls for some modifications in health and lifestyle.
Signs and Symptoms of Constipation
The following symptoms define a problem with constipation:
Having a bowel movement no more than three times per week.
Defecating stools that are hard or lumpy.
Straining during a bowel movement.
Feeling the sensation of a blockage in the rectum when trying to pass stools.
Feeling an inability to completely pass a stool.
Finding it difficult to empty the rectum and using your hands to press on the abdomen for assistance.
Causes of Constipation
When waste moves too slowly through the digestive tract, it often is due to a blockage in the rectum or colon or problems with the nerves surrounding the rectum or colon. The muscles that are used in elimination of waste can lead to constipation, too. Conditions that affect hormones may also trigger problems with constipation. The causes are further elaborated below:
Blockages
Blockages that cause constipation include the following:
Bowel obstruction
Bowel strictures or narrowing of the colon
Colon cancer
Rectal cancer
Rectocele, or a rectum bulge protruding through the vagina's back wall
Neurological Problems
Parkinson's disease can cause problems with elimination
Multiple sclerosis
A spinal cord injury
The aftermath of a stroke
Bowel Muscle Problems
Inability to relax to permit anismus or bowel movement
A problem with dyssynergia, where the pelvic muscles do not relax and contract properly
A weakening of the pelvic muscles
Hormonal Conditions
An overactive parathyroid gland, also referred to as hyperparathyroidism
Pregnancy
Diabetes
An underactive thyroid, or hypothyroidism
Facts about Constipation
You should contact your doctor for an appointment and a consultation if you have had recent and unexplained changes in your bowel movements.
You are at an increased risk for constipation if you are a woman and an older adult.
Dehydration can lead to problems with constipation.
If you eat a low-fiber diet, you often will have issues with constipation.
No or little exercise can trigger constipation.
Some medications can lead to constipation. These medicines include narcotics, certain antidepressants, or some sedatives.
An eating disorder or mental health illness may lead to constipation.
If constipation is chronic, a number of complications can occur. These complications can lead to hemorrhoids (swollen anal veins), anal fissures (torn anus skin), and fecal impactions, or stools that cannot be released. A rectal prolapse can also occur that involves the protruding of the intestine from the anus.
Researchers have discovered that the microscopic organisms that live in the intestinal tract can trigger constipation. One study found that people who regularly experience constipation have bacterial differences in the intestinal tract when compared to healthy people.
One study found that essential oils feature antibacterial properties that can assist in curing constipation.
Essential Oils for Constipation
When essential oils are used to treat constipation, they do so to protect the intestinal tract from unwanted fungi or bacteria. When this happens, digestion works better, and the user of the essential oil finds relief. Certain essential oils may help treat the condition and get your digestive system back in good working order.
People have been using the essential oils derived from plants for centuries. They can cure a broad range of conditions including various digestive complaints. As long as you choose the right oil and use it in the correct way, then essential oil can be a valuable tool for your discomfort.
Essential oils are highly concentrated so they should never be taken internally and must always be diluted before they are applied to the body.
They can be inhaled directly or through a diffuser or diluted with a suitable carrier oil then massaged into the skin. You can also dilute them in your bath water or add them to a compress which you can apply to your stomach.
Why Essential Oils Help Treat Constipation
Studies have revealed that certain microscopic organisms which inhabit the gut could be linked to constipation. One study published in Springer Plus revealed that many people suffering from constipation had significant differences in their intestinal bacteria when compared to the bacteria of healthy individuals. (1)
Not all bacteria is bad. The good bacteria found in the gut helps boost digestive health and efficiency by breaking down the food we eat and helping to absorb the nutrients. When a person's intestinal bacteria is not properly balanced, common digestive issues like constipation or diarrhea are more likely to occur.
So, where do essential oils come in? Many essential oils have powerful antimicrobial properties. A number of studies have found that certain oils contain excellent anti-fungal and antibacterial properties that may protect the body from harmful organisms. (2)
Some essential oils also have antispasmodic properties that can help soothe any cramping that you are experiencing in your abdomen. Not only that but when inhaled, some essential oils are noted for their ability to relax your mind and reduce the stress that often accompanies a digestive complaint.
While essential oils have not been studied for their effects on constipation specifically, many experts believe that they could help.
The Best Essential Oils for Constipation
If you are suffering from regular bouts of constipation, it is always best to seek medical advice. But more often than not, a change in diet and some other natural remedies can do the trick. When it comes to natural remedies, essential oils may well be useful to relieve your discomfort and boost your digestive health. According to experts, the following oils are among the best.
Ginger Essential Oil
While ginger is often used to flavor foods, studies also show that it is helpful in relieving stomach upset and nausea. (3) These benefits have been known for hundreds of years in Indian and Chinese medicine. The oil from the ginger plants is highly concentrated, much more so than the root.
Because of this it is important to dilute your oil before you apply it. Another option is to use your ginger essential oil in the form of a compress on the stomach. To create the compress, apply two drops of the oil to a towel that has been soaked in hot water.
Make sure not to make the water too hot or scalding.
To apply the warm compress, lie down on the couch or bed, and apply the warm towel to your abdomen for several minutes. Once the towel is cool, massage the stomach, using a clockwise movement for a couple minutes.
Fennel Essential Oil
Fennel essential oil is not as popular as some of the others on our list but it may be a very effective treatment for digestive trouble including constipation. One research study published in 2014 found that fennel oil aids the digestive tract and is effective when used in several different ways. (4)
This oil often helps when it is inhaled from a diffuser or used to massage the abdominal area. To use this oil to treat constipation, mix two drops of the oil with a carrier oil, and massage your stomach in a clockwise motion.
To massage the oil correctly, begin with smaller circles surrounding the navel and increase the size of the motions. To further alleviate symptoms, include a few drops of fennel oil to a diffuser, and inhale it while you are massaging your stomach.
Peppermint Essential Oil
Peppermint essential oil is known to contain menthol, an element that provides a cooling effect. When using the oil to relieve stomach upset or mild constipation, add one drop of the oil with three drops of a warmed carrier oil. Massage the abdomen in a clockwise circular movement. To gain the best results, massage the oil and carrier oil about two to three times per day.
When peppermint oil is combined with a carrier oil, it can be massaged directly on the skin without worry of burns or irritation. The oil, along with the carrier oil, relieves stomach pain and relaxes the surrounding muscles.
While the menthol contained in the oil can be irritating, it normally is safe. If you do experience any burning or redness, remove the oil by washing it off immediately. The oil should never be used on children or infants, as doing so can lead to breathing difficulties.
Lavender Essential Oil
Lavender oil is known as a soothing and comforting essential oil. It is one of the most popular and versatile of all essential oils and is used to treat a very wide range of physical and emotional ailments.
It has been used for hundreds of years to encourage relaxing. Studies show that diffusing the oil can assist in relieving stress, which often triggers digestive difficulties, such as gas, constipation, or abdominal pain. (5)
The best time to diffuse lavender essential oil is in the evening. As well as diffusing the oil, you can try massaging the lavender oil and carrier oil into the abdomen.
Lavender oil is one of the very few essential oils that can be applied 'neat' to the skin. Having said that, it is still recommended that you dilute it with a carrier oil before you apply a large dose to your skin. When it comes to essential oils, a little goes a long way so dilute it in a suitable carrier before applying it to your abdomen.
Chamomile Essential Oil
You may use chamomile oil by itself or with lavender oil to relax the abdominal muscles. Doing so improves abdominal motility and provides relief from a sluggish bowel and bloating.
To use chamomile oil, dilute the oil with a carrier oil. Use two fingertips to apply the treatment and massage the abdominal area in a clockwise movement. Follow this practice three times per day.
How to Use Essential Oils
When using essential oils to treat constipation, it is best to use them as a massage. Dilute the oils with a carrier oil and apply to the stomach area. You should always massage the oils in a clockwise circular movement.
To support the massage therapy, you can inhale your essential oil either directly or from a diffuser and inhale the oil for its wonderful calming effect. One of the best oils to use for this purpose is lavender oil, which is known for its soothing properties.
Selecting the Right Carrier Oil
You will need to use a carrier oil along with the EO if you massage the essential oil into your abdominal area. Doing so will prevent any problems with skin irritation. The best carrier oils to choose are grapeseed oil, jojoba oil, or coconut oil. Any of these oils will help diffuse the EO and make it safer to use.
Questions about Constipation and Treatment
What is the best way to prevent constipation?
Besides the use of essential oils, it is best to follow a high-fiber diet. This diets includes the addition of vegetables, beans, fruits and whole grains.
What helps constipation fast
There are a number of ways to relieve your constipation quickly. Of course, there are over the counter laxatives that many people resort to but there are also more holistic methods of improving your condition. These include staying well-hydrated, getting plenty of exercise, drinking caffeinated coffee, increasing your intake of fiber and taking a probiotic supplement.
Does constipation result from stress?
Constipation can easily occur when a person suffers a good deal of stress. That is why essential oils are used for treatment. Some of the essential oils combat the effects of stress and calm the user. The use of essential oils for managing stress is always a good remedy.
Bottom Line
If you are ready to treat your constipation problem with an essential oil, you also need to change how you eat and your level of activity. People often have problems with constipation when they do not exercise enough or eat a diet low in fib–.
Increase your fiber intake by adding additional vegetables, beans, whole grains, and fresh fruits to your regular meals. Take up an activity, such as walking, and stay away from the couch and junk or processed foods. By supporting your new habits with essential oil treatments, you will experience regular bowel movements.
If you are suffering from a good deal of stress, use an essential oil, such as lavender oil, and inhale it. The calming properties of lavender will keep you from feeling as upset. If you are highly sensitive, make sure that you can use an essential oil, such as peppermint oil, before you proceed with treatment. The oil is not recommended for young children or infants, as it can cause breathing difficulties.
(1) https://www.ncbi.nlm.nih.gov/pmc/articles/PMC4951383/
(2) https://www.sciencedirect.com/science/article/pii/S0168160504001680
(3) https://www.ncbi.nlm.nih.gov/pubmed/27841938
(4) https://www.ncbi.nlm.nih.gov/pmc/articles/PMC4137549/
(5) https://www.ncbi.nlm.nih.gov/pubmed/26051567