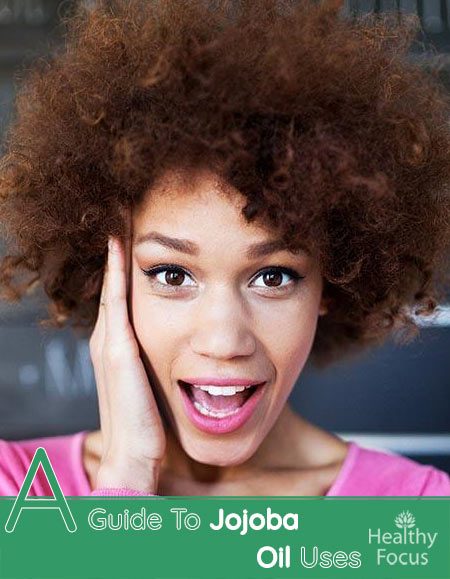 In the emollient-enriched land of organic oils, there is a new sheriff in town. It goes by the name Jojoba. Jojoba oil is essentially liquid gold, in both its appearance and many uses for the hair, skin, and scalp. This shape shifting liquid is actually not an oil but a wax ester.  Jojoba mimics sebum, the oily or waxy substance produced in human skin and hair.
This mimicking ability is a great benefit for people who suffer from reduced sebum generation and for those who produce too much.  Jojoba  tricks the skin into thinking it is producing enough sebum, and thus balances oil production. Because of its adaptability and versatility, jojoba oil is widely used in commercial beauty products.  Jojoba is typically found in shampoo, conditioner, and moisturizer products. This multi-tasking liquid is anti-bacterial, anti-inflammatory, non-toxic, and non-comedogenic.  More than an essential oil–it is essential for any makeup bag and safe for those with sensitive skin or acne.
Those are just a few benefits of Jojoba.  Read on for the full Guide to Jojoba Oil Uses.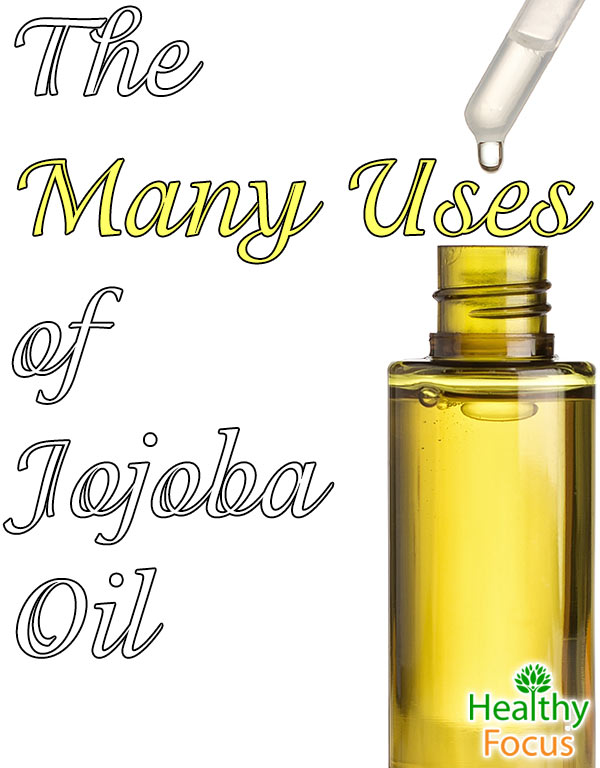 Hair
Our hair suffers an incredible amount of abuse at our hands.  It is  mistreated daily with brushing and styling and then scorched dry with a blow dryer. Shampoos and styling products are loaded with harsh chemicals.  When used regularly, ordinary shampoo can leave hair weak, dry, and limp. If the chemical warfare we inflict on our hair with daily "maintenance" is not enough, about every six weeks or so, some of us ravage our hair with dye.  Most hair coloring products subject our locks to severe chemicals that can have lasting damage.
Luckily for us, this damage can be reversed.  We can restore the balance from the scalp down to the split ends, thanks to healing properties of jojoba oil. Jojoba is effective in treating dry and damaged hair.  It is also a wonderful aid for dandruff, oily hair, and even hair loss.
Jojoba oil mimics the oil production of hair.  This makes it the best natural solution to promote soft, healthy, tangle-free hair.
Cleans the Scalp
Jojoba oil is a great scalp cleanser, efficiently dissolving any old and crusted sebum blocking the hair follicles.  Balancing sebum levels may prevent hair loss and damage from the start. Jojoba oil use can prevent sebum build up.
Jojoba also eliminates waxy build up from air-born particles and leftover residue from styling products. The anti-inflammatory and anti-bacterial properties in jojoba oil are integral for scalp maintenance, keeping it healthy and clean.
Relief for a Dry Scalp
A dry scalp does not like to be ignored.  It  makes itself known with those annoying white flakes known as dandruff and the need to scratch it in order to relieve the itch. Jojoba oil is a great long-term solution for dandruff.  It gets deep down into the pores of your scalp, balancing the pH levels, which as a result, has a lasting moisturizing effect. Jojoba is a great, natural solution for dandruff, psoriasis of the scalp, and dry scalp.
Hair Growth
Hair follicle has a tendency to get clogged with hair and sebum hydrating products. As a result, this can cause:
Hair loss and damage

Slow hair growth
Jojoba oil clears up these blocked follicles by dissolving the clogged buildup.  Opening up the follicle  prevents hair thinning and loss. To give hair growth an extra boost, you can use jojoba oil as a hot oil treatment before shampooing.
Shiny Hair
Adding jojoba oil to your styling routine is the most effective ways to give your hair a shiny and healthy look. With just a few drops of jojoba oil, you can seal in the moisture of your hair shaft.  You can apply it all over for a lustrous shine or simply add it to the ends to mend and disguise split ends.
Hair Conditioner
Give your hair washing and conditioning routine a super moisturizing punch!
Rub a couple drops of jojoba oil into the scalp and ends.  This will revitalize weak, dull, and lifeless hair. If you are looking for a more concentrated conditioning treatment, add a teaspoon of jojoba oil to your conditioner and apply it liberally all over the hair.
Let it soak for five minutes and then rinse your hair. If you want to experience jojoba oil's moisturizing effects all day, use it as a leave-in conditioner by applying a few drops to wet hair.
A Solution for Oily Hair
Having an oily scalp can leave your hair greasy and lifeless. Typically, over the counter oily scalp treatments can be too drying on your hair.  Jojoba oil offers a more gentle and natural solution. Jojoba oil balances the sebum production of the scalp glands and melts the build-up of oil in the hair follicle to manage the natural oil distribution throughout the hair.
Skin
Jojoba oil is recognized for its variety of skin benefits.  It is often the active organic ingredient in lotions treating dry skin, oily skin, acne and psoriasis. Jojoba's anti-inflammatory properties calm the skin down and reduce irritation.  Its healing properties moisturize, reduce excess oil, and promote collagen production. All these benefits deliver skin free of blemishes and the signs of aging by smoothing fine lines and wrinkles.
Makeup Remover
Jojoba oil has gentle yet effective cleansing qualities making it a great alternative to harsh makeup removers. By simply dipping a cotton ball in jojoba oil and applying it to your face and lips, you will be able to eliminate all traces of makeup. It is even gentle enough to use around the eyes. Jojoba oil is also effective in removing waterproof eye makeup.
Treatment for Skin Infections
Jojoba oil is important component for any first aid kit and medicine cabinet.  Its antibacterial qualities fight bad skin bacteria and reduce skin swelling .  Its anti-inflammatory qualities bring eczema and psoriasis under control. These properties speed the healing of wounds and cuts.  Jojoba also fights minor bacterial infections such as warts, cold blisters, and sunburns. While its busy fighting bacteria, the anti-inflammatory action helps to reduce redness.
Anti-Acne Treatment
Jojoba oil works to fight acne on all fronts in adolescents and adults alike. Unlike commercial acne products, which often contain animal fats, jojoba oil does not build up and clog your pores. Jojoba oil dissolves dirt and oil in the pores while its anti-inflammatory properties reduce the swelling and redness of pimples. With prolonged use, jojoba oil manages oil production, reduces pore size and helps prevent scarring.
Anti-Aging Remedy
Jojoba oil is one way you can turn back the clock. Keeping the skin hydrated, jojoba oil helps reduce the appearance of fine lines and wrinkles. Jojoba oil is rich with vitamin E, linoleic acid, and anti-oxidants that help regenerate the skin cells and enhance collagen production in the skin. Long term use of jojoba oil in your anti-aging skin routine can minimize the look of fine lines by up to 25%
Moisturizer
The waxy texture of jojoba oil is similar to the natural oil produced by your sebaceous glands.  This makes it a great natural way to condition and moisturize your skin. Jojoba oil is light and absorbs quickly, making it an easy way to maintain your complexion and attain soft and supple skin.
Remedy for Oily Skin
Moisturizing your skin is essential when it comes to getting oil production under control. Jojoba oil's sebum-like texture gives skin all the moisture it needs while reining in oil production, restoring balance for a healthy and shine-free complexion
Body Oil
To give your skin an ultra-moisturizing treat, rub oil before taking a bath as a pre-shaving treatment or after your bath to lock in moisture. The oil quickly dissolves into the skin, also making it a great massage oil.
Soft Feet
To avoid chapped heals maintain the overall appearance of your feet, apply jojoba oil generously to your feet and put on a pair of socks, leaving them on for an hour. The end result will be incredibly soft feet and smooth heels.
Other Benefits of Jojoba Oil
If you are not completely sold on all the benefits using jojoba oil can bring to your beauty routine, here are a couple more uses for you:
Supplement to Hair Removal Treatment
Apply jojoba oil before waxing or shaving. This will prevent skin irritation that often leads to shaving bumps and razor burns. Applying jojoba oil right after hair removal to soothe and hydrate the skin.
Pre-Swimming Treatment
Before swimming, apply jojoba oil to your hair. This will seal the shaft of your hair, protecting it from harmful chemicals, which can rob your hair of moisture and strip its color.
Cuticle Treatment
Add a drop of jojoba oil to your nails to improve the overall health and appearance of your nails. The oil prevents your nails from looking ragged while keeping your cuticles soft.
There are wide ranges of skin, hair and health issues jojoba oil can help treat. When you decide to use Jojoba oil make sure to buy only 100% jojoba oil from a reputable brand. Pure jojoba oil is not cheap so if the price is too good to be true—its probably not 100% jojoba oil.