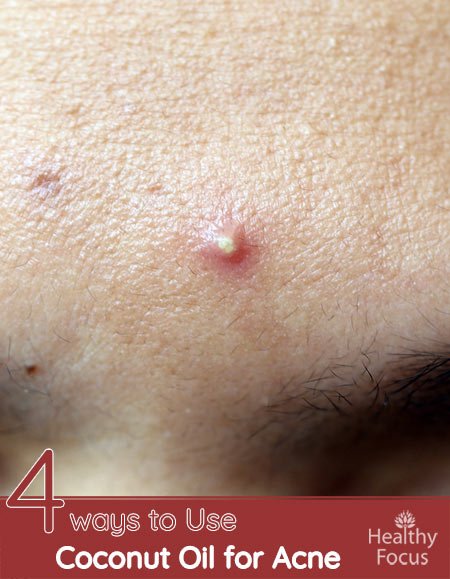 Coconut Oil for Acne
[toc]
Acne is a very common and often embarrassing condition which is more prevalent during your acne prone teenage years. It is caused by infection in the openings of the skin's sebum glands. These glands are important in that they secrete oils which prevent the skin from becoming too dry and cracking.
When these glands become infected the bacteria clogs them up resulting in the sebum secretion becoming obstructed which causes inflammation, redness and pain. During your teenage years, hormonal changes lead to an increase in sebum production leaving your face looking slightly oily and often causing minor acne outbreaks and pimples.
Being particularly self-conscious, teenagers tend to resort to indiscriminate acne treatment such as lotions and cleansers which can unfortunately rid the skin of its natural acid guard and leaving the pores defenseless and open to infection and full blown acne. Makeup can also lead to clog up your pores leaving you prone to developing blackheads and acne.
Fortunately, for most people acne tends to disappear and the symptoms diminish after puberty. For those who have acne prone skin you might like to try a natural and effective remedy in the shape of coconut oil.
Why use Coconut oil for Acne?
It might sound counterintuitive that an oily substance can help to get rid of acne, at first glance the idea of using oils to get rid of the condition seems bizarre but nothing could be further from the truth.
Coconut oil can be used to treat a range of skin related conditions; it can help moisturize the skin and is used to treat dermatological complaints like eczema which we have already covered here
https://healthyfocus.org/the-best-way-to-use-coconut-oil-for-eczema/
There are many good reasons why coconut oil is an effective skin treatment and should be tried as an alternative to expensive and chemical laden commercial acne treatment products.
Organic virgin or extra virgin coconut oil is recommended – it is more expensive than ordinary coconut oil but in this case it is worth pushing the boat out a little. It is unfortunate that some manufacturers might falsely market their oil as virgin coconut oil so here are few pointers might help you to make the right choice.
Which coconut oil is best?
It is important to remember that not all coconut oil is created equal, quality varies and often those that complain about the negative effects of using coconut oil to treat their skin have used an inferior quality oil.
It contains powerful antimicrobial properties in the shape of two fatty acids known as lauric, caprylic and capric acids. These same acids are present in breast milk and protect newborn children from developing infections. When applied to the skin they are converted into monolaurin and monocaprin which helps to replace the layer of protective acid on the skin.
Instead of using an expensive moisturizer consider using coconut oil; it nourishes and moisturizes the skin naturally making it perfect for those suffering from dry skin as well as acne.
It is easily absorbed into the skin without clogging up the pores at the same time.
It has excellent anti-inflammatory and antibacterial properties; it kills bacteria and germs that thrive on the skin and helps to reduce redness and inflammation.
The oil encourages acne to heal and helps get rid of acne scars and blackheads as well as cystic acne.
Coconut oil is a rich source of Vitamin E which is an essential vitamin in maintaining the health and appearance of the skin. Vitamin E is a powerful antioxidant that is essential to repair the cells damage caused by damaging free radicals.
The oil should be clear and transparent; yellow or brown tinted coconut oil is indicative of a poor quality or imitation oil.
The aroma of good quality virgin coconut oil is not overly pungent and tends to be more subtle than inferior versions.
Price is a decent indicator of quality; cheap oils are almost guaranteed to be of low quality.
Natures Wayis a quality and well priced organic and extra virgin coconut oil.  Costco also has a good coconut oil.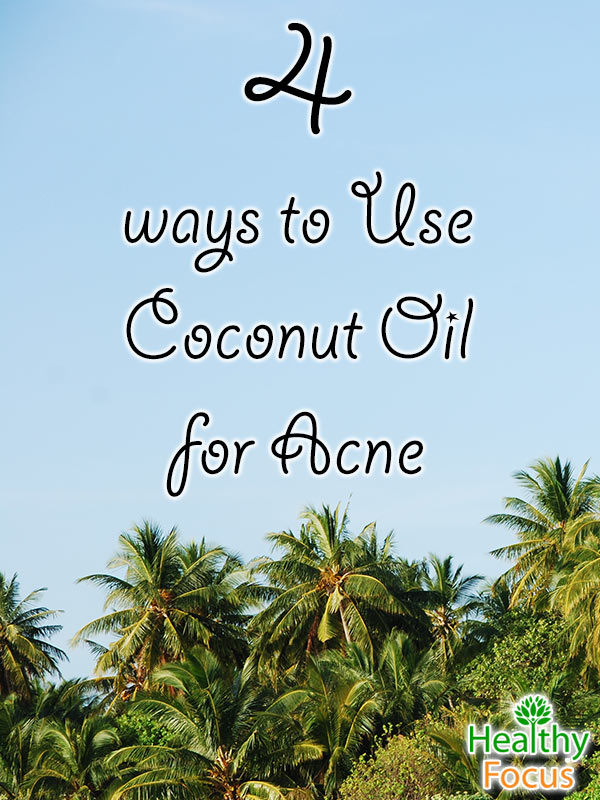 How to use coconut oil for acne
So now that you have taken the plunge and bought your coconut oil you might want to know how to use it and there are several very effective ways in which you can use your coconut oil for acne and to give your skin a treat in general.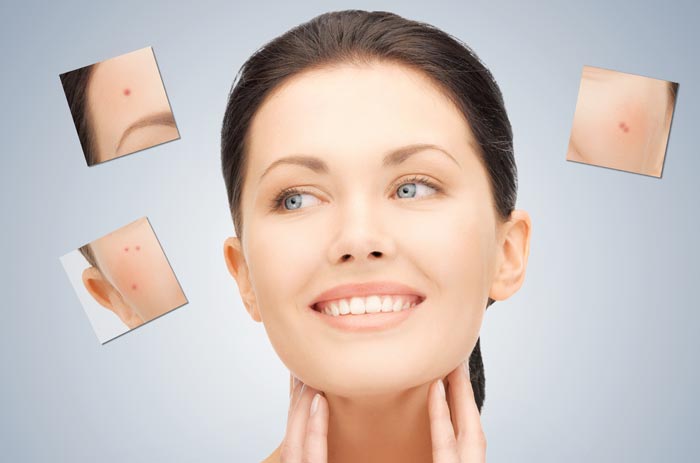 1. Apply it directly to your pimples
This is the easiest and most convenient way to treat your acne with coconut oil but that does not mean it is the least effective.
Simply warm up some coconut oil and with a gentle circular motion rub it into your skin paying special attention to your acne affected areas. Repeat this process morning and night and you should start to see the effects within a few weeks.
Alternatively you could add a few drops of your favorite essential oils to your coconut oil and apply it in the same way. Some essential oils that are known to ease acne are lavender, tea tree and neroli essential oil but there are many more possibilities.
Another way to use your coconut oil is to add a few drops of oil to your facial wash and wash your face as you ordinarily would.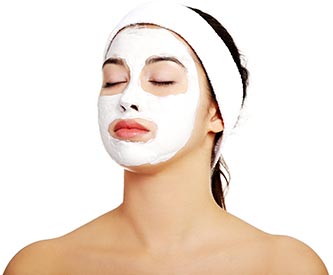 2. Face mask with coconut oil
If you have the time and the inclination you can make a very effective, natural and soothing home-made facial mask to treat your acne. All you will need is a couple of readily available natural ingredients to go with your virgin coconut oil. This facial mask will not only help with acne but can help treat and moisturize your skin and give it a beautiful glowing appearance.
Ingredients
• 2 tablespoons of virgin coconut oil
• 2 teaspoons of honey
• 4 or 5 tablespoons of aloe sap (preferably fresh)
Mix the ingredients together well in a bowl to make your mask.
Apply the mask to your face and let it sit on your skin for at least 20 minutes.
Rinse the mask off with clean warm water.
Repeat the process 2 or 3 times a week.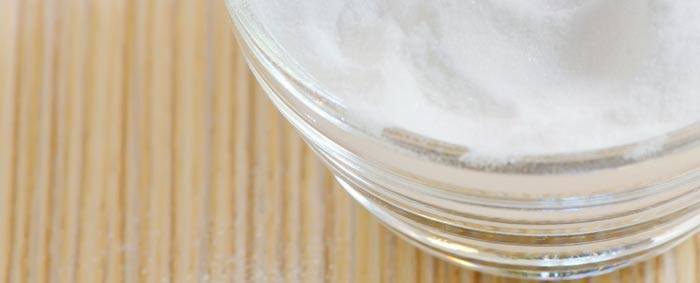 3. Coconut oil with baking soda
This is an effective combination for the treatment of acne. Baking soda is very cheap and has many uses beyond cooking and cleaning; it makes a great tooth whitening paste and is a surprisingly excellent product for treating acne. All you will need for this treatment is two ingredients; virgin coconut oil and baking soda.
Combine your coconut oil with the baking soda, the ratio depends on whether you have sensitive skin or you are trying to exfoliate. If you want an exfoliating effect then a 1 to 1 ratio is recommended whereas those with more sensitive skin might be better with a 2 to 1 ratio of coconut oil to baking soda.
After mixing the ingredients together well, apply it to your face and allow it to sit for a few minutes.
Wash it off with clean warm water.
4. Eat it
Some experts recommend eating a few tablespoons of virgin coconut oil a day in combination with using it on your skin.
As well as its skin benefits, it is a very healthy product full of Vitamin E and essential fatty acids that can benefit a number of complaints.
While coconut oil is without a doubt a natural and effective way to treat the acne and other skin complaints, it is unlikely to be effective on its own when it comes to more severe forms of acne. If you suffer from a severe case of acne, it is likely that you will need to attack the problem from a number of angles and that coconut oil alone will not be sufficient.
Coconut Oil for Acne Scars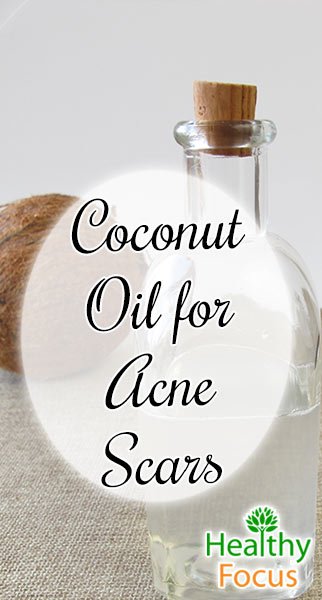 If you've been suffering from the trauma of acne for a while, chances are you may have some scarring. Acne wreaks havoc on the skin often times leaving behind the evidence of its hostile take over in the form of lasting red and brown marks. Fortunately, coconut oil not only helps to fight acne, but it also helps heal up acne scars too and even prevent them from developing in the first place.
Coconut oil is loaded with antioxidants, which helps prevent free radicals from causing lasting damage on the skin. Coconut oil also contains vitamin E, vitamin K, capric acid, and caprylic acid, which stimulate the growth of healthy new skin cells. Meanwhile, coconut oil maintains the integrity of your skin.
Coconut oil does this by encouraging the growth of collagen, an elastic compound that keeps the skin looking young, refreshed, and scar-free. To lighten the appearance of your scars and even out your skin tone, there are several methods you can incorporate coconut oil into your skincare routine.
1. Coconut Oil and Rosewater
This sweet and gentle cure helps not only to fight acne, but also to fade the scars left behind. It helps fight bacteria while encouraging the growth of new skin. This treatment is ideal for those with sensitive skin.
• Combine a ½ tablespoon of rosewater with a tablespoon of coconut oil.
• Massage onto the affected area and let sit for 10 minutes.
• Rinse first with warm water and then rinse with cool water. Gently pat your skin dry.
• Follow this routine daily to prevent and treat your acne scars.
2. Coconut Oil and Honey
Combined with its skin lightening abilities and antimicrobial properties, raw honey combined with coconut oil is a moisturizing and effective way to eliminate your acne scars.
• Combine one tablespoon of raw honey with one tablespoon of coconut oil.
• Gently rub onto the affected area and let sit for 10 minutes.
• Gently rinse with cool water. Dry your skin and apply more coconut oil to the affected area for an extra dose of moisture.
3. Coconut Oil and Aloe Vera
Aloe vera is a sort of cure all for any skin ailment. This gently treatment combined with coconut oil heals acne, eliminates bacteria while making your scars vanish.
• Combine a tablespoon of aloe vera gel with a teaspoon of coconut oil.
• On clean skin, apply this mixture directly to the affected area and let sit for 10 minutes.
• Rinse with warm water. Follow this treatment daily.
4. Coconut Oil and Brown Sugar
In order to encourage the growth of healthy new skin, you have to shed the old, damaged skin. Brown sugar works as a natural exfoliant while the coconut oil helps to repair damaged, scarred skin.
• To make an exfoliating paste, combine a ½ teaspoon of brown sugar with one tablespoon of coconut oil.
• Massage this paste directly onto the affected area in a gentle circular motion.
• Let the paste set for 5 minutes and then rinse off with cool water.
• Use this treatment twice a week.
5. Coconut Oil and Baking Soda
Baking soda paired with coconut oil is another effective way to exfoliate your skin. Baking soda sloughs off dead skin cells while its bleaching properties go to work on fading acne scars.
• Combine one teaspoon of baking soda with a tablespoon of coconut oil.
• Massage this paste-like mixture onto your skin, gently massaging in a circular motion.
• Let the paste set for 10 minutes.
• Rinse with cool water and then gently pat your skin dry.
• You can use this treatment daily to help fade your acne scars.