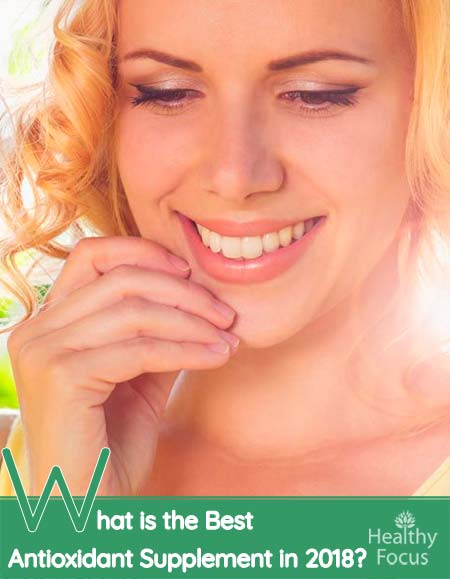 By now, just about everybody is aware of the importance of antioxidants to their health. We are constantly encouraged to consume more antioxidant rich foods or to take a supplement when our diets are inadequate.
But what exactly are antioxidants and how do they work in the body?
In this article, we will take a look at some of the benefits of antioxidants and tell you how they work. If you feel that you could benefit from an antioxidant supplement, we will try to help you make the choice by looking at some of the best antioxidant supplements on the market today.
What are Antioxidants?
Antioxidants are molecules which can inhibit the oxidation of other molecules. Your body circulates certain nutrients around the body because of their antioxidant actions and also produces antioxidant enzymes to control free radical reactions.
Your body can produce some antioxidants naturally but not all and the body's natural production of these antioxidants declines with age.
How Do Antioxidants Work?
To understand the value of antioxidants, it is important to understand how free radicals work. A free radical is a type of reactive metabolite the body produces due to normal metabolism or energy production.
Free radicals are natural responses to various environmental toxins that we come across every day like sunlight, cigarette smoke, chemicals or radiation. The body will also produce these free radicals as a result of inflammation or even exercise.
Free radicals are a type of molecule missing at least one electron and the absent electron is what causes biological oxidation. These incomplete molecules attack normal molecules to replace the missing parts. This reaction is known as 'oxidation' or oxidative stress.
These free radicals can badly damage DNA as well as the structure of other cells. As they continue to steal electrons from each other, a snowball effect takes place with more incomplete free radicals created. This chaotic process can quickly get out of control leaving your cells in a mess and eventually increasing your risk of disease.
How Antioxidants Help
Antioxidants are effectively electron donors. They break the chain reaction by donating their electrons to satisfy the free radicals without becoming free radicals in their own right.
Because of this, antioxidants help protect the body from the harmful effects of oxidation. So long as you get enough antioxidants into your system, the body can resist the damage caused by exposure to environmental pollutants. Your risk of oxidative stress is increased when your supply of antioxidants is low. When oxidative stress occurs, your body is more prone to disease and the effects of aging.
What are the Benefits of Antioxidants?
To Repair Damaged Molecules : Some antioxidants donate a hydrogen atom to damaged molecules. This is extremely important when the molecule is critical to health like DNA.
To Stimulate Gene Expression : Some types of antioxidant stimulate the genes and enhance the body's natural defenses.
To Inhibit the Effect of Metal Radicals : Some types of antioxidant have chelating effects. They basically grab hold of toxic metals such as mercury or arsenic so tightly they prevent ant chemical reactions from taking place. Chelating agents of this kind can help escort these harmful metals from the body through urination.
To Help Destroy Cancer Cells : Many antioxidants are known to confer chemicals which can halt the growth of cancer cells and even force them to self destruct – a process known as apoptosis.
To Protect Against Illness : Many serious illnesses are caused by oxidative stress which antioxidants can combat.
Anti-Aging Propertes : Antioxidants can help prevent premature aging. They help take care of your internal organs and can even protect the skin from many of the signs of aging.
Do you Need an Antioxidant Supplement?
When we think of antioxidants, it conjures up images of so called superfoods like acai berries, blueberries and green tea which are very high in antioxidants. Fresh organic fruit and veg is brimming with antioxidants as are many herbs, spices and nuts. If your diet contains plenty of food high on the ORAC scale, then chances are you do not need a supplement but unfortunately the Western diet tends to be lacking in antioxidant rich nutrition.
There are a number of supplements that can provide you with different kinds of antioxidant. The following are just some of the well-known antioxidants. They can be aquired through certain foods or by taking specific supplements. Many of these natural antioxidants are found as ingredients in the antioxidant supplements in the list that follows. Click on the link if you would like to read more about them.
Alpha-Lipoic Acid
Vitamin C
All of the supplements mentioned above can have a very positive effect on your health and they have been very well-researched. This article however will go on to look at some of the best and most popular antioxidant supplements on the market today. These supplements provide you with a broad range of different antioxidants giving your health an even greater boost.
The Best Antioxidant Supplements
1) Advanced Antioxidant Formula – Solgar
This antioxidant formula by Solgar comes packed with a wide range of nutrients and over 20 natural antioxidants including glutathione, selenium, vitamin A, C and E. The formula is tailored towards enhancing the body's antioxidant activity and fighting the damage done by free radicals.
It is suitable for vegans and vegetarians and is free of common allergens. It has been generally well reviewed but some people claim not to have noticed any positive effects.
Pros
Formula contains vitamins A, C and E.
Contains glutathione and selenium.
Contains spirulina and green tea extracts.
Suitable for vegans and vegetarians.
Free of most allergens.
Cons
Some people noticed no beneficial effects.
2) Broad Spectrum Antioxidant Formula – Thorne Research
Thorne Research has developed a strong reputation in the supplement market since their beginnings in 1984. Their broad spectrum antioxidant formula promises to boost general health and improve immunity.
The formula is made up of a good combination of essential nutrients and contains various antioxidant ingredients like glutathione known for its detoxifying properties.
The product is produced in the US according to strict guidelines but is priced very reasonably. The ingredients are listed clearly on the package. If there is a downside, each dose involves taking three capsules which may put people off.
Pros
Contains 200 mg of vitamin C.
Contains a range of antioxidants including glutathione, selenium and alpha-lipoic acid.
Gluten free and suitable for vegetarians.
GMP certification.
Good value for money.
Cons
The 3 capsules you have to take for each serving might be inconvenient and challenging for some.
3) Antioxidant and Immune Support Formula – Onnit ViruTech
This antioxidant supplement from Onnit Virutech also provides you with a broad range of antioxidants to boost your health and improve immunity.
Among its many ingredients, it contains a good 500 mg vitamin C as well as selenium, quercetin, alpha lipoic acid and various flavonoids.
It is soy and gluten free and also suitable for vegetarians and vegans. We think you will like the price too and believe it represents excellent value for money.
Pros
A high dose of vitamin C.
Contains quercetin and alpha-lipoic acid.
Contains zinc and selenium.
Suitable for vegans and vegetarians.
Free of soy and gluten.
Good value for money.
Cons
There are no negatives as far as we can tell.
4) Antioxidant Rich Formula – AMRAP Nutrition
AMRAP are a company that produces carious sports nutrition products and their antioxidant powder was made with active people in mind. The formula is geared towards reducing oxidative stress during and after a workout allowing you to go a bit harder and longer. It promises to enhance your overall wellbeing, immunity and fitness.
Pros
Easy to consume powder blend with no fillers or artificial flavors and sweeteners.
Packed with vitamins and minerals like calcium and iron.
Tested for purity by a 3rd party.
Produced in the US.
Cons
Slightly expensive.
Tastes a little bland.
5) Super Antioxidant Supplement – Activa Naturals
And last but not least, this antioxidant supplement from Activa Naturals has been formulated to boost your immune system and energy levels and is great for the active among you.
It has a good dose of vitamins A and C and E as well as several other natural antioxidants like resveratrol and fruit extract from highly antioxidant fruit like acai and goji berry.
According to the instructions, you are recommended to to take two capsules twice each day and unfortunately the capsules are quite large.
Pros
Contains a good dose of vitamins.
Contains plenty of natural fruit extract.
Contains 20 mg of resveratrol.
Non GMO.
Produced in the USA.
Cons
The Main Health Benefits of Antioxidants
Antioxidants Slow Down the Aging Process
The major benefit of getting antioxidants into your system is that they counteract the free radicals found in the body. Free radicals are extremely damaging to the cells and tissues. They are responsible for many health problems and diseases and are linked to premature aging in the skin and eyes.
So what makes free radicals so destructive to the body? While electrons usually exist as pairs, free radicals have only one electron. They attack and react with normal molecules essentially robbing them of their electrons. This process is known as oxidation and commonly referred to as oxidative stress. Oxidative stress is responsible for many of the signs of premature aging and is one of the main causes of disease. Our bodies use antioxidants to protect against this damage and potentially even reverse it.
They Keep the Skin Looking Younger
One of the most evident impacts of free radical damage is the effect it has on your skin. Many people fond that their skin has aged prematurely both in terms of its health and outward appearance developing wrinkles and other blemishes before you would expect.
Getting plenty of antioxidants into your body from a diet rich in antioxidants like vitamin C and beta-carotene can help combat and reverse this damage.
Vitamin C in particular is well-known for its positive effect on the skin. It is a powerful and effective antioxidant which is found in high amounts in most fresh fruit and veg. Scientists have also found a link between vitamin A deficiency and skin problems like dryness and scaling. Foods rich in vitamin A include leafy green vegetables, various fruits, eggs, raw milk, cheese and liver.
They Protect your Eyes and Vision
Several antioxidants including beta-carotene and vitamins C and E have a positive effect on eye health and vision. These antioxidants can prevent macular degeneration and other vision issues related to age. Many bright colored fruit and veg contain these antioxidants as well as other antioxidants known for their benefits to vision like zeaxanthin and lutein.
Lutein and zeaxanthin are readily transported through the body and make their way to the lens and the macula. Of the 600 or so carotenoids in nature, only some 20 make it to the eyes. And even then, only zeaxanthin and lutein get deposited in large amounts in the macular part of the eyes which is the area most likely to suffer damage as we age.
Antioxidant food containing  these eye-healthy antioxidants include berries, spinach, broccoli, kale and egg yolks. Studies have revealed that foods rich in lutein like spinach can improve vision and protect against eye degeneration. (1)
They May Protect Against Cardiovascular Disease
As we have already mentioned, antioxidants are necessary to neutralize the damaging effects of free radicals. They are important to protect against stroke and heart disease. Research about the benefits of antioxidant supplements is mixed but there is evidence that antioxidants found in food like vitamin C can protect your heart from disease.
One study found that people with higher amounts of vitamin C in their bodies had a 50% lower risk of suffering a stroke. (2) There have also been numerous studies linking the consumption of fresh fruit and veg to a lower risk of heart disease.
It should be noted that not all antioxidants are beneficial to the heart. According to research, beta-carotene and vitamin E supplements can actually increase the risk of fatal heart disease. (3)
They May Protect Against Cancer
researchers have also found that the consumption of certain antioxidants including vitamins A and C can help treat and prevent certain types of cancer. This is because they help control the malignant cells and induce apoptosis or the controlled destruction of cancer cells.
Studies have found that a compound called retinoic acid derived from vitamin A can play an important role in cancer prevention and treatment. Breast, bladder, ovarian, skin, lung and prostate cancers have all been suppressed in studies with retinoic acid. (4)
They Can Prevent Dementia
When it comes to dementia and other diseases linked to degeneration of the brain, oxidative stress is one of the main risk factors. There is some evidence that a diet rich in antioxidants can lower the risk of brain disease. One study reported that a higher intake in antioxidant rich food could have a modest impact on the risk of developing Alzheimer's disease or dementia. (5)
Closing Thoughts
There is no doubt that getting your antioxidants through natural, dietary means is the best way to ensure good health. Unfortunately, many people may need a supplement to make up for an inadequate diet.
All of the supplements mentioned above come with a number of advantages and very few cons. Your choice will depend on personal preference and price. We hope that this article has helped you to make a decision. If you are using an antioxidant supplement and you have found it to be beneficial please let us know. 
(1) https://www.ncbi.nlm.nih.gov/pubmed/26950968
(2) https://www.ncbi.nlm.nih.gov/pubmed/25948669
(3) https://my.clevelandclinic.org/health/articles/16740-antioxidants-vitamin-e-beta-carotene–cardiovascular-disease
(4) https://www.ncbi.nlm.nih.gov/pubmed/25520935
[ratings]