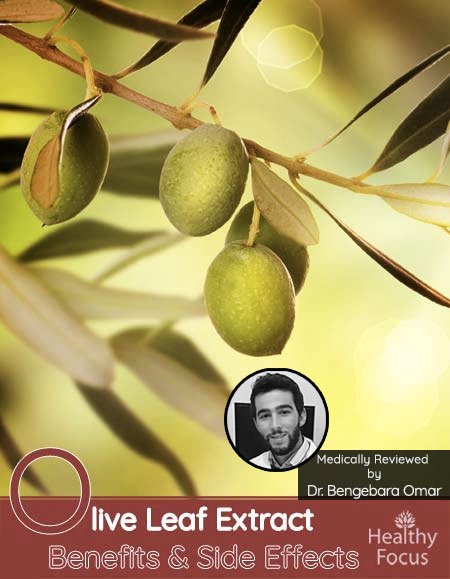 MD, ER Doctor & Surgery Resident –
Reviewed & Approved on November 05, 2018
Olive Leaf Extract Benefits
Olive leaves and olive oil has been used for thousands of years in the treatment of various complaints. But as is often the case it took modern society a long time to catch up with tradition. These days, olive leaf extract (Olea europea) is becoming more well-known and used its use is becoming widespread.
There is good reason for this as an ever increasing body of research demonstrates that olive leaf extract has numerous therapeutic benefits including the following:
It offers immune system support
It is a rich, natural source of antioxidants (over 5x vitamin C and Goji Berry). Supports cardiovascular health and reduces cholesterol and high blood pressure
It has potent antiviral properties
It has antifungal properties
Anti-cancer properties—in that it helps inhibit tumor growth and help reduces malignant cell survival rates
Olive leaf extract and olive oil, contains a powerful compound called Oleuropein. This compound is responsible for many of its substantial health benefits. It is also the compound responsible for inhibiting the growth and replication of a host of viruses. Olive leaf extract is available in capsule and tincture form; capsules are available in 500 mg to 1000mg doses and contain 20mg of Oleuropein in each capsule.

Dose
Olive leaf extract is not thought to be toxic and researchers were unable to find a toxic dose of its main constituent Oleuropein. (1) There is no exact recommended dose but many experts recommend taking 500mg 4 times a day though they also recommend that you allow your body to get used to it by taking a smaller dosage to begin with.

Nutritional Information
Olive leaf does not have any nutritional value vitamin or mineral wise. It does however have a ridiculously high level of antioxidants. With an ORAC score over 10,000—Olive leaf extract boasts more free radical scavenging capacity then green tea, acai berries, or grape seed extract.

Olive leaf extract Benefits for Skin
Olive leaf extract provides many healing benefits and can protect against UV skin damage.  A 2010 study done on mice showed that oleuropein helped prevent skin damage caused by ultraviolet B radiation (UVB).  (5)
Olive Leaf can also protect you from skin cancer.  In testing with mice, dry olive leaf extract reduced chemo resistant melanoma tumors sizes.  (6)
Olive leaf extract can also help the skin with wound healing.  A 2011 study done with animals showed that Olea europea helped speed the closing of wounds as well as the strength of the healing.  The olive leaf extract treated groups did significantly better than the skin healing ointment Madecassol. (7)
Olive leaf extract can also help with many problem skin conditions such as acne, eczema, psoriasis and even shingles.

Olive leaf extract and Breast Cancer
A 2000 rat based studies showed a 70% reduction in breast cancer in olive leaf extract fed rats. A more recent 2009 Study showed that oleuropein and hydroxytyrosol (components of olive leaf extract), were shown to cause cell death in human breast cancer cells. (8)
Olive Leaf Extract for Shingles (Herpes Zosta)
Otherwise known as Herpes zosta, shingles is a viral disease characterized by painful and blistered skin rashes usually limited to specific areas of the body.
Many experts have begun to appreciate the value of olive leaf extract as an effective natural remedy for shingles. The extract is believed to be so effective because of its antibacterial and antiviral properties as well as its antioxidant content and its ability to boost the immune system.
Make sure that your olive leaf extract has a 20% or more oleuropin content. The often recommended dose is four extract capsules taken 6 times daily until your symptoms have cleared up. Many people find that their shingles symptoms have gone within a week or so.
Olive Leaf Extract for Acne and Eczema
If you suffer from chronic acne outbreaks and you are looking for an effective and affordable home treatment, then olive leaf extract might be just the thing you need. The cause of acne can basically be boiled down to a hormone imbalance.
The responsibility for balancing these hormones and cleaning the blood rests with the liver. A weakened or overworked liver is unable to keep your hormones in balance leading to potential acne outbreaks that even the most expensive acne creams and treatments are powerless to prevent.
Toxins known as mycotoxins are produced by mold or yeast and spread through your bloodstream and major organs. These toxins weaken the liver and are considered largely responsible for hormonal imbalances that lead to acne. Olive leaf extract has powerful anti-fungal properties and is able to destroy the toxins which weaken the liver.
As well as cleaning the liver, olive leaf extract is also an effective weapon against the bacteria that aggravates the symptoms of acne. This combination of effects makes olive leaf extract an effective acne treatment either when used alone or in combination with your conventional treatments.
In the same way that it can help with acne, the antioxidant, antimicrobial and anti-inflammatory actions of olive leaf extract might help treat those suffering from eczema.
Olive Leaf Extract for Rosacea and other Inflammatory Conditions
Because it is such a powerful cleanser and is able to detoxify the body so effectively, olive leaf extract gives the immunity system a significant boost no to mention a radical increase in energy. Rosacea is understood to be an inflammatory disorder and it is also known that poor immunity results in inflammation.
People suffering from rosacea can benefit greatly from an immune system boost in order to rid the body of the inflammation that contributes to the complaint. Many other inflammatory and auto-immune conditions such as rheumatism, arthritis and psoriasis can be treated with naturally by taking olive leaf extract supplements.
Olive Leaf extract For Allergies
Olive Leaf extract may help with atopic dermatitis and skin conditions but it can also cause allergic reactions in people allergic to olive pollen (see more in side effects below). Everyone can react to OLE a little differently so it is important to start with a small dose and work your way up.
Olive Leaf Extract for Blood Pressure
Olive leaf extract can help reduce blood pressure and protect against cardiovascular disease. Oleuropein; a compound present in olive oil and olive leaf extract, is believed to be responsible for the blood pressure benefits conferred by the extract.
The cardiovascular benefits of oleuropein have been well known since the 1950s when Panizzi et al recognized that it had hypotensive action and helped to dilate the blood vessels.
Olive Leaf Extract for Cholesterol
A 1991 study on animals showed Olive leaf extract showed cholesterol lowering effects (9). Without further studies or studies on humans it is hard to recommend OLE specifically for lowering cholesterol. It might help but the other benefits are better researched.
Olive Leaf Extract for Blood sugar
A study conducted at the University of Auckland took 46 overweight men and gave them either an olive leaf extract supplement or placebo for 3 months. Those given the olive leaf extract experienced a 15% improvement in the insulin sensitivity indicative of a more stable blood sugar. (1) (2)
Olive Leaf Extract for Weight Loss
As well as its ability to treat so many health conditions, olive leaf extract might be able to keep your body weight under control and even help you to lose some of those unwanted pounds.
Scientists from the University of Southern Queensland demonstrated that the extract could reduce stores of fats in rodents that had been given a high fat diet for 8 weeks. Rats given coffee supplemented with olive leaf extract for another 8 weeks demonstrated weight loss as well as improved liver, cardiovascular and metabolic functions compared with rats not given the extract.
The lead researcher suggests that the loss in weight is due to the anti-inflammatory properties of olive leaf which cause a decrease in fat storage.
A recent 2016 found another mechanism by which Olive leaf extract might aid in weight loss and blood sugar regulation. The study found that supplementing rats with oleuropein increased adiponectin levels. Adiponectin levels are inversely related to relative body fat in adults. So raising adiponectin is beneficial to burning fat and also lowering blood sugar levels. (10)
While its medicinal benefits are well established and it is considered to be generally safe, it is worth spending some time looking at the possible side effects and potential medicinal interactions of olive leaf extract.
Olive Leaf Extract Side Effects
There is every chance that you will not experience any side effects from taking olive leaf extract but there is equally no guarantee that you won't. Compared with the amount of articles written about its benefits, the potential side effects of olive leaf extract are certainly less documented; even within published scientific studies; and until recently were almost completely unknown.
If you are using olive leaf extract and you are unfortunate enough to have experienced any of its side effects, it is likely to be an immune reaction known as Herxheimer's reaction which can cause a temporary regression or aggravation of your existing symptoms. Many of the symptoms experienced are typical of those associated with the detoxification process and should only last for a few days at most.

With regard to olive leaf extract, Herxheimer's reaction is relatively uncommon and is experienced by a relatively small minority of those who take it.
Olive Leaf Extract Side Effects-Herxheimer's Reaction
This is a detoxification reaction named after the scientist who discovered it when researching remedies for syphilis. The reaction is a well-known effect of the detoxification process and is not unique to olive leaf extract.

The reaction results in your existing symptoms becoming temporarily aggravated or getting worse. It is basically a negative immune reaction to the release of damaged pathogens and toxins into the body.

While any side effects to treatment sound miserable, Herxheimer's reaction is nothing to worry about and is generally regarded as a positive signal that treatment is working and the body is eradicating the unwanted toxins and pathogens.


The reaction which in this case is caused by olive leaf extract follows a fairly structured process and should be easily recognized.

The cells of disease causing microbes also known as pathogens are attacked and destroyed by the olive leaf extract.
After being destroyed and killed, these pathogens release toxins and get absorbed by surrounding tissue. This tissue was already damaged by the pathogens causing illness before being treated.
The original symptoms become worse because of the increased concentration of toxins. This in turn triggers the body's immune response resulting in the release of histamine, increased swelling and greater pain.
As a result of the immune response, the body's detoxification process kicks into high gear which can cause even more painful symptoms.
Finally, the body cleans itself up and the toxins and dead cells are eliminated.
After a few days, the body recovers completely and you return to good health.
You can help speed up the detoxification process by staying well hydrated and drinking at least 6 glasses of purified water each day.
If you experience Herxheimer's reaction as a result of olive leaf extract, you are likely to feel discomfort or pain in certain areas of the body. Tissue surfaces most often affected include the mouth, stomach, esophagus, ears and sex organs.
The side effects might exhibit themselves in the following ways:
• Dull headaches
• Muscle pain
• Fatigue
• Skin complaints such as rashes or pimples
• Joint pain
• Sweating and fever
• Some nausea
• Vaginal discomfort
Other Side Effects from Olive Leaf Extract
As well as the side effects associated with Herxheimer's reaction, there is the possibility that you might develop a number of other reactions some of which are associated with pre-existing complaints.

1. Olive Leaf Extract Side Effects-Dizziness
Because olive leaf extract reduces your blood pressure, some people might experience dizziness and light headedness. If you already have low blood pressure then olive leaf extract is not recommended and you should always consult your medical expert before you consider taking it.

If you don't normally have low blood pressure and you are still feeling dizzy, try reducing your olive leaf extract dose until your body has been able to adjust.
2. Olive Leaf Extract Side Effects-Stomach Irritation
While this is an uncommon side effect, it is a potential reaction if you are taking very strong doses of olive leaf extract. If you do experience stomach problems then it is recommended that you reduce the strength of your dose. Taking your capsules with a meal should reduce any stomach irritation but it can also render the extract less effective.
3. Olive Leaf Extract Side Effects-Diarrhea
Some people might experience diarrhea as a reaction to taking olive leaf extract. Similarly to Herxheimer's reaction, diarrhea might occur when the extract destroys certain filaments in the lining of the stomach loosening the stools.

The risk of diarrhea is lessened by taking your extract capsules with a meal and staying sufficiently hydrated.
4. Olive Leaf Extract Side Effects-Heartburn
Heartburn or acid reflux might occur but it is a rare reaction to olive leaf extract tinctures.
Diluting the olive leaf tinctures with water or tea should help reduce the reaction but if it does not, consider taking the capsules instead.

5. Olive Leaf Extract Side Effects-Allergic Reaction
Allergic reactions to Olive Leaf extract are rare but people with fruit or Birch allergies should be especially careful. Studies have shown that Olive Leaf Extract is a possible allergen to people with certain fruit allergies. (4)
The allergen study in done in 2002  found that people who have a hypersensitive reaction from eating fruit (anaphylactic) were also sensitive to Olea europaea pollen. And while these fruit related pollen based allergies (polinosis) are rare they can be life-threatening for those who have them.

Olive Leaf Extract Side Effects-Potential Drug Interactions
There is very little documented about the potential of olive leaf extract reacting with prescribed medications but that does not mean that there is no risk. If in doubt, make sure that you speak with your doctor before taking olive leaf extract. Despite the lack of evidence, it is possible that olive leaf extract could interact with certain drugs and care should be taken if you are taking certain medications.
Possible interaction with blood pressure medication
Olive leaf extract reduces blood pressure; as a result you should avoid taking it when you are on any medication for blood pressure unless your doctor consents to it.
Possible effect on blood thinners
Nothing has been established but olive leaf extract could enhance the blood thinning effect of medications like warfarin. If you are already taking any blood thinning medication, make sure that you consult your doctor in advance.
A good Olive Leaf Extract supplement is made by  NOW Labs and contains 6% Oleuropein.
(1) Fleming H.P.; Walter W.M.; Etchells J.L. "Antimicrobial properties of oleuropein and products of its hydrolysis from green olives" Microbiology 26(5):777-782, Nov. 1973. "Olive Leaf Extract"; Dr. Morton Walker
(2)  http://www.ncbi.nlm.nih.gov/pmc/articles/PMC3596374/
(3) http://www.ncbi.nlm.nih.gov/pubmed/20335636
(4) http://www.ncbi.nlm.nih.gov/pubmed/12173271
(5) http://www.ncbi.nlm.nih.gov/pubmed/19957248
(6) http://www.ncbi.nlm.nih.gov/pubmed/20568104
(7) http://www.ncbi.nlm.nih.gov/pubmed/21128831
(8) http://www.ncbi.nlm.nih.gov/pmc/articles/PMC2677148/
(9) Pasquale RD, Monforte A, Trozzi A, Raccuia S, Tommasini S, Ragusa S. Effects of leaves and shoot of Olea europaea L. and oleuropien on experimental hypercholesterolemia in rat. Plantes Med Phytother 1991;25:134-40.
(10) http://www.ncbi.nlm.nih.gov/pubmed/27019295