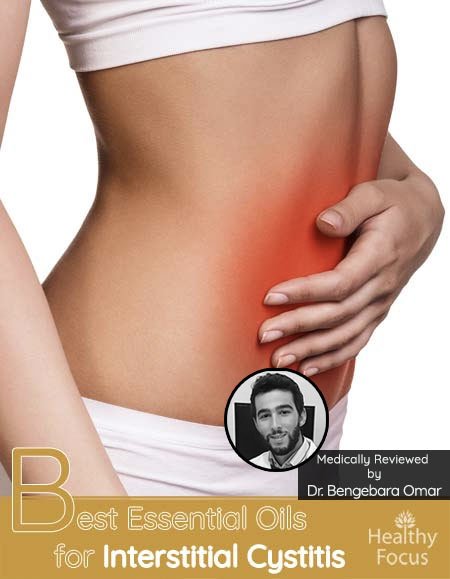 MD, ER Doctor & Surgery Resident –
Reviewed & Approved on November 05, 2018
Diet, home remedies and essential oils for interstitial cystitis
Also known as painful bladder syndrome, interstitial cystitis is a chronic condition characterized by pain, pressure and burning in the bladder. Ordinarily, when the bladder fills with urine, a signal gets sent to the brain telling your muscles that they need to squeeze but for those with interstitial cystitis, this signal is sent far more frequently even when the bladder is nowhere near full.
The precise cause of the condition is not known but we know that it most often occurs between the ages of 30 and 40 and that women are up to ten times likelier to develop interstitial cystitis than men.
The most common symptoms of interstitial cystitis are bladder discomfort, the frequent urge to urinate, burning pains in the pelvic area and pain or discomfort during intercourse.
Because of its chronic nature, many suffers also experience depression caused by the symptoms.
There is no known cure for interstitial cystitis and treatment tends to be based on diet and lifestyle changes through trial and error.
What works for one person may not always work for another; food and drink such as alcohol, coffee and cheese are thought to exacerbate bladder problems and might bring on symptoms; the Interstitial Cystitis Association has a fairly comprehensive list of food to avoid that we will look at a little later in the article.
As well as dietary changes, there are a number of other home remedies that people have found effective. Don't lose hope if one remedy does not work for you; home remedies can be safely tried without the risk of any side effects and with luck and a bit of trial and error, you may well find the answer.
1. Diet and Lifestyle Changes
Drinking plenty of fresh water every day is just as important as avoiding drinks and food that cause flare-ups.
There are also many beverages and foods recommended for sufferers including barley milk and certain herbal teas like marshmallow root, omega 3 fatty acids found in fish like salmon and tuna are also highly recommended.
When it comes to avoidance, the Interstitial Cystitis Association recommends that you try eliminating certain foodstuff from your diet one at a time to see what works for your particular condition and there are many support groups online that keep a log of effective dietary changes.
It is generally recommended that you stop eating or at least radically reduce your intake of alcohol, caffeine, sodas, chocolate, citrus drinks and food high in [easyazon_link identifier="B00C6C3GCY" locale="US" tag="healfocu04-20″]Vitamin C[/easyazon_link].
While reducing your intake of coffee, alcohol and carbonated drinks is probably a good idea for health purposes in general, unfortunately, other food that is considered high risk like fruit would normally play a part in any healthy diet.
Here are some of the other foods listed by the Interstitial Cystitis Association as a possible cause of bladder pain and irritation.
•  Aged cheese
•  Artificial sweeteners
•  Cured, processed or smoked meats
•  Most fruit with the exception of pears, honeydew melon, and blueberries
•  Most nuts with the exception of cashews, almonds, and pine nut
•  Fava beans
•  Lima beans
•  Tomatoes and onions
•  Any form of seasoning that contains MSG
•  Sour cream
•  Rye and sourdough bread
•  Tofu
•  Tea
•  Yogurt
This is clearly quite a lengthy list and it might not be necessary to eliminate every item from your diet, try to eliminate the items one at a time until you have success.
Some people respond very well to dietary changes while others might not see any positive effects. Fortunately, there are other home remedies that you can try to ease your symptoms.
2. Essential Oils
Essential oils are good for so many things that it is hardly surprising that many people have experienced success with essential oils in their battle with interstitial cystitis.
While there is no scientific evidence that essential oils are effective in reducing the symptoms of interstitial cystitis, they are generally safe and worth trying. There is nothing to lose and the risk of any side effects is extremely low.
Lavender essential oil and sandalwood essential oil are the ones most commonly recommended with the most impressive testimonials but other essential oils such as peppermint, clary sage and thyme are also highly recommended.
As with dietary changes, trial and error is probably the best way to find a remedy.
Most essential oils have antimicrobial and anti-inflammatory properties that can help soothe the inflammation and ease the pain.
[easyazon_link identifier="B005CDHVDE" locale="US" tag="healfocu04-20″]Sandalwood[/easyazon_link] is an antiseptic, antispasmodic oil that is highly recommended for IC pain
[easyazon_link identifier="B005Y4CX3O" locale="US" tag="healfocu04-20″]Thyme Essential Oil[/easyazon_link] is an antiseptic, anti-bacterial antispasmodic oil
[easyazon_link identifier="B00F4L68C4″ locale="US" tag="healfocu04-20″]Clary Sage Essential Oil[/easyazon_link] has anti-spasmodic, and anti-inflammatory properties useful in treating IC
[easyazon_link identifier="B000K24ONW" locale="US" tag="healfocu04-20″]Cypress Essential Oil[/easyazon_link] cures most types of spasms, and has calming sedative properties
[easyazon_link identifier="B005CCGFD2″ locale="US" tag="healfocu04-20″]Geranium[/easyazon_link] can reduce irritation and has anti-inflammatory properties
[easyazon_link identifier="B00GLSHT04″ locale="US" tag="healfocu04-20″]Juniper Essential Oil[/easyazon_link] helps reduce cramps and relieve gas from the intestines
[easyazon_link identifier="B00TSTZQEY" locale="US" tag="healfocu04-20″]Lavender Essential Oil[/easyazon_link]is a pain reliever and anti-spasmodic-and is a highly recommended oil for IC.
Some essential oils like lavender also possess calming properties that might help sufferers to take their minds off their pain and with sleep difficulties being a common symptom of interstitial cystitis, certain oils can help you to achieve a good night's sleep.
How to use essential oils for interstitial cystitis
Essential oils are absorbed easily by the skin and will hopefully provide quick relief from your painful symptoms. Many people recommend massaging the oil into the skin just above the bladder area. It is important that you dilute your chosen essential oil with a good quality carrier oil and many sufferers of interstitial cystitis recommend virgin coconut oil for this purpose. Even after diluting the oil, it is best to do a patch test on a small area of your body to ensure that you are not allergic.
Inhale the oil either directly from the bottle, a handkerchief or if you have a diffusing machine, then diffuse it through the day.
Add a few drops of your chosen essential oil to a bathtub filled with water to soothe both bladder and vulvodynia pain.
3. Other Home Remedies
There are many other home remedies recommended by sufferers but remember that not all remedies will have the desired effect.
I have seen apple cider vinegar recommended whereas many other sufferers are certain that it exacerbates the issue and causes flare-ups; if you think a herbal remedy is likely to cause a flare-up, it is better to remain on the safe side and stay clear.
Baking soda
Baking soda has numerous therapeutic benefits; it is widely available and very cheap-most people will have a packet somewhere in their kitchen cupboards.
As well as its other uses, baking soda is considered to be an effective way to treat interstitial cystitis by decreasing the acidity of the urine.
Add a tablespoon of baking soda to a glass of fresh water, mix it well and drink it down. Note however that baking soda contains sodium so it would be best to consult your doctor before taking it.
Aloe Vera
There is a considerable amount of anecdotal evidence from sufferers of interstitial cystitis claiming that aloe vera is an effective treatment. The Urology Wellness Center based in Maryland conducted a very small scale experiment with [easyazon_link identifier="B00772AQD0″ locale="US" tag="healfocu04-20″]Aloe Vera[/easyazon_link] in freeze-dried capsule form. Seven out of the 8 women that completed the experiment reported improved symptoms to one extent or another.
Marshmallow root
The root of the [easyazon_link identifier="B000302280″ locale="US" tag="healfocu04-20″]marshmallow herb[/easyazon_link] has therapeutic properties and is used as a treatment for interstitial cystitis. Drinking a tea made from marshmallow root is said to help prevent inflammation and infection caused by the condition as well as reducing uncomfortable flare-ups.
Chamomile tea
Chamomile tea helps you to relax and is tolerated well by sufferers of interstitial cystitis. It is questionable just how effective it can be but there is no harm in trying and many people have reported success.
---
If you suffer from this horrible condition, all is not lost. While there is no cure, some lifestyle and dietary changes, as well as a number of natural remedies, might be able to help you manage your symptoms. All the very best of luck to you.