Frankincense Essential Oil
For so long associated with the Christian religion, the word frankincense stems from the French meaning quality incense. It is a word that to me conjures up feelings of peace, warmth and fragrance. It has been used for thousands of years in religious ceremonies but today it is becoming increasingly popular in aromatherapy where it is prized for its various health benefits.
Frankincense Overview and History
Known also as olibanum, frankincense essential oil is extracted from the inner bark of the Boswellia trees. After the sap is extracted, it is hardened for a few days until it takes on its familiar gum resin appearance.
The Boswellia genus of trees are mainly native to parts of Africa including Somalia and Ethiopia as well as certain areas of the Middle East like Oman and Yemen. Highly prized, frankincense has been traded with many other parts of the world from its point of origin for millennia.
The two major species of tree used for essential oils are Boswellia carterii from North Africa and Boswellia sacra from India.
Frankincense has traditionally been burned as an incense and used in many religious and cultural ceremonies but its powder was also used cosmetically by ancient Egyptian women who used it to make their familiar heavy eye liner.
These days, it is still used in religious ceremonies but it is also steam distilled in order to produce a rich, fragrant and therapeutic essential oil. As well as its physical benefits, frankincense essential oil has a spicy woody aroma with just a tinge of fruit which many people including myself find clean and relaxing.
Frankincense Properties and Composition
The major chemical constituents of Boswellia carterii frankincense essential oil (in order of highest to lowest) are:
Alpha-pinene
Alpha-Thujene
Octyl acetate
Limonene
Para-Cymene
1-Octanol
Boswellia sacra has a slightly different chemical structure with the main components being:
Alpha-pinene
Limonene
(E)-Beta-Ocimene
Myrcene
Alpha-Thujene
Sabinene
Its therapeutic properties are too numerous to list but include analgesic, anti-inflammatory, antioxidant, antiseptic and anti-cancer properties. These and many more of its medicinal actions make frankincense one of the most popular and beneficial essential oils on the market.
Frankincense has been well studied by the scientific community and they have found that it can help treat a range of illnesses from stress and digestion to a potentially groundbreaking treatment for cancer. If you want to learn what exactly frankincense can do for you then please read on-you might be very surprised.
Frankincense Essential Oil Benefits
1. Arthritis and Pain Relief
We all suffer from joint and muscle pain especially as we get older and making sure that our muscles and joints are soothed can really help you get through the following day. Many other people are unfortunate enough to suffer from rheumatism or arthritis and are looking for a natural treatment to ease their pain.
Fortunately, it appears that the reports of the pain relief offered by frankincense essential oil is justified. According to research, frankincense oil is able to inhibit production of inflammatory molecules which are related to arthritis, gout and also inflammatory bowel conditions and asthma.
A recent study published in 2014 set out to investigate the analgesic effects of frankincense essential oil and its ability to treat muscle and arthritis pain. The experiment revealed that frankincense was more effective than aspirin when it was administered orally to rats. (1)
To treat joint and muscle pain, you can dilute your oil with a carrier oil and massage the mixture into the affected areas of your body several times each day.
Alternatively just add a few drops to your bathtub and let the oil do its work.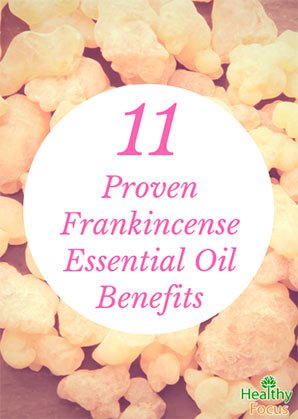 2. Cancer
While it is still early days as far as research goes, there have been numerous positive studies regarding the potential anti-cancer potential of frankincense essential oil and its progress in this area is certainly worth keeping an eye on. Not only has in vitro research found that frankincense oil could kill cancer cells but it also helped reduce pain and depression suffered by patients with terminal cancer.
In vitro and animal research has demonstrated that frankincense oil could destroy pancreas cancer cells (2), bladder cancer cells (3) and breast cancer cells (4).
Another study found that a combination of frankincense, lavender and bergamot oils diluted with sweet almond oil and used as a hand wash helped significantly reduce the depression and pain suffered by cancer patients in a hospice. (5)
A study published in 2011 offers even more good news for people undergoing cancer treatment. Brain cancer patients often suffer from cerebral edema or swelling in their heads following treatment to irradiate their brain tumors.
The steroid drugs typically used to treat this condition can cause severe toxic side effects including blurred vision and migraines. The study demonstrated that frankincense essential oil was extremely effective in reducing the cerebral swelling with over 60% of the patients experiencing up to 75% reduction in their swelling. (6)
Clearly, frankincense essential oil has some major potential in the field of cancer treatment and prevention and may well have a significant part to play in the future.
3. For the Skin
Frankincense essential oil has all of the necessary physical properties to make it ideal for the skin. It can help to tone the skin and keep it in good condition as well as fighting against common skin disorders like acne and eczema.
It also promotes the regeneration of new and healthy skin cells while reducing the appearance of scars and other blemishes. It can even help you look younger by reducing the appearance of those nasty wrinkles that we all have to deal with as we get older.
You can safely apply the oil to any area of skin that requires your attention but it is best to dilute it first with another skin friendly carrier oil like coconut or jojoba oil and then to perform a patch test to ensure you are not allergic.
For acne: If you are one of the many people suffering from acne, simply apply your diluted frankincense oil to your pimples with a cotton pad each evening before going to bed. Many people use frankincense essential oil in its undiluted form without any reaction but take care before using it neat.
The anti-inflammatory and antiseptic properties in frankincense oil will help soothe any redness and destroy bacteria. It also has astringent qualities that help tighten the skin and reduce any acne scars that you may be left with.
For Scars and Stretch marks: There is no quick fix for scarring but when used over time, frankincense may help at least diminish the visibility of your scars.
For wrinkles: Frankincense essential oil is one of the best natural remedies for wrinkles and other blemishes like age spots. It has excellent antioxidant and astringent abilities so just apply your diluted oil directly to your wrinkles and marks once or twice a day and you should notice the difference.
You can also add a few drops of frankincense essential oil to your regular lotions and creams or make your own home made recipe which we will look at later in the article.
4. Digestive Complaints
Frankincense essential oil is very effective in treating a host of problems related to the digestive system. It can help reduce bloating and gas as well as stomach aches, pains and cramping. It can even be used to deal with constipation and to speed up the effective digestion of your food.
Because of its excellent anti-inflammatory abilities, frankincense can potentially help treat inflammatory bowel conditions like IBS and many women apply it topically to their abdomen to help deal with menstruation pains.
You can safely apply diluted frankincense oil to your stomach topically and some people recommend taking it internally to deal with poor digestion and related problems.
You can add a drop or two to a glass of water or a spoon full of honey and ingest it that way but you need to make sure that the oil you are ingesting is 100% pure.
Ingesting perfumed oils should always be avoided.
5. Stress Relief
Stress relief is a very broad term but frankincense essential oil can be used for the entire spectrum of emotional disorders that people commonly suffer with. We mentioned earlier in the article that studies have demonstrated that frankincense when combined with several other oils could significantly improve feelings of depression.
I have suffered from serious anxiety attacks in the past and have found that essential oil like frankincense and lavender among others are extremely effective in relieving the anxiety naturally. It really is amazing that just inhaling the scent of one of these amazing oils can quickly instill feelings of calm and bring you back to normality.
If you are simply feeling stressed out, then why not try diffusing your frankincense oil throughout the day at home or in your office. People will not always experience the same reaction to a particular oil but from my experience, frankincense really does offer an excellent natural remedy for stress and anxiety.
We mentioned earlier in the article that studies have demonstrated that frankincense when combined with several other oils could significantly improve feelings of depression.
6. For Better Sleep
Poor sleep is often linked to anxiety, stress and depression and because frankincense essential oil is so effective against these disorders, it can also be used to help you overcome your insomnia and get a good night of uninterrupted sleep.
If you suffer from insomnia, you will be very familiar with the issues that it can cause. These related problems range from daytime fatigue and difficulty concentrating to potential physical problems in the longer term.
Dealing with your insomnia naturally is certainly desirable so along with other habitual and lifestyle changes necessary, try diffusing frankincense essential oil near your bed at night and with any luck it will prove effective.
Alternatively add a few drops of frankincense essential oil to your pillow before you hit the sack.
7. Oral Health
Frankincense may not be among the best known essential oils when it comes to oral health problems but that isn't to say that it can't be extremely effective. Many people recommend adding frankincense to your oral health routine.
Frankincense has excellent antiseptic properties as well as its delicious fragrance that will both help your mouth stay clean of infection and also keep your breath smelling great.
You can gargle daily with a few drops of frankincense oil in a glass of water to fight tooth infections and prevent gum disease.
Alternatively, you can make your very own toothpaste by combining a few drops of frankincense oil and a little baking soda.
8. Cold and Flu
Frankincense essential oil is one of the many oils that can help eliminate the respiratory problems that come along with the common cold, the flu. Frankincense can help to eliminate the build-up of phlegm in your lungs and reduce inflammation in the airways helping you to breathe with far more ease.
You can simply inhale your frankincense from the bottle or from a handkerchief or add a few drops to a bowl of hot water and inhale its vapors from there. Try combining a few drops of frankincense with eucalyptus or peppermint for even greater effect.
The powerful anti-inflammatory properties in frankincense oil also makes it a very effective remedy for asthma.
9. Immune System
Whether you are recovering from illness or your immune system has taken a knock for another reason, frankincense oil can help you to give your system the necessary boost. A study published in 2007 found that when frankincense essential oil was given to rats orally, their immune systems were significantly enhanced.
Researchers state that it helps white blood cells to proliferate and also keeps inflammation at bay. This is important because white blood cells are the body's first line of defense against illness while inflammation is a leading risk factor to a host of chronic diseases.
10. Menstruation Problems
Like many other essential oils, frankincense can be used by women who are afflicted with some of the all too common symptoms of menstruation and the menopause. Frankincense oil can help to restore hormonal balance and can be used to relieve symptoms including cramps, bloating headaches, mood swings and anxiety.
When it comes to menopausal women, frankincense can offer plenty of respite including the ability regulate the production of estrogen and can also protect against the developments of ovarian cysts.
11. Household Cleaner
As well as all of the health benefits that we have discussed, frankincense has practical uses around the home. Because of its excellent antiseptic abilities, it can be used to eliminate bacteria and grime from areas of the home like the kitchen which are prone to becoming infected.
You can add a few drops of frankincense to a water dispenser and spray down your work surfaces or areas that tend to get grimy like the areas between the cooker or the sides of your refrigerator.
How to use Frankincense Essential Oil
Like most other essential oils, frankincense can be used in a variety of ways depending on the ailment you are looking to treat.
Topical application: you should dilute your frankincense oil before applying it topically to treat the skin. You can combine it with a carrier oil to make a very soothing and effective massage rub to treat your aching joints and muscles.
Inhalation: for general mood and well-being, try inhaling your frankincense oil either directly from the bottle or by diffusing it in a machine.
Bath soak: ad a few drops to your bath tub after you have finished running the water, sit back and let its wonderful properties wash over you. This can help both heal muscle and joint pain and also contribute to your mental health and well-being.
Frankincense Essential Oil Side Effects and Safety
Frankincense is generally considered to be safe when applied topically but as with most essential oils, it should be diluted first with a carrier oil and you should also perform a patch test especially when using it for the first time.
Ingesting essential oils is not typically recommended and may lead to adverse side effects especially if you are using a product that is not 100% pure. Ingesting essential oils is never recommended for children or pregnant women.
In very rare cases, there have been reports of side effects including skin rashes and gastric issues like nausea, stomach pain and acid.
It should not be used by people taking blood thinners because it may increase the risk of excess bleeding.
Frankincense essential oil also has emenagogue properties meaning it may induce menstruation so it should be avoided by women who are pregnant.
(1) www.ncbi.nlm.nih.gov/pubmed/25312172
(2) www.ncbi.nlm.nih.gov/pubmed/23237355
(3) www.ncbi.nlm.nih.gov/pubmed/25006348
(4) www.ncbi.nlm.nih.gov/pubmed/22171782
(5) www.ncbi.nlm.nih.gov/pubmed/18753801
(6) http://www.ncbi.nlm.nih.gov/pubmed/21287538
(7) http://onlinelibrary.wiley.com/doi/10.1002/ptr.2320/abstract
Essential Oil composition information is from Dr. Johnson's "Evidence-Based Essential Oil Therapy" book.