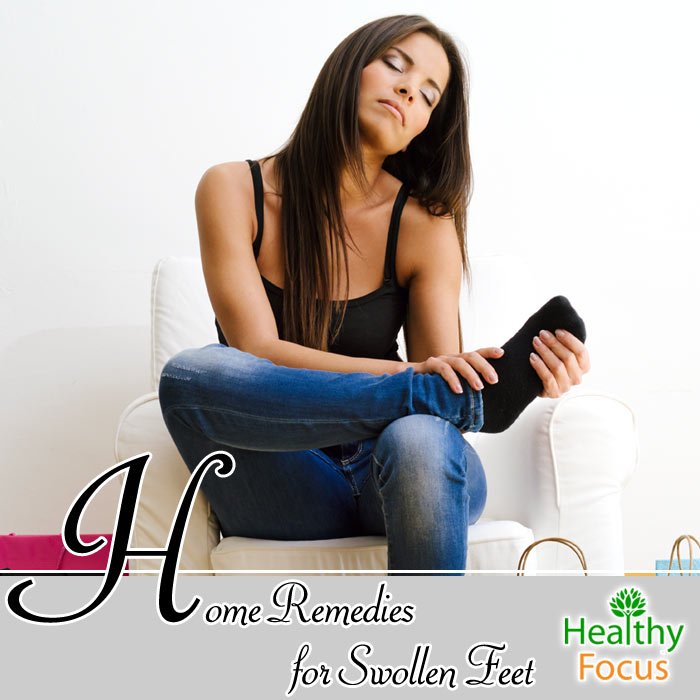 If you suffer from swollen feet and ankles, you are not alone. Swollen feet also known as edema is a common condition caused when fluid builds up in the muscles of the feet.
Causes of Swollen Feet
The condition is usually not too serious especially if caused by spending more than the normal amount of time walking or on your feet. However, when certain other symptoms accompany your swollen feet or ankles, it may indicate a more serious underlying issue.
Foot and Ankle Injuries: An injury can cause your feet to swell. Sprained ankles are very common and are one of the major causes of swollen feet. Rest as well as some of the home remedies we will discuss in this article are the best way to treat the condition.
Complications from Pregnancy: Pregnant women can expect a certain amount of swelling in their feet and ankles. However when this swelling is excessive and happens suddenly, it may indicate a more serious condition called preeclampsia. Women who also experience other symptoms like abdominal pain, nausea, vomiting, headaches and blurred vision must contact their doctor immediately.
Lymphedema : Lymphedema is the accumulation of lymphatic fluid within the tissues due to the absence of lymph nodes or lymph vessel problems. It is quite common after radiation treatment or after lymph nodes have been removed in cancer patients.
Home Remedies for Swollen Feet
As long as your swollen feet are simply caused by injury or time on your feet, then rest and some gentle exercise should be enough to ease the swelling.
These home remedies should ensure that your swelling subsides fairly quickly….
1) Elevate your Feet
Gravity is the enemy of swollen feet and ankles so one of the first things you should do is to get your feet up above your body whenever possible. Lie down on your couch or on your bed and prop up your feet above the level of your heart. This will ensure that the fluid drains away fast and should provide you with near instant relief.
When you are settled into bed for the night, use a pillow or two to prop up your feet and lower legs through the night. People who spend a lot of time sitting at work should try elevating their feet on a box beneath the desk. Try elevating them as high as possible especially if you are sitting for long periods.
2) Essential Oils
Simply massaging your feet on a regular basis can help to improve circulation and greatly relieve the swelling in your feet. Adding one of the many available essential oils to the massage treatment can have an even more profound effect.
Many essential oils come with well-researched anti-inflammatory properties that are perfect for swollen feet and ankles. Some of the best include for the condition include …
wintergreen essential oil
Before applying these powerful oils to your skin, it is very important to dilute them with a carrier oil such as coconut, jojoba or sweet almond oil. After diluting your oil, use the mixture to give your swollen feet and ankles a good massage several times each day.
Apart from using your essential oil to massage your feet, you can also add a few drops to your bathtub or to a nice warm foot soak.
Whichever method you choose, we are sure you will notice the difference and your swelling will subside in no time.
3) Epsom Salts
Soaking your feet in a solution with Epsom salts is a great way to naturally reduce swelling and ease aches and pain. Epsom salt is so effective because of the magnesium sulfate content which is easily absorbed through the skin.
Just add a cup or two of salt to your bathtub, give it some time to dissolve then lie down and relax and wait for the healing goodness to take effect.
Alternatively, you can add a cup of Epsom salts to a bowl and use it as a relaxing foot bath. Soak your swollen feet and ankles for around 20 minutes anytime you need.
4) Magnesium
If you suffer from swollen feet on a regular basis, magnesium supplements may help. A deficiency in magnesium may be contributing to your edema causing a build up of fluids in your feet and lower legs. If you think you may be deficient in magnesium, ask your doctor for a test. You should also consult your doctor before taking magnesium supplements.
While supplements are an option, it is always best to get your minerals and vitamins from your diet. Foods high in magnesium include spinach, kale and other dark, leafy greens, fish, nuts, legumes, beans and whole grains.
5) Stay Hydrated
It is absolutely essential that you stay well hydrated to prevent a wide variety of health issues so make sure that you are drinking enough fresh water.
If your body is dehydrated, it will retain fluids in an effort to remain hydrated. This is a major cause of swelling in the lower legs, ankles and feet. Excess salt in the body is also a contributory factor to swelling. Making sure that you get plenty of water into the system helps to reduce salt levels and eliminate other toxins.
Aim for 8 to 10 glasses of distilled water each day and even more if you are exercising or living in a hot country where you perspire more often. Add a twist of lemon to your water, not only does this enhance the taste but lemon water has a variety of excellent health benefits.
Avoid drinking too much alcohol or coffee because they tend to dehydrate the system. Herbal teas are a much better option to drink through the day.
6) Swimming
If it is a practical option for you then swimming can really help to relieve your swelling not to mention that it is a great form of exercise. If you are not the best swimmer, you can still float about and take the weight strain off your legs and feet. Gentle exercise like swimming can also improve the body's circulation allowing excess fluids and blood to flow out of the legs and feet.
7) Yoga
Another form of exercise that can help ease the swelling in your feet is yoga. Many of the poses done in yoga help to improve blood circulation throughout the body including your lower legs and feet. Many of these poses help get the feet above the heart which does a great deal to alleviate swelling and discomfort.
There are plenty of online yoga resource but it is better for beginners to join a yoga class to help you gradually learn the important poses safely and effectively.
8) Compression Hose
You can relieve the pressure on your feet , calves and ankles by wearing compression stocking or hose. They help encourage circulation and also push the blood out of the feet into the legs. They can be worn to remedy edema but are also a good preventive measure especially if you suffer from swollen feet regularly. Many people also find them extremely useful on long airplane journeys that can trigger swelling.
We hope that tone or more of these remedies can help ease your swollen feet and get you back to normal in short time.
Remember that these remedies are only intended for the common forms of swelling caused by injury or daily strains. if you are suffering from severe swelling or are exhibiting any other symptoms, it is essential that you see your doctor as soon as possible.