What are Hives?
Hives otherwise known as urticarial is an outbreak of small bumps or wheals on the skin which can suddenly appear anywhere on the body. The bumps can vary in size and can also appear in isolated regions of the skin or be more widespread around the body.
More often than not, hives will cause itching but the welts can also sting or burn. They are usually harmless enough and tend to disappear within a matter of days without leaving any lasting damage.
Causes of Hives
An outbreak of hives is typically caused by a histamine release in response to some sort of allergen but viruses and bacteria may also be responsible. Chemicals found in shampoos, soaps, perfumes and cleaning agents can lead to a bout of hives as can food allergies.
If your child has hives, take note of what they have eaten and what chemicals you may have used on their skin or clothing.
Different types of Hives
Acute Hives
Acute urticaria or hives is the most common form of hives and is an attack which lasts fewer than 6 weeks. It is most often caused by a reaction to food, medication, contact with certain chemicals or infection.
Fresh food is more often responsible for hives than cooked and food which commonly causes hives includes nuts, fish, chocolate, milk, berries and eggs. Food preservatives and additives can also be responsible.
Chronic Hives
Chronic urticarial is a bout of hives which lasts longer than 6 weeks. It is more difficult to diagnose and the cause is far more difficult to identify. It may be linked to serious illnesses like hepatitis, thyroid disease or infection.
If you or your child have developed hives, there is no need to panic. It is generally harmless and can easily be managed at home with some effective natural remedies.
Home Remedies for Hives
1. Baking Soda
Baking soda is a time honored remedy that can effectively relieve the itching and swelling associated with hives because of its soothing anti-inflammatory property.
Bath remedy:
Add half a cup of your baking soda to a warm bathtub of water and mix it well.
Soak yourself in the water for at least 20 minutes each day until the condition has cleared up.
Topical remedy:
Put 2 tablespoons full of your baking soda into a bowl and then add sufficient water to produce a nice thick paste.
Apply this paste to the affected areas of your skin and let it sit for at least 15 minutes before you rinse it off.
Repeat daily for as long as necessary.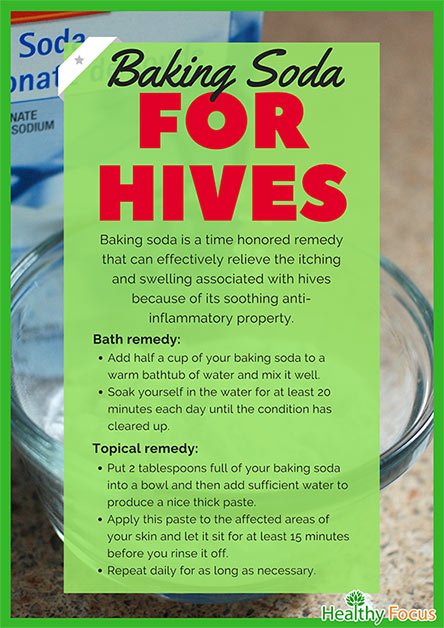 2. Apple Cider Vinegar
Apple cider vinegar is one of those versatile natural products that everybody should have at their disposal. It crops up on numerous natural treatment lists and is an effective remedy for hives because it can relieve inflammation and control histamine response.
Drinking a few teaspoons of ACV each day can help treat your hives and your overall health but the following remedies may have quicker results.
ACV bath treatment:
Fill your bathtub with warm water then pour in 2 cups of soothing apple cider vinegar.
Soak yourself in the tub for at least 20 minutes each day for instant relief.
ACV topical treatment:
Dilute your apple cider vinegar in a small bowl evenly with warm water.
Use the solution to wash the affected areas of your skin several times a day until the condition has disappeared.
Allow it to dry on your skin then rinse it of thoroughly to avoid smelling like vinegar.
3. Aloe Vera
Aloe vera is one of the best natural remedies for various skin complaints because of its natural antimicrobial and anti-inflammatory properties. When you apply ale to the skin, it helps relieve itching, pain and redness.
Take an aloe leaf, cut it lengthways and squeeze the gel onto the affected parts of your skin. It should cool down your skin, ease any itching and pain. It is an excellent natural hives remedy which is also perfectly safe for your children.
4. Ginger
Ginger is another excellent natural remedy that can be used to relieve the inflammation and itching associated with hives. It can help to control histamine reactions and is also a potent natural anti-inflammatory. There are several ways that you can use ginger to treat your condition:
Take some fresh ginger, grate it and squeeze out its juice.
Mix the juice with 2 teaspoons of good quality honey and take it before bed each evening.
Alternatively, you can apply the ginger topically by simply peeling a fresh piece of ginger and dabbing it onto the affected areas of your skin until the condition has passed.
5. Green Tea
Green tea is one of the healthiest beverages in the world. It is full of antioxidant polyphenols and flavonoids which can boost your immune system as well as having anti-inflammatory and antihistamine properties which are perfect for treating hives.
Drink down 4 or 5 cups a day or apply the moist tea bags directly to the affected areas of your skin for instant relief.
6. Cold compress
A cold compress is a very simple and convenient treatment for hives which the majority of experts endorse. The cold temperature will help to shrink the skin's blood vessels and inhibit histamine release which eases itching and pain and also reduces swelling.
Simply take some ice cubes, wrap them in a towel or cloth and apply it to your skin for 10 minutes or so several times each day.
7. Oatmeal
Oatmeal has excellent soothing and anti-inflammatory properties that work well on hives especially when combined with baking soda.
Simply add two cups of oatmeal and a cup full of baking soda to your bathtub of water.
Mix it in well then soak for a minimum of 20 minutes every day until you condition has healed.
8. Turmeric
Like apple cider vinegar, turmeric makes an appearance on many home treatment lists. It has been well researched and is known to contain powerful anti-inflammatory properties as well as antioxidant and antihistamine abilities which are perfect for many skin conditions including hives.
You can add a teaspoon of turmeric powder to a glass of warm milk and drink it down twice a day or add a healthy dose of powder to your meals.
Alternatively, you can mix it with water into a topical paste and apply it to the affected areas of your skin each day until you have recovered.
9. Mint
Mint has a well-known cooling effect, it is also anti-inflammatory in nature and possesses natural antioxidants that can help treat hives and relieve redness and immediately soothe itching or pain.
Add a few teaspoons of freshly chopped mint to a cup of hot water and allow it to step for 10 minutes.
Strain the liquid and put it in your refrigerator to cool down.
Use the solution to wash the affected areas of your skin 2 or 3 times a day until your hives have gone away.
10. Essential Oils for Hives
A number of essential oils have the antihistamine and anti-inflammatory properties that are ideal for the treatment of hives. They include peppermint, lavender, tea tree and German chamomile essential oils.
For a detailed look at which oils are best and how to use essential oils for hives, review this article "Essential Oils For Hives".
A note on Hives Remedies for Babies and Young Children
The majority of the remedies listed above are safe for your young children. As regards essential oils, you should be careful because they are very powerful. Lavender essential oil is very gentle acting and is considered to be the safest and best essential oil to use on your infant.
Let us know if you have tried any of these remedies for hives and whether they were successful or not. Did we forget to mention any other remedies that you have used? Leave us a comment; we would be delighted to hear from you.