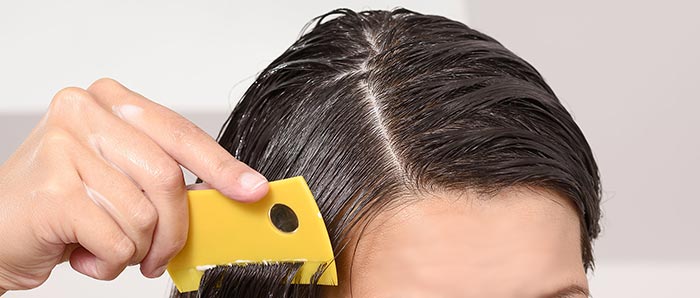 Your kid has lice. At this moment in time, you're probably convinced that nothing worse has happened to your household. Ever. Before you start dissolving into a shame spiral, it is important to know that head lice are not a result of poor hygiene.
Lice are parasitic creatures not concerned with your hygienic living conditions and socioeconomic status. They are just hungry for new real estate, jumping from scalp to scalp without prejudice. Lice infestations are common among children between 3 and 12 years of age, according to the American Academy of Pediatrics.
So although a lice infestation may seem like your greatest nightmare, it is completely treatable, even without the use of harsh pesticides. Using tea tree oil for lice has been found to be an effective alternative treatment in that it is strong enough to eradicate a lice infection, but still gentle enough to use on the head of your child.
It is important to recognize the signs of a lice infestation. It is all too easy for it to go undetected and pass on to you or other members of your family. Head lice are tiny, wingless parasitic insects that live only on the human scalp. Lice attach themselves and their eggs to the hair shaft.
In appearance, they look like little grains of rice, whitish and about 3 millimeters long. Their eggs, called nits, are even tinier. The lice will be close to the scalp, but it is possible they will spread throughout your child's hair. From there they will easily pass to anyone via sharing, hats, combs, and pillows.
An Alternative Treatment
You know about the conventional treatments. What can you do if you want to kill the lice infestation without subjecting your loved one to harsh chemicals?
Tea tree oil may be a treatment to consider. Currently, there are no long-term scientific studies proving the efficacy of a tea tree oil for lice. However, experts and many personal testimonials of health-conscious parents have found tea tree oil to be a fantastic alternative lice treatment.
Prescriptions given by doctors and over-the-counter shampoos often contain pesticides that are harsh on your child's scalp. They often come with a host of unwanted risks and side effects. Also, due to the overuse of pesticides, many lice have developed a resistance to these treatments, making them less effective.

Tea Tree Oil
Tea tree oil is a pale yellow, almost colorless aromatic oil derived from melaleuca alternifolia, a plant native to Australia. Chock full of healing properties, for centuries, tea tree oil has been used to treat skin infections. Tea tree oil is a natural anti-bacterial, antimicrobial, anti-fungal, anti-inflammatory, and anti-viral powerhouse.
How to Use Tea Tree Oil as a Treatment for Head Lice
Tea tree oil is a powerful antiseptic that has a great reputation for killing lice nits. Its use dramatically reduces the number of active lice. Listed below are a variety of ways you can use tea tree oil to treat and prevent a lice infestation from invading your home.
Tea Tree Oil Shampoo
There are many tea tree oil shampoos and conditioners readily available on the market. Most products with tea tree oil are not strong enough to kill lice on their own. When choosing a tea tree oil shampoo or conditioner, make sure it has a minimum concentration of 2% tea tree oil to effectively kill lice nits.
Pure Tea Tree Oil Mixed with Shampoo
Another way you can use tea tree oil to kill lice is to mix it with shampoo that is both fragrance-free and dye-free. Unscrew the bottle of shampoo, and for every ounce of shampoo, add two drops of tea tree oil with an eyedropper. Screw the top back on and mix well by shaking the shampoo bottle vigorously.
Remember to shake well before each use. Apply the shampoo to your hair, thoroughly working the shampoo into a lather throughout the hair, to make sure you kill as many lice as possible. Once you have thoroughly applied the shampoo to the whole head, let the shampoo sit for about 10-15 minutes with a shower cap covering the hair.
Once you have rinsed the shampoo from the hair, apply conditioner to the hair. Because of the thick consistency of conditioner, it can help suffocate any lice not killed by the tea tree oil shampoo.
After conditioning the hair, take a lice comb to remove any nits or lice still living on the hair shaft. Repeat this process for about 7 days, to ensure all nits and lice have been effectively killed.

D.I.Y. Tea Tree Oil and Lavender Shampoo
Using an eyedropper, mix the following into a small bowl:
2-4 drops of pure tea tree oil;
2-4 drops of lavender oil;
About 98 drops of fragrance-free and dye-free shampoo;
A few drops to either coconut oil or olive oil,
This mixture will help suffocate the lice. Stir the mixture until well blended. Apply the mixture to the hair, making sure to work it through the scalp area, where most of the lice and nits live.
Cover the hair with a shower cap and leave on for 30 minutes. After the 30 minutes are up, work the shampoo into a lather and rinse thoroughly with warm water.
After shampooing the hair, apply conditioner to suffocate any pesky lice and nits that may still be alive. It is recommended to run a lice comb through the hair during the conditioning process. While running the lice comb through the hair, be thorough, making sure you catch nits to prevent them from hatching and causing a new infestation.
To be as thorough as possible, start at the scalp, and divide the hair into sections, going through each section with the comb. Rinse your hair. Repeat this process for 7 days to eradicate the lice infestation.

Tea Tree Oil as Lice Prevention
Now that you've lived through your lice infestation or you simply want to take preventative steps from enduring one, you can use tea tree oil to protect yourself and your family.
Use Tea Tree Oil Shampoo Once a Week
By adding a few drops of tea tree oil to shampoo, you greatly decrease your chances of catching lice. Using a shampoo that already contains tea tree oil is also effective.
Tea Tree Oil Spray
There are tea tree oil sprays already on the market or you can opt to make your own. For a home tea tree oil spray remedy, take spray bottle full of water, and for every ounce of water, add 2-3 drops of pure tea tree oil with an eyedropper. Shake well and then spray on to hair, making sure to rub it in with your hands to ensure thorough distribution. This spray can be used every morning and is a great preventative measure against contracting a head lice infection.
Some Considerations
Tea tree oil is not meant to be ingested and is considered toxic when taken orally.
Some people can be allergic to tea tree oil, so proceed with caution. If you experience, itching, redness, or irritation, stop using tea tree oil immediately.
Tea tree oil is not considered a suitable treatment for all populations, so use discretion when considering tea tree oil as a treatment for lice.
Currently, there have been no studies testing the safety of tea tree oil on women who are pregnant or breastfeeding. Using tea tree oil is not recommended for these women. Also, there is a possibility that using tea tree oil on pre-pubescent males may cause a hormone abnormality. There is currently no direct link between tea tree oil and this abnormality, however, it may be best to err on the side of caution and not use this treatment on young boys.