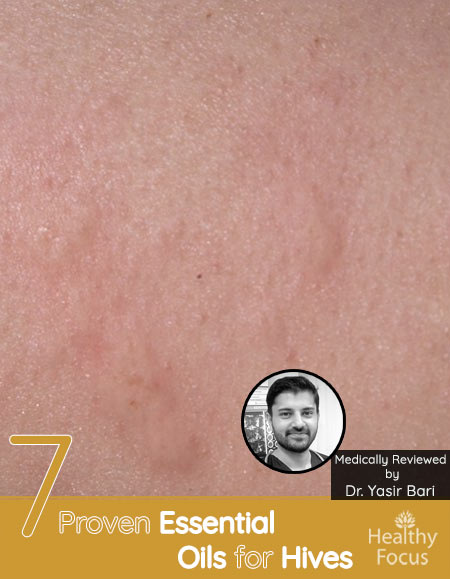 Medically Reviewed by Dr. Yasir Bari
Bsc, (Med) Bsc, (Nutrition), MBBS, DCN (Diploma in Clinical Neurology) – Reviewed & Approved on June 09, 2019
-Written by Andrew
Just a few months ago, my poor wife came out in an enormous outbreak of hives for the first time in her life.
They were incredibly itchy and very unsightly. As fans of essential oils and other natural remedies, the first thing we did was to explore which essential oils were most effective against the condition.

I am pleased to tell you that in our experience both peppermint and German chamomile oil worked extremely well and very quickly.These oils managed to quickly soother the itching and the inflammation disappeared within a few days of use.
We actually had those oils on hand in the house and did not need to try any others, but the good news is that many essential oils can provide excellent relief from hives as well as other skin allergies.
If you would like to find out more about the best essential oils for hives and how to make the best use of them then please read on.
What are Hives?
Hives are an abundance of raised, itchy, red bumps or welts that crop up suddenly on the skin.
Hives which are known medically as urticaria may appear for any reason, although many people experience hives as an allergic reaction. Along with itching, hives may also sting or burn.
They can show up anywhere on the body, including the ears, face, and throat. The severity and size of hives may vary from person to person.
Hives may disappear and quickly as they appear, lasting anywhere from a couple hours to many days or more. 
Chronic Hives
Unfortunately, for some people getting rid of hives is not so simple. Chronic hives, known as chronic urticaria in the medical field, can actually last for many months or even years.
For some people, the condition may go away only to recur on a regular basis.
While chronic hives are not contagious nor is it life-threatening, it can cause great discomfort, pain, and distress.
In the case of chronic hives which is defined as hives lasting for 6 weeks or more, they are usually treated with antihistamines or steroid medications.
The advantage of essential oils is that they lack the chemicals that may even make the condition worse.
For anybody suffering from chronic hives that have not been helped by prescription medications, essential oils could help provide some relief, especially from the constant itching and discomfort.
Signs and Symptoms of Hives
If you suspect that you are suffering from an outbreak of hives, your symptoms may include:
•  Raised red or pink bumps on the skin
•  Welts on the skin—these may appear in a cluster or alone
•  Swelling of the skin—this symptom typically vanishes within 24 hours
•  Itchiness
•  Stinging or burning
Causes of Hives
Hives are a common skin condition and can affect anyone. Most often, hives are the result of an allergic reaction. Some of the following allergens may cause an outbreak of hives:
Essential Oils for Hives
Hives are unsightly and uncomfortable. Fortunately, there are several essential oils you can use to help get your hives outbreak under control.
Many essential oils contain just the right type of properties to relieve your itching and discomfort. These include wonderful anti-inflammatory, pain relieving and antihistamine properties that can calm hives and help treat the condition fast.
Here are some of the very best essential oils to treat hives.
This cooling oil soothes inflamed skin while alleviating burning and itching. Peppermint essential oil is probably the most popular essential oil for treating hives as it contains anti-allergenic and anti-inflammatory properties. Peppermint essential oil will help heal your hives in no time.
To get the most out of this soothing essential oil, make it into a cooling spray. In a small spray bottle, mix five drops of peppermint essential oil with one cup of pure distilled water.
Cap the spray bottle and shake well.
Spritz the affected area anytime you need relief from pain and itching associated with hives.
This healing essential oil contains antiseptic properties, which help defend the skin from irritants and microbes that may cause infection and hives. To use lavender essential oil to treat your hives, make a healing lavender bath.
For best results, add about seven drops of lavender essential oil and a cup of oatmeal to a warm bath.
Stir well with your hand and soak for a half hour.
This should give relief to painful and itchy hives.
Myrrh essential oil has long been known for its healing properties. This essential oil contains antimicrobial and anti-inflammatory properties which help calm down inflamed, itchy skin. Myrrh essential oil is also considered a fungicide, killing any fungi that may be responsible for causing an allergic reaction to the skin.
To use myrrh essential oil to treat your hives, make a soothing balm.
Put an ounce of raw Shea Butter into a sterile glass jar.
Put the jar in a pan filled with a few inches of water and slowly heat until the butter starts to soften.
Remove from heat and add five drops of Myrrh essential oil and stir with a spatula.
Allow the mixture to harden for an hour.
After cleansing, apply this balm directly to the affected area three times a day.
This medicinal oil contains antiseptic and antimicrobial properties that may nix microbes responsible for creating hives. Tea tree oil also contains anti-inflammatory and antibacterial properties, which help prevent infection and reduce redness to tender skin.
Tea tree oil is especially beneficial in treating hives in that it creates a protective barrier on the skin, so those of you who can't resist scratching will have some leeway.
Tea tree oil not only helps to kill bacteria but also help speed up the healing process of hives.
To use tea tree oil to get rid of your hives, rinse the area with cool water. Mix a couple drops of tea tree oil in a carrier oil and apply directly to the affected area three times a day.
This antiseptic essential oil helps soothe irritation and inflammation. Rich in antiseptic and antioxidant properties, lemon essential oil is a great solution for hives, especially hives triggered by insect bites.
Mix a couple drops of this citrusy essential oil in a carrier oil and apply to the affected area three times a day.
Beware; lemon essential oil may cause photosensitivity, so avoid direct sunlight to the areas of application.
Those suffering from skin allergies, itchiness, and painful inflammation will find relief in German chamomile essential oil. German chamomile helps heal many skin conditions such as hives, rosacea, psoriasis, eczema, and inflammation.
To experience the soothing effects of German chamomile, mix five drops of German chamomile essential oil with an ounce of coconut oil in a sterile glass container.
After cleansing the skin, apply this mixture three times a day directly to the affected area.
This cooling oil will help relieve itchiness and help speed up the healing process.
Helichrysum essential oil is a natural anti-allergenic that contains healing anti-inflammatory properties. Helichrysum essential oil is especially healing for hives that are the result of bug bits.
To use helichrysum essential oil to heal your hives, make a cooling gel.
Mix seven drops of helichrysum essential oil with two ounces of aloe vera gel.
Apply this gel anytime you need relief from itching or inflammation.
For an extra cool treat, keep this mixture in the refrigerator.
Is Coconut Oil Good for Hives?
The simple answer to this question is yes. Virgin coconut oil makes a great carrier oil to dilute your essential oils and is wonderful for a very wide range of skin conditions.
Coconut oil is rich in antioxidants and fatty acids and contains antibacterial, anti-fungal and anti-inflammatory properties in its own right and applying it to your skin when afflicted by a hives outbreak can have instant beneficial effects. To read more about using coconut oil for hives, click on the following link. https://healthyfocus.org/can-coconut-oil-treat-hives/
If you want to read more about other natural remedies for hives including, please click the following link.  https://healthyfocus.org/home-remedies-hives/
Essential Oil Blend Recipe for Treating Hives, you will need: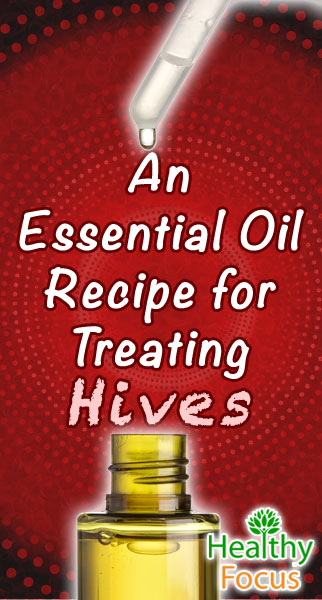 • 15 drops of chamomile essential oil
• 15 drops of lavender essential oil
• 1 cup of almond oil
In a basin, mix 15 drops of chamomile essential oil, 15 drops of lavender essential oil, and one cup of almond oil with 20 ounces of water.
Dip a clean cotton cloth into the mixture and apply directly to the affected area for relief of itchiness, pain, and inflammation.
Repeat this step and many times as necessary.
Some Considerations
Always consult a physician before using essential oils to treat any ailment or skin condition.
Essential oils are highly concentrated and extremely powerful; so always dilute essential oils with a carrier oil before application.
Pregnant or breastfeeding women should not use essential oils unless under the direct supervision of a physician. The recommended ratio for diluting essential oils is for every 3 to 5 drops of essential oil; add one tablespoon of carrier oil.
Always do a skin patch test before using essential oils to ensure that you are not allergic prior to treatment.
Essential oils should not be used on children.
When suffering from a hives outbreak, wear loose-fitting clothing.
Sleeping in a cool room will help speed up the healing process of hives.
Regularly apply cool compresses to your hives to help with symptoms and healing.
Try not to scratch your hives, as they can open up the floodgates to infection.
If your hives are accompanied by swelling of the tongue, lips, and face, as well as dizziness, difficulty breathing, tightening of the chest and wheezing, call your physician right away. These symptoms may be indicative of a more serious problem.
The Bottom Line
Hives is a very common skin condition that will affect around 20% of the population at some point during their lives. Fortunately, the outbreak usually goes away quite quickly without the need for any specific medical treatment. Essential oils, however, can provide your skin with some much-needed relief from inflammation, itching, and pain.
We hope that one or more of the oils we recommended above work for you as they did for my wife. Please let us know which essential oils you have found most effective and how you used them.