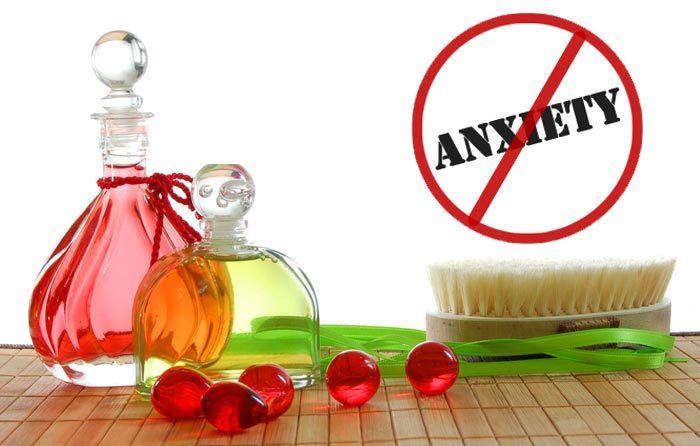 Anybody that has suffered from anxiety during their lives is fully aware of its debilitating nature. The exhaustion, the lack of appetite and the tightening muscles are an all too familiar feeling. All around you feel absolutely miserable. Believe me when I say that I know how you feel.
Anxiety can make even the most mundane daily chores a misery. Driving to work with that feeling of dread, palpitations, and sweaty hands is no fun at all. Anxiety disorders can be so severe that you spend most of your time anxious about your next anxiety attack. It can be a real vicious circle with no end in sight.
There is any number of recommended treatments for anxiety, ranging from pharmaceuticals to breathing exercises. I myself had a great deal of success by quitting caffeine, cutting down on alcohol consumption and taking up jogging. Those are certainly beneficial actions but not the focus of this article.  Using essential oils for anxiety seemed crazy to me at first but a friend changed my mind.

A few years back a friend of mine who suffered from fairly acute anxiety issues (while being one of the fittest people I knew) started to swear by his use of lavender oil. He dropped it onto his pillow every night and could often be seen walking around town with a little lavender bean bag under his nose. He was a big, fit young man and got his fair share of mocking but I was intrigued.
As a long-term sufferer living with anxiety disorders and more extreme panic attacks, I was keen to give essential oils a go. I had lost a number of work days as a result of severe panic attacks and even ended up in the local emergency ward hooked up to an EKG device on several occasions.
More often than not, hospitals will prescribe anti-anxiety medication like Xanax. While Xanax worked for me short term, it is also very addictive and the withdrawal effects of pharmaceuticals can often be as bad as the anxiety symptoms themselves. Essential oils are made from 100 % natural ingredients and can be used without the fear of addiction or other harmful side effects.

I was initially skeptical; it seemed unlikely to me that such a simple natural treatment could help reduce my anxiety. I had read a lot about bergamot and lavender oils and they were readily available so I bought myself a diffuser and was struck by the very evident and positive calming effects. I have found them to be a great benefit for stress relief and general mental health as well.
In fact, studies seem to back this up.
---
Patients given bergamot essential oil therapy prior to surgery experienced a reduction in preoperative anxiety when compared to the control groups.
Researchers found that dental clinics that exposed patients to ambient orange and lavender odors improved the mood and reduced anxiety of those waiting for treatment.
The results of 16 controlled trials amongst people with anxiety symptoms mostly indicated a positive result regarding the anxiety-inhibiting effects of essential oils.
Studies performed on 29 teachers in Taiwan concluded that bergamot essential oil had a positive effect on work related stress and anxiety.
How can essential oils help to alleviate anxiety?
So how do essential oils work as a treatment for anxiety? Essential oils are derived from the volatile liquid of natural plants. They are made up of fragrant molecules that pass easily into the body in very short time. Within moments, these molecules reach the brain's emotional center. This is where common emotions are stored including negative emotions like anxiety and stress.
Essential oils are simple and convenient to use. They are easily portable and can be used in a variety of simple ways. They are pure and 100% natural and have no negative side effects.
How to use essential oils?
---
They can be directly inhaled by rubbing a couple of drops onto your hands and cupping your hands over your mouth and nose. Inhale deeply and feel your body and mind relax.
They can be applied directly by rubbing into your neck, chest and shoulders as well as being used as part of a more relaxing massage therapy.
Simply add a few drops to your pillow at night to ensure a good sleep.
They can be diffused at work or at home during the day or at night to aid you with a good night's sleep.
They can be added and mixed to your bath directly after filling the tub. Don't pour them into the bath while the water is still running.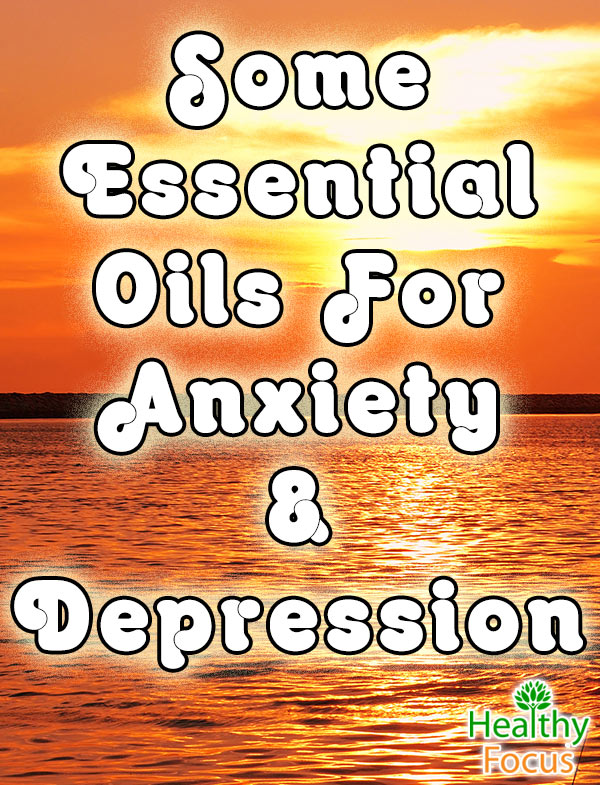 Which essential oils should I use?
There is a huge variety of essential oils each purporting to have different effects. Some are recommended for emotional disorders like anxiety and stress, others are said to be beneficial for physical issues. The list of essential oils appears daunting. Your choice is a personal one, I recommend that you try out a few at first and see which ones you like best and which has the most positive effect on your wellbeing.
Be sure to get pure therapeutic grade oils as opposed to aromatic grade oils which may not be safe to use internally.
The following essential oils can help in calming the mind and reducing anxiety as well as having other beneficial effects for other disorders, such as depression. In many cases, the beneficial effects of the essential oils are overlapping.
Lavender  essential oil has a variety of beneficial effects on a number of physical and emotional ailments. It can help with migraines, nausea and headaches as well as having a real calming effect on your mind. It reduces stress and anxiety and promotes satisfying sleep. Those suffering from depression will find their spirit bolstered by this tranquil scent.
Bergamot helps with negative emotions such as anxiety, stress and depression. Bergamot is considered to be an effective antidepressant, as hit has a balancing effect on the nervous system. It has a pure refreshing aroma and an uplifting scent. This bright scent will nix feelings of sadness on the spot.
Tangerine If you are feeling irritable or feelings of distress, the sedative qualities of tangerine essential oil will help calm you down. This soothing essential oil also treats insomnia, helping you to return to your normal sleeping pattern.
Basil is another essential oil with a refreshing aroma said to help with anxiety as well as depression and fatigue. If you are anxious and sleep-deprived mind are suffering from mental exhaustion, this essential oil will give you a much needed boost.
Frankincense calms down your breathing effectively reducing negative feelings of tension and anxiety. This soothing essential oil clears your mind while keeping an overactive nervous system in check. Frankincense essential oil also helps combat fatigue.
Clary Sage essential oil helps the fight against anxiety and insomnia. Often the symptoms of anxiety and insomnia lead to depression, fortunately Clary Sage addresses all three conditions. Add a couple drops to your bath or diffuser to fight feelings of restlessness.
Geranium has a wonderful aroma and works as a natural relaxant effective in relieving negativity. Geranium essential oil is a great tonic for frazzled nerves, helping you to feel more refreshed and face your day. It is a wonderful antidote to depression, stress and anxiety.
Jasmine is another essential oil with a wonderful floral aroma known for its uplifting calming effects. This lovely scent alleviates feelings of fear and anxiety while calming your nerves. Jasmine essential oil is also effective in treating symptoms of depression and shot nerves.
Lemon essential oil has a pure, refreshing scent and is also known for its uplifting properties. It is effective against depression, anxiety and stress. This soothing essential oil has sedative effects, lowering high blood pressure and high tension levels. Those grappling with irritability will find that lemon essential oil turns around a negative attitude. Lemon essential oil is also great to use in the wintertime for those suffering from Seasonal Affective Disorder (SAD).

Neroli

: Often times, anxiety and depression have a negative affect on our mood, fortunately, the sunny, citrus sent of Neroli essential oil minimizes this affect. Neroli essential oil immediately boosts your mood, while relieving tension and stress.

Eucalyptus

: This healing essential oil has long been revered for its healing qualities. Fortunately, these healing qualities also lend themselves to emotional distress as well. Eucalyptus oil helps fight fatigue, stress, anxiety, depression, and tension headaches.
Wild Orange has similar effects to lemon essential oils and is known to ease panic, anxiety and nervous disorders. Wild orange essential oil especially works well when diffused, boosting the overall mood of your home.
Marjoram has long been used to ease negative emotions such as fear, anxiety and grief. This sweet smelling essential oil is also an effective sleep-aid, helping to fight insomnia and sedate your nervous systems.
Mandarin has a vigorous citric aroma and is said to have emotionally uplifting properties. Despite its uplifting scent, this soothing essential oil has a sedative effect on the nervous system, helping you to relax. Mandarin essential oil is a great antidepressant too.
Palmarosa essential oil essential oil is well known to be a relaxing essential oil, combating the symptoms of anxiety and nervous tension. If you're muscles are seizing up due to nervous tension, palmarosa essential oil works as an antispasmodic, relaxing your muscles and frazzled nerves.
Rose has a wonderful aroma and is known to promote a feeling of well being as well as having a stimulating effect on your entire body and mind. This floral essential oil is an effective antidepressant, helping to naturally fight mental disorder.
Sandalwood has calming properties and helps alleviate feelings of anxiety and tension. This woodsy smelling oil also helps naturally fight insomnia and improve the quality of sleep. Used as massage therapy, sandalwood is a great way to melt away stress.
Ylang Ylang has been shown to help reduce stress, anxiety and even lower blood pressure. Ylang ylang soothes both body and mind, fighting symptoms of anxiety, stress, and depression. If you want a quick mood boost, try diffusing a couple drops and ylang ylang.
The list above is far from exhaustive and it is up to you to find the best oil for your own purpose. You can also make a blend of 2-3 oils. A popular anti-stress blend is a 2:1 ratio of lavender to bergamot.

For a rejuvenating blend that will help boost an anxious mind suffering from mental fatigue, try blending 2 drops of lavender, 3 drops of peppermint, 1 drop of eucalyptus, 7 drops of bergamot, and 7 drops of basil.

Essential oils for Anxiety?  Yes!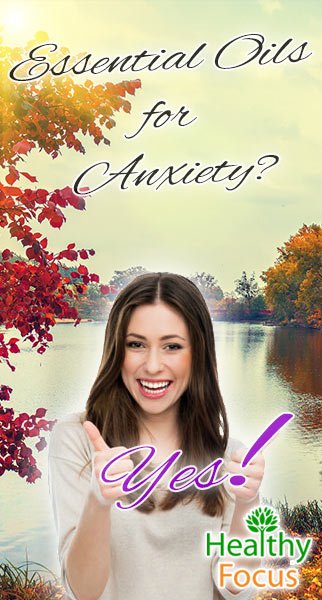 The bottom line is that essential oils are a surprising natural tool to help in your battle to fight anxiety. Even if you are on medication –adding essential oils can benefit your routine. This is not just my opinion-the benefits are backed by science. In fact, many hospitals now incorporate aromatherapy for complementary and supportive care.
Remember also that the symptoms of anxiety and depression can be very similar and it is important to diagnose your symptoms accurately. If you have any concerns about your symptoms, you should always consult a doctor.