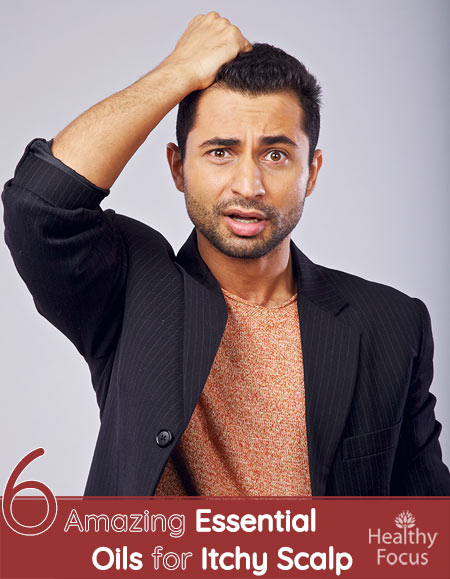 Many people suffer from an itchy scalp from time to time but for others it can be an ongoing issue. There are a number of possible causes of an itchy scalp but the most common causes include dandruff and inflammatory skin conditions like seborrheic dermatitis or eczema. Constantly scratching your scalp can be embarrassing but it can also cause pain and lead to sores from scratching too hard. In some cases, this can also lead to infection.
In some cases, you may need to see your doctor to get professional treatment but in many cases, home remedies can be very effective. Certain essential oils can help moisturize and soothe the scalp while also having an anti-inflammatory and antibacterial effect that can help treat the cause of your condition.
This article will look at the best essential oils top treat your itchy scalp as well as advise about how to use them safely.
What Causes an Itchy Scalp?
Itchy scalp, known medically as scalp pruritis, is a fairly common condition with a wide range of potential causes. The most common causes of developing an itchy scalp are seborrheic dermatitis and dandruff but there are a number of other possible causes :
Causes
Seborrheic dermatitis – a common inflammatory skin condition that can be triggered by seasonal changes, weather, hormones or a growth of yeast on a person's skin.
Dandruff – A common complaint caused by dry skin, oily hair or certain skin conditions.
Certain autoimmune conditions like psoriasis.
Certain fungal infections like ringworm or tinea capitis.
Atopic dermatitis.
Head lice.
Diabetes.
Viral conditions like shingles or herpes zoster.
Allergic reaction to hair products such as dyes.
When to See A Doctor
Much of the time, you can treat an itchy scalp naturally and easily at home but in some cases, it may be necessary to consult your doctor. You should speak to your doctor if the following symptoms apply:
If your symptoms last more than a week.
If you are in pain or have sores on your scalp.
If your symptoms involve swelling.
If the itching you experience is so intense that it interferes with your ability to function or to sleep.
Essential Oils for Itchy Scalp
Essential oils are powerful substances extracted from plants including roots, stems and leaves. Essential oils are highly concentrated and contain a number of medicinal properties including anti-inflammatory and antibacterial actions that are ideal for treating your symptoms.
It is important that you do not apply essential oils neat to the skin. They must always be diluted first in a suitable carrier oil or in water before applying them to your skin. This will reduce the risk of reaction and make sure that you can continue to use them safely and effectively.
Peppermint Essential Oil
Peppermint essential oil is a very popular essential oil with a diverse range of uses. It contains a high amount of menthol which helps soothe and cool an itch and also numb the pain which may be caused by scratching.
Peppermint essential oil is particularly effective in treating dry skin and is often used as a natural remedy for dandruff. It has excellent anti-inflammatory properties that can soothe swelling and irritation on the scalp as well as antimicrobial properties that can help prevent infection. (1) (2)
To use peppermint essential oil to treat an itchy scalp, it must be diluted first. Add a few drops to a suitable carrier oil like coconut oil or olive oil and massage the blend into your scalp before you shampoo and wash as normal. Many people also use peppermint tea to rinse off their hair after shampooing it.
Alternatively, you can add a few drops of peppermint essential oil to a spray bottle filled with water and spray the mixture onto your scalp before taking a shower.
Tea Tree Essential Oil
Tea tree or maleluca essential oil is another extremely popular essential oil with a very wide range of uses. Its diversity owes much to its amazing properties including anti-fungal, antibacterial and antiseptic properties. these properties can help treat the cause of an itchy scalp as well anti-inflammatory properties that can help relieve the symptoms.
Tea tree essential oil is especially useful for treating many of the causes of itchy scalp including seborrheic dermatitis, dandruff and head lice.
Tea tree essential oil is another very powerful oil that should never be ingested and should always be diluted well before applying it topically.
Dilute your tea tree essential oil with a suitable carrier oil like coconut or olive oil and massage it gently into your scalp then leave kt work for an hour or so before washing it away. Alternatively, you can add ten or so drops of tea tree essential oil to your regular shampoo and use as normal.
Rosemary Essential Oil
Rosemary essential oil has excellent anti-inflammatory properties that can help relieve redness, inflammation and irritation on the scalp. It is also regarded as one of the top essential oils for treating dandruff which is a common cause of itchy scalp.
To treat your itchy scalp, first dilute the oil with a carrier oil and massage it well into your scalp. Allow it to sit for at least an hour before washing your hair and rinsing it off.
Eucalyptus Essential Oil
Eucalyptus essential oil also comes replete with excellent antimicrobial properties making it a good natural treatment for bacterial and fungal infections of the scalp. It also has anti-inflammatory properties that help soothe irritation, redness and itching.
Dilute your eucalyptus essential oil with virgin coconut oil or with argan oil and massage it into well into your scalp. Allow the oils to work into your scalp for at least an hour before washing and rinsing it away. Alternatively, add a few drops of eucalyptus oil to your regular shampoo and wash as normal.
Lavender Essential Oil
Few oils are as diverse as lavender so it is no surprise to find it on our list to relieve scalp itching. It is also among the most gentle acting of essential oils and can be used with little risk of reaction. When applied toy your scalp. Lavender essential oil can effectively relieve inflammation, redness and and itching.
Although it is regarded as a mild oil, you should still be careful to dilute it before use. Add a few drops of lavender essential oil to a suitable carrier oil like olive oil or argan oil then massage it well into your scalp, allow it to work into your scalp before rinsing it away. Repeat the treatment three or four times each week and you should notice that your scalp is itching less.
Lemon Essential Oil
This refreshing citrus oil is wonderful for cleansing your scalp and easing itching and irritation. It helps to unclog hair follicles that tend to harbor bacteria and germs which can cause irritation and itching. Lemon essential oil has very powerful antibacterial, antiseptic and anti-fungal properties that can treat many skin and scalp conditions at source while also preventing infection.
Be aware that lemon essential oil is photosensitive meaning that you should not expose any part of your skin treated with the oil to direct sunlight for at least 24 hours after use.
Make sure that you dilute your lemon essential oil with a good quality carrier oil like virgin coconut oil and massage it thoroughly into your scalp. Let the oil work for around an hour before rinsing it away completely with warm water.
Precautions
Essential oils have a wide range of health benefits both internally and externally but just because they are natural does not mean you shouldn't be very careful. There are a number of precautions that you should be aware of before using essential oils.
Never ingest essential oils.
Always dilute your essential oil first with a carrier oil. There are a number of suitable carrier oils to choose from including coconut oil, argan oil, olive oil and jojoba oil. Many of these carrier oils are excellent for the skin and hair in their own right and when combines with an essential oil they not only protect your skin from allergic reaction but benefit your skin and hair even more.
Even once your essential oil is diluted, it is good to perform a patch test on a small and discrete area of skin before applying a larger dose. If your skin reacts, then do not use the essential oil.
Some essential oils may not be suitable for pregnant women, breastfeeding moms or children. If in in doubt, speak to your medical provider first.
Final Thoughts
Itchy scalp is a very common condition with a number of potential causes.
Dandruff and seborrheic dermatatis are among the most common causes but others include inflammatory skin conditions stress, weather conditions and allergies.
A number of essential oils can help relieve itching as well as help treat the condition that is causing your itching.
Among the best essential oils for itchy scalp are peppermint, tea tree, eucalyptus, lavender, lemon and rosemary essential oils.
Make sure that you dilute the oils before applying them to your scalp. You can either dilute them with a carrier oil or add a few drops to your regular mild shampoo.
(1) https://www.ncbi.nlm.nih.gov/pubmed/9889172
(2) https://www.ncbi.nlm.nih.gov/pmc/articles/PMC4054083/