What is Sleep Apnea?
Sleep apnea is a sleeping disorder which affects between 2 and 4% of adults in the United States. People who suffer with sleep apnea experience their breathing stopping and starting many times throughout the night. Pauses in breathing can commonly last anywhere between 10 and 30 seconds and sometimes even longer.
The most common form of sleep apnea is called obstructive sleep apnea (OSA) and is causes when the muscles in the throat relax. Less common is a form of sleep apnea called central sleep apnea (CSA) caused when the brain fails to transmit signals to the muscles responsible for breathing.
There is some confusion between snoring and apnea as snoring is often caused by the same relaxation in the throat muscles, however snoring is a far more common and less serious complaint and far from all snorers have sleep apnea.
Complications
Apart from disrupting your sleep and all the issues it causes like daytime fatigue and mood problems, sleep apnea can lead to very serious health issues. People who suffer from sleep apnea are far more at risk of atrial fibrillation which can lead to blood clots or stroke. People with sleep apnea are also more at risk of high blood pressure, metabolic syndrome and type 2 diabetes.
Symptoms
Symptoms of sleep apnea include:
Snoring.
Daytime fatigue and irritability.
Waking during the night gasping for air or with a snorting sound.
Waking with a dry mouth, sore throat or headache.
Risk factors
Although sleep apnea can affect anybody, there are certain risk factors including:
Weight-Obesity increases your risk.
Gender-Men are more likely to have sleep apnea.
Age-it is more common after you hit 40.
Family history
Allergies
Alcohol
Smoking
Home Remedies for Sleep Apnea
Doctors may prescribe the use of a CPAP machine which helps keep the airways open throughout the night and in some circumstances surgery may be necessary.
In less severe cases, certain lifestyle changes can go a long way to curing your sleep apnea and it is important to look at the underlying causes of your condition. Losing weight, quitting smoking and drinking alcohol in moderation are all great steps to take both in terms of your overall health and for your sleep apnea in particular.
There are also various traditional home remedies that many people have used with some success. Hopefully one or more of these remedies will do the trick for you but remember that sleep apnea is a potentially serious condition and that these remedies are meant as complimentary treatments and not a replacement for medical advice.
1. Valerian Root
Valerian is well known for its calming sedative abilities and it is widely used to deal with numerous sleep disorders including insomnia. Some studies have showed that people treated with valerian sleep significantly better though it takes several weeks before taking real effect.
People suffering from sleep apnea have had good results combining valerian with St John's wort or with lemon balm. Valerian should be taken before bed and does not cause the same amount of drowsiness as pharmaceutical sleeping aids.
For a more detailed look at the benefits of valerian check out this article.
2. Passionflower
Passionflower is another herb which is known to relieve pain and relax the mind and body. It can be taken in either tea or supplementary form to ensure a good night of sleep. One human study showed that passionflower tea was an effective natural remedy for insomnia and in theory it could be effective against sleep apnea. (1)
It has a relaxing effect on the body's nervous system which leads many people think it could be effective in treating central sleep apnea. It also exerts an antispasmodic effect which can calm down the muscles and prevent the throat muscles from constricting.
You can read more about the benefits of passionflower in the article here.
3. Chamomile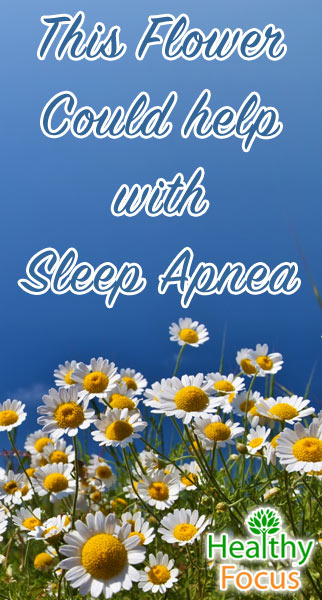 Chamomile is a popular traditional remedy for relaxation and sleep difficulties. This delicious herb can help relax the nerves and muscles and promote both calm and sleep. It has anti-inflammatory properties which may help remove any obstruction in the throat which can cause apnea and snoring.
The tea is very easy to make by adding a few teaspoons full of the dried herb flower to a mug of boiling water. Steep it for at least 5 minutes and ad honey and cinnamon powder for even greater effect and flavor.
4. Honey
Honey may help you to treat your sleep apnea because it has anti-inflammatory and soothing properties which may help ease obstructions in the throat. Honey also lubricates your throat and can prevent snoring.
Honey can also help you to relax at night and when used as a replacement for sugar can help you to lose weight which is a major risk factor in sleep apnea.
Mix a teaspoon of good quality honey into a glass of warm water or milk and drink each evening before bed. You can add some black pepper powder to your drink for extra effect.
5. Cinnamon
Cinnamon is a popular Ayurvedic treatment for sleep apnea and many people in the West have had success with it. It has mild sedative properties which help you sleep better and can also alleviate some of the breathing issues associated with apnea.
There are several ways that you can take cinnamon to help your condition. You can simply add a couple of teaspoons to a cup of hot water and drink it each evening before bed. Alternatively add a tablespoon of ginger and a cinnamon stick to your cup of water and allow the flavors to seep before drinking it down.
6. 5-HTP
5-HTP is a natural supplement which is used for conditions related to serotonin deficiency. Some people recommend 5-HTP for sleep apnea because low serotonin levels are often associated with sleeping disorders like apnea and insomnia.
7. Turmeric milk
Turmeric combined with all the goodness of warm milk is an excellent remedy for sleep apnea. Milk is well known for promoting sleep mainly because it contains an amino acid called tryptophan while turmeric has excellent anti-inflammatory properties which help reduce inflammation in the throat and help you breathe more freely.
Pour a cup of milk into a pan, add a teaspoon turmeric powder and boil. Remove it from the heat, add some honey to taste and drink each night before bed.
8. Essential Oils
Essential oils can help deal with many sleep disorders including insomnia and snoring and certain oils may be a great way to treat obstructive sleep apnea. So long as they are used correctly, essential oils are safe, natural and effective in dealing with a wide range of health problems.
When it comes to sleep apnea the most effective essential oils include lavender, peppermint and marjoram. These oils have anti-inflammatory properties and can help relax the muscles and calm your nerves before bed.
There are several ways to use essential oils to treat sleep apnea:
Diffuse them near your bed at night with a diffuser machine.
Dilute your oil with a carrier oil and massage it into your chest, back or into your feet before bed.
You can also dilute your oil and make a gargle mix but be careful not to swallow any of it.
For a more detailed look at the best essential oils for sleep apnea and how to best use them read this article.
9. Kampo Extract
Kampo is a traditional Asian remedy which consists of five therapeutic herbs. It is certainly worth mentioning here because of a Japanese study done in 2002 which found that the extract eliminated the sleep apnea of a 44 year old man.
The subject took the extract at a dose of 5 grams daily and his symptoms began to improve within 10 days. (2) Admittedly the study was very small scale but researchers were encouraged by the potential.
10. Melatonin
Melatonin is a naturally occurring hormone which helps regulate your biological clock and establish proper sleep patterns. While there is evidence that it can help you to sleep better and is especially helpful for people crossing time zones, there is no specific scientific evidence that it can work for sleep apnea.
(1) http://www.ncbi.nlm.nih.gov/pubmed/21294203
(2) http://www.ncbi.nlm.nih.gov/pubmed/12047617