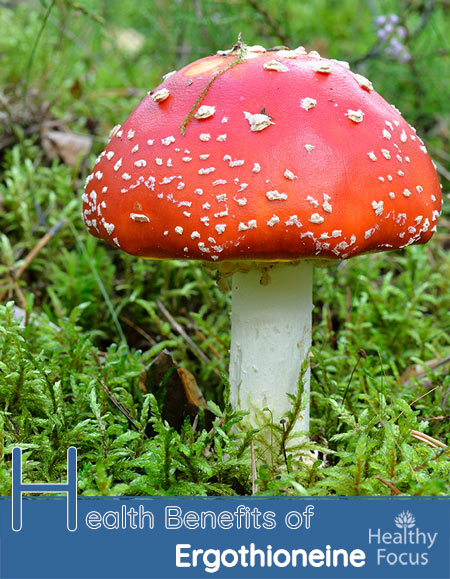 Mushrooms are really good for you and that is great news for those of us who love them. Studies have consistently revealed that they are chock full of antioxidants that can help prevent disease and delay many of the signs of aging.
They are low in fat and excellent sources of vitamins, protein and fiber. They also contain various powerful antioxidants like glutathione and vitamin D.
They are also the best dietary best source of an antioxidant called ergothioneine which is beginning to generate a lot of excitement in the scientific world. If you would like to find out more about ergothioneine and what it can do for you, then please read on
What is Ergothioneine?
Ergothioneine, also known as ergo is an antioxidant amino acid first discovered over a century ago by Charles Tanret while investigation an ergot fungus called Claviceps purpurea. Despite having been discovered back in 1909, it is only recently that researchers have started to delve into its potential health benefits.
In fact, the scientific interest in egothioneine stalled for almost a century until a professor of pharmacology called Dirk Grundermann discovered that mammals made a transporter that pulled ergothioneine quickly into their red blood cells. The blood cells then distribute the antioxidant about the body and it accumulates in the tissues where it is needed most.
It was this discovery that led to a renewed scientific interest in the potential health benefits of ergothioneine. Some experts have even suggested that ergo could be considered to be a new vitamin.
Dietary Sources of Ergothioneine
Mushrooms are the best source
Humans are unable to make ergothioneine so we need to obtain it from dietary sources. It is primarily found in mushrooms and other fungi but is also present in king crab meat, grapes, chicken liver and some dairy products.
A study published in 2005 by Penn State scientists found that the white button mushroom – the most commonly consumed mushroom in the U.S contained was a great source of the antioxidant. Previously chicken liver and wheat germ were considered to be the best source of the antioxidant.
However, according to the study, button mushrooms contain 12 times the amount of the amino acid than wheat germ and some 4 times the level of chicken liver.
The researchers at Penn State examined the level of ergothioneine in a variety of mushrooms. Among those most commonly eaten, portabella mushrooms and criminis contained the highest levels with white button mushrooms only just behind. A 3 ounce serving of these mushrooms provides about 5 milligrams of ergothioneine.
There is also great news for those of you that enjoy more exotic mushrooms. The more exotic the mushroom, the higher the levels of ergothioneine discovered. A similar serving of king oyster, oyster, shitake or maitake mushrooms contain as much as 13 milligrams of ergothioneine. (1)
Other Food Sources
It is also worth noting that cooking does not reduce the levels of ergothioneine in the mushrooms but if you do not eat mushrooms, then how do you get ergo into your system?
Ergothioneine enters the food chain via fungi present in the soil. This fungi then passes ergothioneine on to the plants which are grown in the soil and then again to the animals which eat the plants.
Health Benefits of Ergothioneine
Antioxidant Benefits
Studies into the specific effects of ergothioneine are ongoing and still in their early stages. According to early reports, some of the potential benefits of the antioxidant include the following :
Increasing the respiration and oxidation of fat.
Protecting the mitochondria against damage.
Conserving and maintaining the level of other antioxidants including glutathione, vitamin C and vitamin E.
Combating the harmful effect of free radicals.
Reducing damage caused by UV light.
Protecting against neurotoxins responsible for cognitive decline.
Cognitive Health
Much of the research into the benefits of ergothioneine is focused on neurodegenaritive diseases like Alzheimer's disease and Parkinson's. The potential of ergothioneine to treat these diseases is based on several interesting population studies from Asia.
One population study carried out in Singapore revealed that when people aged, there was a significant corresponding decline in the levels of ergothioneine found in their blood. The decline in ergo also correlated to an increase in cognitive impairment.
The authors of the study suggested that a deficiency in ergothioneine may predispose certain individuals to common neurological diseases associated with aging. (2)
An epidemiological study conducted in Japan involving over 13,000 elderly subjects may also hint at the importance of dietary ergothioneine. The study showed that the people who ate the most mushrooms were less likely to develop dementia. (3)
Although the specific role of ergothioneine was not analyzed in the study, the Japanese are known to consume mushrooms containing high levels of the antioxidant.
Neurological Disease and Mortality
Very little is known about the average dietary consumption of ergothioneine.. However, a study published in 2016 set out to measure the average consumption of the antioxidant in five countries. The average amount consumed ranged from 4.6 milligrams in Italy to just 1.1 milligrams in the U.S. (6)
While this does not tell us a great deal on its own, the data has been compared against mortality rates from dementia, Parkinson's, Alzheimer's and multiple sclerosis. In each case, there was a link between increased ergo consumption and a decline in death rates from these diseases.
Skin Health
Because of its excellent antioxidant properties, ergothioneine may also help prevent damage to the skin. It can be applied topically to combat the harmful effects of free radicals and to relieve some of the signs of aging like wrinkles and other age blemishes.
While research into its specific effects are limited, one study, published in 2009, found that it might not only prevent oxidative damage but it might also help repair DNA in cells exposed to UV light.
The researchers concluded that :
'The cells' ability to take up, accumulate, and utilize the potent antioxidant L-ergothioneine positions this naturally occurring amino acid and its receptor/transporter as an integral part of the antioxidative defense system of the skin.' (4)
Another study published in 2007 compared the effects of ergothioneine with another antioxidant – idebenone or Coenzyme Q10. The study found that ergothioneine was more effective in protecting against damage caused by UV rays. (5)
Inflammation
A recent study. published in 2017, examined the effects of ergothioneine on inflammation and oxidative stress in healthy humans. While the results did not show dramatic improvements, the researchers suggested that there were some benefits both in terms of inflammation and oxidative damage.
The researchers noted that ergothioneine was both well-absorbed and retained by the body and despite the effects being minimal, there was a  trend towards a decrease in inflammatory biomarkers. (7)
It is still not known whether supplementing with ergothioneine will benefit people who are at risk of illness and the researchers recommended more studies to establish its efficacy.
How to Use Ergothioneine
If you like eating mushrooms, then there is no better way to increase your intake of ergothioneine. Remember that exotic mushrooms like shitake and king oyster mushrooms provide you with even more of the antioxidant than the more common varieties. 
Ergothioneine supplements are also available in capsule form. If you are buying supplementary ergothioneine, make sure that you do not exceed the dose on the manufacturer's label.
Ergothioneine can also be found as an ingredient in skin creams and other skin products. Applying this antioxidant topically can help reduce many of the signs of aging like wrinkles.
Frequently Asked Questions
What is ergothioneine?
Ergothioneine is an amino acid with excellent antioxidant properties. The body is unable to produce its own meaning that we need to get it from dietary sources.
What foods contain ergothioneine?
Ergothioneine is present in fungi found in soil. Plants growing in the soil contain ergothioneine as will the animals that feed on those plants. While small amounts of ergo may be present in grains, kidney beans, meat and dairy, by far the best source of the antioxidant is mushrooms. Studies have found that commonly consumed mushrooms like portabella and button mushrooms are a rich source but exotic mushrooms like shitake contain even higher levels.
Is ergothioneine safe?
Ergothioneine is considered to be safe and non-toxic. Studies done so far have not reported any adverse side effects from its use.
Side Effects and Precautions
L-Ergothioneine is considered to be safe and non-toxic. None of the studies done to date have reported any adverse side effects.
In 2017, the EFSA (European Food Safety Authority released a statement to the effect that synthetic ergothioneine was safe for infants, young children, pregnant women and breastfeeding mothers. (8)
Final Thoughts
Ergothioneine which is commonly referred to as 'ergo' is an amino acid with excellent antioxidant potential.
It is mostly found in fungi including mushrooms but may also be present in meat, dairy and grains.
The body is unable to make its own ergothioneine meaning we have to get it from our diet. although supplements are now available.
Ergothioneine has a number of potential health benefits because of its antioxidant activity. these include combatting oxidative damage and inflammation and protecting the brain against age-related disease.
Ergothioneine is believed to be completely safe even for young children and pregnant women.
(1) https://news.psu.edu/story/208693/2005/08/31/new-method-shows-mushrooms-top-source-one-antioxidant
(2) https://www.sciencedirect.com/science/article/pii/S0006291X16311962
(3) https://www.ncbi.nlm.nih.gov/pubmed/28295137
(4) https://www.ncbi.nlm.nih.gov/pubmed/19439218
(5) https://www.ncbi.nlm.nih.gov/pubmed/17760697
(6) https://www.tandfonline.com/doi/full/10.1080/10807039.2015.1104241
(7) https://www.liebertpub.com/doi/full/10.1089/ars.2016.6778
(8) https://www.efsa.europa.eu/en/efsajournal/pub/5060