What are Reishi Mushrooms?
Reishi mushrooms, also called Lingzhi mushrooms or by its scientific mushroom genus called Ganoderma.  Lingzhi or Reishi Mushrooms are typically either: Ganoderma lucidum, Ganoderma lingzhi, or Ganoderma tsugae.
Reishi mushrooms have a long history of use and have been used for over 2,000 years in traditional Chinese medicine. Researchers have found that antioxidant polysacharides are responsible for many of their health benefits.

If you are trying to keep up to date on the latest superfoods, you might want to add Reishi mushrooms to your list. Not yet well known on the Western shores, Reishi mushrooms are well known in Asia, revered as the mushrooms of longevity.
Maybe a little too bitter to enjoy in your salad, many prefer to dry and crush the mushrooms and drink as a tea, reaping the many benefits this medicinal mushroom has to offer.
Reishi Mushrooms Benefits
1) Boosts Immune System
Reishi mushrooms are packed with health boosting agents such as antioxidants and antiviral, antibacterial, and antifungal properties. The antioxidants properties help to seek out toxic substances in the body, neutralizing them and repairing any cellular damage they might have caused.
Everyday, we are exposed to toxins, whether it's in the environment, our food, or otherwise. Taking Reishi mushrooms can help lessen the impact of these toxins invading our body on a daily basis.
Meanwhile, Reishi mushroom's ability to improve blood circulation while reducing inflammation helps to fight off infection, giving your immune system of fighting chance.
2) Regulates Blood Pressure
Reishi mushrooms contain a compound called triterpenes. Triterpenes are great for heart health because they help to lower blood pressure, enhance blood-clotting abilities, and reduce inflammation in the arteries and blood vessels.
Triterpenes take another approach to improving heart health by helping to regulate hormone balance. When a person suffers from a thyroid malfunction or a hormonal imbalance, one of the secondary conditions associated with these issues are high cholesterol and heart problems.
Reishi mushrooms help to remedy this problem by keeping hormone levels in check and therefore benefiting overall heart health.
Lastly, consuming Reishi mushrooms may be good for your heart health because it improves blood circulation and reduces inflammation, preventing clogged arteries and cholesterol buildup.
This helps to take the pressure and stress off your heart, reducing the chances of developing heart disease, stroke, and heart attacks.
3) Improves Liver Health
The detoxifying abilities of Reishi mushrooms may help to cleanse the body of toxins and will therefore take the stress off your liver from doing all of the work. Your liver's primary function is to filter out toxic substances, however, when it gets overloaded, you liver can become damaged.
Some preliminary studies have found that Reishi mushrooms help your liver to regenerate new, healthy cells, helping to stave off damage and disease. Keeping a healthy liver running smoothly will greatly improve your overall health and wellbeing.
4) Natural Anti-inflammatory
As previously mentioned, the anti-inflammatory abilities of Reishi mushrooms help to boost your immune system and heart health. But that's not all, Reishi mushrooms greatly decrease inflammation throughout the body, helping to reduce the painful symptoms associated with arthritis and gout.
Some people also find that the anti-inflammatory abilities of these medicinal mushrooms are a great headache cure.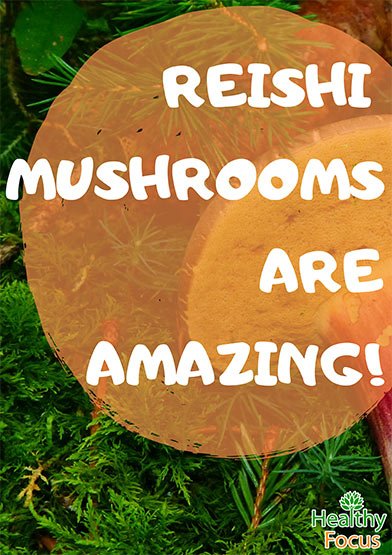 5) Improves Respiratory Health
Another great benefit of triterpenes is that they help to reduce the body's reaction to allergies: the release of histamine. Histamine is responsible for all sorts of unpleasant side effects, such as watery eyes, stuffed up nose, sneezing, et cetera.
Triterpenes help to suppress this reaction and effectively reduce the associated unpleasant side effects.
Reishi mushrooms also help to reduce the symptoms of such respiratory conditions as asthma, allergic reactions, and even anaphylaxis.
6) Maintains Cognitive Function
Some preliminary studies have found that taking Reishi mushrooms may help to prevent the development of such cognitive disorders as Alzheimer's or Huntington's disease.
These studies have found that Reishi mushrooms encourage the nerve growth factor, which is vital to healthy cognitive activity.
7) Possible Cancer Prevention
The anti-inflammatory properties of Reishi mushrooms may also extend itself to the suppression of tumor growth and cancer prevention. Research is beginning to demonstrate their anticancer potential and many studies have been dedicated to establishing a link between Reishi mushrooms and cancer prevention.
One study found that Reishi mushrooms prevent the development of cancer, while another study found that Reishi mushrooms helped prevent the spread of tumors. While these studies are promising, more rigorous scientific research needs to be established before determining Reishi mushroom's ability to fight and prevent cancer.
8) Boost Energy
There are a couple different ways in which Reishi mushrooms can be a natural energy booster. First, it helps to balance hormones, which can help fight fatigue. Secondly, the detoxifying abilities of Reishi mushrooms help to eliminate toxins and heavy metals from your body.
When toxins and heavy metals build up in your body, they can cause you too feel sluggish and foggy. Fortunately, Reishi mushrooms help to filter these toxins out of your body, improving your overall health and energy levels.
How to Take Reishi Mushrooms
The hard, bitter texture of Reishi mushrooms make them a less than ideal snack, however, they can be consumed in a variety of ways to ensure you get the maximum benefits of this fantastic fungus. If you want to enjoy the benefits of Reishi mushrooms, you have several options:
Tea
Tincture
Herbal medicine
Extract
Powder
Soup
When taking Reishi mushrooms, some experts believe it's best to consume them first thing in the morning on an empty stomach. It's also recommended to drink plenty of water while taking Reishi mushrooms to ensure maximum absorption.
When on the Reishi mushroom regimen, consider eating foods rich in vitamin C, which encourages the absorption of the mushroom's nutrients and antioxidants.
When Buying Reishi Mushrooms
Sometimes, it's hard to tell when you're buying a high quality product, especially when it comes to an exotic food you're unfamiliar with. To take the ambiguity out of purchasing Reishi mushrooms, there are a couple things you can do to make sure you're buying the right thing.
First off, when purchasing, make sure you're buying Reishi mushrooms that were grown in Asia, particularly Japan. The environment and conditions that the mushrooms were grown in can greatly affect the efficacy of the product.
Reishi mushrooms come in a variety of different forms, so when purchasing Reishi extracts, powders, or supplements, be sure that you're buying them from a reputable company.
Some Considerations
Always discuss with your physician the possibility of taking any supplements or talk about how incorporating Reishi mushrooms into your diet can benefit you. Reishi mushrooms and supplements are considered generally safe and non-toxic, however, when taking any supplement, it is wise to do so with caution.
Just because a product is marketed as all natural does not mean they do not have the possibility to cause harm when taken incorrectly or in large doses. Like many herbal remedies, Reishi mushrooms offer the best of natural treatments but you must consider some of the potential side effects. Before consuming Reishi mushrooms in any form, please consider the following:
Although considered generally safe, when taken for an extended period of time, Reishi mushrooms may cause some mild side effects, such as headache, dry mouth, nosebleeds, and dizziness. If you suffer from any of these symptoms when consuming Reishi mushrooms, contact your physician.
When taken in powdered form, the effects of Reishi mushrooms may be stronger and thus should be taken into consideration when determining dosage.
Reishi mushrooms are not recommended for the use of women who are pregnant or nursing.
Reishi mushrooms may interfere with bleeding and blood clotting, so avoid these mushrooms if you're on blood thinners, blood pressure medications, and immuno-suppressant drugs.
Don't take Reishi mushrooms two weeks prior to surgery or after, as they may cause bleeding.