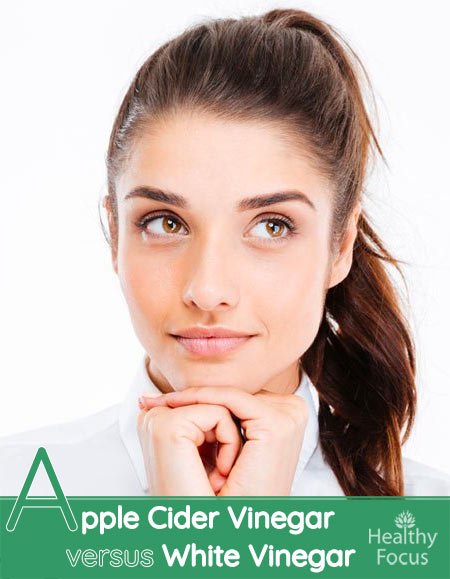 If you spend any time reading about health and wellness and home remedies, you will doubtless have come across countless articles about the health benefits of apple cider vinegar. It has become one of the most popular of all home remedies and is used for a diverse range of complaints from acne and warts to weight loss and high blood pressure.
So what is the difference between apple cider vinegar and white vinegar?
There are many different kinds of vinegar available for purchase. Their uses vary from cooking and pickling to cleaning and health. Apart from apple cider and white vinegar, there are several other types that are commonly used.
Malt vinegar originated in England and is produced from grains – typically barley. It is still the most popular type of vinegar to use on British staples like fish and chips.
Coconut vinegar is very popular in much of Asia and is made by fermenting coconut juices.
Cane vinegar is also very popular in certain parts of South east Asia.
The two most widely used kinds of vinegar are white vinegar which is mainly used for cooking and cleaning purposes and apple cider vinegar. Apple cider vinegar is certainly suitable for culinary use but it has become increasingly popular in recent years for its purported health benefits.
How is Vinegar Made?
Vinegar is produced by means of the same process that is used to distill wine. It will come as no surprise that the word vinegar comes from the French language – 'vin aigre' meaning 'sour wine'.The main difference is that acetic acid is produced when making vinegar as a result of a more concentrated fermentation process.
Vinegar has traditionally been produces slowly over the course of many weeks but modern methods using machinery and bacterial cultures have quickened the fermentation process.
The Difference Between Apple Cider Vinegar and White Vinegar
Apple cider vinegar and ordinary white vinegar are produced in a very similar way but there are some important differences.
Ordinary white vinegar is actually a clear vinegar. It gets produced in the same way as other types of vinegar but is usually derived from the vinegars themselves.
White vinegar has a very sour taste owing to its high acidity. Because of these high acidity levels, white vinegar is not as popular in the kitchen. It is however used for pickling and baking and to preserve meats. It is also popular for cleaning and is used to clean stains, windows, glass and even to sterilize laboratory tools.
Apple cider vinegar or ACV is made by fermenting apple cider. Like other types of vinegar, ACV is fermented first into alcohol. It then gets processed further to increase the acetic acid levels which turns it into a vinegar.
Unlike white vinegar, ACV has a light yellow to brown color and is often sold unfiltered without being pasteurized. The better quality apple cider vinegars are distributed with a substance called 'the mother of vinegar'. This residue appears on the bottom of your container and is the part of the vinegar which contains the bulk of its health benefits including antioxidant, anti-fungal and antibacterial properties.
Apple cider vinegar possesses several different acids believed to be beneficial to your health. These include malic acid, formic acid and lactic acid. Because it is made from apples, apple cider vinegar also contains various polyphenols with antioxidant properties.
Nutritional Differences
Vinegars of any kind are far from nutritional powerhouses but apple cider vinegar has a slightly higher mineral and vitamin content than white vinegar. To benefit from these nutrients, you would have to consume your ACV in huge amounts. You would need to drink around a cupful of ACV a day to benefit from its nutrients.
That would provide around 12% of your daily recommended dose of manganese but would still only offer trace amounts of any other nutrients. Both types of vinegar are low in calorific content with a tablespoon containing roughly 3 calories.
Health Benefits of Apple Cider Vinegar
The main difference between the two vinegars is in terms of their health benefits. While white vinegar may have some beneficial uses, apple cider vinegar has earned a reputation as a diverse home treatment for a very wide range of health issues.
The recent surge in popularity of apple cider vinegar might lead you to think it is a fairly new product but there is absolutely nothing new about it. In fact apples have been used to make vinegar for centuries and it has long been used for medicinal reasons. Hippocrates is said to have prescribed it combined with honey for a range of ailments. While many of the medicinal claims rely on anecdotal evidence, there has been some recent research to back up some of these lofty claims.
Some of the main uses of apple cider vinegar include the following:
Detoxification
Apple cider vinegar is regarded as a tonic for the liver and the lymphatic system and many feel it helps to detox the body naturally. It can help to balance out the pH levels in the body and stimulate lymphatic drainage and bowel movements.
For the Skin
Vinegar has natural astringent properties that help to tighten the skin while apple cider vinegar also contains excellent antibacterial properties. It can help cleanse the pores and destroy bacteria in the skin. Many people use ACV as a natural treatment for acne. It is best to dilute your apple cider vinegar before applying it to your face as the acid content may cause irritation.
Apple cider vinegar can also be used to help deal with skin fungus and is a popular home remedy for warts and skin tags.
For the Hair
You can use apple cider vinegar to condition your hair and give it a great looking shine. It can also be used to treat scalp conditions like dandruff.
Mix a tablespoon of ACV with a cup or so of water and put it on your hair after you have shampooed. You can do this several times a week and should notice the difference.
For Blood Pressure
Several studies suggest that apple cider vinegar can help regulate blood pressure. More research is needed and experts are unsure why it works. It may combat hypertension because of its acetic acid or because it has blood-thinning properties.
For Weight Loss
There is a very limited amount of research into the weight loss potential of apple cider vinegar but it is worth mentioning. Research suggest that eating a tablespoon or two of ACV with or before your meal helps to satiate your appetite and reduce cravings for sugar. This leads to people eating fewer calories and may result in weight loss in the long term.
To read our article about apple cider vinegar for weight loss, click on this link.
To Whiten the Teeth
You can also use apple cider vinegar as a natural whitener for your teeth. The natural acids in the vinegar help remove stubborn stains when used regularly. Simply apply some apple cider vinegar to your teeth with a finger and rub for a few minutes.
To Balance Blood Sugar
The acetic acids in vinegar help regulate blood sugar levels and insulin response and makes it suitable for diabetics.
As a Digestive Aid
Apple cider can hep calm the digestive system and is especially useful for acid reflux or heartburn. It helps to balance the pH levels in the gut and can also increase your supply of good bacteria or probiotics.
For Candida
Drinking a tablespoon of apple cider vinegar two or three times a day can help treat candida especially when used as part of a candida diet.
Not all Apple Cider Vinegar is Created Equal
health articles will often recommend that you buy unfiltered and unpasteurized apple cider vinegar as opposed to the filtered variety. The reason for this is the belief that most of the goodness comes from the 'mother' of vinegar.
Basically, all apple cider vinegar is made from apple juice and water or apple cider and water. It comes in two different types – either filtered or unfiltered. How much difference does this make? 
The filtered variety of apple cider vinegar is  made with water and apple juice but the filtering process removes the mother of vinegar as well as any sediment. This leaves a clear or amber-colored end product. Filtered apple cider vinegar is also likely to have been pasteurized, refining and clarifying it even further.
The unfiltered variety of apple cider vinegar is made with the same basic ingredients – water and apple juice. However, the mother of vinegar is not filtered and it is usually unpasteurized. The appearance of unfiltered ACV is cloudy and it often contains a certain amount of sediment.
So, the only real difference between the two is that unfiltered ACV retains 'the mother' but how important is this?
When it comes to cooking, the two vinegars can be used interchangeably. However, if you are using ACV based on its many health claims, then you should be using the unfiltered and unpasteurized version.  Unfiltered and unpasteurized apple cider vinegar costs considerably more so it is up to you to decide whether or not the health claims make the price difference worthwhile.
Frequently Asked Questions
Is there a difference between apple cider vinegar and white vinegar?
Both types of vinegar are produced in a similar manner. However, apple cider vinegar may well be the more healthy option. Although there is little scientific support to back up its uses, apple cider vinegar has become a very popular home remedy for a wide range of issues from acne to weight loss and heart health.
Which vinegar tastes best?
This depends on your own personal taste. Most people find white vinegar too sour because it has a higher acid content. White vinegar is more often used in baking and pickling while most people find apple cider vinegar far more tasty. it can be added to salads and other dishes to enhance the flavor.
Which is better for cleaning apple cider vinegar or white vinegar?
All vinegar has a high acidity making it a highly effective and non-toxic cleaner for the home. Most vinegars work well to clean but white vinegar is the most popular choice. It is higher in acidity and much cheaper than ACV, which is usually used for food and health.
Does apple cider vinegar help lower your blood pressure?
It might. researchers have only recently started to examine the effects of ACV on blood pressure. However, studies suggest it can help treat some of the causes of high blood pressure like obesity and reducing high blood glucose and cholesterol levels.
Final Thoughts
Both white vinegar and apple cider vinegar are produced in the same way. the process involves distilling fermented ethanol to yield acetic acid.
White vinegar is a clear vinegar encompassing a large number of vinegar types. Apple cider vinegar on the other hand is produced by distilling ethanol from apple juice or cider.
There are two main types of apple cider vinegar. the unfiltered variety or the filtered kind. the major difference is that unfiltered apple cider vinegar retains the 'mother'. the mother of vinegar is purported to be responsible for the many potential health benefits.
To sum up, both white vinegar and apple cider vinegar have certain health benefits but good quality apple cider vinegar has far more therapeutic value than the white variety and has become one of the most popular natural remedies in the world.