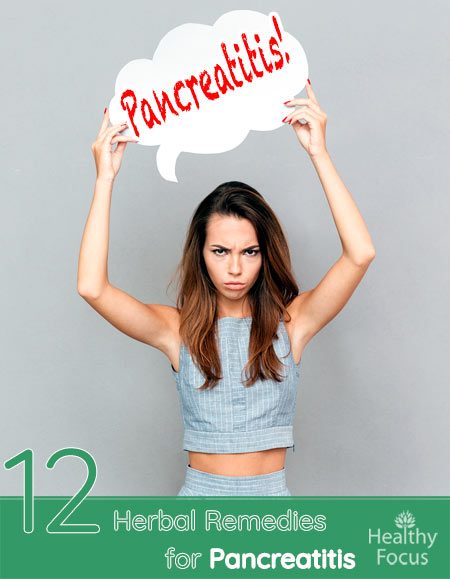 Pancreatitis is a serious and potentially life-threatening condition that requires prompt treatment. Each year, over 200,000 people are hospitalized because of acute pancreatitis whit over 50,000 admitted for chronic pancreatitis.
While pancreatitis is a very serious condition, there are a number of natural remedies that can help relieve the symptoms and prevent the condition from recurring. Diet is extremely important and certain foods should be avoided. By the same token, there are certain foods and herbs that are known to relieve the symptoms and protect the pancreas from damage.
What is Pancreatitis?
Pancreatitis is a condition characterized by inflammation in the pancreas – a small organ located in the upper abdomen. This small organ has a range of functions – it converts food into fuel and assists in digestion.
Pancreatitis can be either acute or chronic.
Acute Pancreatitis : In cases of acute pancreatitis, the enzymes which are usually released by the pancreas remain in the organ causing it to become swollen and inflamed. The digestive process is slowed down, causing severe pain. The symptoms develop very suddenly and sometimes last for just a few days. Acute pancreatitis can cause other serious complications and is often life-threatening.
Chronic Pancreatitis : This is an incurable form of the disease. The severity of the symptoms and the frequency of episodes vary from one person to another. The symptoms can become worse over time and are often linked to alcohol consumption or fatty diets. As this disease progresses and creates more scar tissue and damage to the organ, the risk of developing pancreatic cancer and other diseases like diabetes increases.
Symptoms of Pancreatitis
The symptoms of pancreatitis vary and depend on whether it is the chronic or acute form of the disease.
Symptoms of Acute Pancreatitis
Pain and swelling in the upper abdomen
Pain that increases after a meal high in fat
Nausea and vomiting
Rapid heartbeat
Pain that intensifies when lying on the back
Breathing difficulties
Weakness
Fever
Symptoms of Chronic Pancreatitis
Nausea and vomiting
Abdominal pain
Abdominal and back tenderness
Diarrhea
Digestive Upset
Weight loss
Foul smelling, oily stools
Pale stools
Glucose intolerance
What Causes Pancreatitis?
There are many potential cause of pancreatitis including the following:
Long term alcohol use or abuse
Binge drinking
Gallstones
Smoking
Certain medication which includes NSAIDs. antibiotics, corticosteroids and sulfonamides
Heart, lung or abdominal surgery
Family history
High calcium levels
High triglyceride levels
Certain infections including rubella, mumps and Epstein Barr virus
Blunt trauma
Cystic fibrosis
Nutritional deficiency
Conventional Treatment for Pancreatitis
Your doctor will make a diagnosis of pancreatitis based on various tests including the following:
Blood tests
Stool tests
CT scan
Abdominal ultrasound
Endoscopic ultrasound
MRI scan
Once you have been diagnosed, medical attention is necessary since the condition can be very serious and complications are very possible. Severe cases of acute pancreatitis will necessitate intervention while mild cases can clear up of their own accord.
Treatment will depend on the severity of the symptoms and whether the disease acute or chronic.
In case of acute pancreatitis, fasting may be necessary to allow the pancreas time to recover. Bland food is introduced after inflammation is controlled. In both types of pancreatitis, pain is controlled with medication. Patients may need IV drips to get enough fluids as well as enzymes to improve nutrient absorption and digestion. Surgery may be necessary to remove any obstructions.
Ongoing treatment includes dietary recommendations.
Herbs for Pancreatitis
Acute pancreatitis can be very severe, even life-threatening so it is essential that you seek medical attention without delay. However,it is possible to manage the symptoms of chronic pancreatitis with certain lifestyle changes and a considered diet. There are also a number of herbal remedies that can help improve the health of your pancreas and prevent or ease the symptoms.
These are some of the best herbs to support a healthy pancreas.
Licorice Root
Licorice root (Glycyrrhiza glabra) is considered to be an outstanding remedy for pancreas disorders. It has been used in traditional Chinese medicine since ancient times for a wide range of conditions and has become more popular in the West. Licorice root has outstanding anti-inflammatory actions that can reduce the swelling and ease the pain of pancreatitis.
Calendula
Calendula, commonly known as pot marigold, is another excellent healing herb with a long history of use. It has excellent antioxidant and anti-inflammatory properties and can help boost immune health. Studies have demonstrated that calendula can inhibit the growth and spread of cancer cells. The herb is often used to support pancreas health and may help relieve some of the symptoms of chronic pancreatitis.
Horsetail
Horsetail (Equisetum) is a great source of silica that can aid healing and restore damaged tissue damaged because of inflammation in the pancreas.
One study looked at the effects of the herb on rats with diabetes. the researchers found that after being treated with horsetail for five weeks, the rats experienced pancreas regeneration  while the herb also conferred significant anti-diabetic activity,(1)
Dandelion
Considered by many gardeners to be an annoying weed, dandelion (Taraxacum officinale) leaves and roots have a number of impressive health benefits. Studies have demonstrated that the herb possesses excellent anti-inflammatory and antioxidant actions that may help ease the symptoms of pancreatitis.  (2) (3)
Other studies have found that dandelion extracts can help flush toxins from the system, boost heart health and may even protect against cancer.  one study demonstrated that dandelion was effective against pancreatic cancer cells. (4)
Instead of throwing the plant away, consider making the most of it. Dandelion tea is a healthy beverage with a number of excellent health benefits and may even help bolster the health of your pancreas.
Gentian Root
Gentian is a stunning blue flower with benefits that go way beyond the aesthetic. The roots of the plant have a number of medicinal properties and the herb is commonly used to promote digestive health.
Gentian root can help stimulate the production of pancreatic enzymes and stomach acids to enhance digestion. It is often used to help bolster pancreas health but there are no studies into its effectiveness for pancreatitis.
Grape Seed Extract
Grape seed extract has become a popular remedy for a range of conditions including pancreas disorders. Several studies into the effects of grape seed extract have demonstrated its potential cancer prevention benefits. It is also well-known for its anti-inflammatory actions as well as its potent antioxidant activity.
Several animal studies have also demonstrated that grape seed extract can protect the pancreas from oxidative damage. (5) It has also been used successfully to treat patients suffering from chronic pancreatitis. (6)
Grape seed extract is readily available in supplementary form these days and is generally considered safe.
Olive Leaf Extract
Olive leaf extract is another healthy supplement with excellent antioxidant properties that help prevent oxidative damage in the tissues and organs. Olive leaf extract can also help boost circulation, improve immune health and detoxify your blood.
When taken on a regular basis, olive leaf extract might help support the health of the pancreas as well as the liver and the thyroid. Olive leaf extract's major active compound – oleuropein also has excellent anti-inflammatory properties that can reduce inflammation in the pancreas.
Olive leaf extract also contains a compound called oleic acid, which can help neutralize the damaging effects of free radicals including oxidative stress in the pancreas. Studies have also found that olive leaf extract can inhibit the growth of certain cancer cells including pancreatic and breast cancer. (7)
Rhodiola Rosea
Rhodiola rosea is a potent adaptogenic herb with a wide variety of health benefits. It can help boost general health and stimulate the immune system as well as boosting energy and cognitive health.
Animal studies into the effects of the herb have found that rhodiola rosea can improve both pancreas function and kidney function in rats with acute pancreatitis. (8)
Rhodiola rosea supplements are readily available. Take between 350 and 500 milligrams each day to help ease your symptoms and improve overall health.
Green Tea
Green tea is one of the most popular drinks in the world. It is also one of the healthiest beverages that anyone can drink. Green tea is full of antioxidants that can help protect the body from oxidative damage and studies into its effects on pancreas health have been extremely positive.
A Chinese population study, published in 2012 indicated that consuming green tea on a regular basis can protect against and inhibit the progression of pancreatic cancer. In fact, the study revealed that drinking green tea reduced the risk of pancreatic cancer by as much as 32%.
Reishi Mushrooms
Studies have revealed that reishi mushrooms have a number of diverse health benefits from cancer prevention to boosting the immune system. (10) (11)
Researchers have found that these mushrooms have excellent anti-inflammatory actions and are abundant in beneficial bacteria. one animal study into the effects of reishi mushrooms concluded that they could be useful for people suffering from chronic pancreatitis. (12)
Reishi mushrooms are available in supplementary form. A dose between 150 and 300 milligrams taken twice daily is recommended to relieve inflammation and support immune health.
Grapefruit Seed Extract
Grapefruit seed extract has a number of excellent health benefits. It is packed with antioxidants and can help support the heart and improve circulation.
There is also scientific evidence that it can help treat patients with pancreatitis. one animal study found that it helped reduce acute pancreatitis in rats. (13)
Garlic
Garlic tastes great but it also has a wide range of outstanding health benefits including stimulating pancreas health. The national Cancer Institute estimates that those who consume plenty of garlic are 54% less at risk of developing pancreatic cancer.
Garlic also helps lower blood sugar levels while helping the pancreas produce the right amount of insulin. It also has a variety of other health benefits including heart health and boosting immunity. Try adding plenty of garlic to your cooking or taking a garlic supplement to boost your pancreatic and general health.
Haritaki
Haritaki, known scientifically as Terminalia chebula, is not so well-known in the West but has been used in traditional Indian medicine for a very long time. The plant has mainly been studied for its ability to treat diabetes but it is also believed to support pancreas health. (14)
Other Herbal remedies for Pancreatitis
As well as the herbs mentioned above, there are a number of other herbs that may help promote a healthy pancreas and help ease the symptoms of chronic pancreatitis. these include :
cedar berries
oregano
holy basil
cinnamon
Final Thoughts'
Pancreatitis is a serious condition characterized by inflammation in the pancreas. the condition can be acute or chronic.
Acute pancreatitis can be life-threatening and you should seek medical attention immediately.
Chronic pancreatitis is linked with an increased risk in developing other diseases including diabetes and pancreatic cancer.
There are a variety of potential causes including alcohol abuse, smoking , poor diet and genetics.
Lifestyle and dietary changes can help keep the symptoms of chronic pancreatitis in check.
There are number of herbs that may help boost the health of your pancreas. These include dandelion, licorice root, calendula, grapefruit seed extract and olive leaf extract.
(1) https://www.ncbi.nlm.nih.gov/pubmed/19086577
(2) https://www.ncbi.nlm.nih.gov/pubmed/21336241/
(3) https://www.ncbi.nlm.nih.gov/pubmed/20673058/
(4) https://www.ncbi.nlm.nih.gov/pubmed/22647733
(5) https://www.ncbi.nlm.nih.gov/pubmed/27142746
(6) https://www.ncbi.nlm.nih.gov/pubmed/11351148
(7) https://www.ncbi.nlm.nih.gov/pmc/articles/PMC6073890/
(8) https://www.ncbi.nlm.nih.gov/pubmed/26242128
(9) https://www.ncbi.nlm.nih.gov/pubmed/22944495
(10) https://www.ncbi.nlm.nih.gov/pubmed/16230843
(11) https://www.ncbi.nlm.nih.gov/pubmed/10923835
(12) https://www.ncbi.nlm.nih.gov/pubmed/27616696
(13) http://www.jpp.krakow.pl/journal/archive/12_04/pdf/811_12_04_article.pdf
(14) https://www.researchgate.net/publication/311644356_Effects_of_terminalia_chebula_on_blood_biochemical_profile_and_pancreatic_tissue_in_diabetic_rats