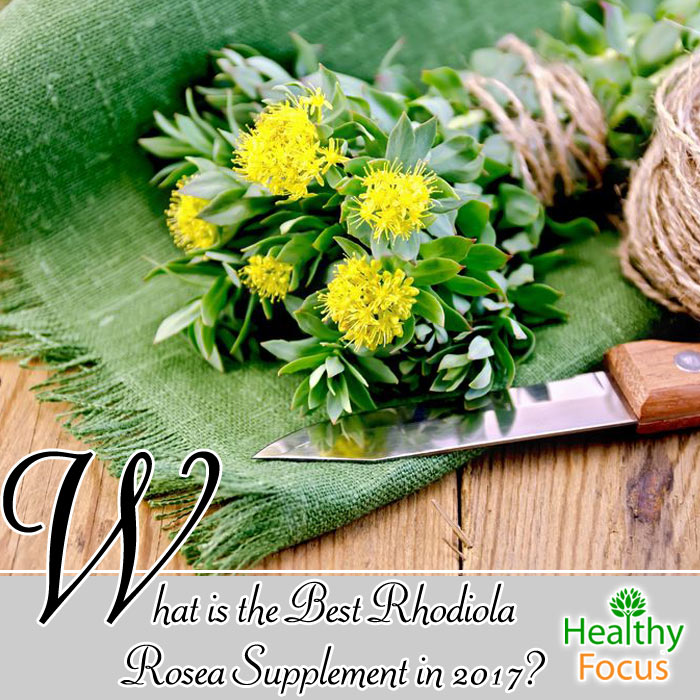 People are becoming increasingly interested in rhodiola rosea as a medicinal herb. It has a wide variety of exciting health benefits from stress reduction, naturally treating ADHD to weight loss and plenty more.
So what exactly is Rhodiola Rosea and how can it benefit you?
In this article, we will answer those questions and then help you decide which supplement is the right one for you by taking a look at some of the best rhodiola rosea supplements available today.
What is Rhodiola Rosea?
Rhodiola rosea which is also referred to as golden root is among the most effective adaptogen herbs. The herb is native to high altitude areas of Eastern Europe and Asia.
If you are unfamiliar with adaptogens, they are a type of plant which can help the body to adapt to environmental, physical and chemical stresses and rhodiola does this extremely well.
The plant has a long history of use evidence by the Vikings consuming the plant to enhance their physical strength while the sherpas of Nepal have also used it for high altitude climbs. It has also been widely used in Russia for a very long time to boost energy, work and athletic performance and also to treat stress and depression.
The Health Benefits of Rhodiola Rosea
There are a good many reasons to consider taking a rhodiola rosea supplement. If you are feeling stressed, depressed or fatigued, there is a good chance you will benefit. People looking to improve their endurance and athletic performance and those looking to burn some extra fat might also like the results.
These are the major benefits of Rhodiola rosea.
1) To Relieve Stress
One of the best-known uses of rhodiola is to ease stress naturally by its effect on the human stress hormone – cortisol. When our cortisol levels are elevated for a long time, it can cause a number of nasty side effects both emotional and physical. These include weakened immunity, heart health problems, thyroid issues, fatigue and emotional exhaustion.
By keeping the brain's cortisol level in check, rhodiola can improve your emotional and physical well-being in various ways. It can help relieve your emotional stress and protect against the long-term side effects of increased stress including premature aging.
2) To Boost Energy and Improve Stamina
Rhodiola rosea can help give you the endurance and stamina necessary to go that little bit further whether at work or during exercise. The herb achieves this by increasing the number of red blood cells in the body. Red blood cells are responsible for carrying oxygen to the muscles and having a higher count has a dramatic effect on athletic performance and endurance.
Improving endurance and combating fatigue is one of the main traditional uses of the herb and there is some scientific evidence to back it up. According to one study published in 2004, rhodiola rosea possesses natural anti-inflammatory properties that can aid endurance and help muscles to recover faster. (1)
These findings have been confirmed, at least in animals. In one study using rats, animals given rhodiola rosea extract experienced improved stamina and were able to swim for 25% longer in swim tests. The researchers believe these results are down to improved ATP synthesis. (2)
While rhodiola supplements are popular among athletes looking for a performance edge, you do not need to be an athlete to benefit. Anybody that feels run down or tired can get a great deal from the supplements and they are sometimes prescribed to combat chronic fatigue.
3) To Burn the Belly Fat
Not only does this wonderful herb give you the energy you need to work out, it can also help get you into the shape you want. Rhodiola rosea contains 'rosavin' – a compound which stimulates the body to burn fat.
According to experts, rosavin stimulates an enzyme known as hormone-sensitive lipase which help brak down fat stored in the belly area. Studies show that this is doubly effective when rhodiola supplements are done in conjunction with moderate exercise.
One study conducted in Georgia treated 130 overweight subjects with rhodiola extract or a placebo. The rhodiola rosea treatment led to the participants losing 19 pounds and 11% of their body fat on average when compared to 8 pounds in the placebo group. (3)
4) For Brain Health and Depression
One of the great benefits of rhodiola rosea is the effects that it has on your brain's health and your emotional well-being.
Rhodiola works on the brain because it improves the sensitivity of certain neurons including dopamine and serotonin. These neurotransmitters are well known to increase focus, improve memory and also enhance mood and feelings of pleasure.
Doctors often prescribe rhodiola rosea as an alternative to more powerful and notoriously unreliable anti-depressant drugs.
In one trial 150 patients with depression were treated with rhodiola extract for a period of a month. By the end of the month's trial, over 60% of the participants treated with rhodiola had improved significantly with many in full remission. (4)
The Best Rhodiola Rosea Supplements
Now that you know a little more about what this herb can do for you, you may feel you would like to give it a go. We will try to make the task of shopping a little easier for you by comparing some of the best rhodiola supplements on the market today.
The daily recommended dose is not fixed but most studies used a dose of 250 to 500 mg taken twice each day. There is, however, research which used 600 mg a day to treat depression.
1) NutraChamps – Rhodiola Rosea
These quality capsules come at a relatively high dose of 600 mg. The product made by NutraChamps has been largely well reviewed and come with good clear instructions for use. The herb is only harvested after 4 years of growth giving the supplement maximum potency.
Pros
600 mg dose of Rhodiola extract in each capsule.
Good quality with no fillers.
Good value for money.
Made in the USA.
Cons
The capsules have an off-putting smell
2) Long Life Nutri – Rhodiola Rosea Supplement Root Extract
This high-quality rhodiola supplement made by Long Life Nutri comes at a dose of 500 mg per capsule with rosavins and salidrosides in a good 3 to 1 ratio.
It has been very well reviewed and is priced a little lower than many of its competitors. It is a completely natural and non-GMO product.
Pros
60 capsules at 500 mg of natural Rhodiola rosea extract.
Very good value for money.
Made in the USA.
GMO-free.
GMP certified.
Cons
Not everybody was happy with the effects.
There is no information regarding where the herb is sourced.
3) Now Foods : Rhodiola
Now Foods have a good reputation for providing quality in the supplement market and their rhodiola supplement is no exception.
These capsules come in a 500 mg dose of rhodiola extract and have been well reviewed by users. This supplement is cheaper than many of its competitors but some users have complained about the strong flavor.
Pros
500 mg of high quality, pure rhodiola rosea extract.
Good, clear usage instructions.
Soy and gluten-free.
Made in the USA.
Cons
Some users do not like the strong smell and taste.
4) Siberian Rhodiola Rosea – Supernova Naturals
This is a slightly more expensive but high-quality rhodiola supplement from Russia. The quality and strength is guaranteed by being harvested in the Siberian mountains after a minimum 4 years of growth.
The product which comes in a 500 mg dose has received many favorable reviews but it is on the pricey side for those of you on a budget.
Pros
High-quality source.
The plant is harvested after growing for 4 years.
60 convenient to use capsules.
Cons
This is an expensive product compared to the others on our list.
5) Pure Encapsulations – Rhodiola Rosea
This product by Pure Encapsulations comes in a much lower dose than the other supplements in our list. Each of the 90 capsules provided is in a 100 mg dose of rhodiola rosea extract.
The product is 100% natural and free of gluten, soy, and unnecessary fillers.
Pros
90 capsules in each jar.
Free of gluten and soy.
Good, clear instructions for use.
Cons
The price is fairly high.
Each capsule only provides a dose of 100 mg.
(1) https://www.ncbi.nlm.nih.gov/pubmed/15256690
(2) https://www.ncbi.nlm.nih.gov/pubmed/15500079
(3) Zakir Ramazanov, Z. et al. (1999) "New secrets of effective natural stress and weight management, using Rhodiola rosea and Rhodendron caucasicum" ATN/Safe Goods Publishing, CT.
4) http://cms.herbalgram.org/herbalgram/issue56/article2333.html?ts=1508671502&signature=d29cf18d9056c2ae78641e604ece46b2
.