Turmeric Essential Oil
Being a very keen amateur cook with a special penchant for Indian cuisine, I have been using turmeric in my cooking for years. When I started to investigate the healing powers of herbs a few years back I was delighted to discover that turmeric is one of the most beneficial natural foods that you can eat.
Turmeric has extremely powerful anti-inflammatory properties that can be used to remedy a vast array of conditions from arthritis to ulcerative colitis. It also has a range of other medicinal actions including anti-coagulant, anti-depressant and cholesterol lowering properties. Many experts believe that turmeric is just as effective as a range of drugs for keeping disease under control.
Although I was familiar with the benefits of the spice, it was not until fairly recently that I learned an essential oil was produced from its rhizomes and that this essential oil was incredibly diverse. To date, there have been numerous scientific studies into the health benefits of turmeric essential oil which we will be looking at in detail during the course of this article.
Composition and Properties
The turmeric essential oil most commonly used in aromatherapy is steam distilled from the rhizomes of the turmeric plant which is scientifically known as Curcuma longa. It also sometimes goes by the name of Indian Saffron or Curcuma oil.
Its major chemical constituents
ar-Turmerone
Alpha-Turmerone
Beta-Turmerone
Alpha-Phellandrene
Alpha-Santalene
ar-Curcumine
Its list of medicinal properties is very large and is the reason that turmeric essential oil can be used for such a wide variety of ailments. These properties include the following:
Antimicrobial
Antiseptic
Anti-cancer
Anti-inflammatory
Analgesic
Anti-rheumatic
Diuretic
Antispasmodic
Antiviral
Nervine
Antioxidant
Anti-anxiety
Digestive
Benefits of Turmeric Essential Oil
1. Digestive Health
The components of turmeric essential oil can help improve the efficiency of the digestive system and treat certain digestive complaints like indigestion and flatulence. It has already been approved in Germany to treat digestive complaints as it stimulates the production of gastric juices which aid the digestive system.
It can be used to treat symptoms of irritable bowel syndrome such as constipation and abdominal pain.
A recent study published in 2015 found that turmeric essential oil in combination with ginger essential oil significantly reduced stomach ulcers in rats. (1)
2. For Diabetes
Turmeric essential oil is showing great promise in the control of diabetes according to recent research. A study published in 2012 found that turmeric oil inhibited glucosidase enzymes more effectively than a drug commonly used to treat diabetes called acarbose.
Inhibiting these enzymes helps reduce blood sugar spikes following carbohydrate consumption and brings blood sugar levels under control. (2)
Another study found that turmeric essential oil improved glucose and lipid metabolism in rodents. (3)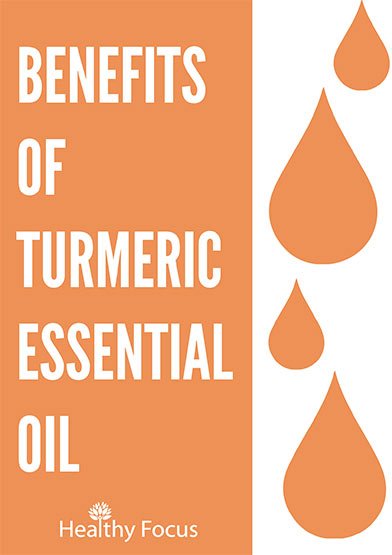 3. For Arthritis
Because of its renowned anti-inflammatory effects, turmeric essential oil can be combined with a carrier oil and massaged into your swollen joints and muscles for immediate relief from swelling and pain.
It also has analgesic effects which should further help control any pain that you may be experiencing. Several studies have showed that turmeric essential oil can help reduce inflammatory markers and may offer protection against arthritis while a study published in 2010 demonstrated that turmeric oil had joint protection abilities and anti-arthritic potential. (4)
4. For Dementia
Some exciting recent studies have begun to reveal just how big a role turmeric can play when it comes to brain health and protection against a range of degenerative neural conditions. In fact a study published in 2014 found that the ar-turmerone found in turmeric essential oil can help slow down the progress or even prevent disorders such as dementia, Parkinson's and Alzheimer's. (5)
Researchers believe that it works by increasing the production of brain stem cells crucial to the repair of brain function.
Other studies have found that turmeric essential oil can prevent brain from the damage that is experienced following a stroke.
5. For Heart Health
Although the research so far has been carried out on rodent models, there are promising signs that turmeric essential oil may be effective when it comes to the health of your heart. A study published in 2013 found that the oral administration of turmeric oil significantly reduced cholesterol levels in hamsters.
In fact it was just as effective as Ezetimibe, a drug used to treat high cholesterol. (6)
As well as its cholesterol reducing effects the researchers in the same study found that it reduced cell damage caused by oxidative stress, reduced platelet activation and improved blood vessel function.
6. For Skin and Hair
Because of its antibacterial, antiseptic and anti-inflammatory nature, turmeric essential oil can be applied topically to help deal with a host of skin conditions. You can try using it to treat acne, blackheads, psoriasis and eczema. It may also be useful in treating wrinkles and blemishes and other signs of aging because of its rich antioxidant nature.
Several studies have also revealed that it is effective against common fungal infections that typically affect the skin, hair and nails including a study published in 2013 which demonstrated its effect against dermatophytes. (7)
If you are going to treat your skin and hair with turmeric essential oil, it is always wise to dilute your oil in a carrier oil or even with your normal skin creams and shampoos before applying it.
7. Cancer
Preliminary studies have started to reveal the great anti-cancer potential that turmeric essential oil may possess. Like many essential oil studies, these experiments were conducted in vitro but results thus far have been extremely promising.
Studies have showed that turmeric essential oil exhibited the ability to trigger apoptosis or cancer cell death in breast, liver and leukemia cancer cells. (8) (9)
8. Stress and Anxiety
Like so many other essential oils, turmeric essential oil may be an excellent remedy for a range of emotional issues like stress, depression and anxiety.
There is of course no guarantee that it will work but essential oils like turmeric offer an excellent and safe alternative to powerful prescription drugs and it is certainly worth a try.
9. Insect Repellent
As well as its various incredible health benefits, there is evidence that turmeric essential oil may be an effective insect repellent that can be used as an alternative to harmful chemical products.
One study found that turmeric oil when combined with citronella, kaffir lime and hairy basil was a potential replacement for DEET to repel mosquitoes. (10)
How to Use it
Turmeric essential oil can be applied topically when diluted but should only be consumed under expert medical supervision.
It blends well with clary sage, cinnamon, clove, lavender, helichrysum and ylang ylang essential oils.
Inhalation: either inhale your oil directly from the bottle or in a diffuser machine to deal with emotional problems and improve circulatory support.
Massage: dilute your turmeric essential oil with a quality base oil like coconut oil and massage it into your joints and muscles to treat arthritis and muscle pain.
Skin and hair: ad a few drops to your shampoo or face creams and apply it to your face. Alternatively ad a few drops to a wet cotton ball and apply it to areas of your face that need attention.
Internally: make sure that you speak to a medical professional before taking turmeric oil internally as there are potential side effects especially when it is taken in high doses.
Precautions and Potential Side Effects
There are several safety precautions that you should be aware of before using turmeric essential oil.
Always dilute your turmeric oil before applying it directly to your skin.
Perform a patch test to ensure against irritation.
Pregnant women and nursing mothers are not recommended to use this oil.
People on blood thinning medications like warfarin and aspirin should avoid using turmeric oil.
Turmeric essential oil may also interfere with medication to reduce blood pressure.
People prone to kidney stones and gallbladder problems should avoid using turmeric essential oil.
(1) http://www.ncbi.nlm.nih.gov/pubmed/24756059
(2) http://www.ncbi.nlm.nih.gov/pubmed/22385048
(3) http://www.ncbi.nlm.nih.gov/pubmed/17117790
(4) http://www.ncbi.nlm.nih.gov/pmc/articles/PMC2834817/
(5) http://www.ncbi.nlm.nih.gov/pmc/articles/PMC4180255/
(6) http://www.ncbi.nlm.nih.gov/pubmed/23673139
(7) http://www.ncbi.nlm.nih.gov/pubmed/24066236
(8) http://www.ncbi.nlm.nih.gov/pubmed/23847105
(9) http://www.ncbi.nlm.nih.gov/pubmed/22946656
(10) http://www.ncbi.nlm.nih.gov/pubmed/11469188