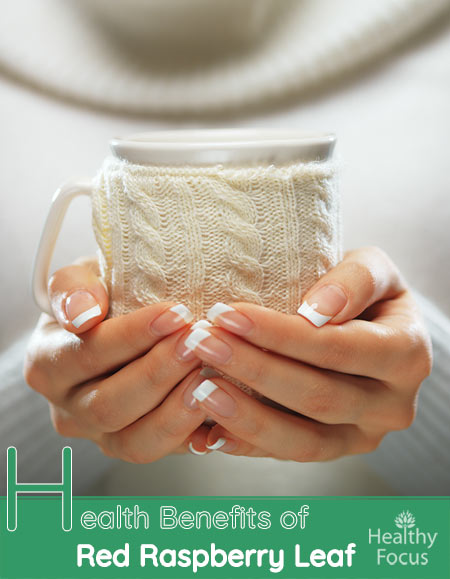 Red raspberry is known for its delicious fruit but the plant's leaves are also brimming with nutrients and are used to make a healthy tea. Red raspberry leaves have a number of excellent health benefits especially when it comes to female health issues, pregnancy and childbirth but that is not all. If you would like to find out more about the amazing health benefits of red raspberry leaf, please read on.
What is Red Raspberry?
The red raspberry plant, also known by its botanical name – -Rubus idaeus, is native to Europe and parts of Asia but is now found all round the globe. The plant belongs to the rose family and has been cultivated for centuries not only for its delicious berries but also for the roots and leaves. Historically, the leaves have been used to treat a wide variety of conditions and to induce labor.
Major Constituents of Rubus idaeus
Red raspberry leaves contain various tannins, falvonoids, polypeptides, pectin, volatile oils. Malic acid and Ellagic acid. They are also a good source of various vitamins including many of the B vitamins, vitamin C as well as minerals like potassium, zinc, magnesium, phosphorus and iron.
Red raspberry leaves are especially high in tannins which gives the plant its well-known astringent benefits. The leaves are also a great source of antioxidants in the shape of flavonoids, polyphenols and tannins that can he;p protect the body's cells against damage and prevent disease. In addition, the ellagic acid found in red raspberry leaves may also have anti-cancer potential.
The Health Benefits of Red Raspberry Leaves
Red raspberry leaf tea has a number of excellent health benefits but has become best-known for its ability to treat a range of conditions affecting women. In fact, the plant is sometimes known as the 'woman's herb' but as you will learn from this article, red raspberry leaf's benefits go beyond female health issues.
Heart Health
Drinking plenty of red raspberry leaf tea provides you with a nutritional boost. It is very high in antioxidants which can help prevent damage from free radicals and protect against a number of diseases including heart disease.
Red raspberry leaves are also very high in potassium. A deficiency in potassium has been linked to higher blood pressure as well as a higher risk of developing hear disease. One study found that people who consumed over 4000 mg of potassium each day were significantly less at risk of ischemic heart disease than those who consumed only 1000 mg a day. (1)
Drinking plenty of potassium rich red raspberry leaf tea can get you closer to the potassium levels that your body needs to prevent heart disease.
Premenstrual Symptoms (PMS)
Red raspberry leaves are a popular natural remedy among women trying to relieve common premenstrual symptoms. Until recently, this evidence was anecdotal but now there is some evidence that the plant can help alleviate symptoms including cramps, nausea, vomiting and diarrhea. (2) (3)
Rubus idaeus contains a compound called fragarine – a natural astringent – which helps to tighten and tone the muscles in the pelvic region. This in turn might help reduce the cramping in these muscles during menstruation. (3)
There is no recommended dose of red raspberry leaf for dealing with premenstrual symptoms but consuming some tea may well help relieve many of the common discomforts experienced by women during their period.
Iron Content
Red raspberry leaves are a great source of iron. In fact, an ounce of the leaves contain 3.3 mg of the mineral. That is actually around 18% of the recommended daily iron intake for adult women.
This is also significant for women since getting plenty of iron can help combat anemia which many women experience during heavy periods.
Inflammation and Arthritis
Red raspberry leaves are a wonderful source of various antioxidant compounds that can help prevent inflammation throughout the body. They can help protect against internal inflammation and may boost digestive health.
One study found that red raspberry extract (which contains many of the same chemicals as raspberry leaves) helped reduce inflammation in arthritic rats. The researchers concluded that the polyphenols found in red raspberry protected the cartilage and modulated the onset and the severity of arthritis.(4)
Uses of Rubus idaeus During Pregnancy
Throughout history, midwives have helped pregnant women with herbal teas. It is believed that a number of herbs can relieve the difficulties with pregnancy and childbirth. The use of red raspberry leaves for women in labor dates back centuries and recent studies appear to support their use.
One Norwegian study published in 2011 revealed that herbal remedies were still extremely popular for pregnant women. Of the 600 women involved, 52% regularly used some type of herbal remedy while 63% had used raspberry tea during their pregnancy.
There is some controversy over the use of red raspberry tea during the first trimester of pregnancy and it is usually recommended for women during their second and third trimester. Nevertheless, a number of women used red raspberry leaf tea to help relieve many of the symptoms of early pregnancy like nausea and vomiting. (5)
During the later stages of pregnancy, red raspberry leaf tea is used for strengthening the uterine muscles, improve the outcome of labor and reduce the risk of postpartum bleeding.
Might Help To Shorten Labor
Many women believe that drinking red raspberry leaf tea can help reduce the length of their labor. There is some evidence to support this belief but results have been somewhat mixed.
A compound found in Rubus ideus called fragarine is a natural astringent known to tighten and tone the pelvic muscles including the uterine walls. By strengthening the pelvic region, delivery may be easier. (6)
One study published in 1999 involving 108 women found that the women who drank Rubeus idaeus tea during the final stage of pregnancy experienced a shorter first stage in labor. (7)
When the study was repeated the following year, the results were not consistent but there was still a beneficial effect. This time the study involving 192 women did not reveal that the first stage was shortened, however drinking red raspberry leaf tea shortened the second stage of labor by nearly 10 minutes. (8)
Effects on Childbirth : Reduced complications and interventions
Not only can red raspberry leaf help a woman during pregnancy but there is evidence that drinking the tea can reduce the risk of complications during labor.
One study, published in 1999, found that women drinking red raspberry tea during the later stages of their pregnancy had more natural births. Use of forceps during delivery and other medical interventions were reduced as well as the chance of pre-term and post-term delivery. (9)
Another study, published in 2001, found that the use of forceps during delivery was reduced by 11% in women who had drunk red raspberry leaf tea during the last two months of their pregnancy. (10)
While these results are far from conclusive, there is possibly some benefit to drinking red raspberry leaf tea during the later stages of pregnancy. It is also believed that a more natural labor with less need for interventions can reduce the risk of postpartum bleeding..
Indeed the American Pregnancy Association has stated that consuming the tea might reduce the need for medical intervention during childbirth. (11)
How To Use Red Raspberry Leaf
Red raspberry leaf is available in supplementary capsule form but is most often consumed in the form of a nutritious and tasty tea.
You can get all of the benefits of Rubus idaeus by making a delicious red raspberry leaf tea. The flavor of the tea is similar to green tea but it comes without any caffeine. To make your own tea at home, follow these simple instructions :
You will need
One teaspoon of crushed red raspberry leaves for each ounce of water.
Filtered water.
Honey to taste (optional)
Instructions
Put your water in a pot and add a tablespoon of your red raspberry leaves for each cup of water.
Bring the water to the boil.
remove from the heat and allow it to steep for ten minutes.
Strain and add honey if needed.
You can also enjoy red raspberry leaf tea as a cold drink to quench your thirst on a hot summer day. i personally love the stuff straight from the fridge after a long run.
For the majority of people, drinking up to 3 cups a day appears to be perfectly safe but pregnant women should limit themselves to a cup a day during the early stage of their pregnancy.
Frequently Asked Questions
What is Rubus Idaeus used for?
Red raspberry leaf has a number of potential uses. the herb contains various nutrients and antioxidants with various potential health benefits. The plant is especially well-known for its incredible astringent effects and is used by women during all stages of their pregnancy. Studies have found it can reduce the risk of complications during childbirth and the risk of postpartum bleeding.
Is Rubus Idaeus good for PMS
Red raspberry leaf is used be many women to reduce the symptoms of menstruation including vomiting, cramping and nausea. Most of the evidence for its effects is anecdotal but the plant is known to strengthen the muscles around the pelvis which can help reduce menstrual cramping.
Does raspberry leaf tea contain caffeine?
No. Red raspberry leaf tea is completely caffeine free.
Precautions and Side Effects
Red raspberry leaves and tea is believed to be safe for the majority of people including children. Any potential side effects are mild but are still important to be aware of.
Red raspberry leaf tea may have laxative effects and might loose the stools.
The leaves may also have diuretic effects meaning they can increase the production and frequency of urination. People taking water pills should consult their doctor before using red raspberry leaves.
There is some concern about using red raspberry tea in the first trimester of pregnancy but little strong evidence that it will cause harm. nevertheless, it is recommended that you limit your consumption to a cup a day during the early stages of pregnancy.
For the labor and childbirth benefits discussed in the article, the optimum time to start using red raspberry leaf tea is at around 32 weeks of pregnancy. Between one and 3 cups a day is recommended at this stage of pregnancy.
Discontinue the use of red raspberry leaves if you experience experience spotting or Braxton Hicks contractions.
Final Thoughts
Red raspberry leaves or Rubus idaeus are a rich source of healthy antioxidants.
The plant has a number of beneficial compounds. In articular, it is a great source of antioxidant compounds with a variety of health benefits.
Rubus idaeus is especially well-known for its benefits to female health including PMS and various benefits during pregnancy and labor.
The leaves are usually drunk in the form of a tea but are also available in supplementary form.
Red raspberry leave is generally considered to be safe but there are some potential adverse side effects.
(1) https://www.ncbi.nlm.nih.gov/pubmed/21747015
(2) https://www.ncbi.nlm.nih.gov/pmc/articles/PMC4931538/
(3) https://www.ncbi.nlm.nih.gov/pmc/articles/PMC3407953/
(4) https://www.ncbi.nlm.nih.gov/pubmed/22111586
(5) https://www.sciencedirect.com/topics/medicine-and-dentistry/red-raspberry-leaf
(6) https://www.ncbi.nlm.nih.gov/pmc/articles/PMC3407953/
(7) https://www.ncbi.nlm.nih.gov/pubmed/10754818
(8) https://www.ncbi.nlm.nih.gov/pubmed/11370690
(9) https://www.ncbi.nlm.nih.gov/pubmed/10754818
(10) https://www.ncbi.nlm.nih.gov/pubmed/11370690
(11) https://americanpregnancy.org/pregnancy-health/herbal-tea/