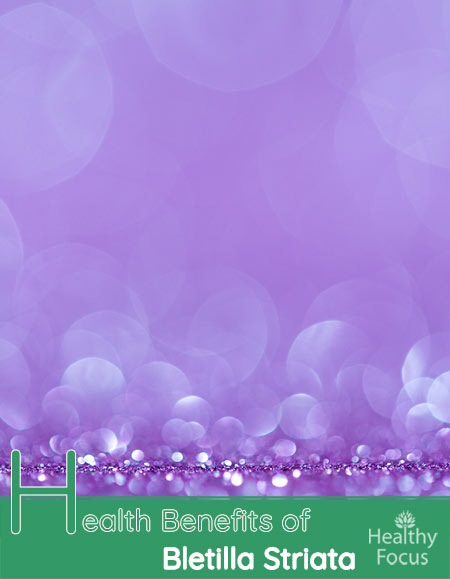 Some plants are so beautiful that we give little thought to their medicinal value. We use them to adorn our gardens and revel in their incredible colors and scents. However, some plants that we think of as ornamental also have a more important role to play.
Bletilla striata may be absolutely stunning but the plant also has some excellent medicinal properties and a variety of beneficial uses for your health. If you would like to find out more about this incredible plant and what it can do for your health, please read on.
What is Bletilla Striata?
Bletilla striata is a flowering plant belonging to the orchid family or Orchidaceae. Known commonly as Chinese ground orchid or hyacinth orchid, the plant is native to much of China and temperate regions of Japan, Korea and Myanmar.
Other common names for the plant include hyacinth bletilla and urn orchid. The Japanese know it as shiran while it is referred to as bai ji in China.
The rhizome or roots of the plant are used to make medicine. First the rhizomes are peeled, then dried before being sliced and ground up into a fine powder. The plant has mostly been used for its ability to stem bleeding as well as treating wounds and ulcers.
Many people are naturally suspicious of traditional uses with a lack of scientific evidence. However, as you will soon see, a number of recent studies have added support to the plant's beneficial effects.
Fast Facts About Bletilla Striata
Bletilla striata belongs to the genus 'Bletilla' which contains around ten species of orchid.
The genus is named after a Spanish botanist called Don Louis Blet.
As well as being known for their beauty, Bletilla striata is cultivated for medicinal purposes.
In North America and Europe, the plant is mostly cultivated for ornamental purposes.
It has been used for many years as a natural remedy in traditional Chinese medicine.
The plant's cultivation for medicinal purposes mostly takes place in China's Guizhou province.
It has mostly been used to treat wounds, grazes, bites and ulcers. The plant has outstanding abilities to stem bleeding and speed up the healing of wounds.
Composition and Medicinal Properties
Bletilla sirata rhizomes contain a number of compounds with medicinal properties. Constituents include blespirol, gelatin, phenanthrene glucosides, polysaccharide, essential oil and gelatin.
The rhizomes are the part of the plant used in medicine. They are known for their astringent and hemostatic properties. They also have antioxidant, antimicrobial, anti-inflammatory and emollient properties.
Traditional Uses
Bletilla striata is best-known for its ability to arrest bleeding because of its astringent actions. It has also been used topically to treat ulcers, swelling, sores, chapped skin and nosebleeds.
Other traditional uses for the herb include treating malignant ulcers, tuberculosis, hemorrhoids and eye disease.
Health Benefits of Bletilla Striata
As we have already mentioned, bletilla striata rhizome has been used for thousands of years to treat various conditions associated with wounds or bleeding. Recent research has provided a great deal of support for the traditional uses of the plant. The following are the most common uses of Bletilla striata rhizome.
Wound Healing
Bletilla rhizome is traditionally applied topically to treat wounds, ulcers, sores as well as stings, bites and burns.
Because of its amazing astringent actions, bletilla helps stem bleeding and helps speed up healing significantly. It also helps reduce irritation and swelling around the wounds.
Studies into the effects of bletilla sirata have demonstrated that the plant has outstanding astringent actions that can help stem bleeding. According to a review published in 2017, not only does the herb help stop bleeding but it can also speed up wound healing. (1)
To Stop Bleeding
One of the most common traditional uses of bletilla striata is to stop bleeding. It has been used to treat people who are coughing up or vomiting blood as well as nosebleeds and bleeding caused by trauma.
Studies have found that bletilla striata has excellent hemostatic properties as well as astringent properties that help put an end to bleeding effectively and safely when applied topically.
According to a study published in 2017, bletilla striata offers a number of advantages over other hemostatic agents. These include low cost, safety, ease of preparation and a longer shelf life. The researchers concluded that bletilla could be used as an effective and safe treatment for bleeding caused by trauma. (2)
Mouth Ulcers
According to research, Bletilla striata may also be an effective, natural remedy for painful mouth ulcers.
A very recent study, published early in 2019, examined the effect of Bletilla striata polysaccharide on the treatment of oral ulcers. The results were extremely promising.
The researchers found that bletilla polysaccharides significantly promoted the healing of ulcers by the 7th day of treatment. They concluded that Bletilla striata was an ideal, natural treatment for healing oral ulcers. (3)
Liver Health
Liver cirrhosis has been linked to dysfunction of the intestinal epithelial barrier. Unfortunately, there is not yet a satisfactory treatment for intestinal ulcers and lesions linked to cirrhosis.
One recent study, published in 2018, looked at the effects of bletilla striata polysaccharides on rats induced with liver cirrhosis. Once again, the results were very promising.
The researchers found that the rats treated with bletilla polysaccharide experience a significant reduction in epithelial tissue damage compared to the control animals. The researchers concluded that the results suggest a promising treatment option for intestinal epithelial damage. (4)
Hemorrhoids
Bletilla striata has been used traditionally to treat hemorrhoids, a common condition that can cause a number of painful symptoms including swelling, itching and bleeding during bowel movements.
Because of its outstanding astringent properties and its ability to stem the flow of blood, bletilla rhizome can be applied topically to the affected area. The anti-inflammatory nature of the herb can also help ease inflammation, redness and swelling associated with hemorrhoids.
Coughs and Colds
Bletilla striata is also used as an ingredient in formulations used to treat respiratory issues like chronic coughs. Its anti-inflammatory properties may help reduce inflammation and irritation in the respiratory tract and ease swelling associated with bronchitis.
Cracked Hands and Feet
Bletilla striata can also be applied to the hands and feet to treat dry, or cracked hands and cracked heels as well as bleeding and swelling. It is often combined in traditional medicine with gypsum before being applied topically to the affected area.
How to Use it
A topical preparation made with Bletilla striata rhizomes are usually applied directly to the skin to treat a range of issues including wounds, cuts and external ulcers. Good quality rhizomes are solid, thick and white.
For external use, you will need between 15 and 20 grams of bletilla rhizome (in raw or powder form). Add two cups of water and boil the rhizomes for at least 30 minutes. Allow the mixture to cool and you can then apply it directly to your skin. It is sometimes mixed with a little sesame oil before being applied.
You can also make a paste by crushing up your bletilla rhizomes and mixing it with a small amount of sesame oil. If you do not have access to the raw rhizomes, then you can make a topical paste with bletilla powder.
Frequently Asked Questions
What is bletilla striata?
Bletilla striata is a plant belonging to the orchid family. it is native to China, Japan, korea and Myanmar but is now cultivated in many other parts of the world. the rhizomes are used to make a topical medicine that helps treat wounds and stem bleeding.
What is bletilla striata good for?
Bletilla rhizome is mostly used to stop bleeding and to treat wounds, ulcers, cuts and sores. It can also help treat hemorrhoids, chapped skin and cracked heels. recent research has found that it is a good, natural remedy for oral ulcers.
Is bletilla striata safe?
Bletilla rhizomes are usually boiled and ground to make a topical remedy. The topical use of bletilla is considered safe but we have little safety data regarding its internal use.
Side Effects and Precautions
Bletilla striata has been used for thousands of years and is considered safe for topical use.
Do not use the herb internally unless you are under the supervision of a doctor.
There is no safety data regarding its use for pregnant women or those who are breast feeding. Stay on the safe side and avoid using bletilla.
If in doubt, speak with your doctor before using the herb.
Final Thoughts
Bletilla striata is a beautiful plant native to japan, China and Korea.
It has excellent anti-inflammatory, hemostatic and astringent properties.
It has been used for thousands of years to stem the flow of blood as well as helping wounds heal faster.
Recent studies suggest it is an effective topical remedy for bleeding, ulcers and wounds.
The dried or fresh rhizomes are usually boiled to make a topical remedy which is applied to the affected area of the skin.
Have you ever used Bletilla striata for any of the conditions mentioned above. Perhaps you have used the herb as a remedy for a condition we have missed.
Please let us know what you thought of its effects and whether you would recommend it. We would be delighted to hear from you.
(1) https://www.ncbi.nlm.nih.gov/pubmed/27865796
(2) https://www.ncbi.nlm.nih.gov/pmc/articles/PMC5366200/
(3) https://www.ncbi.nlm.nih.gov/pubmed/30227203
(4) https://www.ncbi.nlm.nih.gov/pubmed/30186392