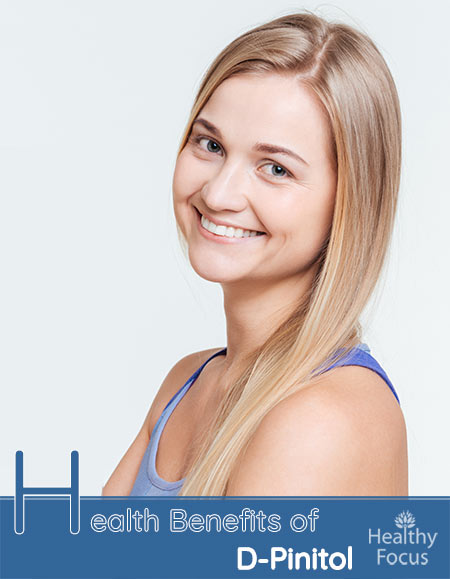 There is a good chance that you have never heard of D-Pinitol or are unfamiliar with its potential benefits. D-Pinitol has recently been the subject of a number of studies and this article will try to explain its potential benefits in a concise manner.
What is D-Pinitol?
D-Pinitol is a naturally occurring form of inositol (D-chiro-inositol), which is found in certain plants. It has been identified as being an active compound in certain legumes and soy with mature soybean seeds containing about 1% D-pinitol. In plants, the compound functions as a type of osmolyte which improves the plant's tolerance to heat or drought stress.
While present in legumes and soy, D-pinitol can also be found in the pods of the carob tree and the sugar pine.
Among its many potential benefits, D-pinitol is known to have anti-diabetic, anti-inflammatory, antioxidant, cardioprotective and anti-hyperlipidemic properties.
A number of recent studies have also revealed it has anti-cancer potential. Studies so far suggest it could be effective against a number of cancers including breast, lung and bladder cancer.
Facts About D-Pinitol
D-Pinitol was originally identified as an active compound in sugar pine or Pinus lambertiana.
It is also present in certain legumes, soy, alfalfa, carob and pine wood.
It is usually derived from soy and carob for the purposes of manufacturing.
It is known for its anti-diabetic properties and insulin-like effect.
It can help drive creatine and other nutrients into muscle cells.
Studies have found that D-pinitol has a number of therapeutic properties including anti-inflammatory, antioxidant, cardio-protective and anti-cancer properties.
D-Pinitol is available in supplementary form.
Health Benefits of D-Pinitol
Antioxidant Actions
Several studies into the beneficial effects of D-pinitol have demonstrated that it has powerful antioxidant properties. This gives D-pinitol a number of potential uses. It can help protect the body from a range of serious illnesses caused by oxidative stress and may even help reverse damage to the cells.
According to studies, D-pinitol can help protect the pancreas against damage caused by oxidative stress.
A study published in 2009 looked at the pancreatic protective effects of the compound on diabetic rats. The researchers found that as well as its anti-diabetic activity, D-pinitol also helped protect the pancreas from oxidative stress.
Treatment with D-pinitol mediated free radical damage to near normal levels. According to the researchers, the results of the study showed that D-pinitol compared favorably with a commonly prescribed hypoglycemic drug – glyclazide. (1)
Liver Health
Several studies have demonstrated that supplementing with pinitol can protect the liver from damage.
In one study, rats were induced with Ga1N liver damage which is very similar to viral hepatitis in humans. The researchers found that supplementing with D-Pinitol had significant hepatoprotective effects on rats. While no studies have been performed on humans, it is speculated that pinitol may also help protect the human liver from damage. (2)
Cholesterol
High total cholesterol and LDL cholesterol levels can increase the risk of various diseases including heart disease and stroke. Studies into the effects of D-pinitol on cholesterol levels suggest that It has a significantly positive impact.
One study published in 2008 looked at the effects of D-pinitol on cholesterol levels in diabetic rats. The researchers found that after being administered D-pinitol, the rats showed a significant decrease in LDL and total cholesterol levels blood glucose levels
The same study also found that administration of D-pinitol helped significantly reduce blood glucose levels in the diabetic rats. (3)
Cancer
Several recent studies have started to look at the anti-cancer effects of D-pinitol. Studies have revealed that it has a protective effect against various types of cancer including lung, prostate and breast cancer.
In one study published in 2015, rats were first induced with breast cancer tumors before being given D-pinitol for a period of 45 days. The rats administered with D-pinitol developed a significantly lower volume of tumors than the animals in the control group.
Not only did treatment with D-pinitol reduce the volume of tumors but it also helped induce apoptosis or cell death to cancer cells. (4)
Studies have also revealed that treatment with D-pinitol can inhibit prostate cancer metastasis and lung cancer metastasis. (5) (6)
There is also evidence that it can modulate the toxic effects of known environmental carcinogens.
Once study looked at the effects of D-pinitol on DMBA – a genotoxin known to increase the risk of breast cancer. The researchers found that administering D-pinitol helped protect the cells against the carcinogenic effects of the toxin. (7)
Diabetes
Diabetes is a common but complex disease characterized by a defect in insulin sensitivity in peripheral tissues. Studies have found that the oral administration of D-pinitol can both reduce blood sugar and insulin levels in diabetic mice.
According to researchers, this gives D-pinitol the potential to help treat and prevent diabetes by reducing blood glucose levels and stimulating the translocation GLUT4. (8)
Another study published in the year 2000 concluded that D-pinitol had significant positive effects on diabetic mice. The researchers found the administration of D-pinitol significantly lowered blood sugar levels and exerted an insulin-like effect. (9)
Ovarian Health and PCOS
PCOS or polycystic ovarian syndrome has been linked to diabetes and high insulin levels are known to make the symptoms worse.  Because of its known ability to reduce blood sugar levels, D-pinitol may also be a very useful supplement for women suffering from PCOS.
Muscle Boost
Another interesting potential benefit of D-pinitol supplementation is the way it works with creatine to boost muscle strength.
According to research, one of the effects of D-pinisol is its ability to drive creatine as well as other nutrients into the muscle cells. (10) This process may well help to accelerate muscle growth and also improve recovery in athletes.
Because it helps promote glucose transport as well as glycogen synthesis, D-pinitol may be an attractive supplementary option for serious athletes and weekend warriors alike. It is a popular option for people that want the benefits of creatine but would prefer to avoid the additional calories and sugars that many creatine supplements contain.
Studies done so far suggest that taking D-pinitol together with creatine supplements helps the body to retain creatine to the same levels as high carb and protein intake.
For people looking to boost muscle growth, experts recommend taking around 25 to 30 milligrams of pinitol for each 5 grams of creatine.
How to Use It
D-pinitol is available in supplementary form and can be bought online. Capsules are usually in a 600 mg dose. Please read the instructions on the label very carefully and consult your doctor if you have any doubts about using them,
Side Effects
There have been no serious adverse side effects reported from using supplementary D-pinitol at the recommended dosage.
If you experience any side effects, it is important to stop taking the supplements and speak to your doctor.
Final Thoughts
D-pinotol is a naturally occurring compound found in legumes, alfalfa, carob and soy.
Supplements can be used to treat or prevent a number of conditions.
Research has linked D-pinotol with reduced blood sugar levels and reduced cholesterol levels.
A number of recent studies suggest that D-pinotol can help prevent and treat certain types of cancer.
D-pinotol also helps the body retain creatine and other nutrients and may help with muscle growth and athletic performance.
D-pinotol is available in supplementary capsule form.
(1) https://www.ncbi.nlm.nih.gov/pubmed/19765586
(2) https://www.ncbi.nlm.nih.gov/pubmed/18603811
(3) https://www.ncbi.nlm.nih.gov/pubmed/?term=Geethan+PK1%2C+Prince+PS
(4) https://www.ncbi.nlm.nih.gov/pubmed/25827943
(5) https://www.ncbi.nlm.nih.gov/pubmed/23698767
(6) www.oncotarget.com/index.php?journal=oncotarget&page=article&op=view&path[]=18983&path[]=60844
(7) https://www.ncbi.nlm.nih.gov/pubmed/22946343
(8) https://www.ncbi.nlm.nih.gov/pubmed/20460718
(9) https://www.ncbi.nlm.nih.gov/pmc/articles/PMC1572278/
(10) https://www.researchgate.net/publication/38038075_The_Effects_of_Creatine_Monohydrate_Supplementation_With_and_Without_D-Pinitol_on_Resistance_Training_Adaptations