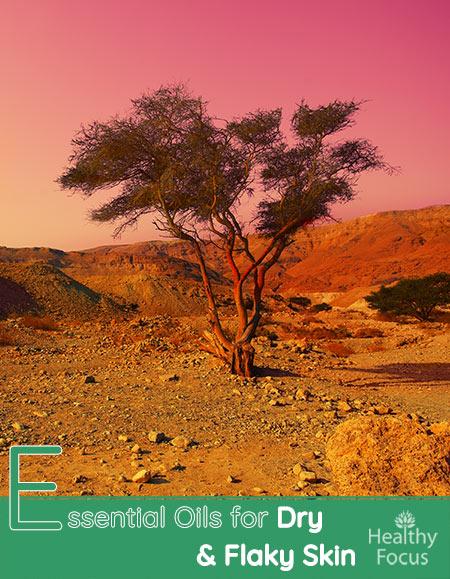 Making sure that your skin stays moist and attractive can be a tough task. Many people suffer from conditions that can cause their skin to become dry and flaky. Others may notice that their skin feels drier during the winter than it does in the summer.
It is important to know what is causing your skin to become dry and flaky in order to treat it properly. Whatever the cause, there are a number of essential oils that are perfectly suited to treat the issue and get your skin back into the healthy and attractive shape that you are looking for.
This article will look at the best essential oils to treat dry or flaky skin and let you know how to use them.
What Causes Dry and Flaky Skin?
Dry skin can be a symptom of a chronic skin disease or simply a result of changes in the weather. Here are some of the most common causes.
Skin Diseases : A number of common skin conditions can result in dry and flaky skin.
These include eczema, referred to as atopic dermatitis in the medical field. Eczema is a common, chronic skin condition characterized by dry, itchy and cracked skin. It is often accompanied by redness and irritation and is notoriously difficult to manage.
Psoriasis is another common condition that causes similar symptoms. Like eczema, psoriasis is an inflammatory skin condition which causes irritation and dryness. Unlike eczema, psoriasis can also cause small bumps on the skin that can ooze liquid. In cases of psoriasis, the skin is so devoid of moisture that the skin may shed and bleed.
Weather : You may notice that your skin feels drier during the winter months as the temperature and humidity drops.
Heat : Exposure to heat like central heating, open fireplaces or wood burning stoves can all reduce humidity levels and contribute to dry skin.
Taking Hot Showers and Baths : Taking a long bath or shower can be very relaxing. Unfortunately it can also dry out the skin. Swimmers who spend a lot of time in chlorinated pools may also suffer.
Using Certain Soaps or Detergents : Certain soaps, shampoos and detergents can remove moisture from the skin because they specifically formulated for the removal of oil.
Essential Oils for Dry and Flaky Skin
A number of essential oils are extremely well suited to treating dry and flaky skin. They can work wonders on occasional bouts of dry skin but may also be effective in treating chronic conditions such as psoriasis and eczema.
Essential oils can help to naturally bring moisture back to your skin, balance sebum levels and heal cracking and scaling. If you suffer from dry skin, the following essential oils are some of the best you can use
Note : While essential oils may be natural and safe when used in the right way, it is important to realize they are very powerful. Do not ingest your oils and make sure that you dilute them with a carrier oil before applying them to your skin. When used 'neat', essential oils can cause an adverse reaction to your skin.
Geranium Essential Oil
Geranium essential oil is one of the very best essential oils for treating the skin, especially if your skin is dry and inflamed.
This oil is known for its ability to moisturize the skin and calm irritation and inflammation caused by the weather or by a chronic skin condition like eczema. Many women also use geranium oil to regulate the production of oil and to balance the skin whether it is dry and flaky or too oily. It is also commonly used to treat bouts of acne.
Geranium essential oil can also help boost blood circulation and add a healthy glow to your skin.
Rosemary Essential Oil
Rosemary essential oil is an outstanding essential oil for all types of skin conditions. It has very good astringent properties that can help tighten the skin and is also a fine natural remedy for common skin conditions like psoriasis and eczema.
Rosemary essential oil can be used to restore your skin's health, tighten the skin and help you to look younger and healthier.
Bergamot Essential Oil
Fans of Earl Gray tea will be familiar with the fragrance of bergamot but perhaps less familiar with its many medicinal benefits.
The fruit has been used for a very long time to treat a wide range of ailments from arthritis to headaches to itching and inflammation of the skin. Bergamot essential oil is good for the skin because of its excellent astringent, anti-inflammatory and antiseptic properties and is often found as an ingredient in various skin care products.
It can help to strengthen the skin and cleanse the pores but is alsou sed to treat skin conditions like eczema, psoriasis and acne.
Because bergamot is a citrus essential oil, it may be phototoxic. This means that you should avoid exposing the skin to direct sunlight for at least 24 hours after applying it to your skin.
Carrot Seed Essential Oil
Carrot seed oil is best-known for its skin care properties. This essential oil can help combat dry and flaky skin but can also help fend off signs of aging like wrinkles and age spots.
Carrot seed essential oil has anti-inflammatory properties making it a useful ally when you are fighting against common inflammatory conditions like eczema or psoriasis.  It is also useful for relieving mild bouts of dry skin caused by environmental conditions.
Frankincense Essential Oil
Frankincense essential oil is usually derived from the Boswelia carterii tree, which is native to Africa. It6 has a wide variety of medicinal uses including an impressive range of skin benefits.

Frankincense essential oil has is used to treat scars, stretch marks, burns, age marks and wrinkles and may also help keep your skin moist and hydrated. This oil is often found as an ingredient in commercial skin care products aimed at improving the skin's general health as well as eradicating signs of aging.
While there is no scientific research into its effects on dry skin, experts claim that it helps regenerate the skin cells and treats skin flaking as well as dryness. Frankincense oil also has natural anti-inflammatory effects which may help relieve irritation and treat inflammatory skin conditions like eczema.
Because of its mild-acting nature, some people suggest applying frankincense undiluted. However, we do not recommend this. As with any other essential oil, you should dilute frankincense in a suitable carrier oil before applying it to your skin.
Helichrysum Essential Oil
Helichrysum essential oil might be expensive but it really is one of the best oils for the skin. As long as you can afford it, it is an outstanding option for people with dry or flaky skin because of its hydrating and moisturizing properties.
As well as treating dry skin and conditions like eczema or psoriasis, helichrysum essential oil is also used to reduce the appearance of scars, wrinkles, age spots and other blemishes. It is also a good choice for people simply aiming for healthier and younger looking skin.
Helichrysum essential oil has excellent anti-inflammatory actions making it a good choice for irritated and inflamed skin and to treat common inflammatory conditions such as eczema or psoriasis. Helichrysum oil can help to minimize breakouts and stimulate the growth of new skin cells making it an excellent choice for anyone suffering from these conditions.
It can also help protect the skin from the elements including cold weather and skin damage caused by exposure to sunlight.
Rose Essential Oil
Rose essential oil has a wonderful aroma making it a popular choice in aromatherapy. Not only does it have an intoxicating fragrance, but rose essential oil has a number of properties including antioxidant, antimicrobial and anti-inflammatory actions that make it perfect for the skin.
Rose essential oil can prevent the loss of water from your skin and can help improve its tone and texture. Because of this, rose essential oil makes a wonderful natural treatment for combating dryness and flaking. It can also add elasticity to the skin making it a great remedy for wrinkles and other signs of wear and tear.
Lavender Essential Oil
What essential oils list would be complete without this most popular of essential oils?
Best-known in aromatherapy for its calming and soothing effects, lavender essential oil is also an ally for the skin. It can help treat a very wide range of conditions including burns, bug bites, rashes and chapping. It is also an extremely effective remedy for dry skin and flaking.
Lavender essential oil promotes the regeneration of skin cells and helps your skin feel softer and healthier. It is among the best essential oils to use on dry hands, arms and feet.
While lavender essential oil is one of the few oils that can be applied 'neat'. it is still recommended that you dilute it with a suitable carrier oil before applying it to your skin.
How to Use Essential Oils for Dry and Flaky Skin
The most important thing to remember is to always dilute your essential oils before applying them to your skin. Essential oils are very potent and can cause an allergic reaction when they are not diluted. Not to mention that when it comes to essential oils, a little goes a very long way.
Your essential oil should be diluted with a carrier oil and there are plenty of choices. Some of the most popular carrier oils for the skin include virgin coconut oil, jojoba oil and almond oil. Another excellent recommendation for dry skin is argan oil, which really helps moisturize and hydrate the skin ion its own right.
You can dilute one or a combination of the essential oils mentioned in this article with your chosen carrier oil before applying them to your skin.
If you want to use several different carrier oils, consider adding your carrier oil to a two ounce bottle and adding 5 or 6 drops each of your chosen essential oils.
Apply the mixture to the affected areas twice a day for the best results possible.
Precautions and Side Effects
Essential oils are great for the skin as long as they are used correctly. It is important to treat essential oils with respect because they are extremely powerful and can cause an adverse skin reaction. That being said, if you follow some simple instructions, you should be good to go.
Always dilute your essential oils with a carrier oil before applying it to your skin. Essential oils are very powerful and when applied 'neat', they can cause an adverse skin reaction.
There are plenty of skin friendly carrier oils to choose from. Some of the best include jojoba oil, coconut oil, argan oil and almond oil.
After diluting your oil, make sure that you perform a patch test. Apply a small amount of the diluted oil to the inside of your arm, cover and let it sit in place overnight. If you do not experience any adverse reaction, you can go ahead and apply the full dose.
Some essential oils may not be suitable for pregnant women. If you are pregnant, make sure that you speak with a doctor before using them.
Some citrusoils are known to be phototoxic. This means that they canmake your skin extremely sensitive to UV exposure. If you apply any citrus oils to your skin, stay out of direct sunlight for at least 24 hours or make sure that you cover up properly.
Final Thoughts
Dry and flaky skin can be a symptom of common skin conditions like psoriasis or eczema. It may also be caused by environmental conditions like cold weather.
If you are suffering from dry skin, essential oils really come into their own. there are plenty of essential oils that are well-suited to a range of skin issues. They can be used to hydrate the skin and sooth any inflammation or irritation.
Some of the best essential oils for dry and flaky skin include geranium essential oil, rosemary oil, lavender oil, frankincense oil and lavender essential oil.
Before applying these oils to your skin, it is important to dilute them in a suitable carrier oil. many carrier oils have moisturizing properties in their own right and combining them with a good essential oil not only protects you from reaction but can also enhance the treatment.
Have you ever used any of the essential oils in this article to treat dry or flaky skin? Please let us know how they worked out for you. Please let us know if you have had better success with any other essential oils or blends of oils and we can look at adding them to our list.