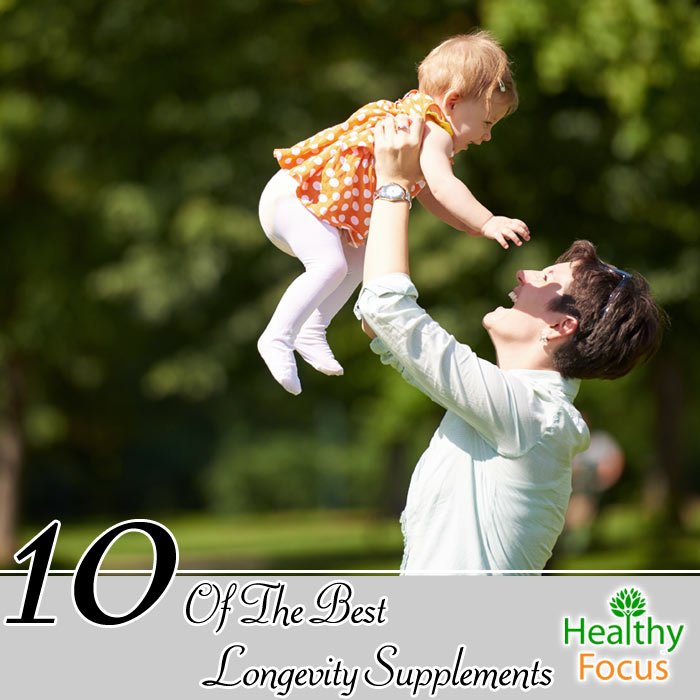 While living forever may not appeal to everybody, I must admit that it does to me. I have been intrigued by the prospect of extending lifespan for a long time and followed much of the futurology discussion surrounding the subject.
It is probably too late for my generation to benefit from any new discoveries but for my young children and their children – who knows?
There is still plenty of disagreement on the subject but many prominent scientists view the again process as something that can eventually be 'cured'. Any such immortality breakthrough is unlikely in the near future, if ever but when it comes to extending lifespan and slowing sown the aging process, the picture is more positive.
Why People Age
Before we look at some of the best longevity supplements, it is important to know why we age in the first place.
As we get older, natural biological processes include damage to molecular and cellular structures. This damage unfortunately contributes to many conditions that we associate with aging such as cancer, heart disease, dementia and of course – death. Finding a way to slow down this process or even to repair the damage is now the subject of an increasing body of scientific research.
What are the Best Life Extension Supplements?
There are many supplements on the market that promise to extend your life and help you to live longer. I have chosen ten of the best but the list is far from finite. With more and more research being carried out all the time, the picture is likely to change quickly and I plan to add to this article when new evidence gets unearthed.
1) Nicotinamide Riboside
Nicotinamide riboside is sold under the brand name – niagen. It is related closely to vitamin B3 bit its effect on cellular energy are unique. Niagen is a precursor to NAD+, an enzyme which decreases gradually with age. NAD+ plays a critical role to overall health and the repair of the mitochondria responsible for giving us cellular energy.
If the cells lack cellular energy, they are vulnerable to outside stressors which can damage the cellular structure.
Human longevity studies are difficult because of the obvious length of time needed to complete the study but research carried out on animals appear to be promising. One study published in 2016 found that mice given nicotinamide riboside supplements lived for longer and also had healthier organ and muscle tissue. (1)
Studies done on humans have demonstrated that nicotinamide riboside could increase NAD+ to levels comparable to those found in our youth while protecting against DNA damage. (2)
2) Curcumin
Curcumin is the main active compound found in turmeric and is largely responsible for the many therapeutic benefits of the spice. Curcumin is probably best-known for its amazing anti-inflammatory actions but may also have the potential to extend a person's life.
Inflammation is at the heart of the majority of serious illness and fighting inflammation can do a great deal for overall health, wellbeing and longevity.
While nicotinamide riboside works by preventing DNA damage and cellular damage, curcumin effectively improves the health of the organs and tissues. This means that curcumin supplements might protect you against the diseases and pain associated with aging and help you enjoy a better quality of life for longer.
A number of studies have been conducted on the health effects of curcumin. The research indicates it can improve cardiovascular health, protect against cancer and improve cognition on o;der adults. (3) (4)
3) Resveratrol
Resveratrol is an antioxidant compound found in grapes and in red wine. It is a popular supplement for combating the effects of aging but there is also evidence that it helps reduce the risk of disease and inflammation.
An extensive body of research has demonstrated that resveratrol has a number of effects that can combat the effects of aging. It can also reduce the risk if various diseases associated with age such as heart disease and diabetes.
Research done by scientists at Harvard found that resveratrol had an influence on enzymes called sirtuins which are heavily involved in aging. Sirtuins also have an effect on mitochondrial activity and might boost their energy allowing them to live for longer. The result is healthier and more active cells which may contribute to longevity. (5)
4) Coenzyme Q10
Coenzyme Q10 or CoQ10 is another supplement that shows promise for its ability to combat the effects of aging and potentially extend a person's life expectancy. COQ10 is also known for its heart health benefits but researchers have recently turned the spotlight towards its anti-aging effects.
CoQ10 occurs naturally in the body and acts to rejuvenate and energize the cells' mitochondria. Damage to the mitochondria is regarded as one of the major causes of aging.
Studies have demonstrated that low levels of CoQ10 in the body impact both the health and potential longevity of subjects and it has been hypothesized that supplementing with CoQ10 could reverse some of these negative effects.
Experiments on mice have found that reducing the animal's CoQ10 levels also reduced the lifespan by the equivalent of 9 years in human terms. (6) This would indicate that increasing CoQ10 levels could enhance mitochondrial health.
Other studiesindicate that CoQ10 has potent antioxidant properties and could prolong lifespan by decreasing oxidative stress. (7)
5) Alpha-Lipoleic Acid
Alpha-lipoleic acid more commonly referred to as ALA is a type of fatty acid which plays a significant role in the metabolism of energy.
Each say of our lives, oxidative damage harms the body as a result of the chemical processes the cells go through to produce the body's energy. The damage done over time results in the cells' replication process slowing down and becoming less effective. The net result is what we know as the aging process and age related diseases like dementia, cancer and heart disease.
ALA provides the body with an antioxidant boost. It is absorbed well and effectively crosses through the blood brain barrier making it a great choice for the whole body. Studies indicate that supplementing with ALA can help to protect against and repair damage done by oxidative stress and restore youthful levels of mitochondria. (8)
Studies have also showed that ALA has powerful anti-inflammatory abilities which can help stave off illness and prolong life. (9)
6) Nicotinamide Mononucleotide
Recent exciting research indicates that nicotinamide mononucleotide or NMN has the potential to extend lifespan and considerably.
A study published in 2016 captured much attention when they found that supplementing with NMN could mimic the effects of exercise by boosting metabolism and energy levels in mice. It accomplishes this by boosting the blood's level of NAD+ which is produced in much smaller amounts as we age. (10)
Buoyed by the results of this research, scientist have recently started the first human studies in japan and results are expected soon.
7) Oxaloacetae
Studies have also found that oxaloacetate supplementation could increase lifespan at least in animals.
One study found that oxaloacetate increased the lifespan of worms. According to the study, it stimulates the same pathways as strict calorie restriction. (11)
8) NAC
NAC or N-acetylcysteine is a potent antioxidant which has demonstrated some abilities to prolong lifespan in animals. It is a powerful natural antioxidant that can protect against cellular damage from free radicals.
In one study published in 1997, flies supplemented with NAC lived over 26% longer than the normal life expectancy. (12)
Another more recent study from 2015 showed that worms lived over 30% longer than normal when supplemented with NAC. According to this study, NAC increased the resustance to various environmental stressors. (13)
9) Theaflavins
Theaflavins derived from tea have powerful natural antioxidant properties which confer a wide range of health benefits.
When it comes to longevity, theaflavins have demonstrated great potential. One study found that they extended the life cycle of flies by over 10%. (14)
10) Butyrate
Butyrate is a type of short-chain fatty acid which is produced by the gut's microbia during fermentation. It has a number of health benefits which we have written about at length here.
As regards longevity, some studies done on worms and on flies have showed that butyrate supplementation can significantly increase the lifespan of these small animals. (15)
(1) http://science.sciencemag.org/content/352/6292/1436
(2) https://www.eurekalert.org/pub_releases/2016-10/uoih-fhc100616.php
(3) https://www.ncbi.nlm.nih.gov/pubmed/20503397
(4) https://www.ncbi.nlm.nih.gov/pubmed/25277322
(5) https://www.ncbi.nlm.nih.gov/pubmed/22560220
(6) https://www.ncbi.nlm.nih.gov/pubmed/16387461
(7) https://www.ncbi.nlm.nih.gov/pubmed/14706236
(8) https://www.ncbi.nlm.nih.gov/pubmed/9973329
(9) https://www.ncbi.nlm.nih.gov/pubmed/15655130
(10) https://www.ncbi.nlm.nih.gov/pubmed/28068222
(11) https://www.ncbi.nlm.nih.gov/pubmed/19793063
(12) https://www.ncbi.nlm.nih.gov/pubmed/9447249
(13) https://www.ncbi.nlm.nih.gov/pmc/articles/PMC4449467/
(14) https://www.ncbi.nlm.nih.gov/pubmed/19770032
(15) https://www.frontiersin.org/articles/10.3389/fgene.2012.00224/full