What Is Nicotinamide Riboside?
Nicotinamide riboside (NR) which is also sometimes referred to as niacinamide is a member of the B vitamin family. It can be found in certain foods but is also now sold in supplementary form often with the brand name – Niagen.
It is commonly used as a supplement to treat the niacin deficiency – pellagra. While niacin can be used to treat pellagra, nicotinamide does not have the same side effects as niacin such as the niacin flush effect. Nicotinamide is also commonly used in cream or ointment form to treat acne.
As well as its common uses for pellagra and acne, nicotinamide has started to cause quite a stir for its anti-aging potential. While research is at a very early stage, the results so far have proved incredibly promising.
The Benefits of Nicotinamide Riboside
1) Anti-Aging
The aging process brings with it a number of noticeable effects. We become increasingly fatigued and may lack motivation. This tiredness that our bodies feel reflect the impairment of the cellular functions vital to life.
You may have heard about NAD+ before. It is the term which is typically used by the scientific community when referring to nicotinamide adenine dinucleotide. NAD+ is essential to life and is found in every one of your body's cells. NAD+ helps us transfer energy from the food we consume too numerous critical cell functions. NAD+ is also necessary to turn off those genes responsible for accelerating the aging process.
As we age and NAD+ levels begin to decline, the mitochondrial function gets impaired and fewer mitochondria survive. This depletion of mitochondria results in the familiar physical and mental signs of aging.
Plenty of research has been done into the role NAD+ plays in the aging process. Compelling studies have found that it can protect the tissues, promote the repair of DNA and increase a person's lifespan.
If researchers are correct and the natural decline of NAD+ is responsible for cellular aging, it is logical to assume that raising the levels of NAD+ would extend life.
Nicotinamide v Niacin
Niacin or nicotinic acid is well-known already as an essential B vitamin. The vast majority of multivitamin supplements contain niacin in synthetic form while it is contained naturally in certain plant and meat foods. Many people believe that niacin is the only vitamin B3 form available but are less familiar with the other form of the vitamin – nicotinamide.
Nicotinic acid is not the same thing as nicotinamide. Nicotinic acid is actually a precursor of nicotinamide. Both niacin and nicotinamide can help to address a deficiency in vitamin B3 but nicotinamide does not come with the same unwanted side effects associated with niacin.
Niacin overdose side effects include increased uric acid, elevated heart rate, abdominal pain and the familiar skin flush. These effects are actually caused by the process of conversion. Only a very small amount of niacin gets converted to nicotinamide and of that, a very small fraction is converted to NAD+.
2) Diabetes
Several recent studies have set out to analyze the effects of nicotinamide riboside on diabetes by looking at its effect on diabetic mice.
One Korean study conducted in 2015 divided mice into two groups with one of them being fed nicotinamide supplements for a 7 day period. The mice who received the supplements experienced improved insulin levels and glucose tolerance. The same study also noted that the total cholesterol levels in the liver were reduced. (1)
Another study conducted in Iowa and published in 2016 looked at its effects on prediabetic mice fed high-fat foods. The researchers found that nicotinamide riboside supplements had several beneficial effects.
Mice given the supplement experienced lower weight gain, reduced levels of total cholesterol and improved glucose tolerance as well as protection from diabetic neuropathy. (2) The researchers concluded that the results justified further testing on humans suffering from obesity, type 2 diabetes, and neuropathy.
3) Obesity and Weight Loss
As well as the diabetic studies mentioned above, there have been other studies which focused specifically on the effect of nicotinamide riboside on weight loss.
A Swiss study published in 2012 found that nicotinamide helped to protect the body from metabolic abnormalities which were caused by a high-fat diet. According to the researchers, nicotinamide boosted NAD+ and activated SIR. (3)
Another exciting study was conducted using human subjects. The study which was published in 2015 was greeted with great excitement by a press release. (4) The report mentions that SIRT 3 may prevent or even reverse obesity-related inflammatory diseases.
According to the researchers, intermittent fasting and a calorie restricted diet could result in reduced inflammation. They found that increased SIRT3 levels could block an inflammatory molecule and that nicotinamide riboside could activate their SIRT3.
4) Alzheimer's Disease and Cognitive Function
In 2013, researchers from Mount Sinai set out to analyze the effects of Nicotinamide riboside Alzheimer's disease by looking at its effect on NAD+ . As we mentioned earlier, NAD+ is regarded as an important regulator of extended lifespan. (5)
The study which was conducted on mice found that those treated with 250 /mg per kg each day for a 3 month period demonstrated improved cognitive function in memory tests. Treatment with nicotinamide riboside also caused a significant increase in NAD+ levels. The researchers also found that supplementing with nicotinamide benefited several functions including PGC-1a which play important roles in the disease.
5) Asthma
The NIH study which we mentioned earlier in the article with regards to obesity also mentions the effect of nicotinamide on asthma. Although asthma was not specifically evaluated by the study its link to obesity is mentioned. The researchers state that the increasing rates of asthma in obese people make it more difficult to exercise and therefore lose weight. The research team is currently performing a follow-up study to analyze the effects of nicotinamide riboside on bronchial inflammation.
6) Hearing Loss
Researchers from North Carolina University published a study in 2014 claiming that nicotinamide can activate the SIRT3 pathway which reduces the degeneration of neurites. According to the researchers, this can help to protect people from noise-induced loss of hearing.
In the study which was conducted on mice, the researchers managed to create a noise-induced hearing loss on the control while less loss occurred in the mice treated with nicotinamide riboside. (6)
7) For Acne
The FDA has approved the use of nicotinamide in pill form combined with folic acid and zinc to treat a form of acne called acne vulgaris. The condition causes lesions primarily on the facial area but also the shoulders, back, and chest. It is also approved to treat acne rosacea, a condition that can cause red bumps or cysts on the face.
It works by reducing the inflammatory responses which cause lesions and acne. It can also block inflammation due to iodide compounds from the diet which can cause the symptoms of acne or exacerbate them.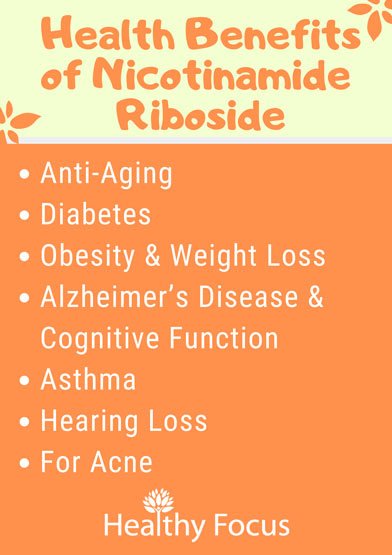 Potential Side Effects
The studies done so far indicate that nicotinamide riboside is relatively safe but as with any supplement, it is important o be aware of any potential adverse reactions in advance. Of the over 100 published studies done on the effects of nicotinamide riboside, there is no mention of severe side effects.
A study published in the Human and Experimental Toxicity journal in 2016 specifically examined the safety of nicotinamide riboside. (7)
They found that Nniagen (the commercial brand) of nicotinamide was not genotoxic.
A dose of 300 mg / kg a day was the level for no observed effects.
A dose of 1000 mg / kg a day had the lowest level of adverse effects.
While the precise adverse symptoms were not stated by the researchers, they were focused on toxicity to the liver, kidneys, ovaries and the testes.
(1) https://www.ncbi.nlm.nih.gov/pubmed/25974041
(2) https://www.ncbi.nlm.nih.gov/pubmed/27230286
(3) https://www.ncbi.nlm.nih.gov/pubmed/22682224
(4) https://www.nih.gov/news-events/news-releases/nih-researchers-find-potential-target-reducing-obesity-related-inflammation
(5) https://www.ncbi.nlm.nih.gov/pubmed/23312803
(6) https://www.ncbi.nlm.nih.gov/pubmed/25470550
(7) https://www.ncbi.nlm.nih.gov/pubmed/26791540