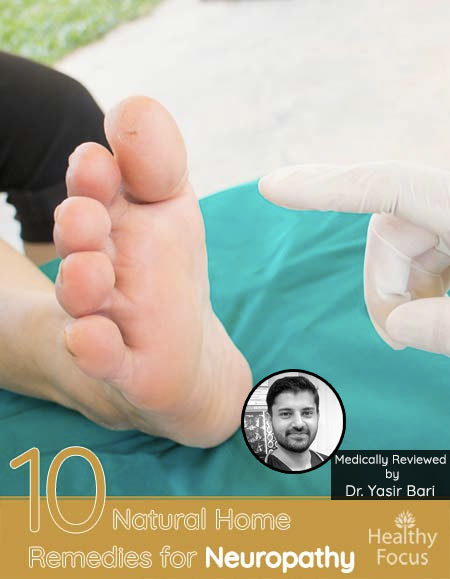 Medically Reviewed
by 
Dr. Yasir Bari

Bsc,
(
Med) Bsc, (Nutrition), MBBS,
DCN (Diploma in Clinical Neurology) – Reviewed & Approved on June 09, 2019

-Written by
Marc Seward
What is Neuropathy?
Neuropathy is the catch-all term referring to nerve damage and pain with a number of different causes. Some types of nerve pain can improve with treatment and others get worse with time. Neuropathy is commonly caused by illness; some 50% of those suffering from neuropathy are diabetic – it is also a common side effect of certain medication, chemotherapy or the result of an injury.
The resultant nerve damage can cause nerves to misfire and send pain signals even where there is no reason for pain. Peripheral neuropathy can lead to pain, carpal tunnel symptoms or a feeling of numbness in the extremities such as the hands, feet, and fingers and while researchers are making some strides regarding its treatment, the majority of sufferers continue to experience pain even with medical treatment.
As a result, many sufferers of nerve damage are looking towards natural remedies as a feasible and safer alternative to pharmaceuticals and as a way to promote their general health. Home remedies vary from nutritional to herbal and while there is no guarantee that any one natural remedy will be successful in each case, experimenting with a variety of these natural treatments is safe and highly unlikely to cause adverse effects.
Symptoms of Neuropathy
Each nerve in the peripheral system has specific functions and the symptoms experienced depends on which nerve is affected. Sensory nerves receive sensations like pain, temperature and touch. Motor nerves control the movement of muscles while autonomic nerves control essential body functions including heart rate, blood pressure and digestion.
Some of the main symptoms of neuropathy include the following:
The gradual onset of tingling, prickling or numbness which often starts in the toes and fingers but may spread to the feet and hands and even then the limbs.
A sharp pain, burning, freezing and throbbing.
Becoming overly sensitive to touch.
Muscle weakness when the motor nerves are those affected.
Poor coordination, falling and stumbling.
When your autonomic nerves are the nerves affected, the symptoms can include the following:
Intolerance to heat and sweating changes.
Digestive, bladder and bowel problems.
Blood pressure changes.
Dizziness or feeling lightheaded.
The majority of people suffering from peripheral neuropathy have polyneuropathy meaning that multiple nerves are affected.
Causes of Neuropathy
The causes of neuropathy include the following:
Diabetes : Over half of all diabetics will develop some kind of neuropathy.
Autoimmune disorders : People with an autoimmune disease are more likely to develop neuropathy. These include rheumatoid arthritis, lupus, Sjorgen's syndrome and Guillain-Barre syndrome.
Alcoholism : Alcohol can have a damaging effect on the nerves while alcoholics are also more prone to vitamin deficiency.
Exposure to toxins : Including chemicals and heavy metals.
Infections : Including certain bacterial or viral infections may lead to neuropathy.
Certain inherited disorders 
Trauma to the nerves : Caused by accidents, sporting injuries or falls can result in neuropathy.
Vitamin deficiencies : These include the B vitamins like B-12, B-1 and B-6. Niacin and vitamin E are also very important to proper nerve health and function.
Certain diseases : Including liver disease, kidney disease and hypothyroidism.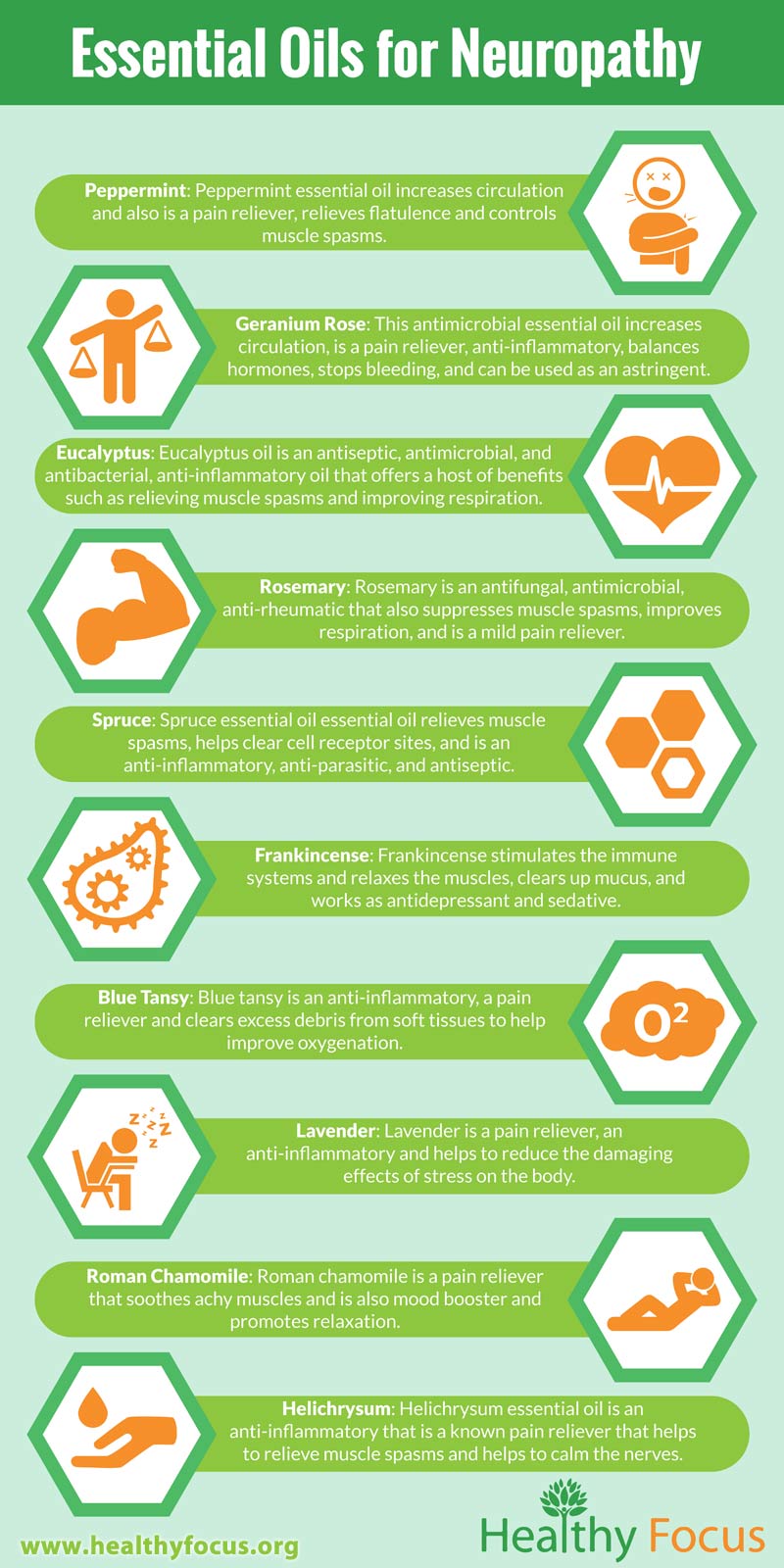 What you can do about it
While a complete cure will not be easy to come by and a visit to the clinic is often necessary, pain management through certain lifestyle changes can help to ease the symptoms of neuropathic pain.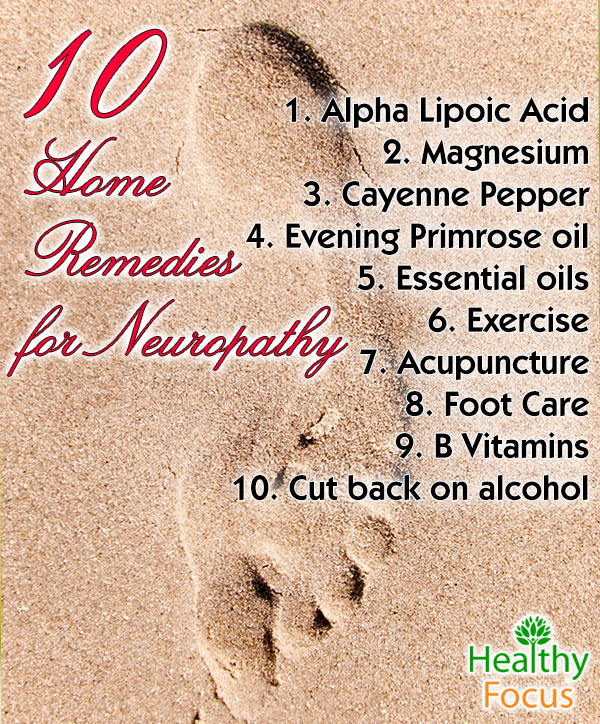 Home Remedies for Neuropathy
1. Alpha Lipoic Acid
Readily available online or at most health stores, Alpha Lipoic Acid is an essential fatty acid present in every one of the body's cells. It produces energy and is essential to a variety of bodily functions. It acts as a potent antioxidant which rids the body of destructive free radicals and also acts to convert blood sugars into energy.
There is evidence that alpha lipoic acid can help ease the symptoms of peripheral neuropathy with studies indicating that a 600 mg dose each day is effective though some people might need to take the supplements for as many as 6 weeks before seeing the benefits.
2. Magnesium
According to studies, we do not get enough magnesium through our diets leaving the majority of people in the West magnesium deficient. Magnesium is a vital mineral used for protein and the formation of fatty acid; it also helps generate new cells, clots blood and supports both nerve and muscle function.
According to National Health Federation, the symptoms of diabetic neuropathy are made worse where patients are deficient in magnesium. The recommended daily dose of magnesium is 400mg twice a day and while increasing our intake through food would be the best option, supplements are cheap and readily available. Nuts, sunflower seeds, legumes, seafood and leafy green vegetables are excellent sources of dietary magnesium.
3. Cayenne Pepper
Cayenne Pepper is extremely hot because of the presence of a chemical compound called capsaicin; it is not only a delicious ingredient for those with spicy inclinations but it has a number of medicinal uses. Capsaicin is used for natural pain relief as well as its ability to promote circulation and digestion.
According to many experts, cayenne can be used to relieve pain for those suffering peripheral neuropathy and other nerve complaints and capsaicin is used as an ingredient in a number of pain relieving gels and creams which can be found in the majority of health stores. You can simply add cayenne pepper to your diet or if you find it too fiery, it is available in capsule form as a supplement.
4. Evening Primrose oil
Studies have demonstrated that taking primrose oil supplements improve nerve function and the symptoms of diabetic neuropathy in diabetic sufferers. The oil which is derived from the evening primrose is a rich source of omega-6 acids, which are essential components of the cell wall. Primrose Oil might help boost the repair of damaged nerve cells and promote their regrowth.
According to experts on WebMD, sufferers might have to take as many as 12 capsules a day before experiencing any effects. This might prove inconvenient for many people but studies have been promising up to now. The health risks are small but it should be noted that primrose oil could increase bleeding for those taking aspirin or blood thinning medication
5. Essential oils
A variety of essential oils could play a part in neuropathy pain management.Studies have shown that certain essential oils like geranium, wintergreen and German chamomile oil can reduce pain and chronic pain when applied topically.
Other essential oils like lavender are known to have a relaxing effect when inhaled; this could help sufferers to take their mind away from their pain.
6. Exercise
Let us not forget the importance of exercise in terms of pain relief and overall health. Regular exercise improves the flow of blood to the limbs and feet and might help nourish damaged nerves bringing them back to healthy working order.
You do not need to exercise heavily; a study demonstrated that a regular walking program prevented the symptoms of neuropathy in diabetics for the duration of the experiment. Regular exercise reduces blood sugar levels helping those with type 2 diabetes to control the illness as well as improving nerve pain tolerance levels. So get walking and try to make your targets both realistic and consistent.
7. Acupuncture
While not strictly speaking a home remedy, acupuncture is still a natural and effective approach
to neuropathy treatment. According to a study published in 2007, 76% of peripheral neuropathy
sufferers demonstrated significantly improved symptoms compared with only 15% of the
control group. (1)
8. Foot Care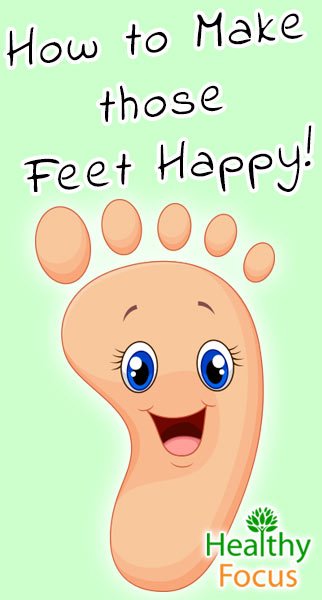 Foot numbness means that it is possible to damage your feet without realizing it. Not appreciating the damage caused can result in ulcers and serious infection. Experts recommend that you take care of your feet in the following ways.
Inspect and clean your feet daily.
Make sure that you are wearing comfortable shoes.
Wear padded socks.
Take care of your toenails; make sure that they are trimmed straight across to prevent damage to your toes.
Warm baths are a great way to soothe nerve pain and to relax your feet and legs.
9. B Vitamins
Vitamins B-1, B6 and B12, as well as folic acid, are important for the health of your nerves. Most people who eat well receive sufficient B vitamins from their diets but supplements are readily available and inexpensive. Experts recommend a daily intake of 25 mgs of Vitamin B-1, 25 mgs of B-6, 500 micrograms B-12 and one mg folic acid.
Some caution needs to be taken regarding Vitamin B-6 and it is not recommended to exceed 50 mgs a day as high doses over this supplement can lead to toxicity in the long term and could result in pain and numbness.  This B-Complex has the exact ratio of recommended B vitamins.  Many vitamins take the more is better approach but in this case, stick to the tested and recommended amounts.
10. Cut Back on Alcohol
While a drink now and again can prove beneficial to many people, those with diabetic neuropathy might not tolerate it too well. In high levels, alcohol can prove toxic and destructive to the nerves and can further harm already damaged nerves. Experts recommend that those suffering from neuropathy reduce their alcohol consumption to 3 or 4 drinks a week at most.
So if you are suffering from neuropathy whatever its form, there is certainly hope in the shape of numerous natural remedies. Be patient while you explore them and keep detailed notes of what works and what does not. It may take quite a few trials and errors before you hit on the right formula..
Good luck and remember to always check with your doctor before embarking on any new therapies.
Facts About Neuropathy
Frequently Asked Questions
What foods are good for neuropathy?
A deficiency in vitamin B12 is linked to an increased risk of neuropathy. A lack of vitamin B12 may make your symptoms worse so it is recommended that you eat plenty of foods containing the vitamin.
Foods which are rich in vitamin B12 include lean meat, poultry, fish, egss and fortified grains and cereals. If you find it difficult to get enough B12 from your diet then you may have to take a vitamin to make up for the deficit. Supplements may me necessary of you are vegetarian or vegan.
Is neuropathy worse at night?
Peripheral neuropathy normally begins with a tingling or prickling sensation in the fingers and toes. It can then spread to the hands or feet and cause  throbbing, burning, freezing or a shooting pain which may well be worse at night. Many people with peripheral neuropathy experience greater pain at night and may find sleep harder to come by.
What is the best essential oil for neuropathy?
Research has demonstrated that a number of essential oils can assist people with pain and inflammation caused by neuropathy. Some of the best essential oils for treating peripheral neuropathy symptoms include peppermint, chamomile and lavender. Massaging the oils into the affected area may help soothe the pain associated with neuropathy. Be sure to dilute your oils before applying them to your skin.
What can be done for neuropathy in the feet?
Doctors may prescribe pain relievers or anti-inflammatory medications to relieve your symptoms. However there are a number of effective and safe natural treatments as you can see in this article. They include essential oils, dietary supplements and exercise.
What is the best supplement for neuropathy?
The B vitamins are extremely important to ensure proper nerve function. It is recommended that you take a B complex vitamin each day. Alpha-lipoleic acid is also recommended for people suffering with neuropathy. Note that high doses of vitamin B-6 may cause some of the symptoms of peripheral neuropathy so do not take more than 200 mg of B-6 each day.
(1)  http://www.ncbi.nlm.nih.gov/pubmed/17355547
[ratings]