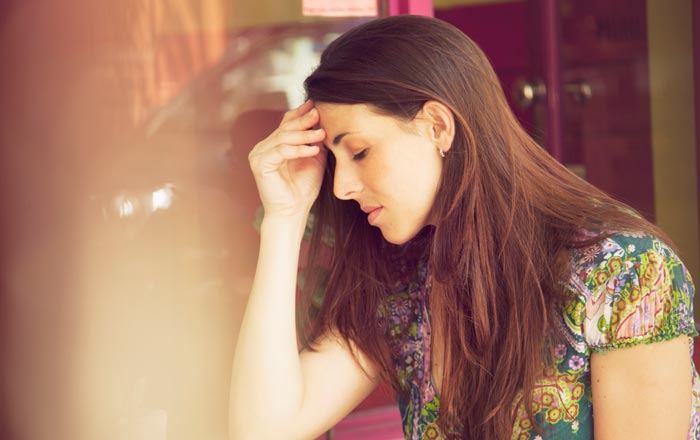 Feeling tired? Stressed? Irritable? Overwhelmed? There is a chance you might be suffering from Adrenal Fatigue Syndrome. It is likely that your current diet and lifestyle is what is making you feel lousy.
Statistics have found that an average of 80% of Americans suffer from Adrenal Fatigue at some point in their lives. Fortunately, with some fine tuning of your diet and adjusting your lifestyle, you can get your mojo back and put your irritable, fatigued days behind you.
What is Adrenal Fatigue?

The modern American lifestyle is the number one catalyst for Adrenal Fatigue. Too much stress at work and in our daily lives causes bouts of mood swings, hormonal imbalances, and exhaustion. As a result, we find ourselves reaching for coffee and sugary snacks to get through the day, trying combat energy slumps and food cravings.
At night, when we're trying to unwind, we may indulge in a couple alcoholic drinks and maybe take a sleep-aid to get a decent night's sleep. Then the cycle starts all over again the next day.

Unfortunately, chronic stress paired with poor dietary choices disrupts our body's natural rhythms and wears out our adrenal glands. Adrenal glands, two little thumb-sized glands that sit above our kidneys, are a major part of our endocrine system and are responsible for producing 50 different hormones.
These hormones not only help to drive almost every function in our body essential for life, they are also largely responsible for how we feel during the day. One of the hormones produced by the adrenal glands is cortisol, which is activated when our stress levels rise, telling our body to enter a heightened state of emergency.

The cortisol response is supposed to be short-term, however, when we are chronically stressed, this level remains high, interfering with many functions of our body. These functions include sleep, digestion, immune function, and the ability to produce other hormones such as estrogen or thyroid hormones.
It doesn't stop there though, because these interferences in our health lead to high blood sugar, high blood pressure, inflammation, and excess abdominal fat.

What are the symptoms of Adrenal Fatigue?
Despite such a high percentage of Americans suffering from Adrenal Fatigue, it is one of the most under-diagnosed illnesses because the symptoms are similar to other disorders.

If these symptoms describe you, you may want to consider adjusting your diet and lifestyle to get your health back on track:

Trouble getting out of bed and low energy throughout the day
Trouble getting out of bed and low energy throughout the day
Dizziness when standing up
​Trouble concentrating
​Trouble concentrating
​Irritability and moodiness
Low sex drive
Feeling overwhelmed
​Anxiety
Depression
​Low blood pressure
Cravings for salty and sweet foods
Easily gets sick/decreased ability to fight off infection
Weight gain
Can the Adrenal Fatigue Diet Help Me?
Eating mindfully and making healthier lifestyle choices can help anyone feel good, however, if you're experiencing Adrenal Fatigue, it is vital to recovery. By taking the following steps, you can recover your health and get your body's functions back in working order.

Identify Food Allergies, Intolerances, and Sensitivities
Food allergies not only throw a wrench in our whole digestive system, but also prevent our bodies from using and absorbing vital nutrients. This causes our digestive track to become inflamed and interferes with our sleep/wake cycle.


The first symptoms of intolerance may be diarrhea, constipation, and other gut problems. These digestion issues prevent the body from absorbing the necessary nutrients and vitamins essential to our body's function, leaving us to feel fatigued and weak. Identifying and eliminating these foods is the first step to combating Adrenal Fatigue.
Eat at the Right Time
Your mom was right; breakfast is the most important meal of the day. If we skip breakfast or go long periods of time without food, our adrenal glands work harder to release more cortisol and adrenaline in order to keep the body functioning normally.
This causes our blood sugar drop, leading our bodies to feel stressed and our adrenal glands over taxed. Our body constantly needs fuel, so in order to maintain normal blood sugar levels, our we must eat timely, healthy meals and snacks throughout the day.

Before 10:00 A.M.:
To start your day off right, eat a protein rich breakfast paired with high quality carbohydrates to restore the blood sugar levels that were depleted during the night. A vegetable omelet or poached eggs with blueberries are a good option. Healthy breakfast smoothies and protein shakes are a great alternative.

Avoid sugary breakfast cereals and other sweet breakfast foods such as waffles and pancakes. Fruits such as bananas, oranges, grapefruit and their juices are also a no no as they are high in potassium and make adrenal fatigue worse.

11:00 A.M.:
To avoid a drop in cortisol levels, eat a healthy lunch between 11:00 A.M. and noon.

2:00 P.M.:
People often suffer an energy slump around 3 and 4 P.M., causing them to reach for coffee and sugary snacks to cope, however, by eating a healthy snack at 2 or 3 P.M., you can offset this drop in cortisol levels.


5:00 P.M.:
Try eating a light dinner between 5 and 6pm. Although it's intuitive to eat a large meal at this time of day, your digestive system actually prefers digesting less food in the evening.

Before bed:
Eating a light, nutritious snack an hour before bedtime will give your body the fuel it needs to function during the night. Avoid foods with refined sugars and instead try eating cheese or fresh fruit with nut butters.

Foods and drinks to Avoid
Sugar and Sweeteners: Excess sugar is regulated by cortisol, so consuming sweets, high fructose corn syrup, and artificial sweeteners are indirectly taxing your adrenal glands. Sugary cereals, candy, and sweets are to be avoided. Be aware that sugar is often an additive in many condiments, dressings, and bread.
Refined Flour Products: Foods such as white rice, pasta, pastries and baked goods cause a rapid drop in blood sugar, robbing your body of nutrients.
​Processed Foods: Foods packed with fillers and preservatives are hard to digest, depleting your body of energy and fatiguing your body's digestive system. Try to consume organic, whole foods when possible.
​Hydrogenated Oils: Vegetable oils such as corn, canola, and soybean can lead to adrenal inflammation. Oils containing good fats such as coconut oil and olive oil are good alternatives. Organic butter and ghee are also recommended.
Caffeine: This is probably the hardest aspect of your diet to regulate, but it is also the most vital. Consuming coffee or soda may make you feel great at first, giving you a temporary energy boost.However, behind the scenes, its causing great stress to your adrenal glands. Over time, you may find that coffee doesn't work for you anymore, no longer giving you that desired energy boost. This is a result of a depleted adrenal system. If you can't bear part with your morning coffee, limit yourself to one cup in the morning, before noon. Sodas have got to go, though.
Alcohol: This is extremely important for Adrenal Fatigue sufferers who are having a hard time regulating their blood sugar.
Good Fats: Fats aren't all bad, in fact, some fats are recommended. Your body uses fats and cholesterol to produce hormones, so if you're note getting enough, your body cannot make the hormones it needs. Good fats to include in your diet are real organic butter, olive oil, grapseed oil, and coconut oil.
Quality Protein: Quality protein also helps with the good fat department. These foods include meat, fowl, fish, eggs, dairy, legumes, nuts, and seeds. These foods are easy to digest and high in nutritional value. Steer clear of processed proteins, such as packaged lunch meat and processed cheese.
Bright Colored Vegetables: Eating 6-8 servings of bright red, yellow, green, and purple vegetables daily provides you with essential fiber, antioxidants, vitamins and minerals necessary for optimal health.
​Sea Vegetables: Sea vegetables like seaweed are a good source of protein and minerals and are easy to digest to boot. Although seaweed is not a standard part of American fare, by adding seaweed to your salad or stir fry, you can give your meal a delicious and nutritious boost!
​Sprouts: Sprouts are packed with high quality concentrated nutrients and are vital to any diet.
Salt: Salt, you say? Yes! Salt! People suffering from Adrenal Fatigue often crave salt; this is due to a low level of a steroid hormone called aldosterone. Aldosterone helps regulate salt and water as a way to maintain a healthy blood pressure.By consuming sea salt or Celtic salt, you can actually relieve some of your Adrenal Fatigue symptoms, so spice up that meal! Processed table salt is not recommended, however.