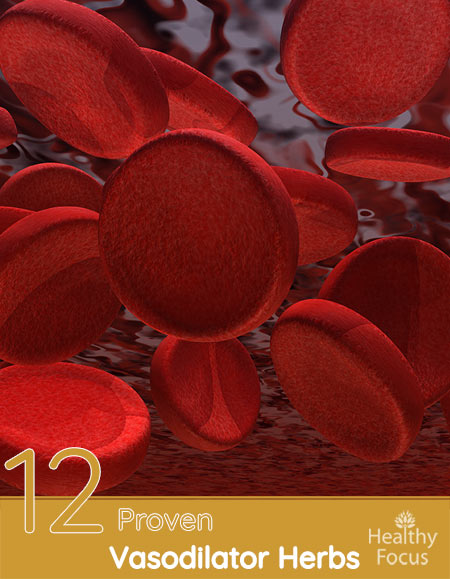 Poor blood circulation around the body can lead to some serious medical issues including high blood pressure and an increased risk of heart disease. In an effort to ensure normal blood flow, doctors sometimes try to improve circulation by prescribing medications to help dilate the blood vessels.
While prescription medications are often necessary, they are extremely powerful and come with a long list of potential side effects. Fortunately there are plenty of natural alternatives that work as vasodilators. we have already written about vasodilator oils but this article will focus on various herbs.
What is a Vasodilator?
Medically speaking, a vasodilator is a drug that can help dilate the blood vessels. They are used to treat conditions like high blood pressure and heart failure. They act on the muscles in the veins and the arterial walls preventing the walls from narrowing. This means that blood flows more effectively, reduces the workload on the heart and results in blood pressure lowering.
Symptoms of Poor Circulation
Because poor circulation can be so serious, it is important to be aware of the symptoms. The following symptoms may be a sign that your circulation is impaired :
Numbness in the extremities
Pins and needles
Coldness in the feet and toes
Fingers and hands feeling cold
Dizziness
Headaches
Low energy levels
Hair loss
Muscle cramps and pain
Varicose veins
Water retention in the feet
Shortness of breath
Causes of Poor Circulation
Certain lifestyle factors can lead to poor blood flow including diet, smoking cigarettes and lack of exercise. However, a number of serious medical conditions can cause poor circulation. these include :
Atherosclerosis
Peripheral artery disease
Blood clots
Varicose veins
Diabetes
Obesity
How to Improve Circulation
Sometimes, a simple lifestyle change can have a very positive effects on your circulation, which will impact your health in a number of beneficial ways. Getting more exercise and improving your diet can make a significant difference. This article will focus on herbs with vasodilator effects but first it is important to look at the role played by nitric oxide.
What is Nitric Oxide
Nitric oxide – a molecule produced naturally in the body has a number of important functions especially its vasodilation function. It relaxes the muscles in the blood vessels helping them dilate which improves circulation. Nitric oxide production allows blood, oxygen and nutrients to travel to the entire body more efficiently.
The inability to produce proper levels of nitric oxide has been linked to heart disease, atherosclerosis, diabetes, hypertension and erectile dysfunction.
Maintaining optimal nitric oxide levels is therefore essential and there are a number of ways to do this including supplements like L-arginine and getting more exercise. However, it is the diet that plays the most important role. A number of fresh vegetables are known to boost the production of nitric oxide including celery, beets, spinach and lettuce.
Vasodilator Herbs to Improve Circulation
A number of herbs can help boost nitric oxide production and also act as vasodilators. Getting more of the following herbs into your diet can help dilate the blood vessels and reduce the risk of disease.
Garlic
Garlic is well known for its wide range of medicinal benefits. Not only does it benefit the heart but it also has antibacterial, anti-inflammatory and anti-cancer properties.
Studies have consistently demonstrated that garlic has a beneficial effect on circulation and blood pressure. (1) In fact, one review indicated that garlic had an 80% efficacy in reducing blood pressure. (2) Several mechanisms for this effect have been put forward including its antioxidant, anti-inflammatory and vasodilator actions.
You can easily add more garlic to your diet but if you are not a fan of the taste then garlic supplements are available and equally effective.
Goldthread
Goldthread, known scientifically as Coptis chinensis, is a widely used herb in traditional Chinese medicine. The herb is often used to help reduce blood pressure and there is plenty of evidence to indicate the herb and its major component – Berberine can be highly effective.
A meta-analysis of 27 controlled trials involving over 2500 patients found that goldthread had significant hypotensive effects. (3)
Researchers believe it is effective because of its antioxidant actions and its ability to relax arterial tissues. A number of studies have pointed towards the vasorelaxant and vasodilating effects of the herb. (4)
Ginger
Ginger is another common culinary ingredient with a number of excellent health benefits. It has outstanding anti-inflammatory properties and studies suggest it can help reduce blood pressure. (5)
Ginger contains several active compounds including gingerol and zingerone. These compounds are responsible for the herb's many beneficial health effects. Not only does ginger help reduce blood pressure but it can also help reduce cholesterol levels making it a heart healthy choice to add to your diet. (6)
Add plenty of fresh ginger root to your cooking or enjoy a regular cup of ginger tea for a much needed health boost.
Hawthorn
Hawthorn belongs to a genus with several hundred species. Their use in traditional medicine dates back several thousand years and it is still a popular. natural remedy for heart health.
Hawthorn plants are rich in quercetin – a flavonoid with various medicinal properties including anti-inflammatory, antioxidant and vasorelaxant effects.
Studies suggest that hawthorn (Crataegus) has a number of cardiovascular benefits including the potential to reduce blood pressure and boost circulation. (7)
Green Tea
Tea is among the second most consumed beverage in the world after water and it is very good for you. Green tea, in particular, is full of antioxidants like cachetins and has a number of potential health benefits including anti-inflammatory, antibacterial and antidiabetic effects.
The studies done on the ability of green tea to reduce blood pressure have been mixed but one meta analysis of 13 trials showed it had a significant effect on blood pressure levels. (8) Researchers believe there are many possible mechanisms of action including the vasorelaxant effects of the antioxidants found in the tea.
Switching to green tea from your regular cup of morning coffee can have a significant impact on your health including improved circulation and preventing heart disease.
Click the following link to read more about the best teas to reduce blood pressure. 7 Great Teas to Reduce Blood Pressure.
Celery, Beets and Spinach
These vegetables are all high in nitric oxide. As we explained earlier in the article, nitric oxide has a number of beneficial effects. Perhaps its most important benefit is its vasodilatory function. By helping dilate the blood vessels, the heart will be under less stress and blood pressure will drop.
Other vegetables high in nitric oxide include lettuce, spinach, arugula and cress. make sure you add plenty of these foods to your diet if you are looking for a natural vasodilator and all of the benefits.
Saffron
Saffron has been used for thousands of years for a wide range of medical complaints. it contains a variety of compounds like crocin, safranal and picrocrocin, all of which have bioactive effects.
Several studies indicate that saffron can help redcue blood pressure and may act as a vasorelaxant. One clinical study found that saffron capsules taken for 7 days resulted in a significant reduction in blood pressure. (9). Animal studies indicate that saffron imparts vasorelaxant activity. (10)
Hibiscus
Hibiscus, also known as roselle has natural vasodilator effects. the flowers, petals and leaves pf the plant are often used to make a tea which is drunk to treat and manage blood pressure.
The ability of hibiscus to reduce blood pressure has been extensively studied in both animal studies and in human trials. (11) (12)
Several mechanisms for its hypotensive properties have been put forward. Studies have found the herb helps relax the endothelial cells.  It also boosts the production of nitric oxide, which functions as a vasodilator. (13) 
As well as its vasodilating effect, studies have found it has diuretic effects and helps reduce heart rate in animals.
Hibiscus is delicious whether you drink it hot or cold and has a tart flavor not unlike cranberry juice. Try drinking a few cups of hibiscus tea a day to keep your blood pressure in check. 
Ginseng
Ginseng is a popular herbal remedy in Asia. It has been used for a number of conditions for centuries including its purported ability to reduce blood pressure.
A number of studies have found that ginseng helps lower blood pressure naturally. (14) It is effective primarily because it improves arterial function. In fact, studies have found that is has excellent vasodilator effects because of its ability to significantly increase nitric oxide production. (15)
In addition to reducing blood pressure, ginseng is also commonly used for its antidiabateic and anti-cancer properties.
Ginseng can be taken in a number of different forms. it is often prepared as a healthy tea but is also available in liquid extract, capsule and tablet form.
Ginkgo Biloba
Ginkgo biloba is becoming increasingly popular for treating a wide range of medical conditions including high blood pressure.
According to some studies, ginkgo may help reduce blood pressure naturally partly due to its vasodilator actions. (16) However, other studies have failed to demonstrate it has any effects on blood pressure. (17)
Ginkgo biloba is readily available these days in supplementary form. As well as its potential heart health benefits, antioxidant-rich ginkgo is used for cognitive health and is a popular, natural remedy for stress and anxiety.
Black Cumin
Black cumin (Nigella sativa) has long been used as a culinary ingredient in Africa and Asia. It has also been used traditionally to treat a range of conditions including high blood pressure, diabetes and digestive disease.
A number of studies have found that black cumin can have a positive effect on blood pressure including a clinical trial, published in 2008. the researchers found that taking an extract of the herb for 2 months had a positive effect on blood pressure. (18)
Studies suggest that the herb is effective because of its vasodilator effects and its ability to inhibit the release of metabolites that constrict the blood vessels. (19)
Other Herbs
Other herbs that can help reduce blood pressure and may have vasodilating effects include parsley, cilantro, lemongrass and bilberry.
Precautions
Poor circulation and high blood pressure can be very serious. Make sure that you consult your doctor before trying to treat yourself with herbal remedies.
Because of their ability to reduce blood pressure, you should avoid using these herbs if you are already on medication to lower your blood pressure.
Final Thoughts
Poor blood flow and circulation can be caused by a number of serious health issues but may also be the result of lifestyle factors like poor diet or smoking.
Natural vasodilators can help improve blood flow and reduce blood pressure by dilating the blood vessels and preventing the arterial walls from narrowing.
A number of herbs have a vasodilator effect including garlic, hibiscus, ginger and saffron.
Vegetables high in  nitric oxide are extremely beneficial since nitric oxide functions as a vasodilator. These include spinach, beets, lettuce and celery.
Some of these remedies should not be taken with blood pressure lowering medications. Speak to your doctor before you use any herbal supplements.
Have you ever used any of these herbs to boost circulation or lower your blood pressure? Perhaps you use another herb that we have missed. we would love to hear about your experience.
(1) https://www.ncbi.nlm.nih.gov/pmc/articles/PMC4717468/
(2) https://www.ncbi.nlm.nih.gov/pubmed/23690831/
(3) https://www.ncbi.nlm.nih.gov/pubmed/25498346/
(4) https://www.ncbi.nlm.nih.gov/pubmed/22295515/
(5) https://www.ncbi.nlm.nih.gov/pubmed/6335723/
(6) https://www.ncbi.nlm.nih.gov/pubmed/24433069/
(7) https://www.ncbi.nlm.nih.gov/pubmed/22228939/
(8) https://www.ncbi.nlm.nih.gov/pubmed/25176280/
(9) https://www.ncbi.nlm.nih.gov/pubmed/18693099/
(10) https://www.ncbi.nlm.nih.gov/pubmed/12648816/
(11) https://www.ncbi.nlm.nih.gov/pubmed/20018807/
(12) https://www.ncbi.nlm.nih.gov/pubmed/18685605/
(13) https://www.ncbi.nlm.nih.gov/pubmed/16973321/
(14) https://www.ncbi.nlm.nih.gov/pubmed/23717100/
(15) https://www.ncbi.nlm.nih.gov/pubmed/22380784/
(16) https://www.ncbi.nlm.nih.gov/pubmed/16451753
(17) https://www.ncbi.nlm.nih.gov/pubmed/20168306
(18) https://www.ncbi.nlm.nih.gov/pubmed/18705755/
(19) https://www.ncbi.nlm.nih.gov/pmc/articles/PMC4717468/