​Why work out at home?
If you are trying to get fit, tone up your body or to lose some of those unwanted pounds, you don't have to fork out for an expensive gym membership or high tech equipment.
It does not matter if your goal is general fitness, to build muscle or weight loss you can do any of these at home with the right workout routines.
Working out at home is a convenient low cost alternative and a simple home workout plan can be very effective in helping you to achieve your goals.
The following home workout plan will give you a full body workout and requires no special equipment. Try to do this workout 3 times a week and if you have time for some cardio like jogging, cycling or swimming on the other days, then take advantage of that to see some great results. To see the best results make sure that you are working out regularly and that you keep proper form throughout each exercise. Pay attention to your diet, if you are eating all sorts of crap, then no amount of exercise will have the results you are looking for ….and stay well hydrated.
The first 3 exercise will work your abs a well as some other major muscle groups. Strengthening your stomach muscles doesn't need to be as painful as it used to be. Do you remember when the only exercises anybody did for their abs were a series of excruciating sit ups and crunches. Not only are these moves far less painful but they are much more effective than the traditional abdominal exercises. As well as tightening your tummy, you'll be burning calories and getting a far more thorough body workout.
For a detailed core specific exercise plan with pictures and video look here (link).
The Plank Pike

This is a very effective exercise that not only flattens your stomach but tones and strengthens your shoulders, back and legs.
See video for exercise here
​
Start off in an elbow plank position with your legs outstretched behind you making sure that your abs are engaged.
Next, raise your hips up until your body is in an inverted 'v' position.
Return to the starting plank position and hold it for a couple of breaths. Try to complete 15 reps.
Mountain Climbers
Mountain climbers are a great exercise to strengthen your core and various other muscle groups. Doing mountain climbers also has great cardiovascular benefits and will burn plenty of calories. This can be a difficult exercise to do at first but you should soon get into a proper rhythm.
See video for exercise here
Start the exercise in a plank position with your hands directly under your chest and slightly wider than your shoulders.
Make sure that your legs are stretched out behind you and in line with the rest of your body. Bring your right knee up towards your right hand as if you were climbing a mountain.
Return your right leg to its starting position and repeat the move with your left leg. Try to do 3 sets of 12 to 15 repetitions.
The Cobra
This aptly named exercise is taken from the yoga cobra pose and works both your abs and back muscles.
See video for exercise Click here
Start by lying face down on your stomach with your hands under your shoulders. Your fingers should be pointing forwards and your legs straight behind you. Engage your abdominal muscles, exhale, push your hips into the floor and curl your chest up from the ground.
Squeeze your shoulder blades together and hold the position for between 15 and 30 seconds.
Lower your body slowly back to its starting position. Try to do 12 reps but start with fewer if you find it difficult.
Lunges
The lunge is a simple, weight resistance exercise that works the muscles in your buttocks and thighs. You can do this exercise with or without dumbbells just as effectively.
See video for exercise Click here
Basic Body Weight Squats
The squat works a variety of muscle groups in your legs including the hamstrings, quads and glutes.
See video for exercise Click here
Basic Push Ups
I can hear you groaning now, but traditional push-ups are inserted into many exercise routines for good reason and they fit perfectly into a home exercise plan. Push-ups work major chest, arm and shoulder muscles using your arms to lift the weight of your body. Adding push-ups to your routine will also add a cardio element to your workout.
I'm sure most people are very familiar with this exercise, but not everybody is able to perform them properly. Begin by lying face down on the floor with your legs outstretched behind you and your toes pointed into the ground. Your hands should be facing down at shoulder width and level with your chest. Engage your abs and push your body upwards until your arms are extended fully. Make sure that your body remains straight and try to keep your head facing forwards. Gently lower your body back down until your chest is nearly touching the floor.
Try to complete 3 sets of 10 reps to begin with and increase the number of reps when you are ready.
​
Below is the whole exercise video

​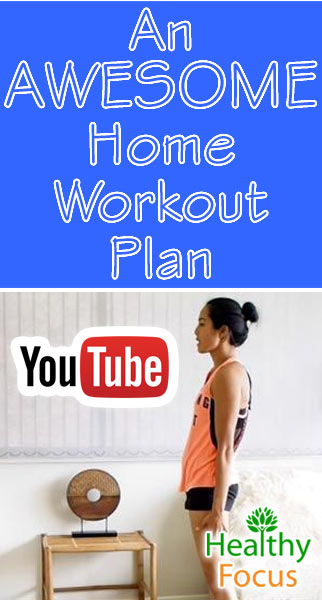 Sticking to this routine for at least a month is a good way to start your home workout plan. After you master these exercises you can move on to more advanced routines. A great set of advanced at home exercise videos is the P90 series.
The price is pretty steep but there are actually good 3rd party studies backing its effectiveness (link). According to one of the researchers, Dr. Joel Woldt, M.S, "If you do P90X, at least the four workouts I've tested, and if you do it to the best of your ability,there's no way you're not going to get results." 
But the most important thing you can do today is to start today. Even a simple routine can help you shed pounds and build definition. It can't be stressed enough that proper eating is key in any plan. The goal should be to start making positive changes one day at a time. Small but positive changes over time can add up.