Three-Day Military Diet
People believe that miracles happen everyday- it makes the world a little bit easier and brighter. Some people like to extend these miracles to weight loss, thinking they can cut out the hard work and finally find that magic diet that will melt the pounds off.
Finally find a way to beat the system. It seems like fad diets have been around as long as the idea of miracles, promising immediate results. But has one fad diet ever stuck? Has one fad diet ever proven to be a healthy way to lose weight and actually keep the weight off?
Three-day diets have been around for a long time, surfacing under various names. Lately, it has been featured on Pinterest boards and social media sites as the 3-Day Military Diet. The 3-day Military Diet promises that under its practice, you will lose ten pounds a week, adding up to 30 pounds shed a month.
One has to be skeptical right there–while some may want to drop those 30 pounds fast, it hardly seems healthy. In fact, in terms of healthy weight loss, the recommended weight loss total should be one to two pounds a week by engaging in a healthy diet and steady exercise.
So one has to wonder about these miracle weight loss plans that promise a staggering 10 pounds of weight loss in a single week. Below is a breakdown of this miracle diet and how its promises are not only misleading, but detrimental to your health as well.
How the Diet Works
Each day of the Military Diet, there is a strict menu plan you must follow for all three meals of the day. You can make some substitutions, like exchanging lentils for meat or switching fruits, but each portion must be carefully measured, fitting the listed guidelines.
Condiments and anything with extra fat is forbidden. If you need to spice things up in your meal, you can use calorie-free sweeteners, salt, pepper, spices, herbs, mustard, non-stick cooking spray or lemon juice.
The only allotted beverages in this diet plan are water, black coffee, or tea. Each day, the meals provide between 860-1,150 calories per day.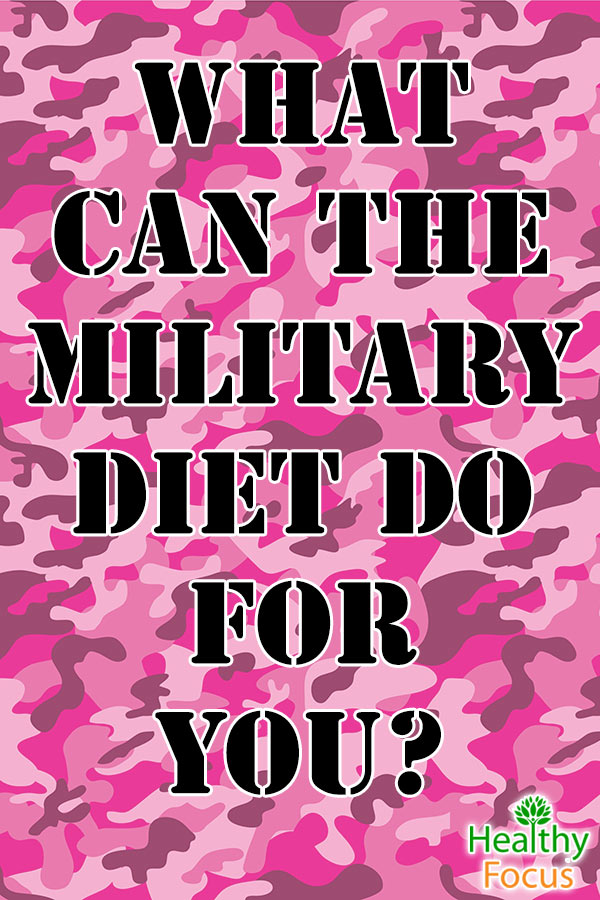 Possible Benefits of the 3-Day Military Diet
Because you are consuming so few calories per day, you probably will lose some weight. However, these shed pounds will most likely due to lost water weight. Chances are, if you don't exercise or adhere to a healthy, more realistic diet, you'll gain all the weight right back. Some people like this diet because the meals are easy to prepare, since calorie counting is not required.
The Disadvantage of the 3-Day Military Diet
Upon closer inspection, the 3-Day Military Diet may not be so healthy and effective as some people may think. Below are several reasons why the 3-Day Military Diet may not be such a quick and easy way to shed those extra pounds.
The Recommended Menus are Not Healthy and Nutritious
All fad diets come with strict guidelines to follow in order to shed the weight. Juice cleanses only let you drink your meals while the Atkins diet enjoyed meat heavy fare free of carbs.
The one thing all of these fad diets have in common is that they are not all that healthy and don't promote sustainable weight loss. The 3-Day Military Diet is no exception.
The 3-day diet provides strict guidelines of which foods you're supposed to eat and when. No snacks allowed. The first day, the menu looks okay, with fruits, veggies, and a lean protein like tuna.
However, when you look at the next day's menu, you are to eat two hot dogs for dinner followed by vanilla ice cream for dessert. No, you're not reading your kid's school lunch menu– that is the actual suggested dinner for day 2 of the diet.
Day 3 suggests you have some tuna with a banana for a dinner, followed by more ice cream. When you look at the menu for this diet, it becomes clear that it seems nonsensical, but also sort of gross.
The truth is, you'll have more luck eating balanced nutritious meals of healthy foods, instead of following this peculiar menu. Once you fall off the wagon of this diet, you're going to gain all of that weight back. There is little to be gained by starving and depriving your body of the food it needs.
It is Not Actually a 3-Day Diet
Despite its name, the 3-Day Military Diet is not actually a 3-day diet—you're actually following diet guidelines for 7 days a week for a whole month. Sure, the diet only gives you a menu for 3 days a week with a supposed 4 days off.
But that is not actually true. On those '4 days off,' you're supposed to eat a diet consisting of lean protein and veggies while cutting out the carbs. It seems to me, without one cheat day, there is zero wiggle room, making this a very difficult diet to follow indeed. You may find that following a nutritious; balanced diet may be much easier with steadier, more reliable results.
It is Not as Easy as Diet 'Experts' Promise
One of the draws to this diet is that it is supposed to be easy to follow since you don't have to count calories. However, this is not entirely true. For example, if you want to make some substitutions in your meal plan, you have to be exact with your portions.
You would need to make sure that the portion you substituting has an equal amount of calories, otherwise, the diet does not work. As for your supposed 4 days off, you have to make sure that you're not going over the allotted 800-1,000 calories per day.
It is Not Healthy to Lose so Much Weight So Quickly
As it turns out, it is not entirely healthy to lose 10 pounds in a single week. In fact, the safe way to lose 10 pounds is to do it in the course of the month, losing 1-2 pounds per week.
Those that tend to shed weight quickly also have a habit of gaining that weight right back. In order to achieve lasting results, a steady diet and exercise plan will promise lasting results, not just the loss of water weight.
That is one of the more disappointing aspects of this diet, you're able to lose those 10 pounds so quickly, because it is just water weight that is being lost. While water weight may deliver results on the scale, it is not actual fat that is being lost. Those pounds will creep right back as fast as you lost it.
The 3-Day Military Diet Does NOT Actually Speed Up Your Metabolism
Another claim this diet makes is that it will speed up your metabolism without exercise. Unfortunately, this is not so. Unfortunately, depriving yourself of your favorite foods and beverages in favor of a diet of ice cream and hot dogs is not going to have a positive effect on your metabolism.
The only way one can improve their metabolism is to work out, engage in strength training, eat Omega-3 fatty acids, drink green tea, and break up your three meals into several small meals throughout the day.
The truth is, severely cutting back on calories can actually negatively affect your metabolism as your body shifts into starvation mode to protect itself. I think the 3-Day Military diet falls into the scam/fad category.
There are some 2 days a week fasts that can work and have good research behind them—but they are not going to tell you to eat hot dogs.  More fasting is not necessarily better–and there is good science showing that the 5:2 diet works.
The best real plan is the one you already know. Eat healthy and get good exercise. For a detailed guide of a good plan that actually will work—check out our review of the "Breaking Fat" plan.