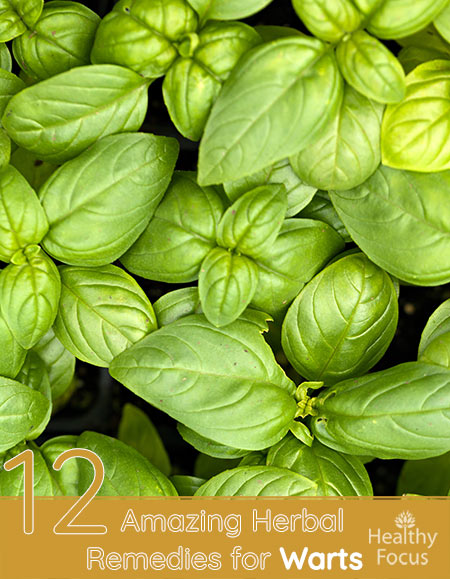 Warts are extremely common so there is a good chance that you have had one in the past and if you are reading this article, there is a good chance that you have a wart of some kind right now. Warts are typically nothing to be concerned about but they are annoying and unsightly and many people would prefer to be rid of them.
Fortunately, warts can clear up of their own accord. unfortunately, this can take some time. In healthy people, some 20% of warts take around three months to clear up on their own while another 60% will resolve inside two years. I can attest from personal experience that some take a great deal longer to disappear and fully understand why people choose to get rid of them as soon as possible.
There are a number of conventional medical treatments that can clear up your warts as well as a number of natural alternatives. We have already written a detailed article on the best essential oils for warts but this article will focus on potential herbal remedies as well as some other natural solutions.
What are Warts?
Warts are small, hard growths on your skin. these benign growths are are caused by the HPV or human papillomavirus. This is a common virus with over 150 different types but just a few will cause you to develop warts. While a few forms of the virus are transmitted by sexual contact, the majority are transmitted through skin contact or simply through shared objects like cloths and towels.
There are several different types of wart including the following :
Common Warts : Also known as Verruca vulgaris, these are small, hard and grainy growths that usually occur on the hands and fingers. They feel rough when touched and are often characterized by clotted blood vessels in a pattern of small black dots. The common wart is caused by the human papillomavirus and gets transmitted through personal skin contact or sharing objects. These warts are generally harmless and will disappear of their own accord after some time.
Plantar Warts : Also known as Verruca plantaris, they resemble thick callouses on the soles of a person;s feet.
Subungual or Periungual Warts : These warts appear under or around a person's fingernails and toenails
Flat Warts : Also known as Verruca plana, these warts usually occur on the back of a person's hands or the legs.
Genital Warts : These soft growths appear on a person's genitals. They are transmitted sexually and caused by a particular type of papillomavirus.
Causes of Warts
Whatever type of wart you have, the root cause is the human papillomavirus. While there are over 150 types of the virus, only some will cause warts to develop. They are caused when a particular type of the virus makes contact with the skin. the virus is highly contagious and causes the skin to grow at a faster rate than normal.
The human papillomavirus can infect a person's skin through areas of trauma such as abrasions and cuts. biting your nails or chewing the skin around the nails is also increases your risk.
Risk factors for Warts
If your immune system is suppressed for some reason, then your chances of contracting the virus that causes warts is higher. Other risk factors include using communal showers, sharing towels or handling meat in your job.
A strong immune system not only protects against the virus but also helps speed up the healing process allowing the wart to resolve of its own accord.
Children are at a greater risk of developing warts because they are less likely to have built up immunity against the virus.
Prevention
Before we go on to look at some potential herbal remedies, it is worth pointing out that prevention is better than cure. The following preventive measures can help reduce your chances of developing warts :
Avoid making direct with a wart, if you have warts, try not to make contact with your own.
Resist the temptation to pick at your warts because this can allow the virus to spread.
Do not use the same skin or grooming products on your healthy skin as you use on the warts. Use separate nail clippers and pumice stones and use disposable emery boards.
Take care when grooming. Avoid shaving, brushing or clipping areas that have warts.
Avoid biting your fingernails or chewing around the nails. Warts are far more likely to develop in areas of the skin that are damaged or broken because the virus can enter more easily.
Conventional Treatment for Warts
If you want to go down the conventional path, there are a number of treatment options  The options are similar for all types of wart except for genital warts (which are not the focus of this article).
Cryotherapy : This process involves destroying the wart through freezing with liquid nitrogen. The treatment might be painful and may take several weeks to fully heal. Freezing the wart makes a blister form around the affected area. The wart then peels off when you peel off the blister.
Salicylic Acid : Topical treatments containing salicylic acid can be very effective and less intrusive. They work by gradually removing layers of your wart until it has fully disappeared.
Minor Surgery : Your doctor will numb the skin before cutting the wart away with an electrical needle.
Laser Treatment : An intense laser is used to burn the tissue.
Immune Therapy : Medications are given to boost the immune system allowing it to fight the virus that caused the wart. These can be topical medications or an injection of an antigen into the wart.
Herbal Remedies for Warts
Fortunately, there are a number of potential home remedies to treat warts including certain herbs. The following herbal remedies are safe and convenient to try at home and some might well prove effective.
Garlic
Garlic is used for a variety of medicinal purposes and is often used to treat skin complaints like psoriasis, scars and corns. It has excellent antimicrobial properties including antiviral actions that make it a good, natural remedy for warts. Allicin – the major active compound found in garlic has significant antimicrobial effects that help destroy harmful pathogens.
In fact, garlic is one of the few herbal remedies that has been examined scientifically for its ability to treat warts.
A study published in 2014 looked at the effects of lipid garlic extract on common warts and the results were very positive. The researchers found that the garlic extract treatment helped eradicate the largest warts in four weeks or fewer. Furthermore, there was no observed recurrence of the warts. The researchers concluded that garlic extract was a viable alternative to more expensive and intrusive therapies. (1)
Crush a clove of fresh garlic and mix it into a paste with a little water.
Apply the past to your wart and cover it with a bandage.
Alternatively, you can try rubbing a clove of fresh garlic or some garlic juice directly into the wart.
Repeat the process daily for as long as necessary but you should notice a difference after a few weeks.
Fig Tree Sap
Another herbal remedy that has been scientifically proven for its ability to eradicate warts is fig tree sap or latex. In a study, published in 2007, researchers compared the effect of fig tree latex with conventional cryotherapy. They found that the natural remedy compared very favorably with crypotherapy and the recurrence rate was very low. (2)
Take a spring or a leaf from the fig tree and squeeze the stem at the bottom.
The thick, white liquid it exudes is known as the latex.
Apply the latex to the wart and let it dry.
Repeat twice daily until the wart disappears, which should occur gradually over a few months.
Aloe Vera
Aloe vera gel is a very popular home remedy for a wide range of common skin conditions from psoriasis and eczema to insect bites and sunburn.
According to studies, aloe vera has excellent antimicrobial properties. One study published in 2016, found that the plant was effective against herpes simplex but there is no evidence that it is effective against the HPV responsible for warts. (3)
Simply extract the gel from a fresh aloe leaf.
Apply the gel to your wart daily.
Orange Peel
Oranges are another inexpensive and very convenient treatment option for your warts. they are a popular home remedy but there is no scientific evidence to back up their use. There is no harm in trying so if you want to give orange peel a go, follow these simple instructions.
Take some orange peel and rub it into your wart twice each day.
According to proponents, the wart will darken before dropping off after a few weeks or so.
Pineapple
Pineapple contains a substance called bromelain. this compound is a combination of digestive proteins and enzymes that many people believe can treat warts naturally.by dissolving the proteins in the human papillomavirus.
While bromelain has been studied for its effects on various medical issues, there have been no studies into its effectiveness on warts.
Apply fresh pineapple juice to your wart then cover with a bandage.
Repeat twice a day for a few weeks to see if you notice a change.
Dandelion
We often think of dandelion as an annoying and unsightly weed but that is doing the plant a huge disservice. Dandelion roots and dandelion leaves contain a number of medicinal properties that can be put to good use and it is effective against various skin issues including warts.
A study, published in 2011, found that an extract of dandelion supported the production of collagen and helped reduce skin inflammation and irritation. (4). Another study from 2012 found that the plant contained antimicrobial properties. While these actions may help to fight warts, there is no specific evidence that the remedy is effective.
break a dandelion stem then squeeze out its sticky sap.
Apply the sap to your wart twice a day.
Repeat for up to a month.
Populis Euphratica
This one may sound obscure but it is also an herbal remedy for warts with good scientific support. Basically the leaves form the tree are burned and covered to make a smoke box. Then you place your hands or feet above the smoke for 15 minutes or so and let the smoke infuse into the warts.
A study, published in 2008 recruited 60 patients who were either treated with populus euphratica or with conventional cryotherapy. The researchers found that the natural smoke treatment was just as effective in removing warts as the conventional remedy.
When researchers followed up, they found that those treated with the smoke therapy were significantly less likely to develop a recurrence of their warts. (6)
If you have access to these leaves, then this is the way to treat your warts. be very careful not to scold or burn yourself.
In an outdoor and controlled environment, light the dried leaves on fire.
Cover the leaves to extinguish the flames.
Place your feet or hands some six inches above the leaves allowing the smoke to infuse the affected area for about 15 minutes.
Do not get too close to the burning embers.
Potato
Potatoes are a very simple and potentially effective way of treating various skin conditions including warts. Potatoes are highly alkaline in nature making the skin a more hostile environment for microbes and viruses. It is also an effective remedy for burns, swelling, itching and rashes.
Wash a potato and cut a good sized slice.
Place the slice onto your wart then rub it in so the juice coats the wart fully.
Alternatively, grate a potato and extract the juice. Apply the juice to your wart and cover with a bandage.
Repeat either method twice a day for as long as needed.
Banana Peel
Banana peels are another very popular and convenient remedy for common warts but again, there is no evidence that they will work form you.
If you want to give the remedy a try, simply follow these instructions :
Take some banana peel and place the inside over your wart.
Cover with a bandage and leave in place overnight.
Repeat daily for a few weeks.
Bee Propolis
Bees produce a substance called propolis which can be applied to the skin to treat a range of conditions. According to research, propolis has good antimicrobial properties and also helps promote the production of skin cells. It is a popular remedy for acne, bites, minor wounds and herpes simplex.
Although we have no scientific evidence, there is a chance that propolis can help treat common warts.
Apply the propolis to your warts
Cover with a bandage and leave it in place overnight.
Repeat each day for up to a month.
Consuming propolis may also help boost the immune system, which helps prevent and tackle warts.
Antiviral Herbs
Apart from topical applications, there there are a number of herbs with antiviral properties that can help. Herbs like echinacea, astralagus root and elderberry can help the body to fight the virus responsible for your warts.
These herbs can also boost the immune system which adds another level of defense against viruses and reduces your risk of developing a wart.  Some of the best antiviral supplements include :
Echinacea (which is also available as a tea)
Garlic extract
E. walachii
Essential Oils for Warts
A number of essential oils have antiviral properties as well as other skin benefits. Essential oils that can help treat warts include :
cinnamon essential oil
clove essential oil
Remember that it is important to dilute your essential oil in a suitable carrier oil before applying it to your skin.
For a full review of the best essential oils for warts and how to use them, click on the following link : Essential oils for warts
Final Thoughts
Warts are a very common skin problem cause by the human papillomavirus.
There are several types of wart including the common wart, plantar warts and flat warts.
They are mostly harmless but can be unsightly and embarrassing so many people choose to have them removed.
Various medical procedures can effectively get rid of warts but they may be expensive and can be obtrusive.
Fortunately, there are a range of possible home remedies including herbal remedies that can help.
While research into the effectiveness of home remedies for warts is scarce, there is evidence that some of them can be effective.
According to studies, garlic, fig tree latex and Populous euphratica are all just as effective as more conventional treatments.
Other popular herbal remedies include dandelion, banana and orange peel and echinacea.
Have you ever had success in removing a wart with an herbal remedy. please let us know if you have tried any on the list or if you have another suggestion. We would be very happy to hear from you.
(1) https://www.ncbi.nlm.nih.gov/pubmed/24910383
(2) https://www.ncbi.nlm.nih.gov/pubmed/17472688
(3) https://www.ncbi.nlm.nih.gov/pmc/articles/PMC4771053/
(4) https://www.ncbi.nlm.nih.gov/pmc/articles/PMC3834392/
(5) https://www.sciencedirect.com/science/article/abs/pii/S0196978112002306
(6) https://www.ncbi.nlm.nih.gov/pubmed/18377608