Why use Essential Oils for Dogs?
Over recent years we have become more aware of the enormous and varied medicinal benefits of essential oils on humans but did you know that they could also benefit your beloved pet?
Certain essential oils when used with the necessary care are a wonderful way to keep your dog healthy and happy. They can help treat a wide range of dog related issues including common skin complaints, ticks and fleas, digestive problems, anxiety and so much more and may even help postpone that expensive visit to the vet.
This article will first take a look at the most beneficial essential oils to use on your pooch and then tell you how to use them in the safest way possible.
The Best Essential Oils for your Dog
1) Lavender Essential Oil (Lavandula angustifolia)
Lavender essential oil is one of the most gentle acting and versatile of all the essential oils on the market. It us very well known for its soothing abilities and its calming effects on the nervous system. If your dog is prone to anxiety in certain situations, lavender oil can help them to relax.
Many dogs find riding in the car a physically and emotionally difficult experience but research has demonstrated that lavender essential oil has a calming effect on dogs. One study published in 2006 found that diffusing lavender reduced a dog's vocalization and movement during a car journey. (1)
Lavender essential oil is also an excellent remedy for skin conditions that can affect dogs and when diluted with a carrier oil it can be applied topically to your pet without risk of reaction.
2) Helichrysum Essential Oil (Helichrysum italicum)
Helichrysum essential oil is another excellent but more expensive choice for your animal. It has natural antiseptic properties and can be used to treat the bites and wounds that dogs frequently experience. Inhaling the oil is also an excellent remedy for anxiety and digestive health. It also helps boost the immune system while inhaling the oil can clear congestion from the dog's respiratory tract.
3) Cedarwood Essential Oil (Cedrus atlantica)
When it comes to essential oils for dogs, few are better at treating common pests like fleas and ticks than cedarwood essential oil. It also has a number of other properties to benefit you dog including antiseptic actions that can heal the skin and expectorant properties to clear kennel cough and congestion. It is also an excellent oil for calming down your pet and promoting emotional harmony.
As dogs get older, their joints stiffen and they may well develop arthritis just like us humans. Cedarwood essential oil can help stimulate circulation in your pet's body and may help to soothe muscle, bone and joint pain naturally.
4) Lemon Essential Oil (Citrus lemon)
Lemon essential oil is a great all rounder that can help treat many of the physical and emotional conditions that commonly affect your dogs. It has numerous medicinal properties including antiseptic, antispasmodic, anti-arthritic and anti-fungal properties. It is generally regarded as a safe oil to use on your pets for a wide range of conditions including arthritis, skin conditions, nausea and emotional well-being.
5) Frankincense Essential Oil (Boswellia sacra)
Being one of the more gentle acting essential oils, frankincense is regarded as a very safe option to use on your dog. It has a very wide variety of medicinal properties making it a great choice for many of the physical conditions that affect dogs so often. It can help to strengthen a dog's immune system and its soft tissue health and recent, ongoing research even suggests it may have applications in the treatment of cancer.
As well as its physical benefits, frankincense essential oil also has a remarkable effect on emotional well-being. It can calm your dog down especially if your pet is prone to anxiety, aggression and skittish behavior. (2)
6) Spearmint Essential Oil (Mentha suaveolens)
Spearmint essential oil has many of the same properties as peppermint but is regarded as a gentler option which makes it the ideal treatment for your beloved pet. It has a wide variety of physical benefits including digestive conditions like colic and diarrhea and can help treat sickness, nausea and stomach upset.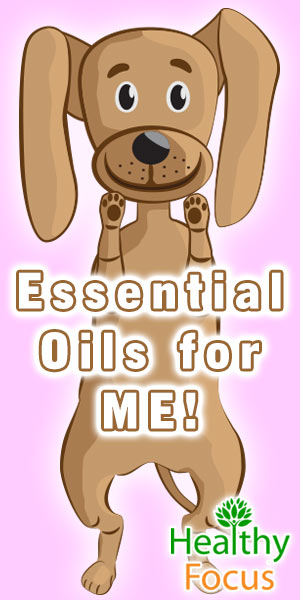 7) Lemongrass Essential Oil (Cymbopogon citratus)
Lemongrass essential oil is a great way to repel the type of bugs and insects that like to feed on your dog's coat and skin. Its high levels of geraniol and citrol help to keep various insects away including fleas, mosquitoes and ticks. The best way to treat your dog with lemongrass oil is to add a few drops to a spray bottle full of water, apply it to your dogs coat and massage it in thoroughly. This will help keep the critters away and also ad shine to your the dog's coat.
8) Citronella Essential Oil (Cymbopogon Nardus)
Citronella essential oil is very well known as an insect repellent and research with research proving its effects against mosquitoes and other harmful pests. When used on your dogs, this incredibly fragrant oil can deter mosquitoes and also harmful disease carrying ticks and fleas.
Simply dilute a few drops of citronella oil in water and use a spray bottle to coat your dogs fur in the oil. We think you will be amazed at its effects.
9) Other Essential Oils for Dogs
The essential oils listed above are just some of the most popular essential oils for your dogs. Other safe oils that people have used with success include ginger, sandalwood, ylang ylang, bergamot, peppermint, neroli and fennel essential oil.
How to Use Essential Oils on your Dogs
It is important that you speak to your vet before settling on an essential oil. Once you have chosen the most suitable essential oil, there are basically two ways in which you can use it to treat your dogs and puppies.
Topical Treatment
For some conditions like skin problems or joint pain, the best way to treat your pet is with a massage. It is very important that you dilute your chosen essential oil with a carrier oil like jojoba, coconut or almond oil before you apply it.
Apply the diluted oil to the affected area of the dogs body such as the ears, back or paws. You can also use the oil to disinfect a bite or minor wound. To repel insects, add a few drops of citronella oil to a spray bottle full of water and spray it into your dog's coat.
Make sure that you do not apply your oil to the eyes, nose or genital areas.
Inhalation
To help improve your dog's mood or to treat anxiety, there is no better method than inhalation. Of course, not all dogs will approve of the scent especially given that their sense of smell is so acute.
Try diffusing the oil near their sleeping area or in a car during a journey. You can also add a few drops to their doggy bed or their collar.
Precautions
Always dilute your essential oil with a carrier oil before applying it topically to your dog.
Never let your dog ingest the essential oil.
Keep your oil safely away from any areas that your dog may reach.
(1) https://www.ncbi.nlm.nih.gov/pubmed/16978115
(2) https://www.ncbi.nlm.nih.gov/pubmed/22066019