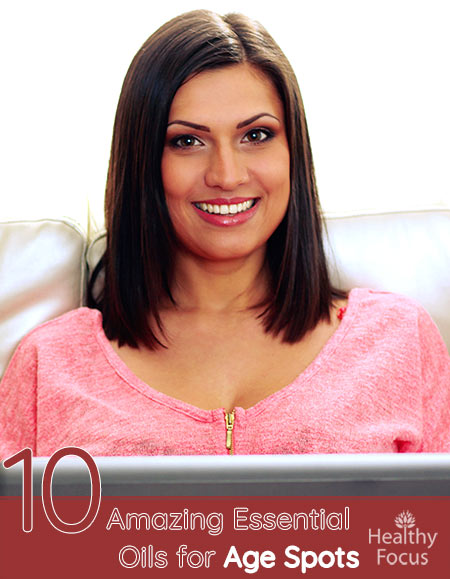 It is a fact of life that we will get older and there is little we can do to prevent the tell tale signs that we are aging. We are in a constant fight with gray hair, hair loss, wrinkles and of course – age spots. While it is a near impossible task to reverse all of these signs, there are certain things we can do to delay the inevitable signs that we are getting older. This article will focus on essential oils that you can use to eliminate or reduce the appearance of age spots.
What are Age Spots?
Age spots are rarely harmful but they are certainly unwelcome for most of us. They are unsightly reddish, brown, tan or black spots and blemishes that appear on the face and other parts of the body as we age.
They are variously known as liver spots, age spots or solar lentigines. Whatever we call them, they are all used to refer to a skin condition that involves dark spots that appear on the hands, arms and face. While they are unwelcome additions to the skin, they are harmless.
They do not cause pain, discomfort or irritation. They often appear on the body in clusters and they can vary considerably in size but the texture of the skin remains unaffected. They are usually flat but can protrude slightly in rare circumstances.
Why Do we Get Age Spots?
Age spots appear more often in people over the age of 40 but can appear at any stage of life. While they are often referred to as liver spots, they actually have nothing to do with liver conditions. In fact, their other name – solar lentigines – may be more suitable since they are actually caused by UV ray damage.
You may think you are fine once you get out of the direct line of the sun. Unfortunately, that is not the case. The UV rays continue to affect your skin even after you have found shade. Free radicals continue to bombard your skin right down to the level of the cells which can cause them to malfunction. Not only does your collagen and elastin get affected by exposure to the sun's rays but also your melanocytes.
Over a period of time, the damage gets worse and your cells create more than the required amount of pigment leading to unwanted and unsightly age spots.
How Essential Oils Can Help
There are a number of medical treatments for age spots including laser therapy. Unfortunately, commercial treatments can be very intrusive, are fraught with risks and have no guarantee of success. Given that age spots are harmless (outside of appearance), it would appear to be a risk not worth taking.
Essential oils on the other hand may not act as quickly as a laser treatment but sustained use over time may prove highly effective. When used responsibly, the risk of side effects from essential oils is minimal and you will be doing your skin the world of good when it comes to its health and appearance. Many essential oils are brimming with nutrients and compounds that are great for your skin's health. You may start off trying to treat a certain blemish but end up with so much more besides.
Essential oil treatment is much more broad than medical therapy. While essential oils can certainly help eradicate your age spots, they can also benefit your skin in a number of other ways. They can help reverse the damage and treat the inflammation at the heart of your condition and provide a range of nutrients that your skin will be grateful for.
They can also offer excellent protection from UV rays as well as from other environmental free radicals known to trigger inflammatory processes in the skin. By using essential oils on your skin, you are covering a number of bases. Aside form treating your age spots, you can also help diminish wrinkles, hydrate the skin, boost elasticity and prevent inflammation.
Essential Oils for Age Spots
A number of essential oils are suitable for treating age spots. The following oils represent many of the most popular and effective oils but the list is far from complete. Make sure that you dilute your essential oils in a suitable carrier oil like coconut or jojoba oil before applying them to your skin.
Frankincense
When it comes to essential oils for skin health, frankincense is one of the very best. It is often used by people to treat age spots as well as evening the color of blemished skin. Not only is it great for age spots but it is also a popular and effective remedy for many other blemishes including wrinkles, scars and stretch marks.
Frankincense essential oil has excellent astringent properties and can help tighten the skin. You can apply it to age spots, wrinkles and saggy skin to help tighten it up and boost your skin's appearance. It also has excellent antibacterial properties and is used to treat acne. Studies have found that frankincense essential oil has excellent anti-inflammatory actions making it a great all round choice for your skin. (1)
Lavender Essential Oil
Lavender oil is probably the most popular of all essential oils. It is extremely diverse and can help treat a range of physical and emotional issues.
When it comes to the skin, lavender essential oil is a great choice. It is among the most gentle acting essential oils but should still be diluted before you apply it to your skin.
Lavender essential oil has outstanding antioxidant properties as well as excellent ant-inflammatory and antimicrobial actions. (2) (3)
Try applying diluted lavender essential oil to your age spots and wrinkles twice a day and you should start to notice the difference. Not only will your blemishes start to disappear but your skin will be getting an all over health boost.
Helichrysum Essential Oil
Helichrysum essential oil is one of the most expensive oils but if your budget will stretch that far, it is well worth it.
This wonderful oil has outstanding antioxidant and anti-inflammatory properties and is great for age spots and other skin blemishes. It also has excellent antimicrobial properties and is an excellent natural remedy for a range of inflammatory skin conditions like psoriasis, acne and eczema.
Not only can helichrysum help treat blemishes but it can also protect your skin from UV rays and other types of free radical damage.
Geranium Essential Oil
Geranium essential oil is another floral essential oil with a wide range of skin benefits. It helps to normalize the production of sebum and can diminish the appearance of age spots, wrinkles and other blemishes.
Geranium essential oil has excellent antimicrobial properties also great for your skin's overall health. It is known to help treat common conditions like psoriasis, eczema, athlete's foot and shingles.
Carrot Seed Essential Oil
Carrot seed essential oil is another wonderful treatment for skin blemishes like age spots and wrinkles. It can help nourish, hydrate and regenerate damage skin and is often used to lighten blemishes and marks on the skin.
Myrrh Essential Oil
Myrrh essential oil can be used for a number of skin complaints and simply to keep the skin strong, elastic and healthy. It has excellent anti-inflammatory properties and antioxidant actions that will help reduce the appearance of wrinkles, fine lines and age blemishes.
Myrrh essential oil is also a great choice for treating rashes, chapped skin and a number of inflammatory skin complaints.
Rose Essential Oil
Rose essential oil is one of the very best all-round oils to use on your skin. It has outstanding anti-inflammatory and antimicrobial effects and can help speed up healing. It is also a good option for treating age spots and other blemishes like wrinkles and scars.
Rose essential oil is also a popular remedy for a wide range of inflammatory skin conditions like psoriasis, eczema and acne.
Lemon Essential Oil
Lemon essential oil is one of the most effective home remedies for treating age spots and other skin blemishes. It is high in limonene which helps it treat age blemishes and other conditions involving hyperpigmentation.
Lemon essential oil has excellent astringent and antiseptic properties and can help tone and tighten the skin both improving its strength and complexion. Lemon essential oil can take years off your skin helping to treat wrinkles, sagging and age spots and its antioxidant properties can also help prevent damage.
Like many citrus essential oils, you have to be very careful when using lemon essential oil topically. You should avoid exposure to direct sunlight for at least 24 hours after applying lemon oil to your skin to avoid the risk of UV damage.
Sandalwood Essential Oil
Sandalwood essential oil has a number of potential skin benefits. Its antioxidant and anti-inflammatory properties make it a great option for treating age spots and wrinkles while it also has excellent antimicrobial properties.
Not only can sandalwood oil help eradicate skin blemishes and wrinkles but it may also help treat a number of common skin conditions like eczema, psoriasis and acne. It can also boost the overall health and appearance of your skin because of its natural astringent properties.
Ylang Ylang Essential Oil
Ylang Ylang essential oil is a fragrant oil popular in aromatherapy for its ability to relax the mind and body. It is also an extremely skin friendly oil with a number of potential external uses.
Ylang ylang can be applied topically to help treat skin spots and other blemishes like wrinkles and fine lines. It can also boost the overall health and elasticity of your skin helping you look younger and healthier.
How to Use Essential Oils for Age Spots
Before applying any essential oils to your skin, it is important that you dilute them with a suitable carrier oil. Some of the best carrier oils to use include the following :
Coconut oil
Sweet almond oil
Argan oil
All of these carrier oils are replete with their own skin benefits. Using them to dilute your chosen essential oil or combination of oils can give your skin even more benefits.
Once diluted, apply the mixture to your age spots and blemishes at least once a day, preferably before bed. You can use a clean cotton swab or cotton ball and gently massage the oil into the affected area of your skin.
Precautions
Essential oils are very powerful. Never apply undiluted essential oils to the skin. Always dilute them in a suitable carrier oil first.
Before applying your essential oil, perform a patch test on a discrete area of your skin.
Avoid exposure to direct sunlight for at least 24 hours after applying a citrus essential oil like lemon, orange or grapefruit.
Do not take essential oils internally.
Some essential oils are not considered safe for pregnant women. Make sure that you do your research and consult a doctor if you are not sure.
(1) http://www.znaturforsch.com/ac/v58c/s58c0230.pdf
(2) https://www.ncbi.nlm.nih.gov/pubmed/23351960
(3) https://www.ncbi.nlm.nih.gov/pmc/articles/PMC5224583/