Babassu Seed Oil: What It Is & Why You Need It
As today's society continues to become more and more obsessed with natural health and beauty products, we are continuously discovering and paying attention to new resources and ingredients that can help us on that journey.
Natural ingredients are essential to a well-rounded health regimen as man-made chemical products can have many adverse effects on the body, inside and out.
Luckily, there are plenty of different options and choices to look at when developing any natural skin or healthcare routines that are suitable for people of all skin types, body types, and other needs or preferences.
If one ingredient doesn't quite work for you, there's probably another very similar to it that will do the trick just as well.
What is Babassu Seed Oil?
Babassu seed oil, commonly referred to as babassu oil (and sometimes called Cusi oil), has become very popular due to its similarities to coconut oil, which is a very popular substance used in natural health, beauty, and cooking routines, although it certainly has its downsides.
Where coconut oil fails, babassu seed oil tends to shine and rise over it, proving that sometimes, the most popular options aren't always the best to choose.
Babassu oil is derived from the seeds of the South American babassu palm tree, scientifically or botanically named Orbignya oleifera or Attalea speciosa, which grows primarily in the Maranhao, a Brazilian state.
Maranhao claims a large amount of the Amazon river, which surrounds the source of this tree and its oil. The seeds of the babassu palm tree even look like coconuts, and the oil that is extracted from them has a light-yellow, almost transparent color.
Because the oil is high in saturated fat, the oil is very stable and is able to be transported long distances without spoiling, which makes it widely available for several uses all over the world, including cooking, cleaning, beauty products, and even shampoos and conditioners.
Comedogenic Rating
A comedogenic rating is a rating given to different natural substances to help consumers determine whether or not the substance will react poorly to their skin, either causing irritation, clogging their pores, or worsening some conditions such as acne.
Comedogenic ratings are given on a scale ranging from zero to five, and the lowest numbers represent a substance that is least likely to cause a bad reaction.
With that said, everybody's skin is different, so even lowly rated substances may still cause a bad reaction, depending on the person who uses it.
While coconut oil actually has a very high comedogenic rating of four, babassu seed oil is very lowly rated, with a score ranging from between 0 and 2, depending on who you talk to about it.
This means that the oil should be safe for most people's skin, even if you are prone to sensitivity, breakouts, or irritations. It could even help treat irritations and similar skin conditions such as eczema, psoriasis, acne, and rosacea.
The oil's light and dry texture make it more suitable for all skin types; although, some people with oily skin may experience a purging effect, similar to what might happen after the use of jojoba oil.
Benefits of Babassu Seed Oil
Babassu seed oil can be used for many different purposes, especially when used as a substitution for coconut oil.
Coconut oil is typically used for everything, including skin and hair treatments, and even cooking; babassu oil can be used in much the same ways. In fact, the oil could even be used as a fuel or lubricant, increasing its versatility.
The babassu seed itself can be used for other purposes as well after the extraction process is completed.
For example, the shell is often used as a natural source of charcoal and the meat can be used for many purposes, including medicinal treatments of conditions like gastritis, as well as for the purpose of making bread by its native cultivators.
While the oil is certainly very beneficial in its use for cooking, people in the United States don't typically use it this way, as they are more used to using products like olive oil, butter, cooking sprays, or coconut oil.
Babassu seed oil in the United States is typically used for the purposes of skin and hair treatments as follows:
Treating irritated skin,
Improving the elasticity of skin,
Healing dry skin conditions including eczema, psoriasis, acne, or rosacea,
Reducing the appearance of blemishes such as stretch marks, burns, cuts, or rashes,
Healing chapped lips,
Moisturizing dry hair,
Healing damaged hair, such as dead or split ends,
Alleviating irritated skin, such as the scalp,
Strengthening the hair,
Encouraging hair growth.
Antioxidant Properties
Babassu oil contains antioxidants in the form of vitamin E and various phytosterols. The antioxidants found in babassu oil have a range of health benefits. They can help protect the skin against the effects of free radical damage and reverse the signs of aging on the skin like wrinkles.
Studies into the anti-inflammatory and antioxidant effects of babassu oil on animals have found that the oil could reduce microvascular leakage.
'Our findings suggest that unrefined babassu oil reduced microvascular leakage and protected against histamine-induced effects in postcapillary venules and highlights that these almost unexploited nut and its oil might be secure sources of food energy. (1)'
Anti-inflammatory Properties
One of the reasons that babassu seed oil is such a popular oil for the skin is that it contains excellent anti-inflammatory properties. This means that the oil can be applied topically to reduce inflammatory skin conditions and relieve irritation and redness.
A very recent study published in 2017 set out to evaluate the anti-inflammatory activities of babassu seed oil for topical uses. When applied to mice with ear edema, the researchers found that babassu seed oil had a significant anti-inflammatory effect. (2)
Skin Healing
Babassu oil also contains antibacterial properties making it suitable for treating minor wounds, insect bites, stings and burns. When applied topically, the oil can cool the skin and protect against infection taking hold.
The oil also forms a protective coat that can defend against damage from UV rays and harmful pollutants.
Research into the topical use of the oil has found that it can help treat minor wounds, cuts and burns. One study published in 2006 found that babassu oil had a very positive effect on the healing of cuts in rats. (3)
Inflammatory Skin Conditions
The Lauric acid and other compounds found in babassu seed oil have outstanding anti-inflammatory effects. This makes babassu oil a good choice to deal with common skin conditions like eczema, psoriasis and rosacea. The anti-inflammatory effects of the oil can also help soothe irritation, redness or pain caused by sunburn.
Acne
Acne is a very common skin condition that can cause a great deal of embarrassment especially in image conscious teenagers. Coconut oil is a popular choice for acne because of its antimicrobial and anti-inflammatory actions. Unfortunately., it can clog the pores making the condition even worse.
Babassu oil offers all of the same healthy skin benefits as coconut oil but it does not clog your pores. If you suffer from stubborn acne, I am sure you have tried any number of remedies. However, we think it is worth giving babassu oil a try.
Lip Care
If your lips are prone to dryness, flaking or chapping, try applying a little babassu seed oil. The oil can protect against harsh weather and moisturize your lips keeping them soft and healthy and looking beautiful.
Healthy Nails
Babassu seed oil is also used to strengthen the nails and soften the cuticles. It is a rich source of vitamin E which is a vital nutrient when it comes to nail health. You can apply it to your fingernails and to your toenails to help strengthen and moisturize your nails. 
Babassu oil may also help treat cracked heels and keep your feet healthy and hydrated. Try massaging the oil into your heels before bed. Cover your feet in socks overnight and you should start to notice the difference.
Body Odor
Because of its excellent antimicrobial properties, you can use babassu seed oil as a base for a natural, homemade deodorant.
Recipe
half a cup of babassu oil (melted)
5 tablespoons of arrowroot
2 tablespoons baking soda
10 drops of fragrant essential oil (the choice is yours)
Mix all the ingredients together and use it as a natural deodorant that can keep you smelling fresh all day.
Stretch Marks
Pregnant women or those who have recently given birth can try massaging babassu seed oil into their stretch marks. The oil can increase the skin's elasticity and over time could help reduce the appearance of unsightly stretch marks.
Hair Care
While babassu oil is best-known for its many skin applications, it is also a great natural treatment for the hair. Simply warm a little babassu oil with your hands and work it into your hair. Use a comb to make sure it is distributed evenly.
The oil will fully absorb into your hair after an hour or so. Because it takes a while to fully absorb, it is recommended to apply the oil as a conditioner at night. It can add life to dull hair, keep it hydrated and it can also help keep unruly, frizzy hair under control.
Dandruff
Because of the anti-fungal properties found in babassu oil, it can help treat dandruff and other scalp conditions. Massage the oil thoroughly into your scalp and let it work for a while before rinsing it off.
You can get even more benefits from your babassu oil by adding an anti-fungal essential oil like tea tree oil into the mix.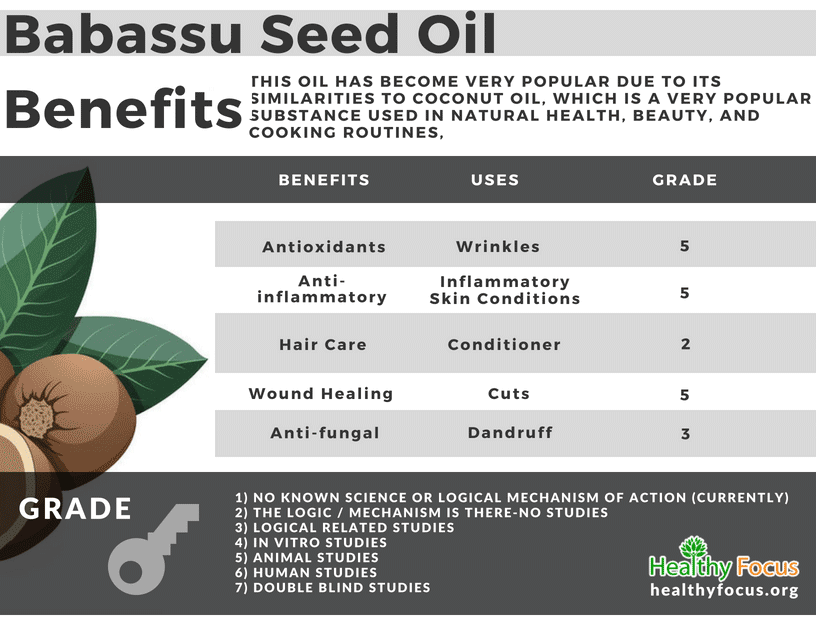 Some Facts about Babassu Seed Oil
Because babassu oil is very lightweight, it is often preferred over coconut oil, which is often criticized for its heavy consistency and lingering feeling.
Coconut oil can also leave the hair looking too oily or shiny, which leaves people with having to wash it out and reapply a small amount to avoid the oily shine without drying their hair.
On the other hand, babassu seed oil doesn't leave your skin (or hair) looking oily or shiny, which means you won't have to worry about washing it out.
Babassu seed oil also absorbs into your skin very quickly, which makes it much less messy than some of its similar counterparts (especially coconut oil).
Approximately thirty minutes to one hour after applying to your skin or hair, it'll be almost like it was never there, which means you won't have to worry about getting the oil all over your clothes, furniture, or other objects that shouldn't be getting oily.
While some people may enjoy the strong aromas that many oils provide, sometimes you just want the benefits of an oil without having to smell it all the time, especially if you wear perfume or another source of fragrance on top of it, causing the smells to conflict.
Babassu oil has an almost undetectable smell, which means that you won't have to worry about it conflicting with other fragrances you might choose to wear.
Because of its mild scent, it is also a great carrier oil for mixing with other oils to make harsher substances easier to apply.
Lauric acid makes up approximately 50% of the essential fats found in babassu oil and is also the primary ingredient; this acid is a very powerful anti-inflammatory agent that can help alleviate symptoms of irritation, burns, swelling, bug bites, scrapes or cuts, and even allergic reactions.
The healthy balance of other essential fats, including myristic acid and oleic acid, provides significant cardiovascular benefits, helping to reduce bad cholesterol and lower blood pressure.
The high concentrations of lauric acid and myristic acid found in babassu seed oil also provide cognitive benefits by boosting brain activity.
Regular consumption of the oil allows the concentrations of lauric and myristic acid to combat free radicals found in the neural pathways and reduce the deposition of plaque in those areas. The fatty acids in babassu oil provide powerful energy boosts, as well.
When used in hair treatments, babassu oil can help treat and prevent dandruff, as well as stimulating blood flow and hair growth.
The compounds found in the oil also help to heal damaged hair and strengthen the strands. If you have dry hair, babassu oil can help bring moisture back to your hair, leaving it with a healthy-looking shine.
Babassu oil is also commonly used for its powerful anti-aging properties, thanks to its high concentrations of nutrients like vitamin E, essential fatty acids, phytosterols, and antioxidants.
Using the oil in your daily skincare routine can help prevent premature signs of aging and it can also reduce the appearance of aging signs that have already shown up, such as wrinkles and fine lines.
Babassu oil can also reduce the appearance of scars and other blemishes, as well as encourage new cell growth and improve the skin's elasticity.
Advice for Using Babassu Seed Oil
While babassu seed oil certainly has many benefits that have been widely reported and praised, there may also be some side effects that you could experience, depending on your skin and body.
These limited side effects could potentially include skin irritation, imbalances in your thyroid, bleeding issues, or pregnancy complications.
Babassu oil is great for increasing blood circulation and reducing blood clots, which is very beneficial for people who suffer from heart attacks, strokes, or atherosclerosis; however, this benefit could be dangerous for people who may be going in for surgery or who have previously been diagnosed with a blood condition.
The oil may also frequently be used to balance hormones, but consuming too much of it could potentially cause issues with the thyroid gland. Over-consumption of babassu oil may also contribute to weight gain due to its high concentrations of fatty content.
If you are pregnant or are prone to sensitive skin or skin irritations, you should speak with your doctor before consuming babassu oil or adding it to any skin or hair care routines. Generally speaking, moderate and responsible use of the oil should not cause any negative side effects, but every person's body and skin are individual and may react differently than others to the same substance.
(1) https://www.ncbi.nlm.nih.gov/pmc/articles/PMC3543308/
(2) https://www.ncbi.nlm.nih.gov/pmc/articles/PMC5753019/
(3) https://www.ncbi.nlm.nih.gov/pubmed/17117280