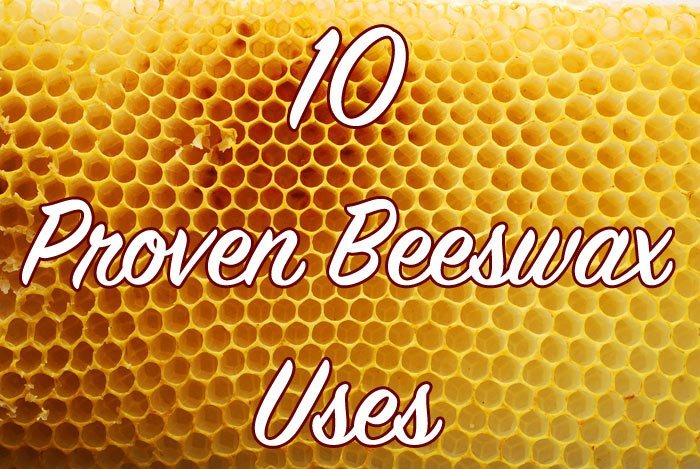 Sometimes, the most common natural substances can be used in the most surprising of ways. When it comes to natural health and beauty, everything is fair game.
The earth has provided so many materials for both medicinal and cosmetic practices that it seems like we're always discovering some collection of new benefits, even when it comes to materials and substances we thought we already knew everything about.
These surprising substances are often ones that we typically use as side ingredients or simple flavoring agents in popular cooking recipes (that is, until we realize their other many health and beauty benefits).
The Benefits of Beeswax
We should probably be more grateful for bees; they provide us with so many of the tastiest and healthiest products. Honey, propolis and royal jelly are all incredible natural gifts from our little friends but they also produce beeswax.
Beeswax might be more appreciated for its practical uses; its many uses include coating cheeses, polishing furniture, lip glosses and of course beautiful candles. But that is not all; beeswax is also commonly used in a variety of skin care products and can be applied topically to treat a number of skin complaints as well as helping wounds to heal and promoting shiny, healthy looking hair.
What Is Beeswax?
Beeswax which is also known as Cera Alba is essentially a natural form of wax which is made by honey bees. The wax is secreted from glands in their bodies before being chewed up and discarded within the hive. It does not go to waste however as worker bees collect and use it to strengthen the cells of the hive.
It is basically a building material for bees but it serves another purpose in that beeswax also protects the hive and newborn bees from infections and other unwanted contamination. Beeswax mainly consists of fatty acids, esters and a variety of long chain alcohols.
How Is Beeswax Made?
As the name suggests, and as you probably already know, beeswax is produced by bees. It is a natural substance that is commonly popping up in many skincare and cosmetic products in today's society. Beeswax is rich in vitamin A and antioxidants, which makes it great for promoting healthy, vibrant skin. It also contains emollient properties to moisturize the skin and lock in moisture, as well as anti-inflammatory and antiseptic properties to help treat skin conditions like acne or eczema.
While many people may know, generally, that beeswax is produced by bees, they often don't understand or know the process that goes into the production of the substance. It starts when bees are attracted to flowers; they fly to these brightly-colored flowers and harvest the pollen and nectar from them.
After flying back to their nest, the bees will make the nectar they harvested from the flowers into honey, but some of it will be left for making into beeswax. This beeswax is essential to the survival of the bees' nest because it is used to build their honeycombs, which store their honey for the whole nest and its future generations.
Once the nectar and pollen are brought back to the nest, the process that follows is actually quite interesting. The worker bees will actually consume the honey and nectar brought back the collector bees so that their bodies can turn it into a wax.
They'll need to eat up to six or eight pounds of honey just to create a single pound of wax for their nest. After they eat the honey, their abdomens emit the wax in the form of small flakes, which are then chewed up until the wax is easily workable and able to be formed into honeycombs.
After the honeycombs are formed, they are filled with honey and then closed off with another formation of wax. For nests that are owned by farmers, this is where the harvesting would come in. The farmer would use a hot knife to warm up the wax closure and let it fall into a basket. After collecting enough of these wax covers, it is all melted at around 149 degrees to separate the wax from any honey that might have been left on it; the wax and honey separate because the honey is much heavier and sinks to the bottom. Finally, the wax is hardened again and sold to companies who use it to create various products.
Concerns Regarding the Production of Beeswax
Many people, particularly organizations or individuals who support causes for animal rights, have objected to the mainstream production of beeswax, especially for commercial products. In most cases, it's not necessarily the actual harvesting of beeswax that these people object to; instead, they tend to object more commonly to the methods that many farmers use to collect the substance.
It seems that many farmers have been using less-than-desirable methods of collecting beeswax and honey from their bees' nests. These methods might include cutting off the wings of the queen bee so that she cannot leave her colony, subjecting the bees to conditions that lead to them killing each other or replacing their honey with sugar substitutes that lack the nutrition the bees require.
Because of this, it's best to purchase your beeswax, honey, or honeycombs from farmers or sources that have pledged to harvest their products humanely. Generally speaking, local farmers are typically much more careful with their harvesting methods than larger commercial farms. By doing a little research, you can make sure that your bee-derived products were harvest humanely and that their conditions were not altered in any way that might make the beeswax less potent or tainted in any way.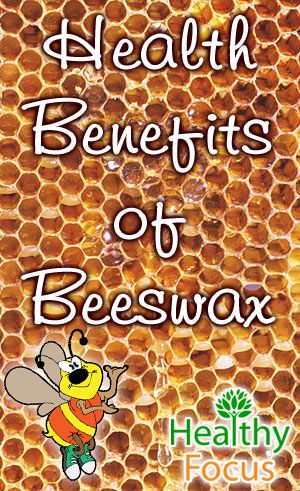 Health Benefits of Beeswax
When it comes to using beeswax for your health, then it is best known for its skin applications. Several studies have demonstrated that it can be used as an effective treatment for chronic skin conditions. It is a natural antioxidant and has antibacterial, anti-inflammatory properties making it a great candidate for treating the skin but its health benefits may extend further into the body. If you are interested in what beeswax can do for you then read on.

1. For Dry Skin
If you suffer from dry skin then beeswax might be just the tonic you are looking for and there is a good reason why beeswax is a key ingredient in so many skin creams and lotions. Beeswax helps the skin stay hydrated and fresh by forming a strong protective barrier and trapping that traps moisture in the skin and helps you retain a smooth, healthy complexion. Beeswax is also a rich source of Vitamin A and antioxidants which help protect cells and promote their regeneration.
2. For Psoriasis and Dermatitis
Psoriasis is a very common chronic skin condition caused by the rapid growth and proliferation of the skin cells. It results in thick, scaly looking skin and while it cannot be fully cured, it can be managed with the right treatment. Sufferers of psoriasis will be delighted to hear about the results of a study conducted in 2003 which investigated the effects of beeswax in combination with olive oil and honey on both psoriasis and atopic dermatitis.
21 dermatitis patients and 18 eczema sufferers were evaluated for their response to a blend made with equal parts beeswax, honey and olive oil. After 2 weeks 80% of the beeswax blend group experienced significant improvements in their symptom which was based on redness, scaling and irritation. (1)
If you suffer from psoriasis or dermatitis then try combining beeswax with a good quality organic honey and some nourishing olive oil and applying it to the affected areas twice a day.
3. For Eczema
If you are looking to get this chronic skin condition under control, I am sure that you have tried many forms of treatment. Hopefully, you have already found a solution for your condition but if not then beeswax is worth a try.
The antiseptic and anti-inflammatory properties in beeswax can help soothe redness and irritation and prevent the spread of infection. A blend made with equal parts honey, oil, and beeswax might have similar effects on your eczema as those demonstrated in the psoriasis study.
4. For Acne
Acne affects a great many of us especially during our teenage and young adult years when we are probably more image conscious than any other time of our lives. If you suffer from acne, you have my sympathy. I am sure that you have tried a variety of cures but if you are at the end of your tether, you could do worse than using beeswax.
Applying beeswax to your pimples can help in several ways. The anti-inflammatory compounds can help reduce the appearance of acne while its antiseptic and antibacterial properties help eradicate the infection. As well as treating your acne, beeswax helps moisturize and nourish the skin promoting a healthier, fresher look.
5. Itching
Many skin complaints can cause irritation and itching including dermatitis, eczema, psoriasis while itchy skin may also result from allergies. The good news here is that beeswax can help relieve itchy skin whatever its cause.
A fairly recent study found that patients who experienced itching after suffering severe burns were significantly aided by a herbal oil blend containing beeswax. The results were so impressive that patients were able to greatly reduce their use of other prescribed medications. (2)
6. Wound Healing
The medicinal properties contained in beeswax encourage effective healing of minor wounds, cuts, and abrasions. Like honey and propolis, beeswax is another bee product that can be safely applied to a wound or bite to eliminate bacteria and prevent infection from taking a grip.
7. Stretch marks
We usually associate stretch marks with pregnancy but they can also be caused by weight fluctuations and men are not immune from these unsightly marks on the skin. If you would like to reduce the appearance of these marks, try mixing your beeswax with cocoa butter and wheat germ or apricot kernel oil and massaging it into the affected areas of your body. Have patience, stretch marks are stubborn and treating them will take time.
8. Lip Care
The protective nature of beeswax, as well as its moisturizing abilities, makes it an excellent choice for those of us prone to dry cracked or chapped lips. You can make a wonderful soothing homemade lip balm by mixing your beeswax with a little honey, coconut oil, and your chosen essential oil. Many experts including the mayo clinic highly recommend beeswax as the best natural treatment for lip care.
9. Hemorrhoids
Once again researchers used the same honey, beeswax and olive oil preparation that had proved so effective on the skin and evaluated its effectiveness on hemorrhoids and anal fissures. Fifteen patients took part in the study and were evaluated in terms of symptoms that included itching, bleeding and edema.
The results of the study were extremely promising with the hemorrhoid patients experiencing a significant reduction in bleeding and itching while those suffering from anal fissures having equally positive results as well as a dramatic reduction of pain. The authors recommended further, larger scale studies based on these impressive initial results. (3)
10. Diaper Rash
If scientific evidence is anything to go by then it seems as though beeswax in combination with honey and olive oil is a wonderful healing blend. This combination was used once again to evaluate its ability to treat diaper rash in infants suffering from moderate to severe rashes and ulceration.
The infants were treated 4 times a day for the 7-day duration of the experiment after which they experienced a significant reduction in their symptoms. Importantly, no adverse effects were experienced by any of the children involved. (4)
Other Uses of Beeswax
Beeswax can actually be used in many different ways other than just health and beauty treatments. For example, it is often used as a natural alternative in making chewing or "bubble" gum, and this can even be replicated in your own home. Instead of the rubbery materials used to create mainstream chewing gum, beeswax can be chewed until it dissolves, reducing the amount of waste you produce while also helping address bad habits such as smoking, nail-biting, or lip-chewing.
Beeswax may also be used as a surprisingly efficient replacement for plastic wrap, which can be achieved as a DIY project in your home to help reduce your environmental footprint on the world. The substance can also be used to condition and preserve different kitchenware products such as wooden utensils or bowls. Similarly, you might also choose to use it as a natural polish for your furniture.
Because it is a form of wax, beeswax can also be used to create candles that actually burn much longer than those you might purchase from a store. In fact, beeswax candles may even be much better for your health as they result in a much cleaner burn than traditional candles.
With that said, beeswax candles also burn hotter than traditional candles do, so some wicks may not be suitable for use; generally speaking, square-braided wicks made from cotton are considered the best for use in candles made from beeswax.
Other popular ways to use beeswax include the creation of non-toxic crayons and natural sealants for envelopes, which are otherwise commonly created with toxic or harmful ingredients.
Beeswax may also be used to make iron cleaner, thread strengthener, rust protectant, or lubricants for different products such as zippers, windows, doors, drawers, screws, and nails.
Overall, beeswax is a commonly forgotten product, but it has been slowly making its way into mainstream products as the desire for natural and healthy living increases. If you're looking to replace a lot of your household products with a natural substitution, you may want to consider beeswax, thanks to its many versatile uses.
(1)  http://www.ncbi.nlm.nih.gov/pubmed/15022655
(2)  http://www.ncbi.nlm.nih.gov/pubmed/22665131
(3)  http://www.ncbi.nlm.nih.gov/pubmed/17369999
(4)  http://www.ncbi.nlm.nih.gov/pubmed/15679495