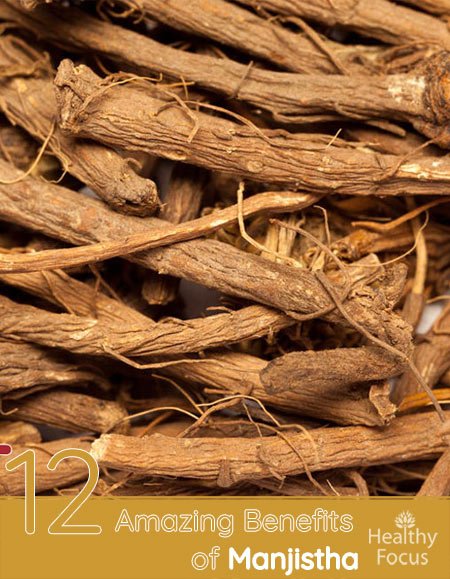 The traditional Indian system of medicine or Ayurveda can teach us a great deal about the value of herbs with which most if us are unfamiliar. We have recently written an article about a traditional Indian herbal remedy called lodhra. We are now going to explore another hidden wonder with a wide variety of benefits called manjistha – an herb native to the Himalayas.
Manjistha is used for a range of purposes including detoxifying the liver and cleansing the lymphatic system, relieving the pain of rheumatism and even for emotional problems like stress and anxiety. If you would like to learn more about this incredible herb and how you should use it for your specific health problem, please read on.
What is Manjistha?
Manjistha also referred to as Indian madder and known scientifically as Rubia cordifolia is a tonic herb used in Ayrvedic medicine for centuries. The herb has developed a reputation for cleansing the blood and detoxifying the liver while offering excellent support for the lymphatic system. However, its many benefits do not end there.
Majistha has a range of natural medicinal properties including anti-inflammatory, antioxidant and antimicrobial benefits. This makes it a suitable treatment for muscle pain, rheumatism and arthritis. Its anti-inflammatory and antimicrobial nature means that it is also used to treat various common skin conditions including acne, psoriasis and eczema.
Manjistha is available in various forms including tinctures, capsules and powder and can also be used to make a heath, soothing tea.
The Health Benefits of Manjistha
Manjistha really is a wonderful herb with a wide range of medicinal uses. The following list represents the most common uses of manjistha and we hope it can help improve your health naturally.
For Lymphatic Support
Perhaps the most common use for manjistha today is to help improve your lymphatic system health. Manjistha is known to detoxify and cleanse the blood and the organs by helping the lymph system remove toxins from the body.
If you are unsure why lymphatic system health is important, let me explain its role in brief. The primary role of your lymphatic system is to protect us against harmful external invaders including bacteria, microbial infections, fungus and even cancer cells.
Having a healthy lymphatic system is critical to overall wellness and many of the benefits that follow are linked to it. When your lymphatic system is working poorly, there are many potential symptoms including fatigue, poor immunity and muscle pain.
By improving the health of your lymphatic system, manjistha can protect against a host of illnesses and contribute to overall wellbeing.
Skin Health
You can use manjistha powder topically on the skin to improve your overall complexion. Manjistha also has antibacterial and anti-inflammatory properties making it a good choice for common skin problems like acne and eczema.
One great way to use manjistha powder is in the form of a natural face pack. You can mix it with other skin friendly ingredients like honey and yogurt to make a an effective face pack and give your skin a healthy treat.
As well as using manjistha as a face pack, you can also use it as an ingredient in a hand lotion to treat dry, cracked hands or feet.
Hand Lotion Recipe
Ingredients:
8 grams of manjistha powder
1 egg
1 tablespoon of good quality, organic honey
1 tablespoon of aloe vera gel
30 grams of almond powder
Instructions: Beat the egg and mix all the ingredients together throughly with a spatula. This should leave you with enough hand lotion for about a week. If you store your lotion in the refrigerator, you can use it once a day for up to 7 days.
Immune System Support
One of the most popular uses of manjistha is to boost the immune system and protecting you against illness. When your immune system is weak, you are far more prone to picking up a variety of sicknesses including seasonal illnesses like cold or flu. By supplementing with manjistha, you can greatly reduce your risk of developing a number of illnesses.
Cancer
Manjistha has been used in Ayurveda to treat various types of cancer particularly ovarian and uterine cancer. Laboratory tests indicate that it may be effective against other types of cancer cells including liver, breast and colon cancer. The herb has also demonstrated anti-tumor effects against histolytic lymphoma and myeloid leukemia. (1) Research suggests that the quinones present in the herb may be responsible for its anticancer activities (2)
While the signs are encouraging, it is still too early to confirm the use of manjistha as a cancer therapy and researchers admit that further research is needed.
Rheumatism and Muscle pain
Manjistha may also help to relieve muscle aches and pains and might also help to treat the joint pain associated with rheumatism and arthritis. Manjistha has excellent anti-inflammatory properties that are suitable for treating internal and external inflammation. According to Auyrveda, manjistha can also help clear uric acid from the system and may be useful against painful bouts of gout.
Detoxification
Manjistha is considered to be among the best Ayurvedic herbs to cleanse the blood and detoxify the body. It is important to detoxify your body from time to time in order to keep the organs working at their optimal level.
Supplementing with manjistha along with eating a good diet is considered and excellent way to eliminate toxins from the kidney and the liver and to purify the blood. By detoxing the body on a regular basis, you will feel healthier and your body will be better equipped to fight off illness.
Kidney Stones
Kidney stones are a very painful condition which affect around one in ten people at some point during their lives. Kidney stones form as a result of waste turning into crystals and accumulating in the kidneys. There is some evidence that manjistha may offer protection against the formation of these stones. 
In one study done on animals, mice were fed with ethylene glycol in order to induce the stones. The animals administered with manjistha were protected to an extent. The researchers found that the herb helped modulate mineral excretion in the urine including calcium, oxalate and phosphate which contribute to the formation of kidney stones. (3)
For Healthy Hair
Manjistha powder can also be used on your hair to keep it looking shiny and healthy and also to boost its growth. There are several different ways of using manjistha powder on your hair.
You can combine a tablespoon of manjistha powder with enough eater to make a smooth paste. Apply it to your hair and leave it in place for 30 minutes or so before washing it out. Alternatively you can combine your manjistha powder with an equal amount of amla powder and form a paste that you apply to your hair.
To Treat Allergies
Manjistha is also used in traditional Indian medicine to help combat allergies. research suggests that it helps to stabilize the mast cells in the immune system which in turn helps prevent the release of histamine. By preventing the release of histamine, it helps prevent all the familiar signs of allergy like runny nose, watery eyes and itchy skin. 
For Stress
many people the world over suffer from the debilitating effects of stress and anxiety. Not only does this cause emotional harm but it can also result in a variety of physical conditions like headaches, ulcers and heart issues. Fortunately, a number of herbal remedies can offer a safe and effective alternative treatment to the powerful anti stress medications on the market.
Research done on animals suggests that manjistha can help. Rats were first exposed to stressful conditions by being kept in a very cold environment and then rats were administered a manjistha extract. The researchers found that the animals given the herbal remedy had a significantly reduced level of acidity as well as reducing their risk of ulcers. It also had a very positive effect on both dopamine and corticosterone levels. (4)
Other studies done on animals have found that manjistha helped improve cognitive function including memory, focus and learning ability.
Wound Healing and Pain Relief
Manjistha can also be applied topically to help treat wounds and is also used in a poultice and applied to the body to treat inflammation and pain.
In Ayurveda, manjistha has long been used to help treat minor wounds and cuts and research seems to support its use. In one study done on animals, researchers used a gel made with manjistha extract. They found that it was an extremely effective remedy for wounds. It helped the wound to contract, the tissue to regenerate and the wound to close. (5)
Researchers believe that tannins and anthroquinones found in the plant are responsible for its ability to heal wounds so effectively. other animal studies have found that manjistha administered orally could help relieve pain and fever linked to inflammation.
Manjistha and Female Health
In Ayurveda, manjistha is regarded as an especially useful supplement for women's health. We have already written about the way in which manjistha can bolster the lymphatic system and this is especially important for women. According to estimates, more and more women are suffering from sluggish lymphatic systems which is very detrimental to female health.
An inefficient lymph system can cause a range of health issues including the following:
dry skin, rashes, acne
digestive health problems including constipation and bloating
PMS and mood swings
very low energy levels and chronic fatigue
brain fog and dizziness
swollen and tender breasts especially around the monthly cycle
weakened immunity, catching regular colds or flu and generally feeling ill
cellulite and inability to lose any weight
soreness and stiffness in the muscles and joints
Because manjistha is so effective in improving your lymphatic system health, it can help prevent all of the symptoms and conditions mentioned above.
How to Use Manjistha
The root of the plant is used to make supplements. You can find it online and at various health food stores in various forms. You can buy the powder and combine it with water to take internally. It is also available in capsule, tincture and tea form.
Make sure that you read the dosage instruction on the package and always purchase from a reputable dealer.
Side Effects and Precautions
Manjistha is safe when applied topically to the skin. It is generally considered safe when taken internally in the recommended dose.
When taken internally, manjistha can cause perspiration, urine and tars to become red.
Pregnant women should not take manjistha internally. It might trigger menstruation and might lead to miscarriage.
Manjistha should not be used by nursing mothers and might cause breast milk to become red.
Final Thoughts
Manjistha is a plant also known as Indian madder which is commonly used in Ayurveda for a variety of health purposes.
It is best known for its ability to keep the lymphatic system healthy but has a number of other uses. It is great for the skin and hair but research also suggests it has a number of internal applications
According to research, manjistha may help fight cancer, boost the immune system and help reduce inflammation. It may also help combat stress natuurally.
Manjistha is also seen as a great natural treatment for a wide range of women's health issues including PMS and many of the symptoms that effect women during menstruation.
There are some potential side effects to be aware of and pregnant women should avoid using the herb internally.
(1) http://www.arjournals.org/index.php/ijpm/article/view/86
(2) https://www.researchgate.net/publication/244943682_Rubia_cordifolia_a_review
(3) https://www.ncbi.nlm.nih.gov/pubmed/20079795
(4) https://www.researchgate.net/publication/6622865_Antihyperglycemic_antistress_and_nootropic_activity_of_roots_of_Rubia_cordifolia_Linn
(5) http://www.ijarnp.org/index.php/ijarnp/article/view/54