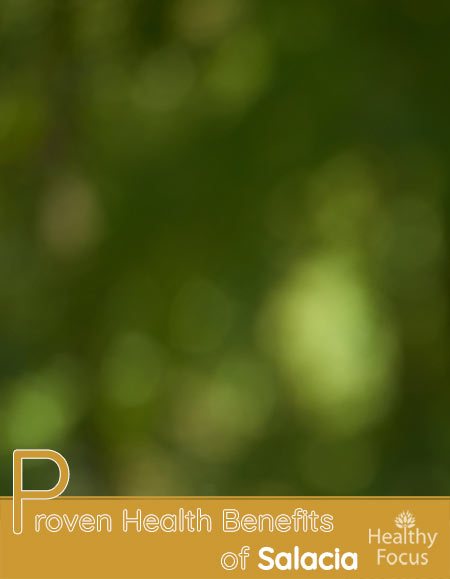 Diabetes is an extremely common disease and one which is increasing around the world with every passing year. Approximately 50% of all diabetic patients use some type of complimentary medicine to either supplement their conventional medicine or alone to treat their condition. One of the most popular treatments in Ayurveda is an herb called salacia also known as kothala himbutu.
As well as its use for diabetes, there is some evidence that it can help prevent and treat obesity while it is also used for various other conditions like joint pain and itching skin.
What is Salacia?
Salacia is a plant genus belonging to the family Celastraceae. The genus has a large number of species which have been used in traditional Indian medicine for many years. These include Salacia oblonga, Salacia reticulata and Salacia chinensis. These species are among the most extensively studied and the most used for medicinal purposes.
Salacia are woody climbing plants found in tropical regions including the forests of Sri Lanka and India. Studies done to date have focused mainly on the use of the plant for diabetes and obesity but it may also have a number of other potential uses.
This article will look at the potential benefits of salacia reticulata and salacia oblonga and inform you how to use it.
Fast Facts
Salacia plants are found in tropical areas of Southeast Asia including Sri Lanka, India and China.
The plant has long been used in the traditional Indian medical system of Ayurveda to treat diabetes and obesity.
The plant is also used to treat rheumatism, asthma, itching skin and gonorrhea.
Extracts from the salacia species are used medicinally in Korea, Japan, India and the USA mainly to manage diabetes and obesity.
The most commonly used salacia species in medicne are salacia oblonga, salacia reticulata and salacia chinensis.
Salacia possesses anti-diabetic, diuretic, laxative, anti-obesity and cardioprotective properties.
The root and the bark is used to make medicinal supplements.
Salacia extract is available in several supplementary forms including capsules, powder and tea.
Health Benefits of Salacia
Diabtetes
The most common use of salacia extract is to help manage blood sugar levels in people with diabetes or pre-diabetes.
A number of studies into the effects of several salacia species have found that the plant has a positive effect on blood glucose levels and insulin response. this makes it a potential, natural treatment for people with diabetes.
Constituents found in salacia with an anti-diabetic effect include kolatanol, ponkorinol, salacinol and salaprinol. (1)
One study, published in 2007, evaluated the effects of Salacia oblonga on 66 patients with type 2 diabetes. the researchers found that  the herb helped significantly reduce blood glucose and insulin levels following a high carb meal. (2)
Another study published in 2016 examined the effect of Salacia chinensis extract on 35 healthy volunteers given an oral sucrose solution. The researchers found that the herb, which was given in doses between 200 and 500 mg, had a significantly positive impact on the volunteers.
They concluded that Salasia chinensis extract helped significantly decrease the absorption of sucrose leading to a reduction in both blood glucose and insulin levels. (3)
Cholesterol
As well as helping to fight diabetes, studies have revealed that salacia extract can help reduce cholesterol levels. High cholesterol is one of the major risk factors in heart disease as well as other metabolic diseases.
A study published in 2013 looked at the effects of Salacia reticulata on cholesterol and blood sugar levels in 29 patients with pre-diabetes and high cholesterol. 29 patients were wither given 500 mgs of salacia extract each day or a placebo for 6 weeks.
By the end of the study, the researchers noted an improvement in both cholesterol and blood glucose levels in the salacia group. By week three, those treated with salacia had already experienced a significant reduction in LDL cholesterol while significant blood sugar reductions occurred by week 6.
The researchers concluded that salacia extract could be beneficial for patients with high cholesterol and pre-diabetes. (4)
Obesity and Weight Control
A number of studies have demonstrated that salacia can help combat obesity. According to studies, not only can the herb help keep your weight in check bit it may also reduce the risk of metabolic diseases such as heart disease and diabetes. (5) (6)
The studies suggest that salacia is effective against obesity for a variety of reasons including the following:
It helps prevent the accumulation of fat and oils.
It can help prevent the development of fat cells or adipocytes.
It promotes the breakdown of fats by activating certain genes.
It boosts the body's levels of asiponectin – a hormone that helps breakdown fat.
It can inhibit the activity of certain enzymes that promote fat storage.
It helps to normalize glucose and lipid levels.
It helps to regulate proteins involved in obesity like AMPK and PPAR
An Austrian study, published in 2013. found that a combination of vitamin D and Salacia reticulata could help people to lose weight.
40 healthy adults were allocated into one of two groups and given lifestyle and fitness guidelines which they followed for 4 weeks. One of the groups was also given 200 mg of Salacia reticulata extract along with vitamin D 3 times each day.
The group who took the supplements both lost significantly more weight and experienced a reduction in body fat compared with the placebo group. The group treated with salacia and vitamin D lost an average of 5.3 kilos compared with the placebo group who lost 1.8 kilos on average.
The researchers concluded that the combination may be a powerful potential treatment for obesity when used together with other lifestyle changes. (7)
Other Potential Uses
Salacia has been used for several other conditions in traditional medicine including rheumatism, arthritis, gonorrhea and asthma. however there are no studies to confirm its effectiveness for any of these conditions.
How to Use Salacia
Salacia can be found in several supplementary forms including capsules, powders and teas. Supplements made with Salacia oblonga and Salacia reticulata are readily available online and at many health stores.
There is no official recommended dose but most studies into the effects of the herb have used between 200 amd 500 mg a day without any adverse side effects.
The appropriate dosage will depend on a number of factors including the user's health and age and the condition you are trying to treat.
Make sure that you buy from a reputable supplier and read the instructions on the product label carefully. Consult your doctor to make sure that it is a safe choice for you and to be sure it does not effect any medications that you are already taking.
Side Effects and Precautions
Salacia extracts are likely to be safe for the majority of healthy adults as long as you follow the dosage guidelines.
Studies suggest that up to 1000 mg of the herb is safe when taken for up to 3 months.
There is insufficient data regarding the long term use of the herb.
Salacia may cause some adverse side effects including abdominal pain, diarrhea, nausea and gas.
Women who are pregnant or breast feeding should avoid using salacia. At present there is insufficient safety data so err on the side of caution.
Studies show that Salacia reduced blood sugar levels. People taking diabetes medication may must speak with their doctor before using salacia. Your doctor may need to adjust your dosage.
Avoid using salacia for the 2 weeks leading up to a scheduled surgery. It may interfere with blood sugars during and after your surgery.
Frequently Asked Questions
What is Salacia oblonga used for?
Salcia oblonga is mainly used to treat and manage diabetes. studies show that it helps reduce blood sugar levels as well as managing insulin levels. the herb is also used to treat obesity and high cholesterol.
What is the difference between salacia oblonga and salacia reticulata?
These two species belong to the same salacia genus of plants. Medicinally, they appear to be very similar and are used to treat the same conditions. both salicia oblonga and salicia reticulata have been studied extensively for their role in diabetes and obesity management and both have proven effective.
Is salacia safe?
Salacia is considered safe for the majority of adults when used for up to 3 months. We do not know if longer term use is safe or otherwise. Some minor side effects are possible including gas, bloating, nausea and stomach upset.
Final Thoughts
Salacia is an herb which has been popular in traditional Indian medicine for many years.
Three species of the plant have been studied extensively. Salacia oblonga, Salasia chinensis and Salacia reticulata.
The herb is mainly used to treat diabetes but it can also help treat other metabolic diseases.
As well as reducing blood sugar levels, studies have demonstrated that the herb helps reduce cholesterol and manage weight.
Salacia is available in supplementary form and is believed to be safe for the majority of adults.
People taking diabetes medication should speak consult their doctor before using salacia.
Have you ever used salacia extract for diabetes or any other condition. what did you think of its effects and would you recommend it to others.
Please let us know, we would be delighted to hear from you.
(1) https://www.ncbi.nlm.nih.gov/pmc/articles/PMC5033029/
(2) https://academic.oup.com/ajcn/article/86/1/124/4633153
(3) https://www.ncbi.nlm.nih.gov/pmc/articles/PMC5075619/
(4) https://www.ncbi.nlm.nih.gov/pubmed/23767865
(5) https://www.ncbi.nlm.nih.gov/pubmed/12097653
(6) https://www.ncbi.nlm.nih.gov/pubmed/24838513
(7) https://www.ncbi.nlm.nih.gov/pubmed/25008011