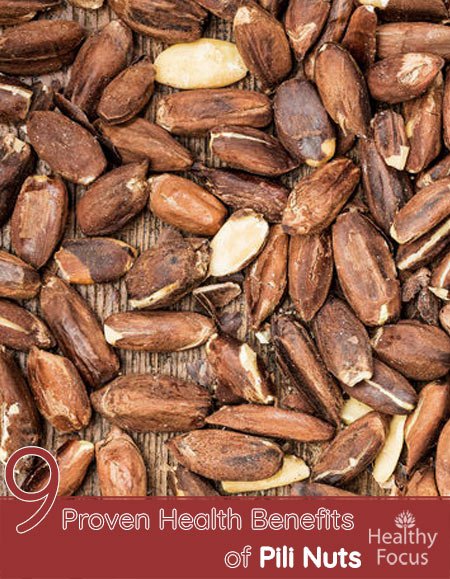 I love most all types of nut and probably eat more of them than is truly healthy. However, I will admit that I had never heard of pili nuts until very recently and I very much doubt if I am alone.
If you have never heard of pili nuts and have no idea what they can do for your health, then you are in the right place. Read on to find out some facts about these nuts. Learn about their nutritional value and their long list of benefits to your health.
Overview
Pili nuts are a product of the pili tree which is a native of Northern Australia and various areas of Southeast Asia and the Pacific Islands. Known scientifically as Canarium ovatum, the tall trees are cultivated mostly in the Phillippines for their fruit.
These teardrop shaped nuts range in length from an inch to 3 inches and are typically around an inch across. Like most nuts, they are surrounded by a hard shell and they also have a fibrous coating which often sticks to the shell. The nuts are extremely nutritious and very hardy.
They will remain edible for quite some time making them a popular source of nutrition for local people. As well as tasting great, they provide the consumer with a good range of health benefits ranging from disease prevention and inflammatory conditions to weight control.
Nutritional Value of Pili Nuts
Like the majority of nuts, pili are certainly not low in calories. Just a cup of these nuts contains around 650 calories so you will probably need to be use moderation. They are mostly composed of fats but also contain good levels of protein.
Pili nuts are an excellent source of various amino acids and they also contain the highest amount of magnesium in the nut world. They are also high in a variety of other minerals and a single serving will provide you with your recommended daily dose of both manganese and copper. Pili nuts also contain a healthy dose of phosphorus and trace amounts of thiamine and zinc.
What are the Health benefits of Pili Nuts?
With their impressive nutritional profile, it stands to reason that pili nuts can benefit your health in many different ways.
1) Antioxidant activity
Nuts are a great source of healthful antioxidants and pili nuts are certainly no exception. Having antioxidant properties, pili nuts can be eaten to protect your body from the oxidative damage done to your body by free radicals.
Antioxidants like those found in pili nuts can help protect against various diseases caused by these free radicals while their anti-aging effect can also help you retain your youthful looks for a little longer.
2) Digestion
If you are not getting enough fiber into your diet, then snacking on nuts like pili or high fiber fruit is a great option. Fiber plays an enormous role in proper digestion and can help you to overcome a host of digestive problems.
Fiber helps to stimulate the digestive tract and can help treat bouts of constipation by adding more mass to the stools. Another of fiber's benefits is that it improves the way that your body absorbs other nutrients and can effectively ensure you get the maximum value from the food you eat.
3) Inflammation
Researchers believe that inflammation is at the root of many of the world's most serious and common degenerative diseases. These include heart disease, cancer, cognitive conditions and arthritis. Because pili nuts have such powerful antioxidant compounds, they can help reduce any type of inflammation that your body is suffering from. Antioxidants do this by neutralizing the inflammatory effects of free radicals.
4) Cholesterol
Pili nuts are primarily made up of various fats. although many people immediately associate fats with increased cholesterol and weight gain, it is important to note that the fats in nuts like pili are generally healthier.
Pili nuts are a very good source of healthy omega 3 fatty acids. These can help to balance cholesterol levels and are an especially good source of fats for people concerned about their levels of cholesterol. Reducing your cholesterol level in turn reduces your risk of heart diseases like atherosclerosis and major killers like strokes and heart attacks.
5) Weight Loss
I know that it sounds a bit daft to suggest that eating such a high calorie food can help you to lose weight. However, if you eat healthy nuts like pili and are careful to exercise moderation, they are a great way to fill yourself up quickly and suppress your hunger pangs throughout the day.
All high fiber foods have a similar effect on the appetite so snacking on a few nuts when you feel the need can actually reduce the amount of calories that you consume.
6) Bone health
As we have already mentioned, pili nuts have an excellent nutritional profile with a broad range of important minerals. Many of these minerals including magnesium, manganese, phosphorus and calcium play an important role in the health and development of your bones and muscles.
It is crucial to get plenty of these minerals into our diet when we are developing and equally important to protect our bone density as we get older.
7) Brain Health
We talked earlier in the article about the anti-inflammatory effects conferred by the antioxidants found in pili nuts and his ability to relieve inflammation through the body extends to the brain. They can help reduce or prevent oxidative stress in the neural pathways and help reduce the risk of developing serious conditions like Alzheimer's disease.
The omega 3 fatty acids found in pili nuts have also been linked to improvements in cognitive functions like learning, focus and concentration.
8) Diabetes
Pili nuts contain all eight of the amino acids which not only makes them a complete protein but may also prove beneficial to people suffering from diabetes. Pili nuts may help balance the body's blood sugar levels and ensure that insulin is released at the right rate. Pili nuts may help prevent insulin from spiking and plummeting which is a common symptom of diabetes.
9) Energy Boost
If you are feeling run down and tired, then snacking on these nutritional nuts may be a great help to you. They are full of nutrition and come with a great mix of protein and carbohydrates which can give you a prolonged boost of energy.
Unlike sugary, processed snacks which may energize you for a very short time, snacking on these nuts can give you a much longer lasting boost of energy that will keep you going throughout the day.
Adding Pili nuts to your Diet
Like most other nuts, there are no real limits on how you can use pili nuts..
Pili nuts are certainly tasty raw and you can snack on them at your convenience. If you prefer a more crispy texture, then you can roast them and add them to your meals. They are a delicious addition when chopped and sprinkled over a salad or rice dish.
You can stir them into your oatmeal, cereal or yogurt to add a little bit more crunch and flavor. Why not add a handful of chopped pili to your smoothie mixture – they go very well with coconut milk and honey.
If you are slightly more adventurous, you can use pili nuts as an ingredient in a homemade granola bar, bread or batter mix.