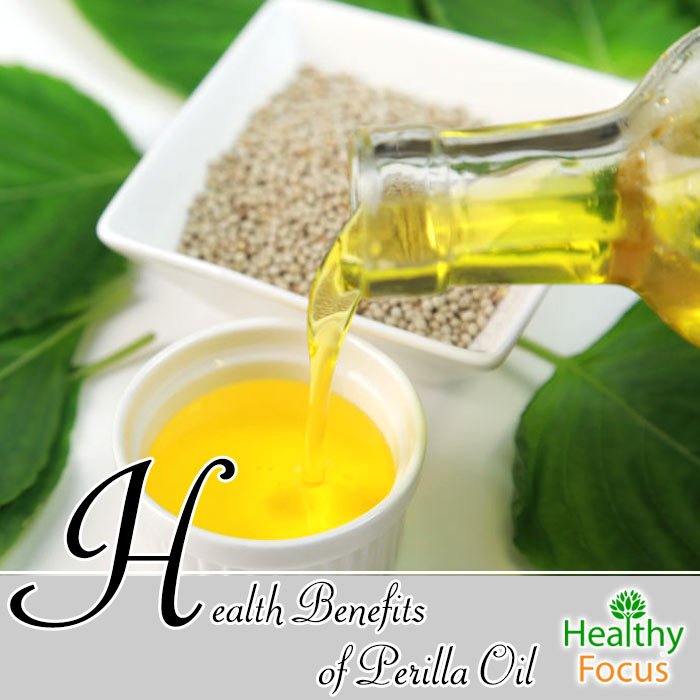 You are likely not very familiar with it but perilla oil is a wonderful, healthy oil that can benefit your health in a number of different ways. It is especially useful when applied topically to the skin but can also be used as a healthy substitute for your regular cooking oil. Come with us to explore this fabulous oil, learn how to use it and what it can do for your health.
What is Perilla Oil?
The term perilla oil refers to any oil which has been derived from the perilla frutescans plant which belongs to the mint family. It also nearly always refers to oil which has been pressed from roasted seeds. This process confers a nutty taste when the oil is used for cooking or as a condiment which is especially popular in East Asian cuisine where the plant is native.
As well as being used in the kitchen, it is sold as a form of dietary supplement because of its range of healthy nutritional compounds. These include Vitamin E, various phenolic compounds while it is also a good source of alpha-linoleic acid – a healthy plant based omega-3 fatty acid.
The leaves from the plant are used much less frequently but are sometimes used for easing stomach issues. Even more infrequently, an oil is derived from the plant's leaves and used medicinally. However the leaves contain different properties from the seeds meaning the two types of oil are regarded as quite different supplements with different therapeutic benefits.
Plant Description
Other common names for perilla include Japanese mint, Chinese basil and Shiso. It is native to Asia and was brought to the USA by Asian immigrants during the late 19th century. Its smell is strong and minty but also reminiscent of licorice or cinnamon. It thrives best in rich soils with plenty of sunshine.
The bushy plant grows to around four feet in height and has serrated leaves which turn red during the fall. Both the fresh leaves and the seeds are edible either cooked or raw. Its leaves are often used in Asia as a spice, fried and mixed with rice dishes, fish, vegetables and soups. The seedlings can be added to salads and soups or used to flavor a wide variety of savory dishes.
Composition of Perilla Oil
While perilla oil has not been especially well researched in terms of its specific medicinal benefits, it appears to have some potential based mainly on its rosmarinic acid content and its high levels of omega-3 fatty acids.
Perilla oil contains the following compounds:
Alpha-linoleic acid (ALA)
Oleic acid
Linoleic acid
Palmitic acid
Stearic acid
Glycolipids
Phospholipids
Polyphenols mainly in the form of rosmarinic acid
Vitamin E
Skin Benefits of Perilla Oil
A number of the compounds found in perilla oil have antioxidant effects that can help improve your skin's overall health and protect it from damage. Antioxidants can help protect the skin and repair cells damaged by environmental free radicals. It is also a great oil for moisturizing dry or cracked skin and nourishing the scalp and hair. The fatty acids contained in perilla oil also help to regulate inflammation in the skin and in the body.
Here are some of the reasons to add perilla oil to your skin care routine:
Perilla oil has excellent anti-inflammatory properties as well as antibacterial actions due to the high levels of aplpha-linoleic acid. It can be used to treat a broad range of inflammatory skin complaints like acne, eczema and psoriasis.
Perilla oil is rich in flavones which offer excellent antioxidant benefits. The antioxidants found in perilla oil can help protect against the harm done to your skin by free radicals and may even hep to reverse the damage already done. Antioxidant rich oils like perilla can help slow down the signs of aging like wrinkles, age spots and other blemishes.
Perilla oil can also help maintain the strength of your skin barrier and protect against fluid loss. This makes the oil especially useful for people with dry complexions that struggle to keep their skin hydrated.
Perilla oil is rich in certain polyphenols especially rosmarinic acid and certain triterponoids. These compounds have anti-allergic, antioxidant and antibacterial properties that are perfect for the skin's health.
Perilla oil is absorbed easily by the skin and does not leave your skin feeling greasy like many oils.
Cancer and Perilla Oil
Studies have already demonstrated that fish oil and certain vegetable oils rich in omega-3 fatty acid can reduce the risk of certain cancers particularly colon cancer. These results encouraged researchers to examine whether perilla oil, which is also high in omega-3, could also be effective against cancer.
One study published in 1994 indicated that a relatively small intake of perilla seed oil could help protect against colon cancer. (1)
Perilla Oil and Asthma
There is also some evidence that perilla seed oil can improve lung function making it potentially beneficial to the millions of people suffering from asthma.
In one study published in the year 2000, researchers set out to examine whether perilla oil could have a positive effect on asthma. Participants were given perilla oil for four weeks by the end of which they noticed various benefits. Patients who took the perilla oil experienced significant improvements in lung capacity as well as improved air-flow meaning they were able to breathe more easily. (2)
While the exact reason for this effect is still unknown, the researchers believe it is linked to the oil's Alpha-linoleic acid content. ALA is believed to suppress the production of an inflammatory substance called leukotriene which is linked to poor respiratory function.
The Benefits of Alpha-Linoleic Acid
While there has not been a great deal of research looking at perilla oil specifically, there have been a number of studies into the health benefits of alpha-linoleic acid. Perilla seed oil is very high in ALA – a type of omega-3 fatty acid. Because of this, perilla oil may have a number of positive effects on your health.
ALA can help reduce cholesterol levels as well as triglyceride levels which has a positive effect on the heart's health and reduces the risk of heart disease. Research also indicates that ALA can treat depression, relieve menstrual symptoms and pain and protect against breast cancer. ALA may also help treat various autoimmune disorders including rheumatoid arthritis and lupus.
There is also evidence that the ALA found in perilla oil can treat various inflammatory bowel conditions like IBS and Crohn's disease.
Cooking With Perilla Oil
A great way to get more of this healthy oil into your diet is to use it in your cooking instead of your regular cooking oil.
Perilla oil is popular in Asian cooking especially in Korea where it is used to fry or sauté vegetables giving the dish a nutty, earthy flavor. The seeds are also used to spice up tempura and add flavor to traditional miso soup. In japan, the oil is used to make traditional pickled plums or umeboshi. There is really no limit on how you use the oil in the kitchen and the seeds themselves are also used as a topping for various fried dishes and salads.
Be aware that perilla oil does not last as long as many other oils and should be used within twelve months.
(1) https://www.ncbi.nlm.nih.gov/pubmed/7908858
(2) https://www.ncbi.nlm.nih.gov/pubmed/10878492