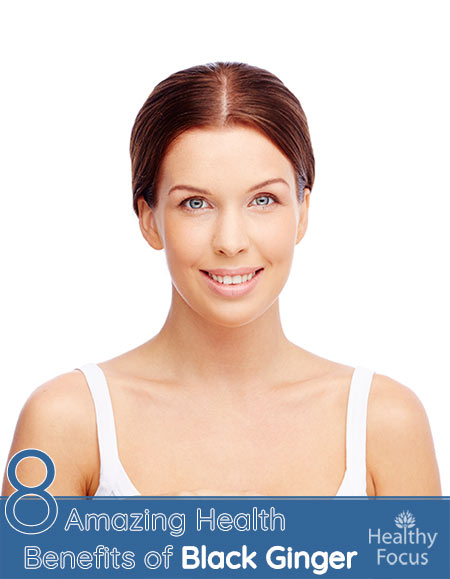 You are no doubt familiar with ginger and its many health benefits, but fewer people are likely to know about its cousin black ginger. Black ginger, which is known scientifically as Kaempfira parviflora, may not be as well-known but also has a number of excellent health benefits.
It has been used as a traditional remedy in Thailand for thousands of years and is still a popular remedy today. In Thailand, it is used to boost testosterone but is also used to boost energy and to treat digestive troubles. It is also used to for allergies, asthma, gout and diabetes.
In Thailand, the dried the dried rhizome has typically been pulverized then used to make tea bags while fresh rhizomes are uses to make wine.
Facts about Black Ginger
Black ginger belongs to the Zingiberaceae Kaempferia genus, the same family as ginger.
It typically grows in tropical parts of Asia.
In Japan, it is often referred to as 'black turmeric' while the Thais refer to it as 'krachai dam'.
It has traditionally been seen as an excellent energy enhancer with powerful tonic effects.
In Thailand, the sliced rhizome is used to make a tea or an alcoholic drink.
The Thai Government has backed awareness campaigns about the health value of black ginger.
Black ginger has been the subject of numerous recent studies into its beneficial effects.
Health Benefits of Black Ginger
According to studies black ginger is brimming with antioxidant flavonoids containing polymethoxtflavone. The compounds contained in black ginger exhibit excellent antioxidant effects as well as antimicrobial, anti-diabetic, anti-obesity and anti-inflammatory benefits. (1)
A number of recent studies have been conducted to examine the potential effects of black ginger. While it is still early days, the good news is that they appear to confirm the traditional use of the plant and more besides.
Psoriasis
According to a recent study, black ginger extract might help to prevent a psoriasis flare up before it has even started. This is great news for people who suffer with psoriasis – a chronic autoimmune condition which causes the buildup of skin cells resulting in scaling on the skin.
The study found that a molecule present in black ginger called methoxyluteolin was able to block the inflammatory response of mast cells. Mast cells are immune cells which trigger an inflammatory reaction that can lead to psoriasis flares.
They are triggered by a variety of factors including infection, pollution, allergens and stress. This sets off a series of inflammatory responses including immune cell activation and releasing pro inflammatory proteins and cytokine which is involved in psoriasis.
The lead researcher – Dr. Theoharides had identified that a molecule known as luteolin present in artichokes and chamomile was able to block mast cells. They then discovered that another version of the molecule called methoxyluteolin, present in black ginger, was even more effective in blocking the mast cells.
The same team then conducted a small study into the effects of a topical skin lotion containing methoxyluteolin. They found that use of the lotion resulted in significant improvements in skin lesions. (2)
Sexual Health
Black ginger has traditionally been used in Thailand to boost sexual performance and to improve erectile dysfunction. Results from a recent pilot study suggest support these traditional uses of the herb.
A Thai study published in 2012 had already found that black ginger extract improved erectile function among older men. (3) The authors of the latest study set out to examine the effects of a black ginger extract called KaempMax on sexual health with particular focus on erectile function and sexual satisfaction.
In this study, 13 men aged between 50 and 68 were given 100 mg of the extract daily for a period of 30 days. The researchers concluded that supplementation with black ginger extract resulted in significant improvements in both intercourse satisfaction and erectile function.
Although the results were less pronounced than those from prescription medications like viagra, black ginger extract was well tolerated and offered a safer alternative for men with mild or moderate sexual dysfunction. (4)
Peripheral Blood Circulation
One small-scale clinical study found that black ginger extract could improve blood circulation to the hands and feet. It may also help reduce edema.
In the study, 14 subjects were given 150 mg of black ginger extract each day for a week. The researchers monitored peripheral blood circulation as well as peripheral vasculature and blood pressure.
The researchers found that black ginger extract led to improvements in blood circulation, vasculature and short-term blood pressure. (5)
Obesity
Obesity and associated metabolic diseases like diabetes have been increasing in prevalence over the past decades. With that in mind, there has been an increasing amount of research into natural remedies that can reverse the current trend.
Studies into the effects of black ginger extract on mice found that the herb helped prevent obesity in mice. It is believed that the effect was due to increased energy expenditure. (6) Based on the findings in animal studies, a study published in 2015 set out to examine the effects of black ginger on the energy expenditure of humans. (7)
The researchers found that oral consumption of black ginger extract increased energy expenditure significantly compared to the group that took a placebo. The results indicated that the oral ingestion of black ginger could increase the whole body energy expenditure of humans by activating brown adipose tissue in healthy adults. The researchers concluded that black ginger extract may be a useful treatment to protect against obesity.
Diabetes
As well as helping to combat obesity, black ginger extract may also help keep blood sugar levels in check. Black ginger has traditionally been used in Thailand and Laos to help maintain healthy blood sugar levels and is regarded as a good choice for people with diabetes.
One study published in 2011 looked at the effects of black ginger on obesity and related symptoms like metabolic disorders in obese, diabetic mice. The study found that feeding the mice with black ginger extract suppressed weight gain, insulin resistance, glucose intolerance, peripheral neuropathy and hypertension in mice. (8)
Improves Physical Fitness
Black ginger has traditionally been used in certain Asian countries to help prevent fatigue and boost physical fitness among athletes. A Thai study published in 2015 was conducted to analyze the effects of black ginger on fitness levels in soccer players.
Sixty players were split into two groups and wither given 180 mg of black ginger extract each day or a placebo for 12 weeks. Various tests were conducted prior to the trial including strength tests, sprint tests and cardio fitness tests. The same tests were conducted every four weeks throughout the study.
The study demonstrated that Kaempferia parviflora extract had a significant beneficial effect on grip strength. However, there was no significant improvement in sprint test and cardio fitness levels compared to the placebo group. (10)
Another study published in 2012 concluded that black ginger extract may have beneficial effects on the physical fitness and oxidative status of the elderly. (11)
While these studies suggest that black ginger extract may be valuable in improving physical fitness, more studies are necessary before we can make any firm conclusions.
Boosts Energy
Black ginger may not only be useful for improving physical fitness but it might also help boost the body's overall energy production.
We mentioned earlier that black ginger activates brown adipose tissue. Activating BAT helps to boost energy production overall.
A study published in 2016 found that black ginger extract helped improve energy levels, prevent fatigue and boost physical performance in mice. (12)
Other Potential Benefits
Black ginger also has antimicrobial properties. It may also help improve digestive health, allergies, gout and menstrual pain. It has also been used traditionally as a natural antidepressant but there is no research to support these uses.
How to Use Black Ginger
In Thailand, b;lack ginger has traditionally been drunk as a tea made with the dried rhizome of the plant. These days, standardized extracts are available. It is unlikely that the tea contains enough of the compounds needed to confer the medicinal benefits discussed in this article.
Make sure that you buy any black ginger extract from a reputable supplier and follow the dosage instructions on the label carefully.
Precautions and Side Effects
Black ginger is considered to be safe and clinical trials to date have not resulted in any serious side effects. The herb has been used for many years in Thailand and is promoted by the Thai Government as a safe and effective herbal medicine.
Nevertheless, you should be certain that you do not exceed the recommended dose of any black ginger extract. Make sure that you read the dosage guidelines on the label correctly and consult a doctor before using the extract.
Large doses may result in certain adverse side effects including sweating, high temperature and irregular heartbeat.
Final Thoughts
Black ginger known scientifically as Kaempfira parviflora is the lesser known cousin of ginger.
Black ginger is a great source of antioxidants and has a number of potential health benefits.
Studies have found that black ginger can suppress inflammation, prevent psoriasis, improve sexual performance in men, fight obesity and boost physical performance.
Black ginger has been used for many years in Thailand and some other Asian countries. It is well-tolerated and serious side effects are rare.
Have you ever used black ginger in any of its forms. please let us know what you thought of it.
(1) http://www.oryza.co.jp/html/english/pdf/Black%20Ginger%20Extract_e%20Ver.1.0-2.pdf
(2) https://www.naturalhealthnews.uk/herbal-remedies/2015/01/black-ginger-extract-could-help-control-psoriasis-flares/
(3) https://thescipub.com/abstract/10.3844/ojbsci.2012.149.155
(4) https://www.ncbi.nlm.nih.gov/pubmed/29880257
(5) http://www.oryza.co.jp/html/english/pdf/Black%20Ginger%20Extract_e%20Ver.1.0-2.pdf
(6) https://www.ncbi.nlm.nih.gov/pubmed/25493179
(7) https://www.jstage.jst.go.jp/article/jnsv/61/1/61_79/_pdf
(8) https://www.ncbi.nlm.nih.gov/pubmed/20814753
(9) https://www.ncbi.nlm.nih.gov/pubmed/25957542
(10) https://www.ncbi.nlm.nih.gov/pubmed/22899957
(11) https://www.ncbi.nlm.nih.gov/pmc/articles/PMC4946221/#bib0035
(12) https://www.ncbi.nlm.nih.gov/pmc/articles/PMC4946221/